ffd_listing_title
Mature Elegance with Additional Living Accommodation "A Coastline Paradise"
ffd_unique_id
ffd_mls_id
ffd_salesforce_id
a0E6g00000BG7XZEA1
ffd_address_pb
North Cyprus
address
North Cyprus
baths
3
beds
4
ffd_city_pb
Karaoğlanoğlu
ffd_colistingagent_pb
0036g00002NG0kSAAT
ffd_colistingagentemail_pb
ffd_colistingagentmlsid
ffd_colistingagentname
ffd_colistingofficemlsid
ffd_colistingofficename_pb
ffd_country_pb
Cyprus
ffd_createddate
2023-05-11T06:43:20.000+0000
about

This mature elegant villa is located along the northern coastline in a private space, overlooking the Mediterranean Sea. Its free flowing architectural design with appropriately positioned glass elements absorbs the vitality and nutrients of the sunlight, captivating the surrounding environment into the living areas while maintaining cooler spaces for respite. The interior design reflects the elegant status of this smart home and utilises lavish materials and furnishings throughout. The inclusion of a separate self contained additional living space, secure parking, expansive interior and exterior accommodation, elevates its overall functionality and potential uses. And the seafront and golden sands are only a few minutes walk away!

This smart villa is located on an elevated 1.5 donum (2007 sq m) site and has a build area of 420 sq m, it is being sold fully furnished. An open plan modern high specification kitchen extends onto an inviting sun-room with views of the garden and the sea. The living area is substantial with unique features including a fireplace and extends onto the lobby and stairs.. There are 3 master bedrooms, a study area, a security room and 3 bathrooms also included with a large terrace area which has panoramic views of the surrounding mountains and sea. The interior design is modern and contemporary with full air-conditioning and special lighting systems.

The Mediterranean style mature landscaped exterior includes a private sea water pool with shower, security system, 2 internal parking spaces, 2 fresh water wells, alfresco dining facilities and a 100 sq m wetland pond area.

The property also includes a separate annex with its own kitchen and bedroom. This can have several uses i.e Private office, relative accommodation, kids recreational area, staff accommodation etc.

This mature elegant villa with additional accommodation has a large range of suit-abilities.

ffd_displayaddress
floor
ffd_halfbathrooms_pb
ffd_hide_address_on_site
ffd_key_words
Kyrenia
ffd_lastmodifieddate
2023-05-13T06:18:07.000+0000
lat
35.3439300
ffd_listofficemlsid
ffd_listofficename
ffd_listingagent_pb
0036g00002NG0kNAAT
ffd_listing_agent_email
ffd_listing_agent_firstname
ffd_listing_agent_lastname
ffd_listingagentmlsid
ffd_listingagentname
ffd_listing_agent_website
https://bestinvest.com.tr/properties/mature-elegance-with-additional-living-accommodation-a-coastline-paradise/
price
1862850
ffd_listingtype
Sale
location
Karaoğlanoğlu, Kyrenia, Cyprus
lng
33.2721500
sq_feet
ffd_non_member_paid
ffd_other_currency_amount
1500000
ffd_other_currency_type
GBP
ffd_ownerid
0056g0000088SLxAAM
ffd_pool_pb
ffd_price_upon_request
building_type
Villa
ffd_id
a0E6g00000BG7XZEA1
ffd_totalarea_pb
2007
ffd_solddate
ffd_soldprice
ffd_state_pb
Kyrenia
ffd_status
Active
ffd_threequarterbathrooms
ffd_unit_of_measure
Meters
ffd_brokerage_id
0016g00002TdTAIAA3
year_built
ffd_postalcode_pb
pba__WebsiteId__c
360926
pba__Listing_Website__c
https://www.forbesglobalproperties.com/listings/mature-elegance-with-additional-living-accommodation-a-coastline-paradise
Site_Post_Id__c
360926
ffd_media
a:11:{i:0;s:107:"https://s3.amazonaws.com/propertybase-clients/00D6g000007OY6LEAW/a0O6g00000AnVfv/7wforv9yf/01%20%282%29.jpg";i:1;s:107:"https://s3.amazonaws.com/propertybase-clients/00D6g000007OY6LEAW/a0O6g00000AnVfv/pn942q8w4/02%20%284%29.jpg";i:2;s:107:"https://s3.amazonaws.com/propertybase-clients/00D6g000007OY6LEAW/a0O6g00000AnVfv/iwpk1f0bc/03%20%283%29.jpg";i:3;s:107:"https://s3.amazonaws.com/propertybase-clients/00D6g000007OY6LEAW/a0O6g00000AnVfv/l98nc9zzf/04%20%282%29.jpg";i:4;s:107:"https://s3.amazonaws.com/propertybase-clients/00D6g000007OY6LEAW/a0O6g00000AnVfv/6vi0al5mf/05%20%282%29.jpg";i:5;s:107:"https://s3.amazonaws.com/propertybase-clients/00D6g000007OY6LEAW/a0O6g00000AnVfv/fxrc6sxii/06%20%284%29.jpg";i:6;s:104:"https://s3.amazonaws.com/propertybase-clients/00D6g000007OY6LEAW/a0O6g00000AnVfv/u2e6c38yg/06%281%29.jpg";i:7;s:107:"https://s3.amazonaws.com/propertybase-clients/00D6g000007OY6LEAW/a0O6g00000AnVfv/b7kn7i4a7/07%20%281%29.jpg";i:8;s:107:"https://s3.amazonaws.com/propertybase-clients/00D6g000007OY6LEAW/a0O6g00000AnVfv/4ub8x06sk/08%20%282%29.jpg";i:9;s:107:"https://s3.amazonaws.com/propertybase-clients/00D6g000007OY6LEAW/a0O6g00000AnVfv/01bd8frn2/09%20%282%29.jpg";i:10;s:107:"https://s3.amazonaws.com/propertybase-clients/00D6g000007OY6LEAW/a0O6g00000AnVfv/1fncq59ob/10%20%282%29.jpg";}
_thumbnail_id
360927
ffd_featured_image
https://s3.amazonaws.com/propertybase-clients/00D6g000007OY6LEAW/a0O6g00000AnVfv/7wforv9yf/01%20%282%29.jpg
agents
a:2:{i:0;s:6:"358297";i:1;s:6:"358299";}
_wp_old_date
2023-05-13
ffd_record_is_deleted
featured_images
360927
listing_images
a:11:{i:0;s:6:"360927";i:1;s:6:"360928";i:2;s:6:"360929";i:3;s:6:"360930";i:4;s:6:"360931";i:5;s:6:"360932";i:6;s:6:"360933";i:7;s:6:"360934";i:8;s:6:"360935";i:9;s:6:"360936";i:10;s:6:"360937";}
_sbi_oembed_done_checking
1
post_member_id
349228
post_agent_id
358297
post_coagent_id
358299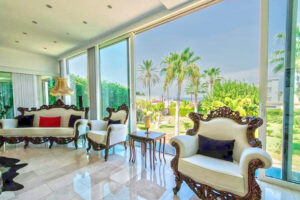 Mature Elegance with Additional Living Accommodation "A Coastline Paradise"
GBP 1,500,000
(US $1,862,850)
North Cyprus
Karaoğlanoğlu, Kyrenia, Cyprus
Status: Active
This mature elegant villa is located along the northern coastline in a private space, overlooking the Mediterranean Sea. Its free flowing architectural design with appropriately positioned glass elements absorbs the vitality and nutrients of the sunlight, captivating the surrounding environment into the living areas while maintaining cooler spaces for respite. The interior design reflects the elegant status of this smart home and utilises lavish materials and furnishings throughout. The inclusion of a separate self contained additional living space, secure parking, expansive interior and exterior accommodation, elevates its overall functionality and potential uses. And the seafront and golden sands are only a few minutes walk away!
This smart villa is located on an elevated 1.5 donum (2007 sq m) site and has a build area of 420 sq m, it is being sold fully furnished. An open plan modern high specification kitchen extends onto an inviting sun-room with views of the garden and the sea. The living area is substantial with unique features including a fireplace and extends onto the lobby and stairs.. There are 3 master bedrooms, a study area, a security room and 3 bathrooms also included with a large terrace area which has panoramic views of the surrounding mountains and sea. The interior design is modern and contemporary with full air-conditioning and special lighting systems.
The Mediterranean style mature landscaped exterior includes a private sea water pool with shower, security system, 2 internal parking spaces, 2 fresh water wells, alfresco dining facilities and a 100 sq m wetland pond area.
The property also includes a separate annex with its own kitchen and bedroom. This can have several uses i.e Private office, relative accommodation, kids recreational area, staff accommodation etc.
This mature elegant villa with additional accommodation has a large range of suit-abilities.
This unique 4 Bedroom home with 3 Bathrooms is a prime example of the luxury real estate available in Karaoğlanoğlu, Kyrenia. You can visit our Kyrenia search pages for more luxury real estate choices in Karaoğlanoğlu.