ffd_listing_title
French Riviera, luxurious contemporary villa
ffd_unique_id
ffd_mls_id
ffd_salesforce_id
a0E6g00000BG8CVEA1
ffd_address_pb
La Garde-Freinet
address
La Garde-Freinet
baths
5
beds
5
ffd_city_pb
La Garde-Freinet
ffd_colistingagent_pb
ffd_colistingagentemail_pb
ffd_colistingagentmlsid
ffd_colistingagentname
ffd_colistingofficemlsid
ffd_colistingofficename_pb
ffd_country_pb
France
ffd_createddate
2023-05-16T16:00:25.000+0000
about

This superb contemporary house with unobstructed views, built in 2012, with 350 sq m living space offers quality furbishing's. It is nestled in the heart of a 2 hectare landscaped garden with a magnificent natural swimming pool.

It includes a triple living room with fireplace and a spacious kitchen, 5 bedrooms and 5 bathrooms. A carport and a large basement with space for up to 5 cars complete the property.

The terraces on the garden level add to the charm of this property which enjoys total privacy and is ideally located near the village of Garde Freinet.

It is sold with the possibility that the villa will be entirely furnished, equipped and decorated.

A high quality property. To be seen!

ffd_displayaddress
floor
ffd_halfbathrooms_pb
0
ffd_hide_address_on_site
ffd_key_words
La Garde-Freinet;France;La Garde-Freinet, Provence-Alpes-Côte d'Azur;Provence-Alpes-Cote d'Azur;FX
ffd_lastmodifieddate
2023-05-22T15:57:46.000+0000
lat
43.3178
ffd_listofficemlsid
ffd_listofficename
ffd_listingagent_pb
0036g00001jKxSQAA0
ffd_listing_agent_email
ffd_listing_agent_firstname
ffd_listing_agent_lastname
ffd_listingagentmlsid
20393CA
ffd_listingagentname
ffd_listing_agent_website
https://www.groupe-mercure.com/en/buy/character-houses-var-16065-20393ca.html
price
2200060
ffd_listingtype
Sale
location
La Garde-Freinet, Provence-Alpes-Côte d'Azur, France
lng
6.46908
sq_feet
20000
ffd_non_member_paid
ffd_other_currency_amount
2050000
ffd_other_currency_type
EUR
ffd_ownerid
0056g0000077w5EAAQ
ffd_pool_pb
ffd_price_upon_request
building_type
Single Family
ffd_id
a0E6g00000BG8CVEA1
ffd_totalarea_pb
350
ffd_solddate
ffd_soldprice
ffd_state_pb
Provence-Alpes-Côte d'Azur
ffd_status
Active
ffd_threequarterbathrooms
0
ffd_unit_of_measure
Meters
ffd_brokerage_id
0016g000013kY9lAAE
year_built
0
ffd_postalcode_pb
83680
pba__WebsiteId__c
362628
pba__Listing_Website__c
https://www.forbesglobalproperties.com/listings/french-riviera-luxurious-contemporary-villa
Site_Post_Id__c
362628
ffd_media
a:11:{i:0;s:95:"https://media.apimo.pro/picture/5014/5013609/59587111664637c2daea800.35122825_3000.webp-big.jpg";i:1;s:95:"https://media.apimo.pro/picture/5014/5013609/587628177646380a0939cf9.65685398_4096.webp-big.jpg";i:2;s:96:"https://media.apimo.pro/picture/5014/5013609/1625106510646379f7be9eb3.94675738_3000.webp-big.jpg";i:3;s:96:"https://media.apimo.pro/picture/5014/5013609/115487483364637a198b43a6.68648600_3000.webp-big.jpg";i:4;s:96:"https://media.apimo.pro/picture/5014/5013609/178282547664637adc3f7a11.75203666_3000.webp-big.jpg";i:5;s:95:"https://media.apimo.pro/picture/5014/5013609/89764439464637af3e370a2.54779391_3000.webp-big.jpg";i:6;s:96:"https://media.apimo.pro/picture/5014/5013609/158542167564637b32b7bc22.07339154_3000.webp-big.jpg";i:7;s:96:"https://media.apimo.pro/picture/5014/5013609/142719575464637b8e779738.21985533_3000.webp-big.jpg";i:8;s:94:"https://media.apimo.pro/picture/5014/5013609/9566708164637b74114379.23038058_3000.webp-big.jpg";i:9;s:96:"https://media.apimo.pro/picture/5014/5013609/129169138064637a0bf1c1a2.11848359_3000.webp-big.jpg";i:10;s:96:"https://media.apimo.pro/picture/5014/5013609/150016983864637a017e53e6.59179160_3000.webp-big.jpg";}
_thumbnail_id
362629
ffd_featured_image
https://media.apimo.pro/picture/5014/5013609/59587111664637c2daea800.35122825_3000.webp-big.jpg
agents
a:1:{i:0;s:6:"158431";}
_wp_old_date
2023-05-17
ffd_record_is_deleted
featured_images
362629
listing_images
a:11:{i:0;s:6:"362629";i:1;s:6:"362630";i:2;s:6:"362631";i:3;s:6:"362632";i:4;s:6:"362633";i:5;s:6:"362634";i:6;s:6:"362635";i:7;s:6:"362637";i:8;s:6:"362639";i:9;s:6:"362641";i:10;s:6:"362643";}
api_external_id
5013609
_sbi_oembed_done_checking
1
post_member_id
7560
post_agent_id
158431
no_api_update
1
French Riviera, luxurious contemporary villa
EUR 2,050,000
(US $2,200,060)
La Garde-Freinet
La Garde-Freinet, Provence-Alpes-Côte d'Azur, France
Status: Active
This superb contemporary house with unobstructed views, built in 2012, with 350 sq m living space offers quality furbishing's. It is nestled in the heart of a 2 hectare landscaped garden with a magnificent natural swimming pool.
It includes a triple living room with fireplace and a spacious kitchen, 5 bedrooms and 5 bathrooms. A carport and a large basement with space for up to 5 cars complete the property.
The terraces on the garden level add to the charm of this property which enjoys total privacy and is ideally located near the village of Garde Freinet.
It is sold with the possibility that the villa will be entirely furnished, equipped and decorated.
A high quality property. To be seen!
Properties You Might Also Like
EUR 1,378,000
(US $1,478,870)
Cannes, Cote d'Azur, France
French Riviera – Cannes apartment with sea view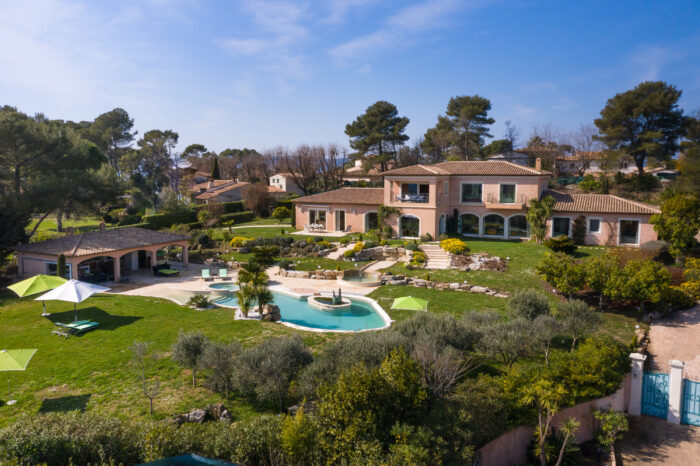 EUR 12,720,000
(US $13,651,104)
Mougins, Provence-Alpes-Cote d'Azur, France
French Riviera – Prestigious property with far reaching views
This unique 5 Bedroom home with 5 Bathrooms is a prime example of the luxury real estate available in La Garde-Freinet, Provence-Alpes-Côte d'Azur. You can visit our Provence-Alpes-Côte d'Azur search pages for more luxury real estate choices in La Garde-Freinet.