| | |
| --- | --- |
| ffd_objectsync_id | 0036g00001jKuetAAC |
| ffd_salesforce_id | 0036g00001jKuetAAC |
| ffd_id | 0036g00001jKuetAAC |
| phone | 06 12 92 25 34 |
| is_member | 1 |
| dre | |
| keywords | Mercure France Paris Auvergne Rhone-Alpes Lyon Macon Mougins Aveyron - Occitanie Estaing Burgundy Avallon Decize Etang-sur-Arroux Drome Grignan Gironde Bordeaux Languedoc Roussillon Lezignan Loire Roanne Atlantique Nantes Maine et Beaufort-en-Vallee Nevers Nouvelle Aquitaine Angles-sur-l'Anglin Angouleme Casteljaloux Niort Pons Pouzauges Sarlat-la-Canada Sauveterre-de-Guyenne Albi Beaumont-de-Lomagne Castelnaudary Gimont Gourdon Toulouse Pays de La Ancenis Laval Perpignan Yonne Auxerre Chaumont Magagnosc Thauron toulouse Vence Villers Bocage Chamalieres Grenoble LYON Vichy Bourges, Cher BOURGES Brittany Dinan Lamballe Paimpol Pont-Aven Vitre Aignay-le-Duc Rully Vesoul Centre-Val Baugy Charente france Cognac Maritime Matha Saint Jean d'Angely Bourges Dordogne Perigueux Pont Aven French Riviera Haut Crepy-en-Valois Haute Garonne Nailloux Haute-Garonne Ile Chantilly Etampes Vaux-Le-Penil Ribaute les tavernes Nord Pas Calais Cambrai Valenciennes Normandy Avranches Cabourg Caen Villers-Bocage Lalinde Lazeneuil Londigny Tauriac Aigues Mortes Montpellier Pezenas Picardie Compiegne Cannes Valbonne Grasse Nice Thuir |
| website | |
| languages | |
| email | s.boissaye@groupe-mercure.fr |
| facebook | |
| twitter | |
| instagram | |
| linkedin | |
| title_at_agency | |
| ffd_ownerid | 0056g0000077w1bAAA |
| agency | Groupe Mercure |
| brokerage_id | 0016g000013kY9lAAE |
| _wp_old_date | 2021-12-14 |
| small_profile_picture | 203939 |
| _thumbnail_id | 203939 |
| agent_title | |
| mobilephone | |
| agent_location | |
| agent_city | |
| agent_state | |
| agent_country | |
Agent
Groupe Mercure
s.boissaye@groupe-mercure.fr
06 12 92 25 34
Sales manager at the Mercure agency in Bordeaux, I oversee the urban areas and the animation of the sales team. I have been working in the real estate industry for 8 years, after working as a communications manager in various large audit and accounting firms in Paris.
My discovery of the city of Bordeaux, and then of the Groupe Mercure, was a revelation. I enjoy this extremely beautiful and dynamic living and working environment.
Married, in love, and father of three fantastic daughters, I relish being useful and involved in my personal and professional life. My daily pleasure is to discuss with others and share my enthusiasm. I am a hands-on person, with excellent interpersonal skills, and I accompany my clients with rigor and high standards, from the discovery of exceptional places to the final negotiation.
I am looking forward to welcoming you in the sumptuous city of Bordeaux "anchored in its past, with its face turned towards the future" … You can count on me to advise you, accompany you and help you realise your dreams! And if we have some time left after all that, we will go and rally a few tennis balls, my other passion!
#FGP
All Properties
EUR 2,300,000
(US $2,445,591)
Bordeaux, Aquitaine, France
Bordeaux – Exceptional apartment with panoramic views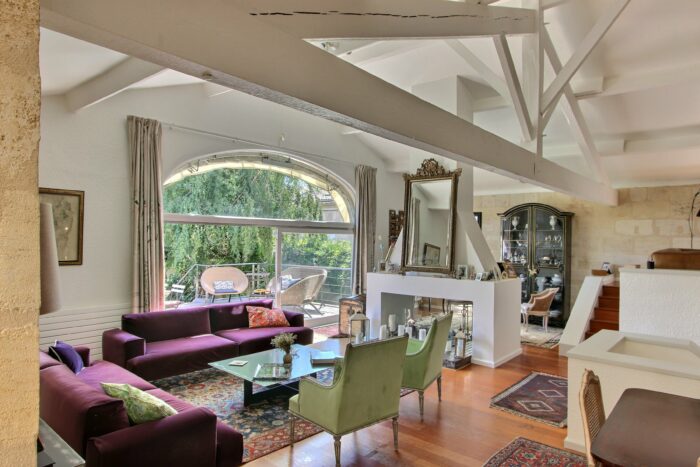 EUR 2,200,000
(US $2,339,261)
Bordeaux, Aquitaine, France
Bordeaux, Parc Bordelais – exceptional architect's house