| | |
| --- | --- |
| ffd_listing_title | Waterfront mansion in Marbella - Puerto Banús |
| ffd_unique_id | |
| ffd_mls_id | |
| ffd_salesforce_id | a0E6g00000BG4YvEAL |
| ffd_address_pb | |
| address | |
| baths | 10 |
| beds | 10 |
| ffd_city_pb | Marbella |
| ffd_colistingagent_pb | |
| ffd_colistingagentemail_pb | |
| ffd_colistingagentmlsid | |
| ffd_colistingagentname | |
| ffd_colistingofficemlsid | |
| ffd_colistingofficename_pb | |
| ffd_country_pb | Spain |
| ffd_createddate | 2023-05-02T10:14:29.000+0000 |
| about | This exquisite waterfront mansion boasts unparalleled luxury and direct private access to the beach, just a stone's throw away from Puerto Banus. The property encompasses over 4,000 square meters of lush lawn space, including the main villa, guest houses, and staff quarters. Featuring breathtaking views of the Mediterranean Sea, the estate boasts a stunningly landscaped garden with a swimming pool and opulent accommodations, making it the perfect space for both everyday living and relaxation. The main villa greets you with a grand entrance foyer adorned with majestic columns, leading to a striking formal drawing room with French doors that open out to a large covered terrace overlooking the pool. Additionally, there is a cozy lounge with a fireplace and sea views, a guest toilet, a double bedroom suite presently being used as an office, and a separate dining room that seats up to twenty people. The villa also features a large, modern-style kitchen split into two parts; a family kitchen with Miele appliances, and a stylish gourmet kitchen with a central island, ideal for show cooking. Upstairs, there are five more double bedroom suites, including the master suite of 120 square meters with a sitting room, his and hers modern stylish bathrooms, a dressing room, and stunning open views of the Mediterranean. The lower level of the villa boasts a garage with a turntable, providing space for up to four cars, as well as a fully fitted bar with wine fridges and a lounge area with a television. In the southern part of the basement, there is a modern spa area with an indoor heated swimming pool, sauna, shower, large bar area, and lounge with a gas fireplace. The area also includes space for workout machines and direct access to the garden and outdoor swimming pool, featuring a beautiful Picasso drawing of a Spanish dancer Antonio "El Bailarin" set in the pool's tiles. This drawing was created by Pablo Picasso in 1961 as a gift for the house's owner. Additionally, the basement level includes laundry, utility, and machinery rooms. The estate also offers three independent guest/staff quarters, with one of the houses consisting of two bedroom suites with bathrooms, a living room, and a kitchen, and each of the other two featuring a lounge with an open plan kitchen and a bedroom with a bathroom. The property comes equipped with air conditioning, both hot and cold, and a lift connecting all floors for easy access. |
| ffd_displayaddress | |
| floor | |
| ffd_halfbathrooms_pb | |
| ffd_hide_address_on_site | |
| ffd_key_words | Marbella |
| ffd_lastmodifieddate | 2023-05-09T13:47:42.000+0000 |
| lat | 36.5080900 |
| ffd_listofficemlsid | |
| ffd_listofficename | |
| ffd_listingagent_pb | 0036g00000rKSNMAA4 |
| ffd_listing_agent_email | |
| ffd_listing_agent_firstname | |
| ffd_listing_agent_lastname | |
| ffd_listingagentmlsid | |
| ffd_listingagentname | |
| ffd_listing_agent_website | |
| price | 32195999.999999996 |
| ffd_listingtype | Sale |
| location | Marbella, Spain |
| lng | -4.8835200 |
| sq_feet | |
| ffd_non_member_paid | |
| ffd_other_currency_amount | 30000000 |
| ffd_other_currency_type | EUR |
| ffd_ownerid | 0056g000005ql2EAAQ |
| ffd_pool_pb | |
| ffd_price_upon_request | 1 |
| building_type | Villa |
| ffd_id | a0E6g00000BG4YvEAL |
| ffd_totalarea_pb | 2145 |
| ffd_solddate | |
| ffd_soldprice | |
| ffd_state_pb | |
| ffd_status | Active |
| ffd_threequarterbathrooms | |
| ffd_unit_of_measure | Meters |
| ffd_brokerage_id | 0016g000013kY4NAAU |
| year_built | |
| ffd_postalcode_pb | |
| pba__WebsiteId__c | 354718 |
| pba__Listing_Website__c | https://www.forbesglobalproperties.com/listings/waterfront-mansion-in-marbella-puerto-banus |
| Site_Post_Id__c | 354718 |
| ffd_media | a:9:{i:0;s:131:"https://s3.amazonaws.com/propertybase-clients/00D6g000007OY6LEAW/a0O6g00000AmsKs/304m870h2/6dc02c7b-ab6e-4956-b203-1adb14a3c9bc.jpg";i:1;s:131:"https://s3.amazonaws.com/propertybase-clients/00D6g000007OY6LEAW/a0O6g00000AmsKs/h377cfuws/3ecffb20-e5d1-4534-b84c-226f4bded7eb.jpg";i:2;s:131:"https://s3.amazonaws.com/propertybase-clients/00D6g000007OY6LEAW/a0O6g00000AmsKs/6v1t7m3zj/1045257c-e9b9-443b-a079-326ee9e2aa8b.jpg";i:3;s:131:"https://s3.amazonaws.com/propertybase-clients/00D6g000007OY6LEAW/a0O6g00000AmsKs/w6y3flrlb/ef4ab274-c580-4ac3-93b6-d49333b51ebd.jpg";i:4;s:131:"https://s3.amazonaws.com/propertybase-clients/00D6g000007OY6LEAW/a0O6g00000AmsKs/0dd7vpd71/c06fdd26-dffd-40f7-8b49-704d86f1c99b.jpg";i:5;s:131:"https://s3.amazonaws.com/propertybase-clients/00D6g000007OY6LEAW/a0O6g00000AmsKs/rg7p6fxu9/9b2b4c9f-0436-407b-a528-f50b75d4e2f9.jpg";i:6;s:131:"https://s3.amazonaws.com/propertybase-clients/00D6g000007OY6LEAW/a0O6g00000AmsKs/ysri49r9t/fc1d0d13-6f15-47f1-b5c7-4f92137f1f63.jpg";i:7;s:131:"https://s3.amazonaws.com/propertybase-clients/00D6g000007OY6LEAW/a0O6g00000AmsKs/j1soifdxx/58188d58-7a99-4855-949a-9a95b651c6df.jpg";i:8;s:131:"https://s3.amazonaws.com/propertybase-clients/00D6g000007OY6LEAW/a0O6g00000AmsKs/p58nxympm/3c506d04-0355-4a76-aac5-2b8897b9550c.jpg";} |
| _thumbnail_id | 354727 |
| ffd_featured_image | https://s3.amazonaws.com/propertybase-clients/00D6g000007OY6LEAW/a0O6g00000AmsKs/304m870h2/6dc02c7b-ab6e-4956-b203-1adb14a3c9bc.jpg |
| agents | a:1:{i:0;s:5:"17244";} |
| ffd_record_is_deleted | |
| featured_images | 354727 |
| listing_images | a:9:{i:0;s:6:"354727";i:1;s:6:"354719";i:2;s:6:"354720";i:3;s:6:"354721";i:4;s:6:"354722";i:5;s:6:"354723";i:6;s:6:"354724";i:7;s:6:"354725";i:8;s:6:"354726";} |
| _sbi_oembed_done_checking | 1 |
| post_member_id | 7551 |
| post_agent_id | 17244 |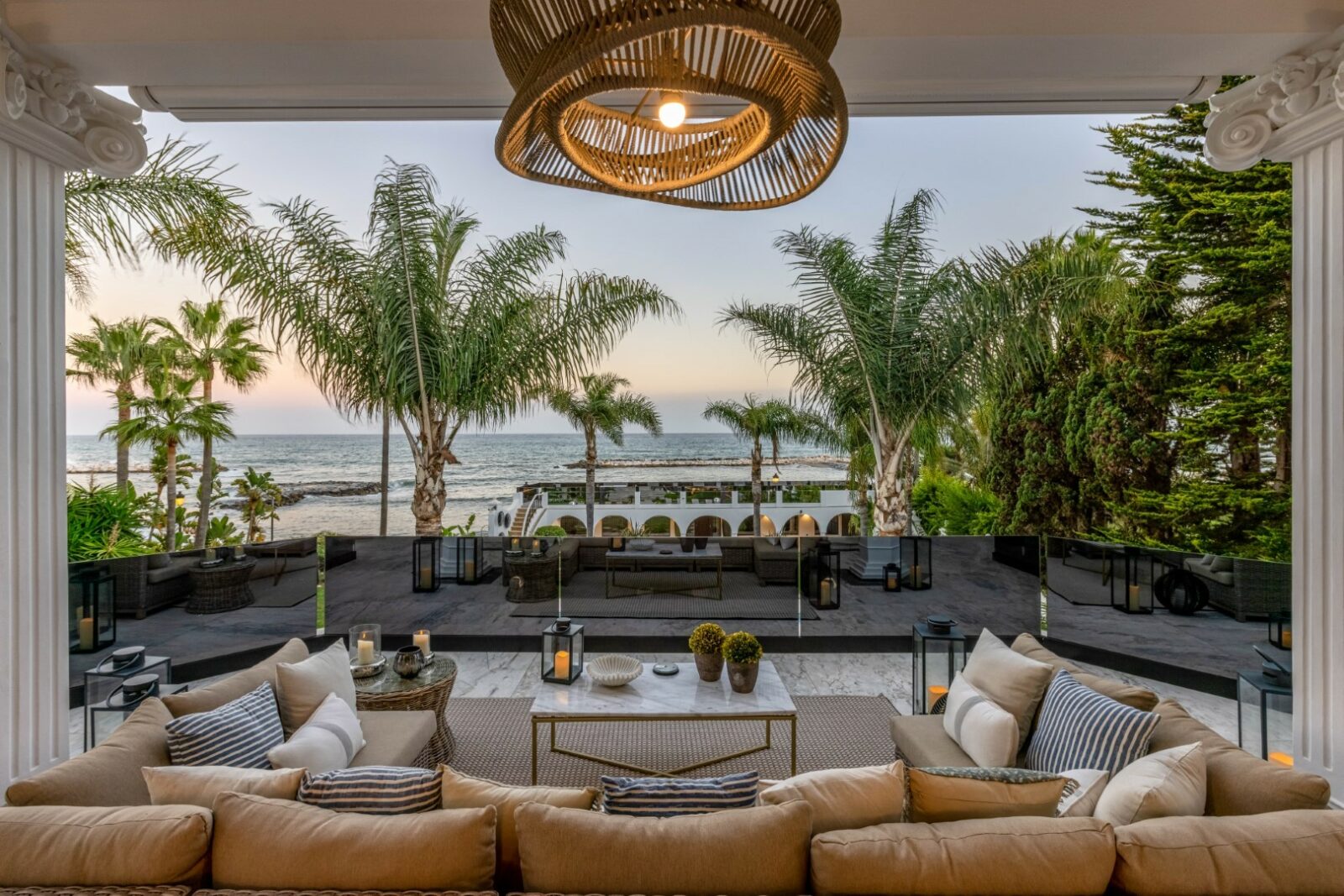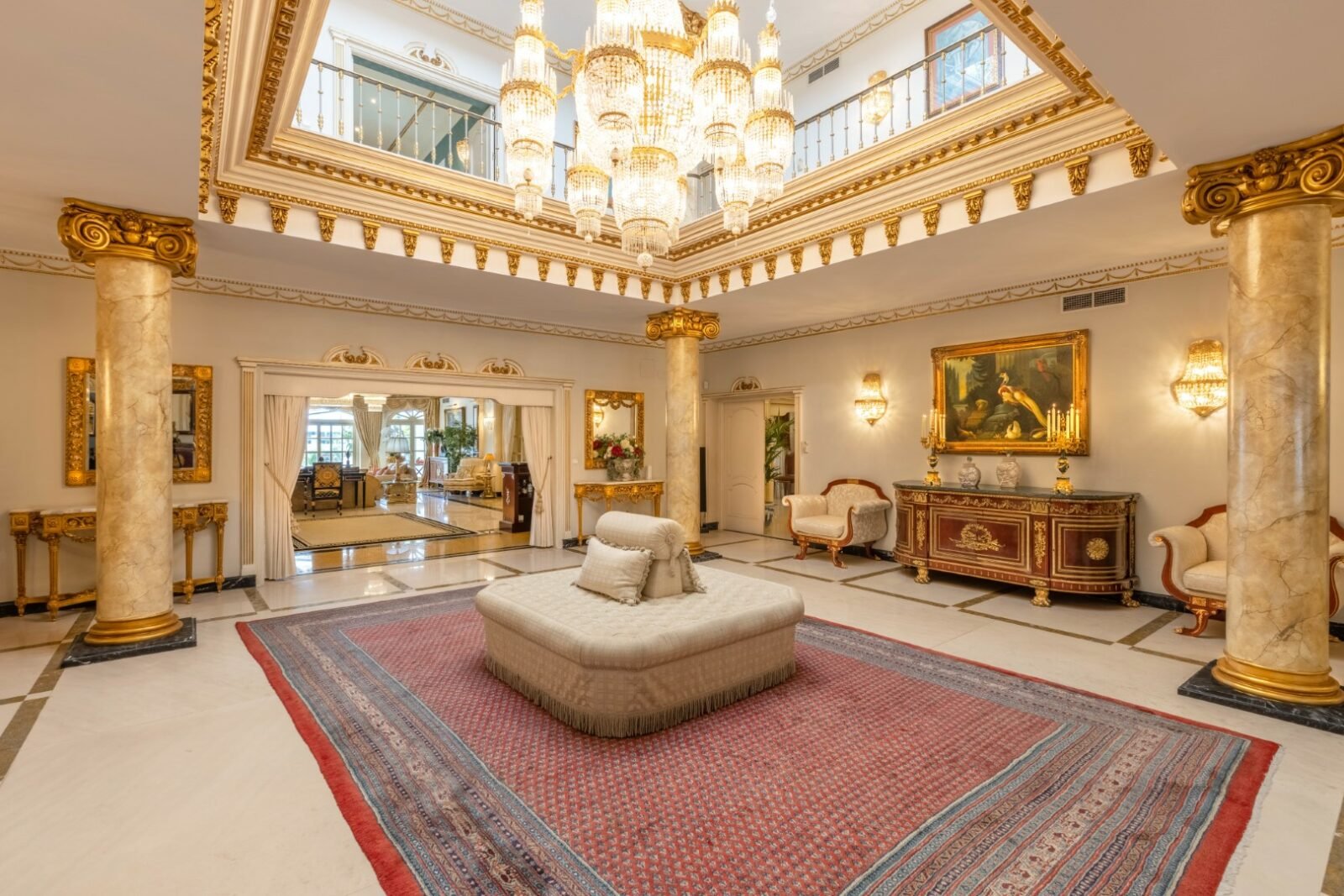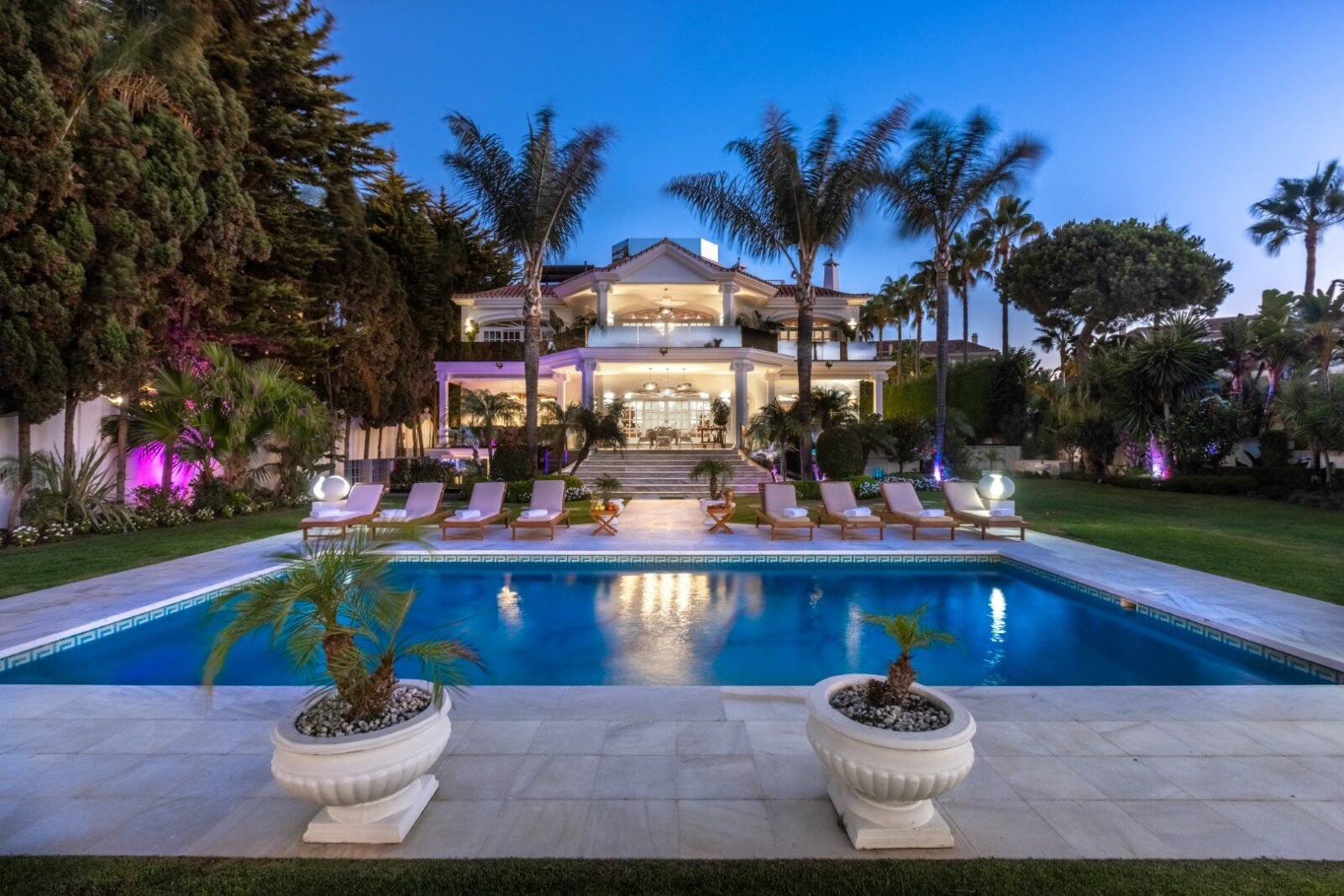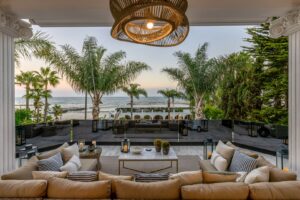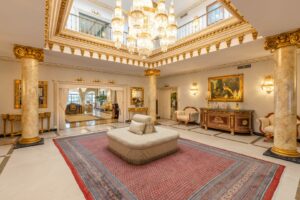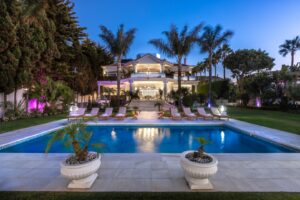 Waterfront mansion in Marbella – Puerto Banús
Marbella, Spain
Status: Active
This exquisite waterfront mansion boasts unparalleled luxury and direct private access to the beach, just a stone's throw away from Puerto Banus. The property encompasses over 4,000 square meters of lush lawn space, including the main villa, guest houses, and staff quarters. Featuring breathtaking views of the Mediterranean Sea, the estate boasts a stunningly landscaped garden with a swimming pool and opulent accommodations, making it the perfect space for both everyday living and relaxation.
The main villa greets you with a grand entrance foyer adorned with majestic columns, leading to a striking formal drawing room with French doors that open out to a large covered terrace overlooking the pool. Additionally, there is a cozy lounge with a fireplace and sea views, a guest toilet, a double bedroom suite presently being used as an office, and a separate dining room that seats up to twenty people. The villa also features a large, modern-style kitchen split into two parts; a family kitchen with Miele appliances, and a stylish gourmet kitchen with a central island, ideal for show cooking.
Upstairs, there are five more double bedroom suites, including the master suite of 120 square meters with a sitting room, his and hers modern stylish bathrooms, a dressing room, and stunning open views of the Mediterranean.
The lower level of the villa boasts a garage with a turntable, providing space for up to four cars, as well as a fully fitted bar with wine fridges and a lounge area with a television. In the southern part of the basement, there is a modern spa area with an indoor heated swimming pool, sauna, shower, large bar area, and lounge with a gas fireplace. The area also includes space for workout machines and direct access to the garden and outdoor swimming pool, featuring a beautiful Picasso drawing of a Spanish dancer Antonio "El Bailarin" set in the pool's tiles. This drawing was created by Pablo Picasso in 1961 as a gift for the house's owner. Additionally, the basement level includes laundry, utility, and machinery rooms.
The estate also offers three independent guest/staff quarters, with one of the houses consisting of two bedroom suites with bathrooms, a living room, and a kitchen, and each of the other two featuring a lounge with an open plan kitchen and a bedroom with a bathroom.
The property comes equipped with air conditioning, both hot and cold, and a lift connecting all floors for easy access.
Properties You Might Also Like
EUR 2,999,000
(US $3,218,527)
Beachfront duplex penthouse next to Puerto Banús
EUR 5,900,000
(US $6,331,880)
Marbella, Marbella, Spain
Exclusive villa facing the beach in Marbella Este – La Reserva de los Monteros
This unique 10 Bedroom home with 10 Bathrooms is a prime example of the luxury real estate available in Marbella, . You can visit our search pages for more luxury real estate choices in Marbella.