| | |
| --- | --- |
| ffd_listing_title | Sea view Villa in Liguria, near Monte Carlo |
| ffd_unique_id | |
| ffd_mls_id | |
| ffd_salesforce_id | a0E6g00000A46gbEAB |
| ffd_address_pb | |
| address | |
| baths | 9 |
| beds | 9 |
| ffd_city_pb | Bordighera |
| ffd_colistingagent_pb | |
| ffd_colistingagentemail_pb | |
| ffd_colistingagentmlsid | |
| ffd_colistingagentname | |
| ffd_colistingofficemlsid | |
| ffd_colistingofficename_pb | |
| ffd_country_pb | Italy |
| ffd_createddate | 2023-03-27T13:08:23.000+0000 |
| about | Nestled in the Riviera of Flowers between San Remo and the French Riviera , Bordighera is a treasure chest that encompasses the best of a territory of varied nature rich in tradition and history with a particularly mild climate, just remember that Queen Margherita of Savoy made there her official residence during the winter season . Nestled in a botanical park, 600 meters from the sea , we find this beautiful villa with breathtaking sea views. The villa of about 650 sqm distributed on 3 levels , presents a very particular structure typical of the houses of the south of France . The park surrounding it of about 4000sqm , is lush and crossed by a small stream , full of plants of all kinds typical of the area , agaves , euphorbias , palms , olive trees not to mention wonderful citrus plants . The villa is presented on the ground floor with large living rooms , a huge old fireplace fully functional , dining room , kitchen with access to the terrace , huge windows from which to enjoy a beautiful light and a view of the sea amazing and the surrounding park . From the living area you also have access to the beautiful shaped overhanging terrace on the park where you can comfortably eat and relax for most of the year given the mild climate characteristic of the area . On the ground floor we also find a sleeping area consisting of a large master bedroom with ensuite bathroom and a storage room. Through large spiral staircases we access the upper floor where there are 6 bedrooms including 4 doubles 1 single , a twin and 4 bathrooms all with windows with shower and bathtub with mosaic . Large corridors with built-in closets and windows with views. Going down to the lower floor we have access to the tavern with bar area and direct access to the garden , as well as independent apartment with double bedroom , sitting room and kitchen , laundry area and technical room . With access from the outside then we have a three-room apartment perfectly equipped with kitchen and bathroom . The property is completed by a garage and a greenhouse . |
| ffd_displayaddress | |
| floor | |
| ffd_halfbathrooms_pb | |
| ffd_hide_address_on_site | |
| ffd_key_words | Bordighera |
| ffd_lastmodifieddate | 2023-05-18T13:15:05.000+0000 |
| lat | 43.7784300 |
| ffd_listofficemlsid | |
| ffd_listofficename | |
| ffd_listingagent_pb | 0036g00001o9SElAAM |
| ffd_listing_agent_email | |
| ffd_listing_agent_firstname | |
| ffd_listing_agent_lastname | |
| ffd_listingagentmlsid | |
| ffd_listingagentname | |
| ffd_listing_agent_website | |
| price | 2951300 |
| ffd_listingtype | Sale |
| location | Bordighera, Liguria, Italy |
| lng | 7.6710100 |
| sq_feet | |
| ffd_non_member_paid | |
| ffd_other_currency_amount | 2750000 |
| ffd_other_currency_type | EUR |
| ffd_ownerid | 0056g000007K6UMAA0 |
| ffd_pool_pb | |
| ffd_price_upon_request | |
| building_type | Villa |
| ffd_id | a0E6g00000A46gbEAB |
| ffd_totalarea_pb | 650 |
| ffd_solddate | |
| ffd_soldprice | |
| ffd_state_pb | Liguria |
| ffd_status | Active |
| ffd_threequarterbathrooms | |
| ffd_unit_of_measure | Meters |
| ffd_brokerage_id | 0016g000023kROSAA2 |
| year_built | |
| ffd_postalcode_pb | |
| pba__WebsiteId__c | 337553 |
| pba__Listing_Website__c | https://www.forbesglobalproperties.com/listings/sea-view-villa-in-liguria-near-monte-carlo |
| Site_Post_Id__c | 337553 |
| ffd_media | a:26:{i:0;s:105:"https://s3.amazonaws.com/propertybase-clients/00D6g000007OY6LEAW/a0O6g00000CdI4i/q1q5ugxru/L_DJI_0560.jpg";i:1;s:105:"https://s3.amazonaws.com/propertybase-clients/00D6g000007OY6LEAW/a0O6g00000CdI4i/hajdvhl6i/L_DJI_0557.jpg";i:2;s:105:"https://s3.amazonaws.com/propertybase-clients/00D6g000007OY6LEAW/a0O6g00000CdI4i/2zecgyy4o/L_DJI_0553.jpg";i:3;s:105:"https://s3.amazonaws.com/propertybase-clients/00D6g000007OY6LEAW/a0O6g00000CdI4i/jny38ily7/L_DJI_0550.jpg";i:4;s:105:"https://s3.amazonaws.com/propertybase-clients/00D6g000007OY6LEAW/a0O6g00000CdI4i/vgqa5xcrn/L_DJI_0535.jpg";i:5;s:103:"https://s3.amazonaws.com/propertybase-clients/00D6g000007OY6LEAW/a0O6g00000CdI4i/k6rvcuame/IMG_6379.jpg";i:6;s:103:"https://s3.amazonaws.com/propertybase-clients/00D6g000007OY6LEAW/a0O6g00000CdI4i/cukpo4ejw/IMG_6356.jpg";i:7;s:103:"https://s3.amazonaws.com/propertybase-clients/00D6g000007OY6LEAW/a0O6g00000CdI4i/7aiwjsw10/IMG_6347.jpg";i:8;s:103:"https://s3.amazonaws.com/propertybase-clients/00D6g000007OY6LEAW/a0O6g00000CdI4i/gmlfhj380/IMG_6343.jpg";i:9;s:103:"https://s3.amazonaws.com/propertybase-clients/00D6g000007OY6LEAW/a0O6g00000CdI4i/fn7901w6g/IMG_6339.jpg";i:10;s:103:"https://s3.amazonaws.com/propertybase-clients/00D6g000007OY6LEAW/a0O6g00000CdI4i/6rqf4ydsa/IMG_6335.jpg";i:11;s:103:"https://s3.amazonaws.com/propertybase-clients/00D6g000007OY6LEAW/a0O6g00000CdI4i/ynycfhmos/IMG_6330.jpg";i:12;s:103:"https://s3.amazonaws.com/propertybase-clients/00D6g000007OY6LEAW/a0O6g00000CdI4i/4bmhzxh6j/IMG_6324.jpg";i:13;s:103:"https://s3.amazonaws.com/propertybase-clients/00D6g000007OY6LEAW/a0O6g00000CdI4i/25g848efv/IMG_6311.jpg";i:14;s:103:"https://s3.amazonaws.com/propertybase-clients/00D6g000007OY6LEAW/a0O6g00000CdI4i/ypyxq5lpf/IMG_6304.jpg";i:15;s:103:"https://s3.amazonaws.com/propertybase-clients/00D6g000007OY6LEAW/a0O6g00000CdI4i/zc5zunjt3/IMG_6294.jpg";i:16;s:103:"https://s3.amazonaws.com/propertybase-clients/00D6g000007OY6LEAW/a0O6g00000CdI4i/9mfx40i01/IMG_6287.jpg";i:17;s:103:"https://s3.amazonaws.com/propertybase-clients/00D6g000007OY6LEAW/a0O6g00000CdI4i/xz02b02eo/IMG_6233.jpg";i:18;s:103:"https://s3.amazonaws.com/propertybase-clients/00D6g000007OY6LEAW/a0O6g00000CdI4i/ri0brg40z/IMG_6202.jpg";i:19;s:103:"https://s3.amazonaws.com/propertybase-clients/00D6g000007OY6LEAW/a0O6g00000CdI4i/jozd2m0b8/IMG_6198.jpg";i:20;s:103:"https://s3.amazonaws.com/propertybase-clients/00D6g000007OY6LEAW/a0O6g00000CdI4i/68tvj4mhy/IMG_6180.jpg";i:21;s:103:"https://s3.amazonaws.com/propertybase-clients/00D6g000007OY6LEAW/a0O6g00000CdI4i/m6n43d1q0/IMG_6174.jpg";i:22;s:103:"https://s3.amazonaws.com/propertybase-clients/00D6g000007OY6LEAW/a0O6g00000CdI4i/peqrb8zuf/IMG_6077.jpg";i:23;s:103:"https://s3.amazonaws.com/propertybase-clients/00D6g000007OY6LEAW/a0O6g00000CdI4i/46f697tpj/IMG_6026.jpg";i:24;s:103:"https://s3.amazonaws.com/propertybase-clients/00D6g000007OY6LEAW/a0O6g00000CdI4i/v5me8vsvi/IMG_6016.jpg";i:25;s:103:"https://s3.amazonaws.com/propertybase-clients/00D6g000007OY6LEAW/a0O6g00000CdI4i/4genei4ce/IMG_6011.jpg";} |
| _thumbnail_id | 337554 |
| ffd_featured_image | https://s3.amazonaws.com/propertybase-clients/00D6g000007OY6LEAW/a0O6g00000CdI4i/q1q5ugxru/L_DJI_0560.jpg |
| agents | a:1:{i:0;s:6:"183835";} |
| _wp_old_date | 2023-03-28 |
| ffd_record_is_deleted | |
| _wp_old_slug | sea-view-villa-in-bordighera |
| featured_images | 337554 |
| listing_images | a:26:{i:0;s:6:"337554";i:1;s:6:"337555";i:2;s:6:"337556";i:3;s:6:"337557";i:4;s:6:"337558";i:5;s:6:"337559";i:6;s:6:"337560";i:7;s:6:"337561";i:8;s:6:"337562";i:9;s:6:"337563";i:10;s:6:"337564";i:11;s:6:"337565";i:12;s:6:"337566";i:13;s:6:"337567";i:14;s:6:"337568";i:15;s:6:"337569";i:16;s:6:"337570";i:17;s:6:"337571";i:18;s:6:"337572";i:19;s:6:"337573";i:20;s:6:"337574";i:21;s:6:"337575";i:22;s:6:"337576";i:23;s:6:"337577";i:24;s:6:"337578";i:25;s:6:"337579";} |
| post_member_id | 183774 |
| post_agent_id | 183835 |
| _sbi_oembed_done_checking | 1 |
Sea view Villa in Liguria, near Monte Carlo
EUR 2,750,000
(US $2,951,300)
Bordighera, Liguria, Italy
Status: Active
Nestled in the Riviera of Flowers between San Remo and the French Riviera , Bordighera is a treasure chest that encompasses the best of a territory of varied nature rich in tradition and history with a particularly mild climate, just remember that Queen Margherita of Savoy made there her official residence during the winter season . Nestled in a botanical park, 600 meters from the sea , we find this beautiful villa with breathtaking sea views. The villa of about 650 sqm distributed on 3 levels , presents a very particular structure typical of the houses of the south of France . The park surrounding it of about 4000sqm , is lush and crossed by a small stream , full of plants of all kinds typical of the area , agaves , euphorbias , palms , olive trees not to mention wonderful citrus plants . The villa is presented on the ground floor with large living rooms , a huge old fireplace fully functional , dining room , kitchen with access to the terrace , huge windows from which to enjoy a beautiful light and a view of the sea amazing and the surrounding park . From the living area you also have access to the beautiful shaped overhanging terrace on the park where you can comfortably eat and relax for most of the year given the mild climate characteristic of the area . On the ground floor we also find a sleeping area consisting of a large master bedroom with ensuite bathroom and a storage room. Through large spiral staircases we access the upper floor where there are 6 bedrooms including 4 doubles 1 single , a twin and 4 bathrooms all with windows with shower and bathtub with mosaic . Large corridors with built-in closets and windows with views. Going down to the lower floor we have access to the tavern with bar area and direct access to the garden , as well as independent apartment with double bedroom , sitting room and kitchen , laundry area and technical room . With access from the outside then we have a three-room apartment perfectly equipped with kitchen and bathroom . The property is completed by a garage and a greenhouse .
Properties You Might Also Like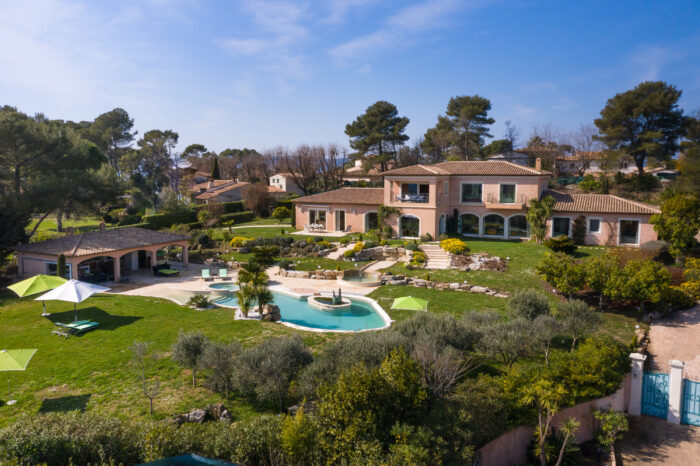 EUR 12,720,000
(US $13,651,104)
Mougins, Provence-Alpes-Cote d'Azur, France
French Riviera – Prestigious property with far reaching views
EUR 1,378,000
(US $1,478,870)
Cannes, Cote d'Azur, France
French Riviera – Cannes apartment with sea view
This unique 9 Bedroom home with 9 Bathrooms is a prime example of the luxury real estate available in Bordighera, Liguria. You can visit our Liguria search pages for more luxury real estate choices in Bordighera.