ffd_listing_title
A Tranquil Oasis of Coastal Living: Perched on the Mediterranean Rivera
ffd_unique_id
ffd_mls_id
ffd_salesforce_id
a0E6g00000BGAxCEAX
ffd_address_pb
Cyprus
address
Cyprus
baths
5
beds
4
ffd_city_pb
Ayia Napa
ffd_colistingagent_pb
0036g00002NG0kSAAT
ffd_colistingagentemail_pb
ffd_colistingagentmlsid
ffd_colistingagentname
ffd_colistingofficemlsid
ffd_colistingofficename_pb
ffd_country_pb
Cyprus
ffd_createddate
2023-05-22T15:21:52.000+0000
about

This Tranquil Oasis of Coastal living provides for a serene and relaxing lifestyle. It consists of two prestigious 4-bedroom seafront villas that are built to the highest standards. Each villa comes with a private overflow swimming pool, providing a tranquil oasis for residents to enjoy. The development has unobstructed sea views, allowing residents to fully immerse themselves in the beauty of their surroundings. Direct access to the sandy beaches ensures convenient and easy enjoyment of the coastal environment. The white sand and azure seas create a picturesque backdrop, making this the ideal location for those seeking a luxurious beach-front living experience. While the development offers a peaceful atmosphere, it is also conveniently located within a ten-minute walk from various amenities. Additionally, blue flag beaches, renowned for their cleanliness and facilities, are just a short drive away, providing further options for recreation and leisure.

The villas themselves are designed with utmost attention to detail and offer a range of facilities to enhance the residents' experience. Private parking ensures convenient and secure access to vehicles. Central heating allows for year-round comfort, while an elevator provides easy access to all levels of the villa. Inside, the villas feature a wine cellar, gym, and sauna, allowing residents to indulge in relaxation and wellness activities. The Italian kitchens are designed to be both functional and stylish, catering to the culinary needs of the residents. The living and dining areas provide ample space for relaxation and entertaining guests.

Upstairs, the three en-suite bedrooms are finished to a high standard, ensuring comfort and luxury. Each bedroom has a private balcony, offering breathtaking views of the sea. These stunning views serve as a constant reminder of the beautiful coastal environment surrounding the development.

The villas are ready to move in, allowing residents to immediately enjoy the luxurious and tranquil lifestyle offered.

Ayia Napa, located on the southeastern coast of Cyprus, is a renowned destination that captures the essence of the island's natural beauty and Mediterranean charm. As the legendary birthplace of Aphrodite, the goddess of love and beauty, Cyprus holds a special place in Greek mythology. The island itself is often referred to as the "Jewel of the Mediterranean" due to its stunning landscapes. The coastline stretches for 648 kilometres, offering picturesque beaches and some of the cleanest bathing waters in Europe. Ayia Napa, in particular, boasts beautiful sandy beaches and crystal-clear turquoise waters, making it a sought-after destination for beach lovers and water enthusiasts.

Beyond the coastline, Cyprus reveals its diverse terrain. The island features rolling mountains, including the snow-capped Olympus mountain, which offers breathtaking views and opportunities for outdoor activities. The central plain provides fertile land for agriculture, while the rugged headlands and cliffs add a touch of drama to the coastal scenery.

The island's location at the historical crossroads of Europe, Asia, and Africa has contributed to its rich cultural heritage and unique blend of influences. Visitors can explore ancient archaeological sites, medieval castles, and traditional villages that showcase the island's history and multicultural past. Cyprus benefits from a wonderful Mediterranean climate, with long, hot summers and mild winters. The island enjoys an abundance of sunshine throughout the year, making it an attractive destination for those seeking a pleasant and comfortable climate. Cyprus offers a wide range of options to cater to the needs and preferences of visitors and residents alike. From luxury resorts, hotels, and spas to vibrant nightlife, fine dining, and shopping, the island provides a diverse array of experiences. Additionally, Cyprus has established itself as a world-class holiday and property destination, attracting investors and individuals looking to own a piece of this idyllic Mediterranean paradise.

ffd_displayaddress
floor
ffd_halfbathrooms_pb
ffd_hide_address_on_site
ffd_key_words
Ayia Napa
ffd_lastmodifieddate
2023-05-22T17:15:51.000+0000
lat
34.9917100
ffd_listofficemlsid
ffd_listofficename
ffd_listingagent_pb
0036g00002NG0kNAAT
ffd_listing_agent_email
ffd_listing_agent_firstname
ffd_listing_agent_lastname
ffd_listingagentmlsid
ffd_listingagentname
ffd_listing_agent_website
https://bestinvest.com.tr/properties/villa-with-private-pool-in-cyprus-ready-to-visit-villa/
price
2897640
ffd_listingtype
Sale
location
Ayia Napa, Cyprus
lng
33.9967600
sq_feet
ffd_non_member_paid
ffd_other_currency_amount
2700000
ffd_other_currency_type
EUR
ffd_ownerid
0056g0000088SLxAAM
ffd_pool_pb
ffd_price_upon_request
building_type
Villa
ffd_id
a0E6g00000BGAxCEAX
ffd_totalarea_pb
578
ffd_solddate
ffd_soldprice
ffd_state_pb
ffd_status
Active
ffd_threequarterbathrooms
ffd_unit_of_measure
Meters
ffd_brokerage_id
0016g00002TdTAIAA3
year_built
ffd_postalcode_pb
pba__WebsiteId__c
365524
pba__Listing_Website__c
https://www.forbesglobalproperties.com/listings/a-tranquil-oasis-of-coastal-living-perched-on-the-mediterranean-rivera
Site_Post_Id__c
365524
ffd_media
a:12:{i:0;s:97:"https://s3.amazonaws.com/propertybase-clients/00D6g000007OY6LEAW/a0O6g00000AoKAj/p6y3dgzjb/01.jpg";i:1;s:97:"https://s3.amazonaws.com/propertybase-clients/00D6g000007OY6LEAW/a0O6g00000AoKAj/f476v6gya/02.jpg";i:2;s:107:"https://s3.amazonaws.com/propertybase-clients/00D6g000007OY6LEAW/a0O6g00000AoKAj/jd82ts80t/03%20%281%29.jpg";i:3;s:97:"https://s3.amazonaws.com/propertybase-clients/00D6g000007OY6LEAW/a0O6g00000AoKAj/3sa14dl5a/04.jpg";i:4;s:97:"https://s3.amazonaws.com/propertybase-clients/00D6g000007OY6LEAW/a0O6g00000AoKAj/sszvcfdce/05.jpg";i:5;s:107:"https://s3.amazonaws.com/propertybase-clients/00D6g000007OY6LEAW/a0O6g00000AoKAj/b23zaggkl/06%20%281%29.jpg";i:6;s:97:"https://s3.amazonaws.com/propertybase-clients/00D6g000007OY6LEAW/a0O6g00000AoKAj/74qrn0s7i/07.jpg";i:7;s:97:"https://s3.amazonaws.com/propertybase-clients/00D6g000007OY6LEAW/a0O6g00000AoKAj/p1peeizjx/08.jpg";i:8;s:97:"https://s3.amazonaws.com/propertybase-clients/00D6g000007OY6LEAW/a0O6g00000AoKAj/930jbiflt/09.jpg";i:9;s:97:"https://s3.amazonaws.com/propertybase-clients/00D6g000007OY6LEAW/a0O6g00000AoKAj/6wiv9940q/10.jpg";i:10;s:97:"https://s3.amazonaws.com/propertybase-clients/00D6g000007OY6LEAW/a0O6g00000AoKAj/w39awz9w1/11.jpg";i:11;s:106:"https://s3.amazonaws.com/propertybase-clients/00D6g000007OY6LEAW/a0O6g00000AoKAj/k8728avlm/Ayia%20Napa.jpg";}
_thumbnail_id
365525
ffd_featured_image
https://s3.amazonaws.com/propertybase-clients/00D6g000007OY6LEAW/a0O6g00000AoKAj/p6y3dgzjb/01.jpg
agents
a:2:{i:0;s:6:"358297";i:1;s:6:"358299";}
ffd_record_is_deleted
featured_images
365525
listing_images
a:12:{i:0;s:6:"365525";i:1;s:6:"365526";i:2;s:6:"365527";i:3;s:6:"365528";i:4;s:6:"365529";i:5;s:6:"365530";i:6;s:6:"365531";i:7;s:6:"365532";i:8;s:6:"365533";i:9;s:6:"365534";i:10;s:6:"365535";i:11;s:6:"365536";}
_sbi_oembed_done_checking
1
post_member_id
349228
post_agent_id
358297
post_coagent_id
358299
A Tranquil Oasis of Coastal Living: Perched on the Mediterranean Rivera
EUR 2,700,000
(US $2,897,640)
Cyprus
Ayia Napa, Cyprus
Status: Active
This Tranquil Oasis of Coastal living provides for a serene and relaxing lifestyle. It consists of two prestigious 4-bedroom seafront villas that are built to the highest standards. Each villa comes with a private overflow swimming pool, providing a tranquil oasis for residents to enjoy. The development has unobstructed sea views, allowing residents to fully immerse themselves in the beauty of their surroundings. Direct access to the sandy beaches ensures convenient and easy enjoyment of the coastal environment. The white sand and azure seas create a picturesque backdrop, making this the ideal location for those seeking a luxurious beach-front living experience. While the development offers a peaceful atmosphere, it is also conveniently located within a ten-minute walk from various amenities. Additionally, blue flag beaches, renowned for their cleanliness and facilities, are just a short drive away, providing further options for recreation and leisure.
The villas themselves are designed with utmost attention to detail and offer a range of facilities to enhance the residents' experience. Private parking ensures convenient and secure access to vehicles. Central heating allows for year-round comfort, while an elevator provides easy access to all levels of the villa. Inside, the villas feature a wine cellar, gym, and sauna, allowing residents to indulge in relaxation and wellness activities. The Italian kitchens are designed to be both functional and stylish, catering to the culinary needs of the residents. The living and dining areas provide ample space for relaxation and entertaining guests.
Upstairs, the three en-suite bedrooms are finished to a high standard, ensuring comfort and luxury. Each bedroom has a private balcony, offering breathtaking views of the sea. These stunning views serve as a constant reminder of the beautiful coastal environment surrounding the development.
The villas are ready to move in, allowing residents to immediately enjoy the luxurious and tranquil lifestyle offered.
Ayia Napa, located on the southeastern coast of Cyprus, is a renowned destination that captures the essence of the island's natural beauty and Mediterranean charm. As the legendary birthplace of Aphrodite, the goddess of love and beauty, Cyprus holds a special place in Greek mythology. The island itself is often referred to as the "Jewel of the Mediterranean" due to its stunning landscapes. The coastline stretches for 648 kilometres, offering picturesque beaches and some of the cleanest bathing waters in Europe. Ayia Napa, in particular, boasts beautiful sandy beaches and crystal-clear turquoise waters, making it a sought-after destination for beach lovers and water enthusiasts.
Beyond the coastline, Cyprus reveals its diverse terrain. The island features rolling mountains, including the snow-capped Olympus mountain, which offers breathtaking views and opportunities for outdoor activities. The central plain provides fertile land for agriculture, while the rugged headlands and cliffs add a touch of drama to the coastal scenery.
The island's location at the historical crossroads of Europe, Asia, and Africa has contributed to its rich cultural heritage and unique blend of influences. Visitors can explore ancient archaeological sites, medieval castles, and traditional villages that showcase the island's history and multicultural past. Cyprus benefits from a wonderful Mediterranean climate, with long, hot summers and mild winters. The island enjoys an abundance of sunshine throughout the year, making it an attractive destination for those seeking a pleasant and comfortable climate. Cyprus offers a wide range of options to cater to the needs and preferences of visitors and residents alike. From luxury resorts, hotels, and spas to vibrant nightlife, fine dining, and shopping, the island provides a diverse array of experiences. Additionally, Cyprus has established itself as a world-class holiday and property destination, attracting investors and individuals looking to own a piece of this idyllic Mediterranean paradise.
Properties You Might Also Like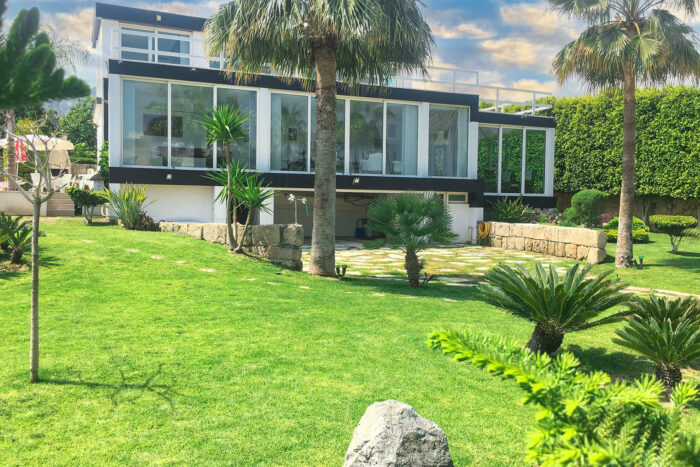 GBP 1,500,000
(US $1,862,850)
Karaoğlanoğlu, Kyrenia, Cyprus
Mature Elegance with Additional Living Accommodation "A Coastline Paradise"
GBP 1,750,000
(US $2,173,325)
Arciform 5 Bed Contemporary Designed Villa: Convey the Feelings of Comfort
This unique 4 Bedroom home with 5 Bathrooms is a prime example of the luxury real estate available in Ayia Napa, . You can visit our search pages for more luxury real estate choices in Ayia Napa.