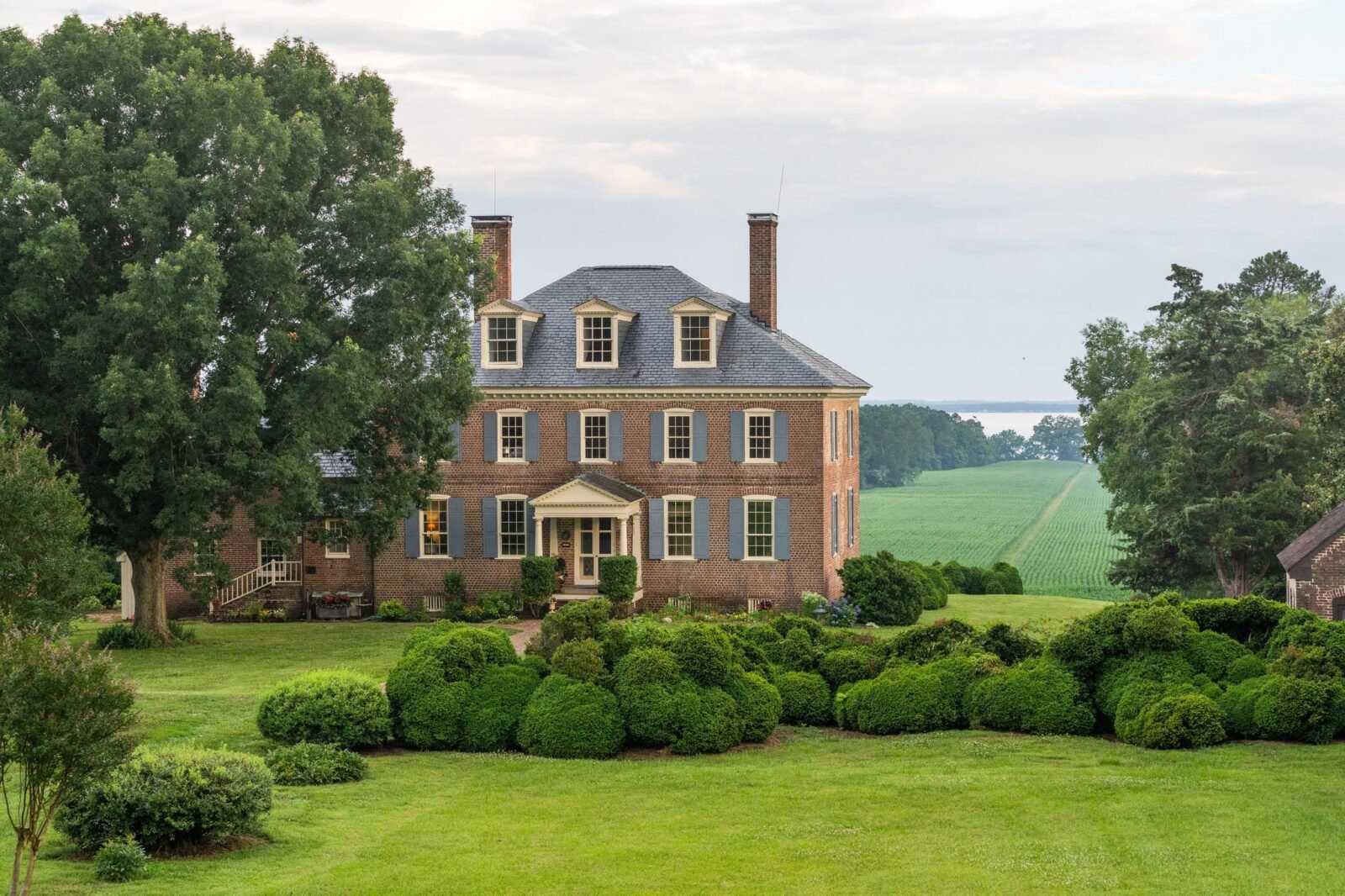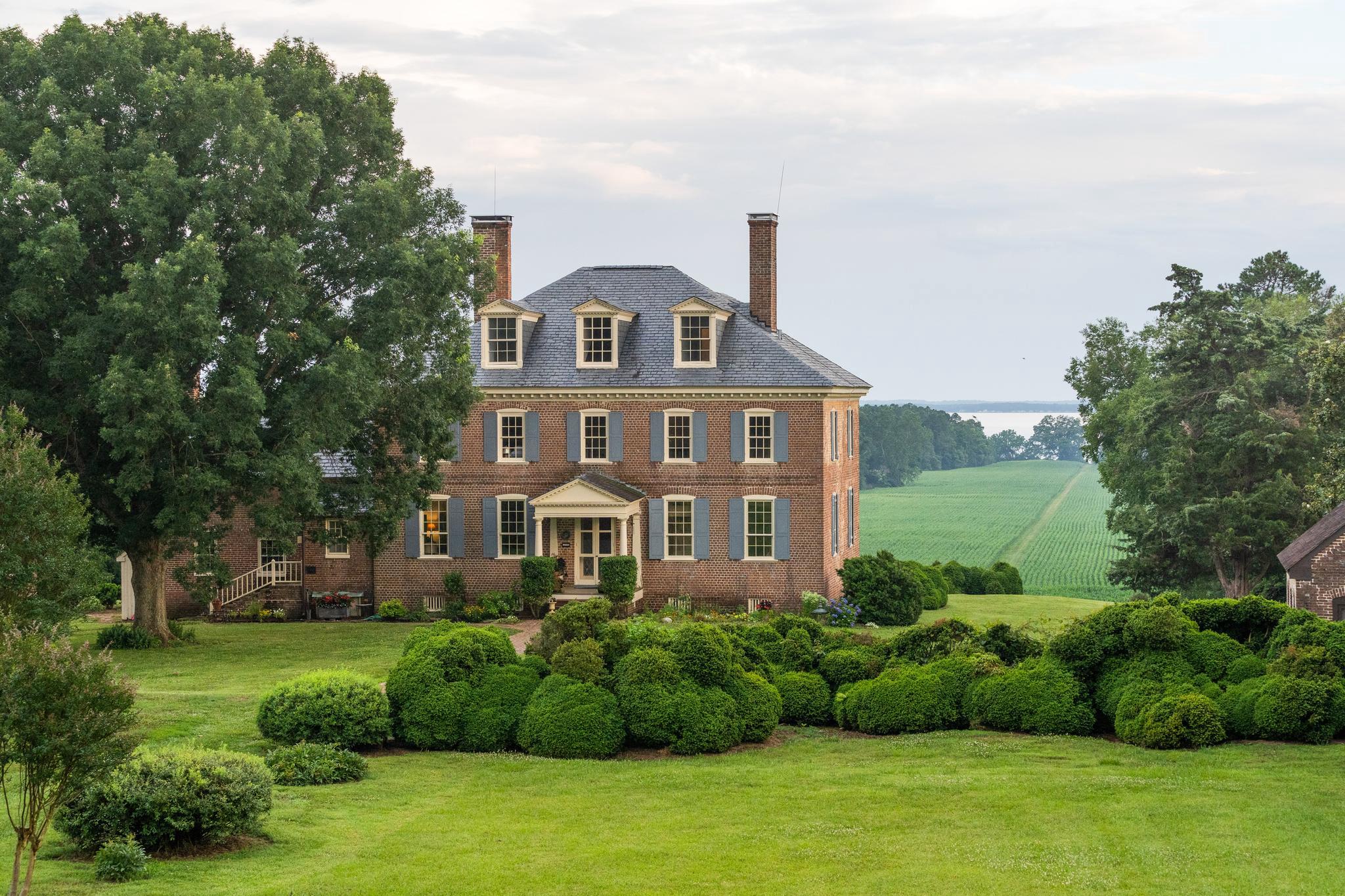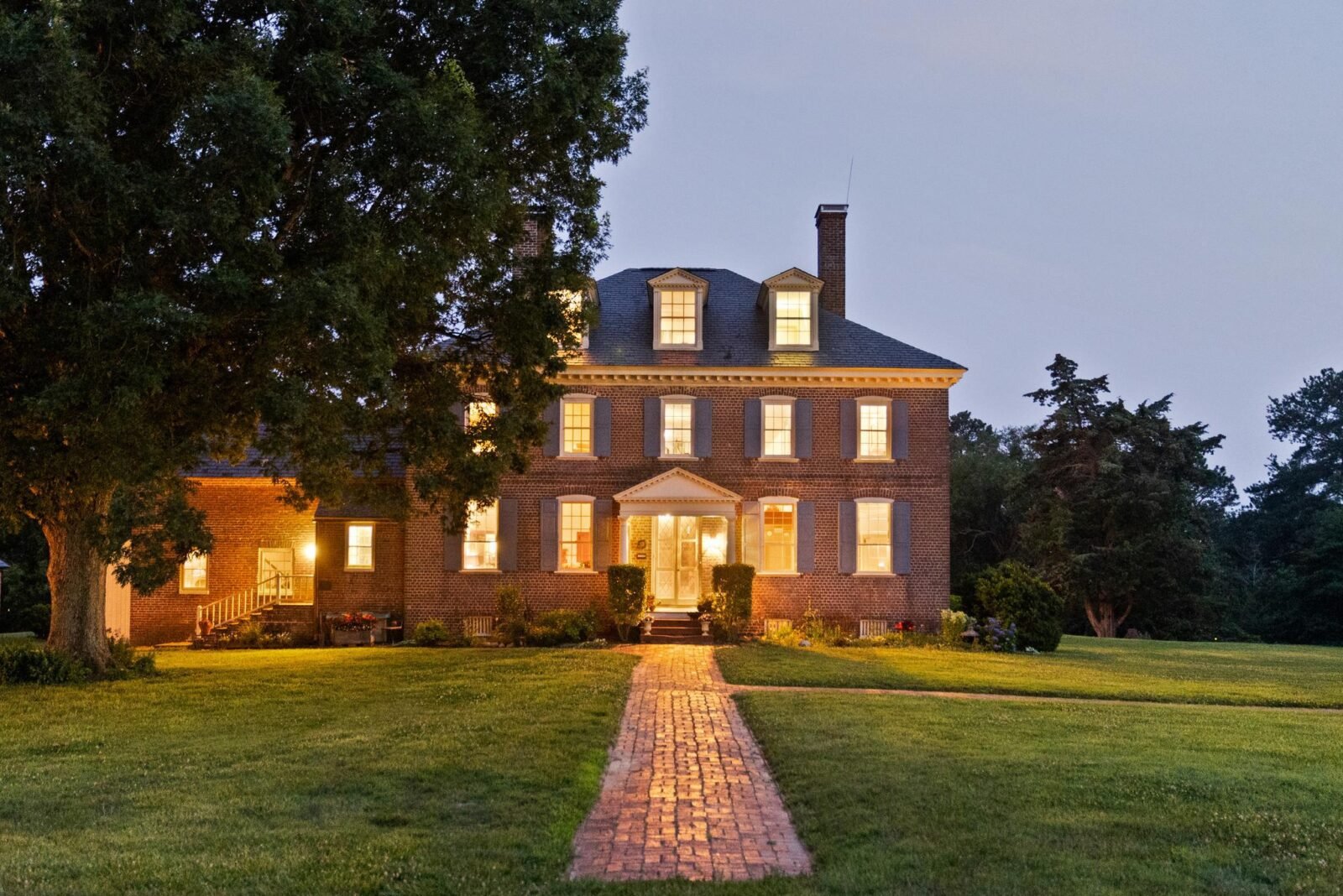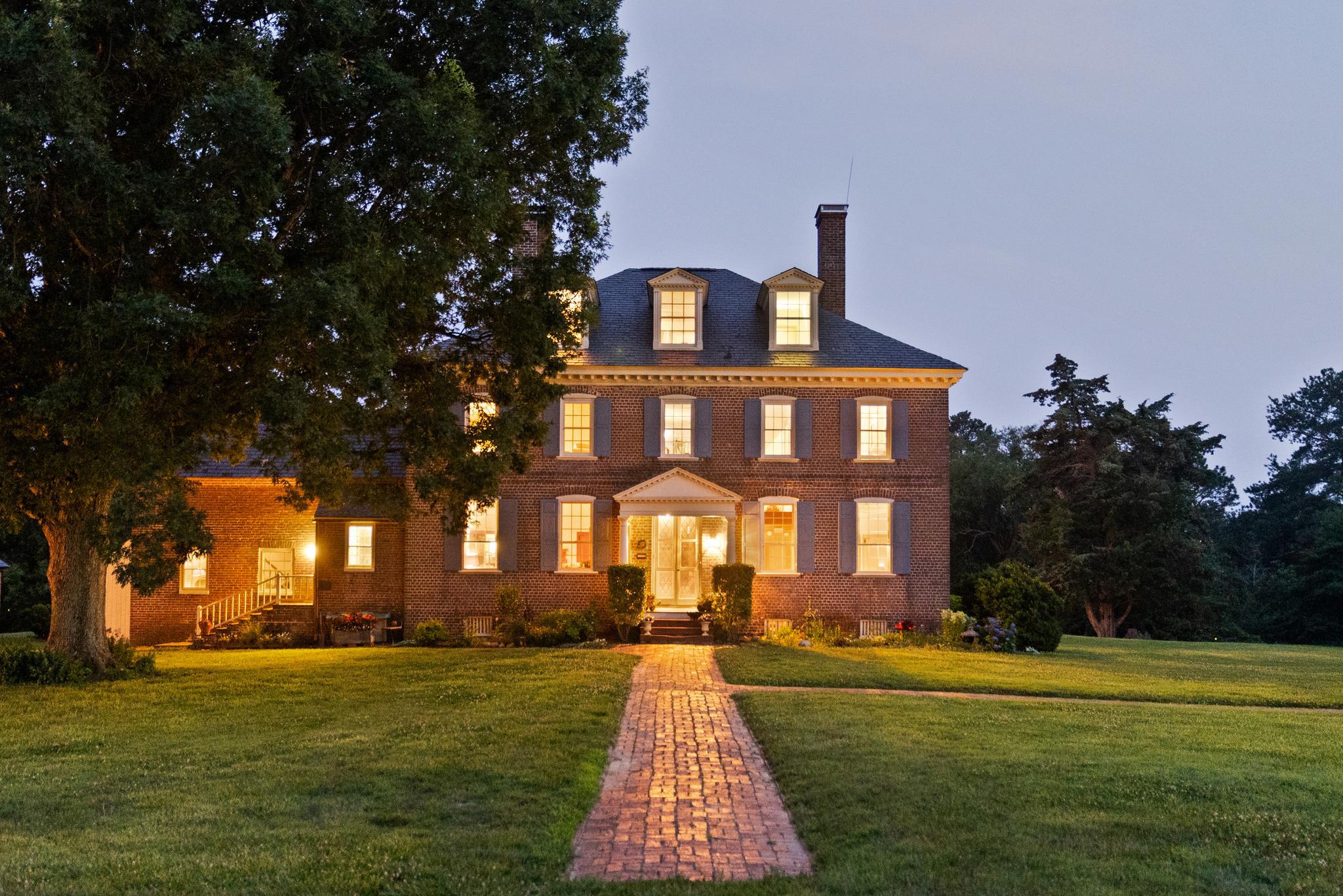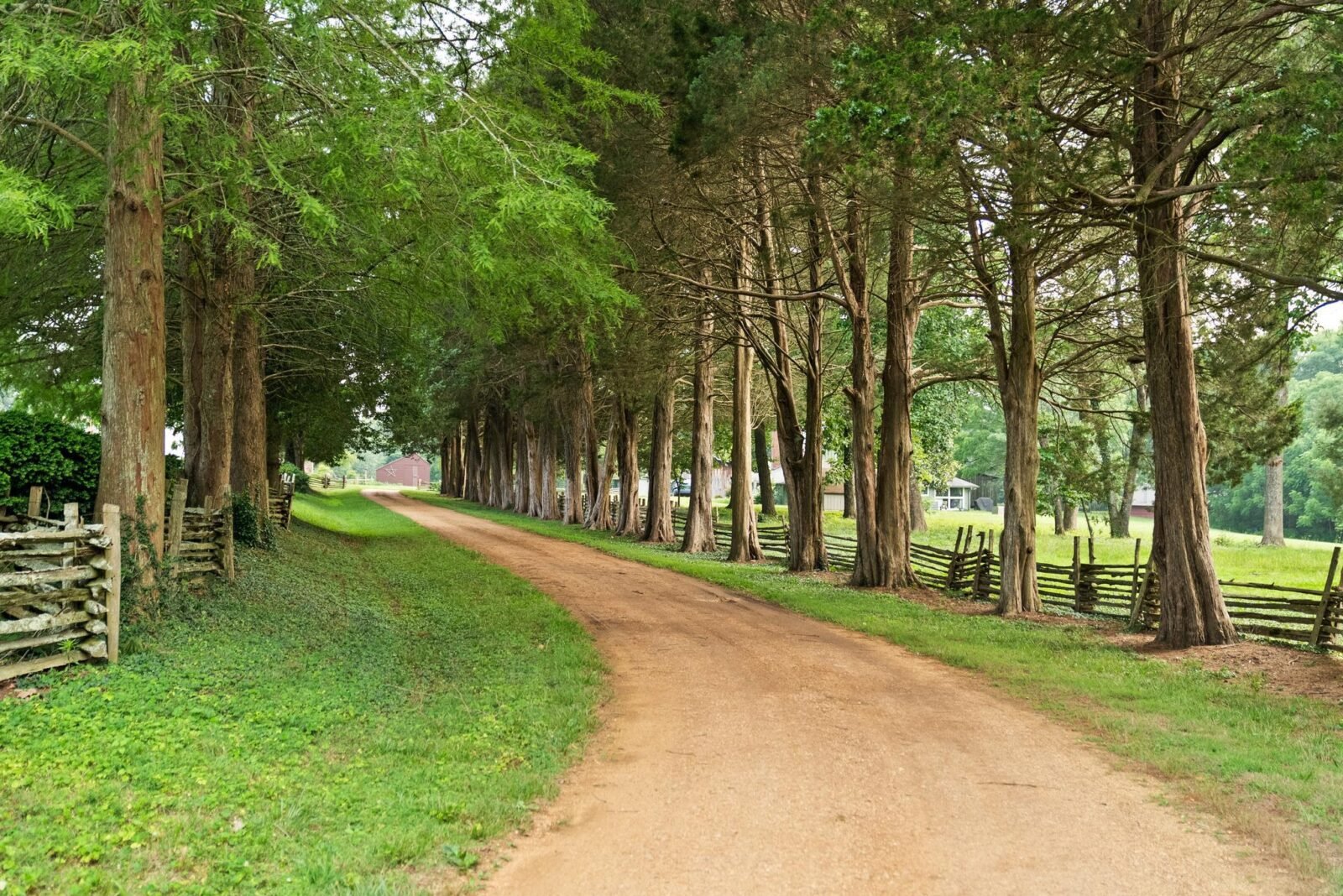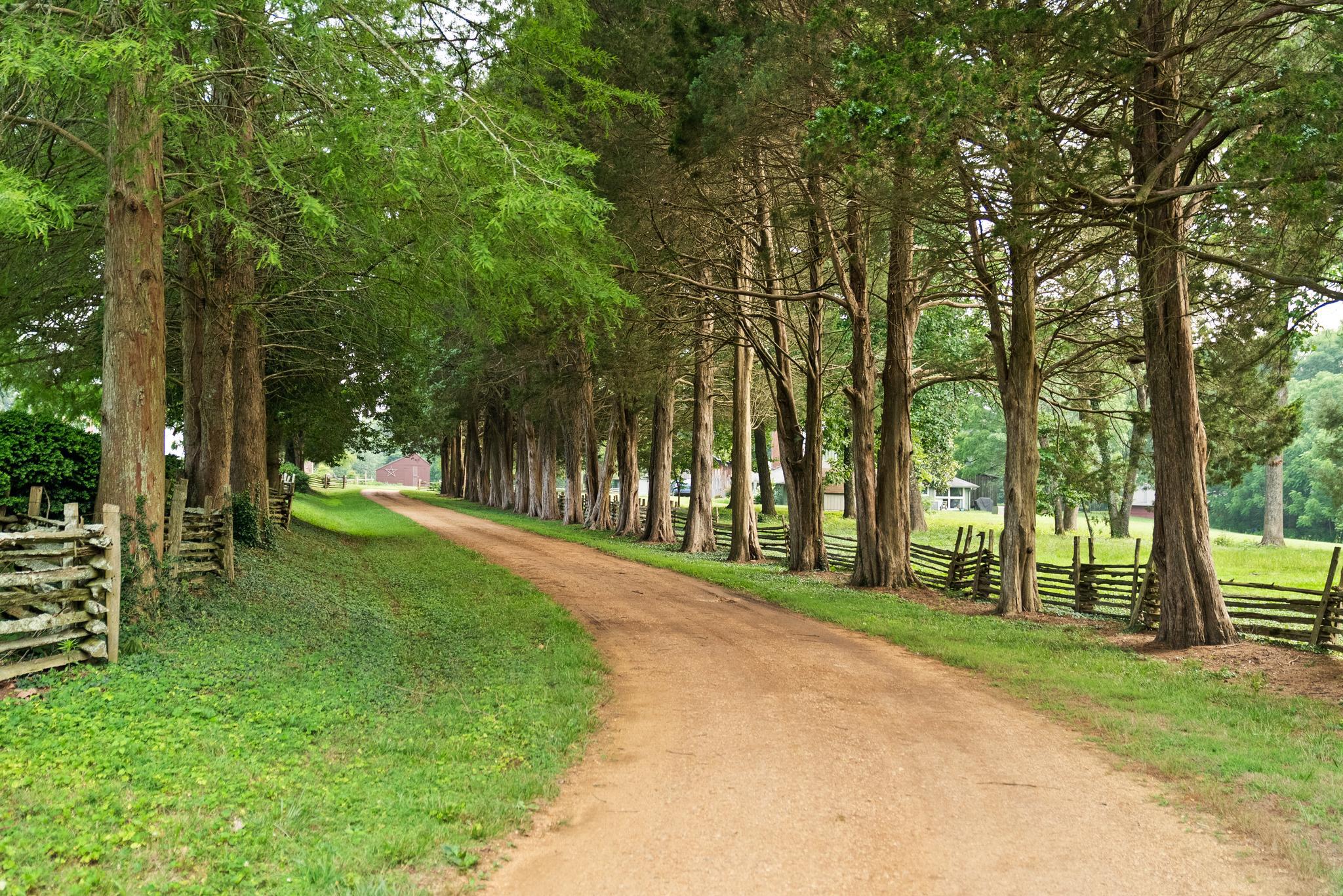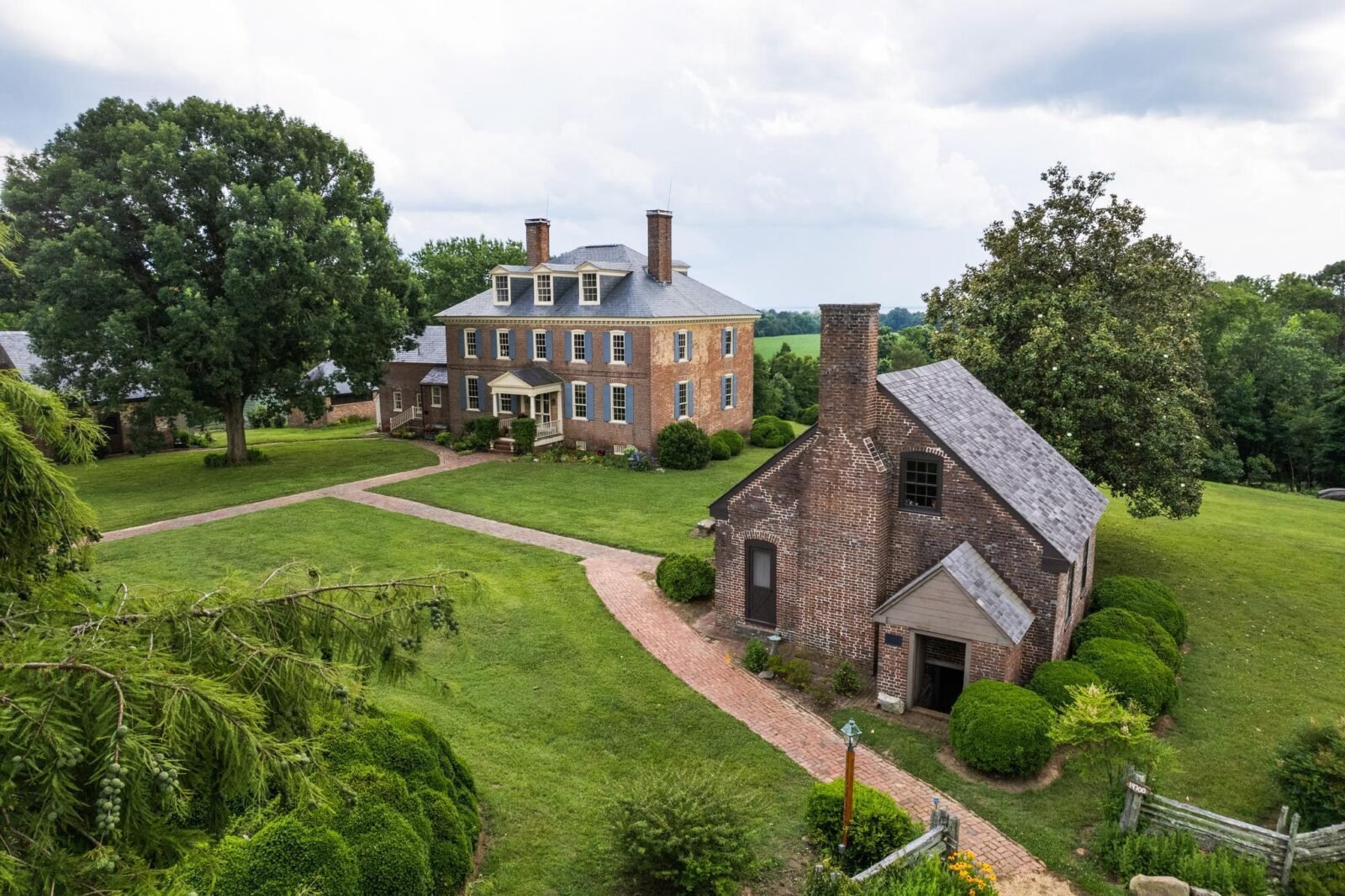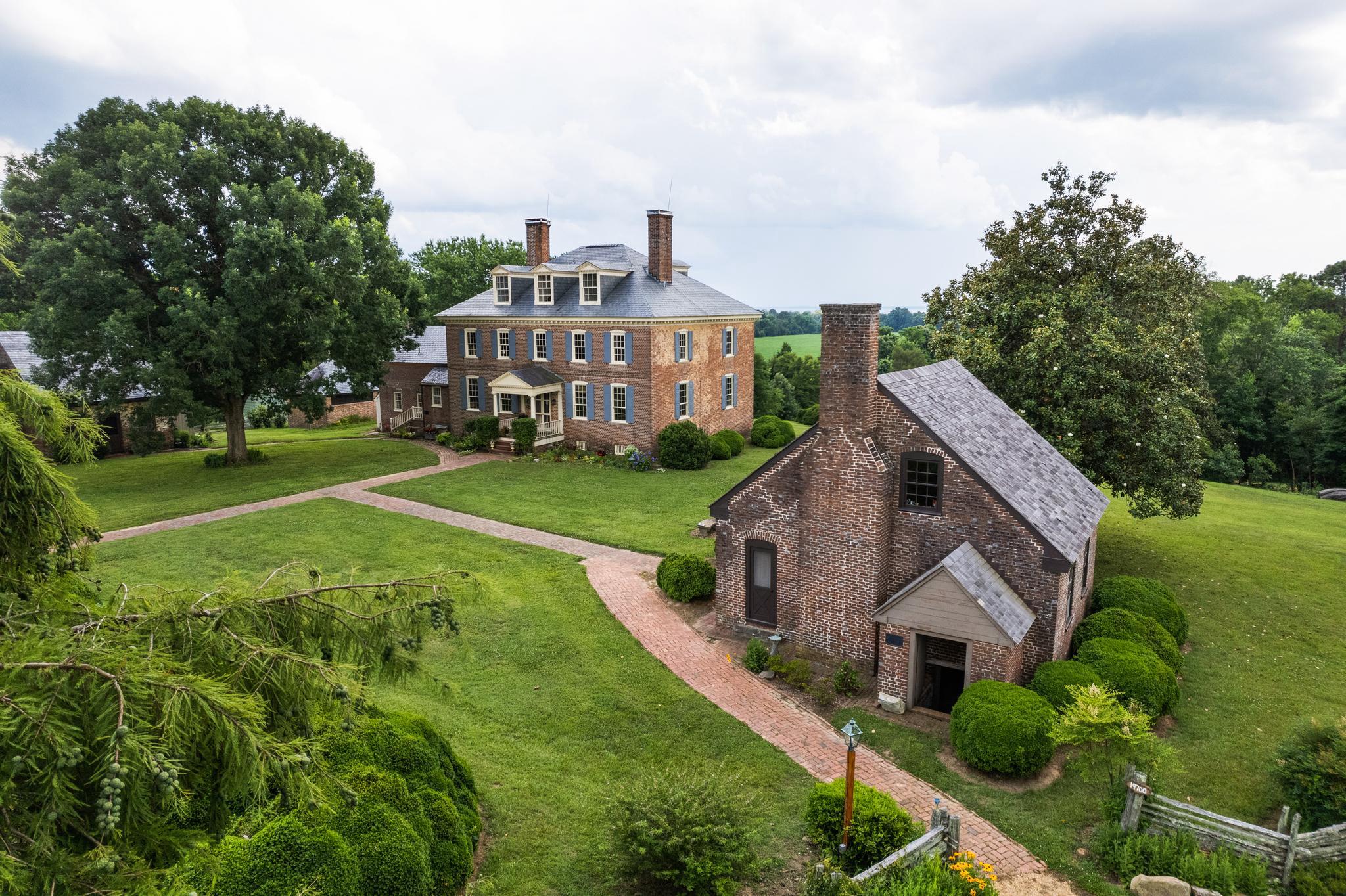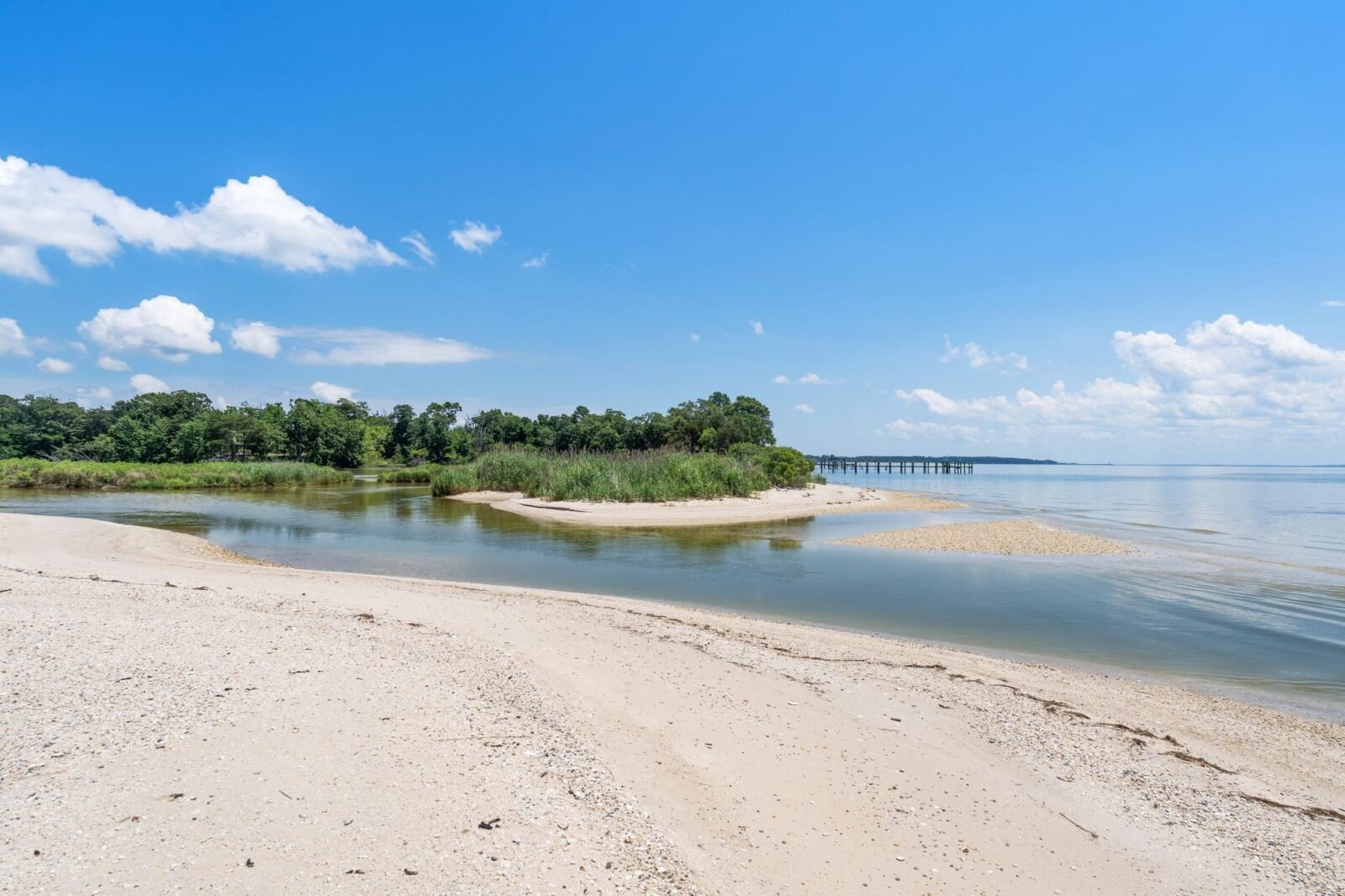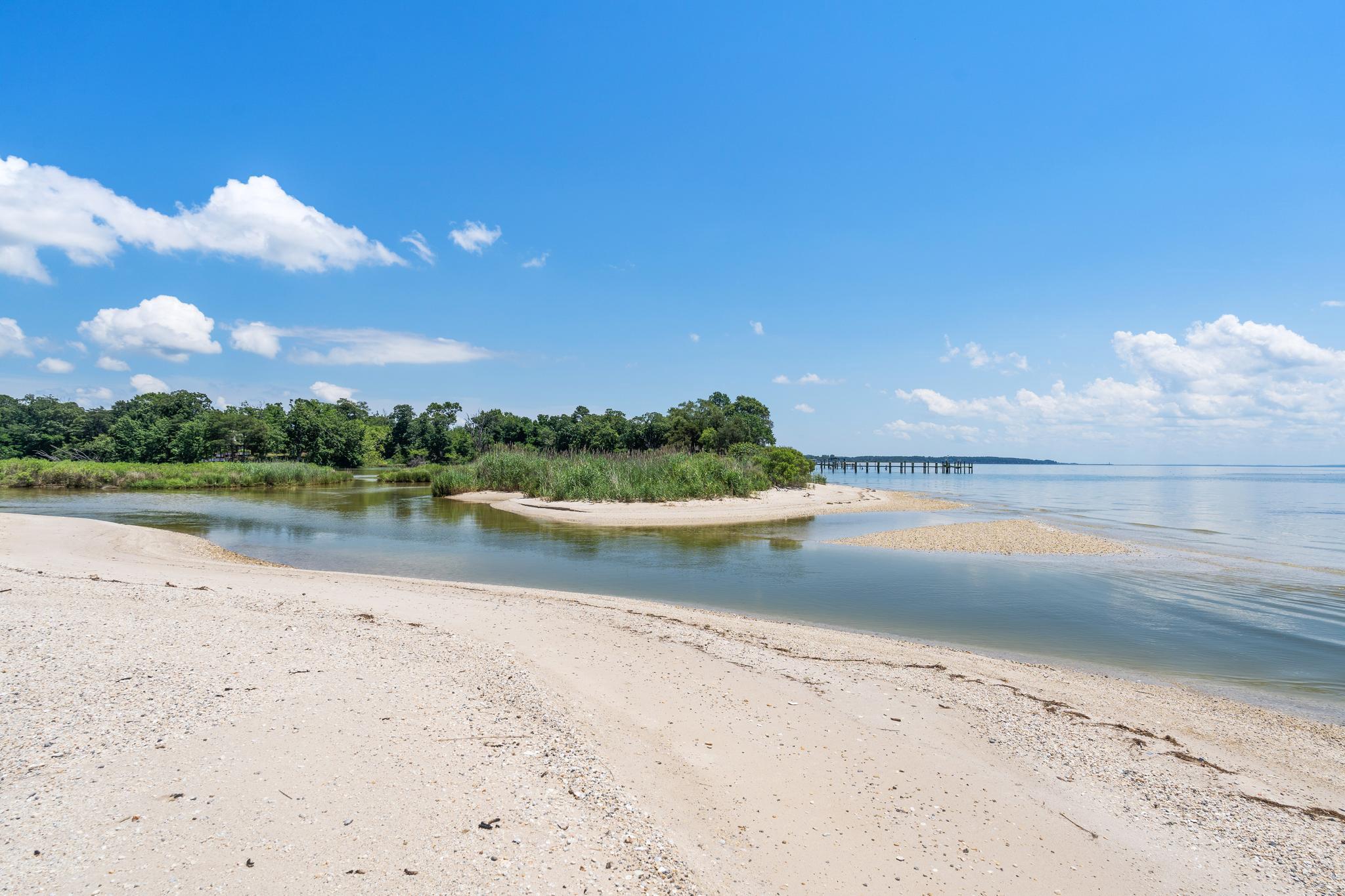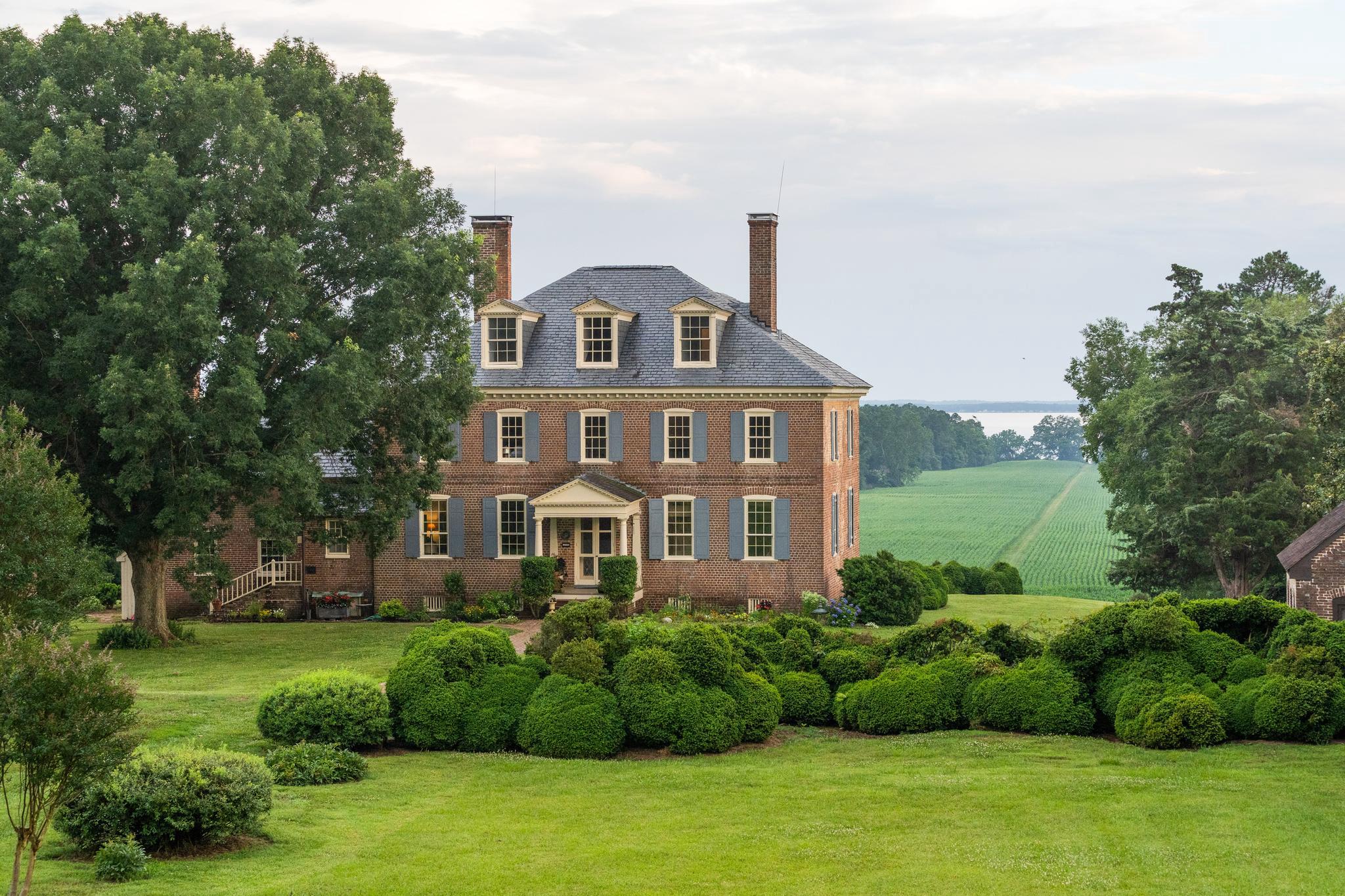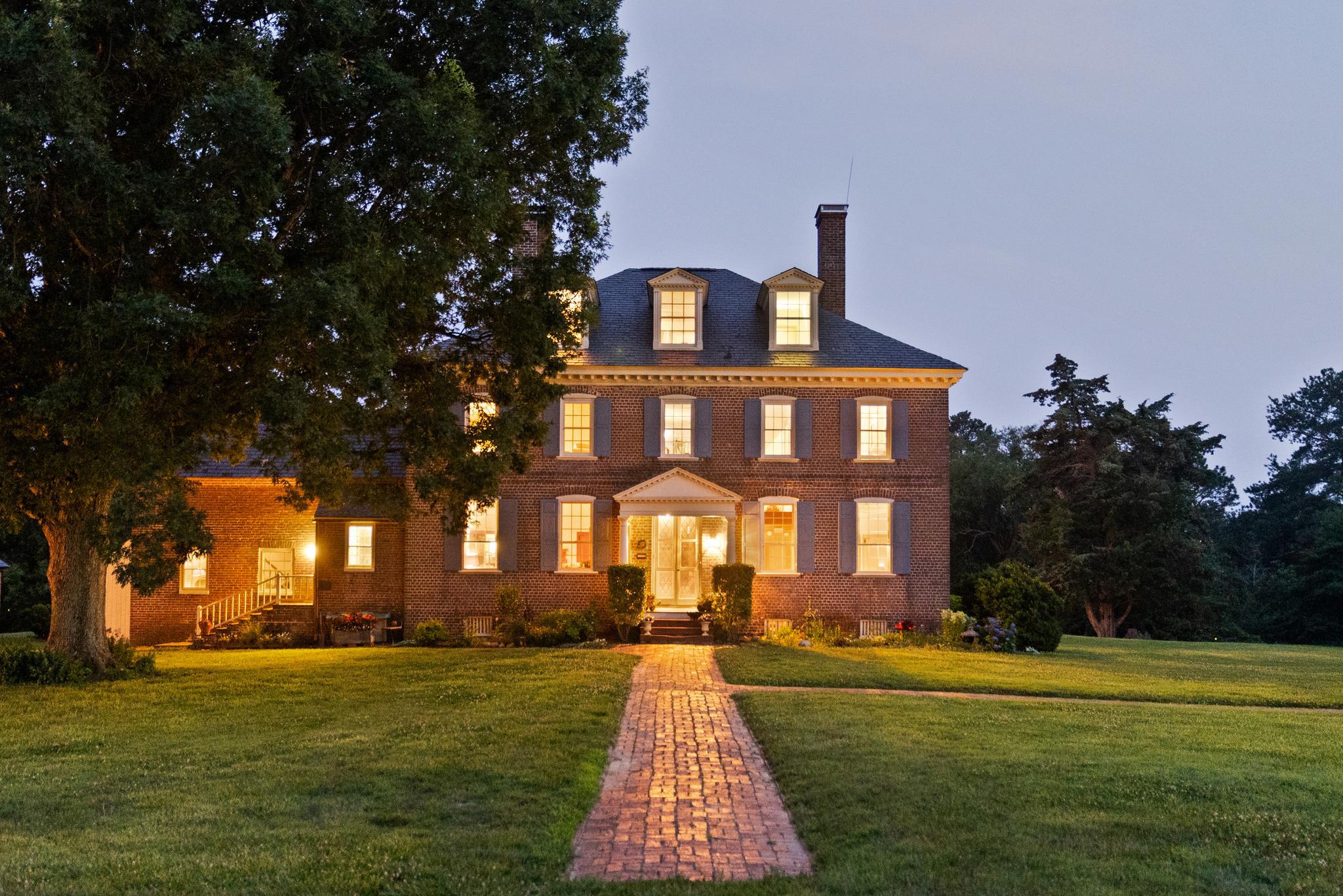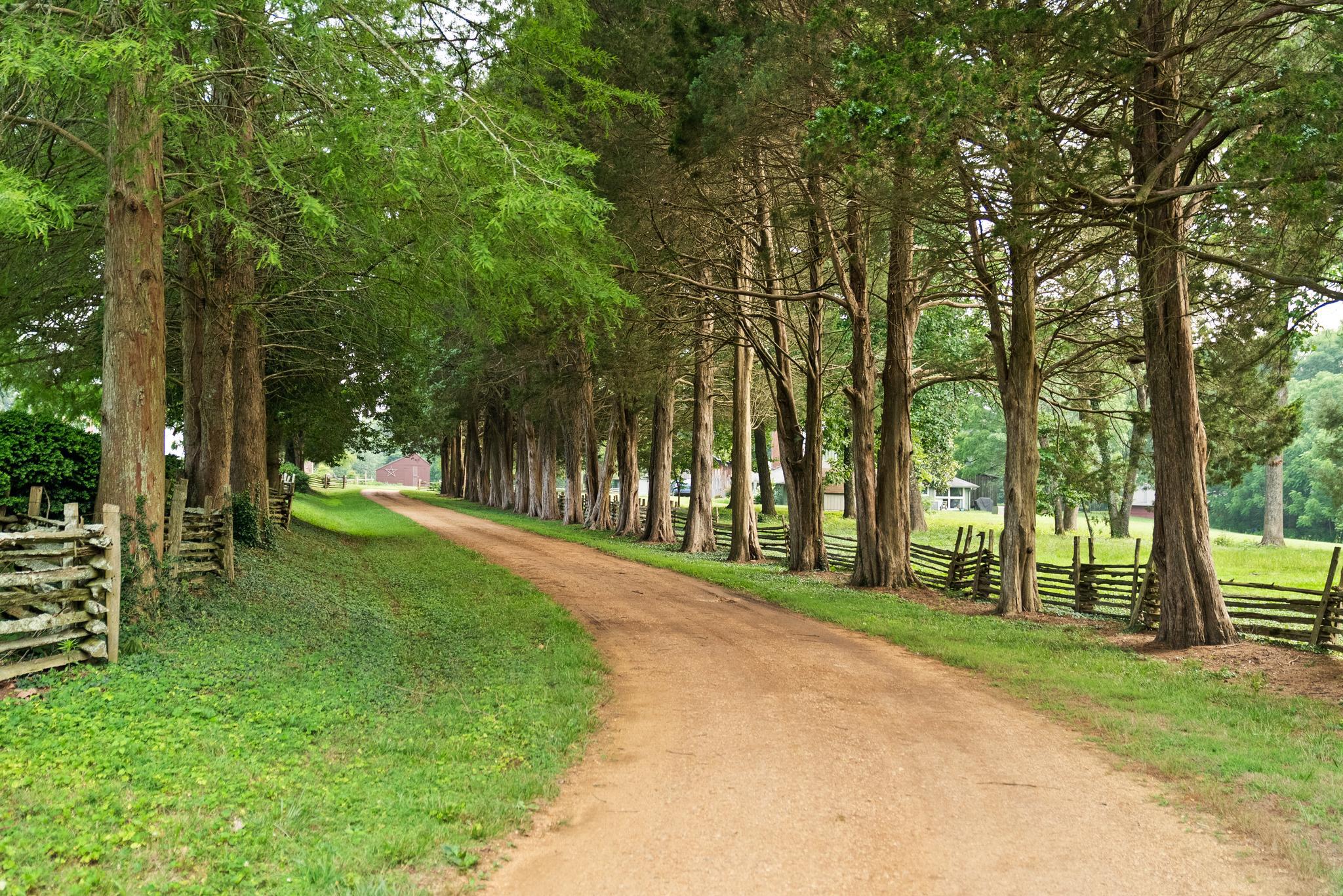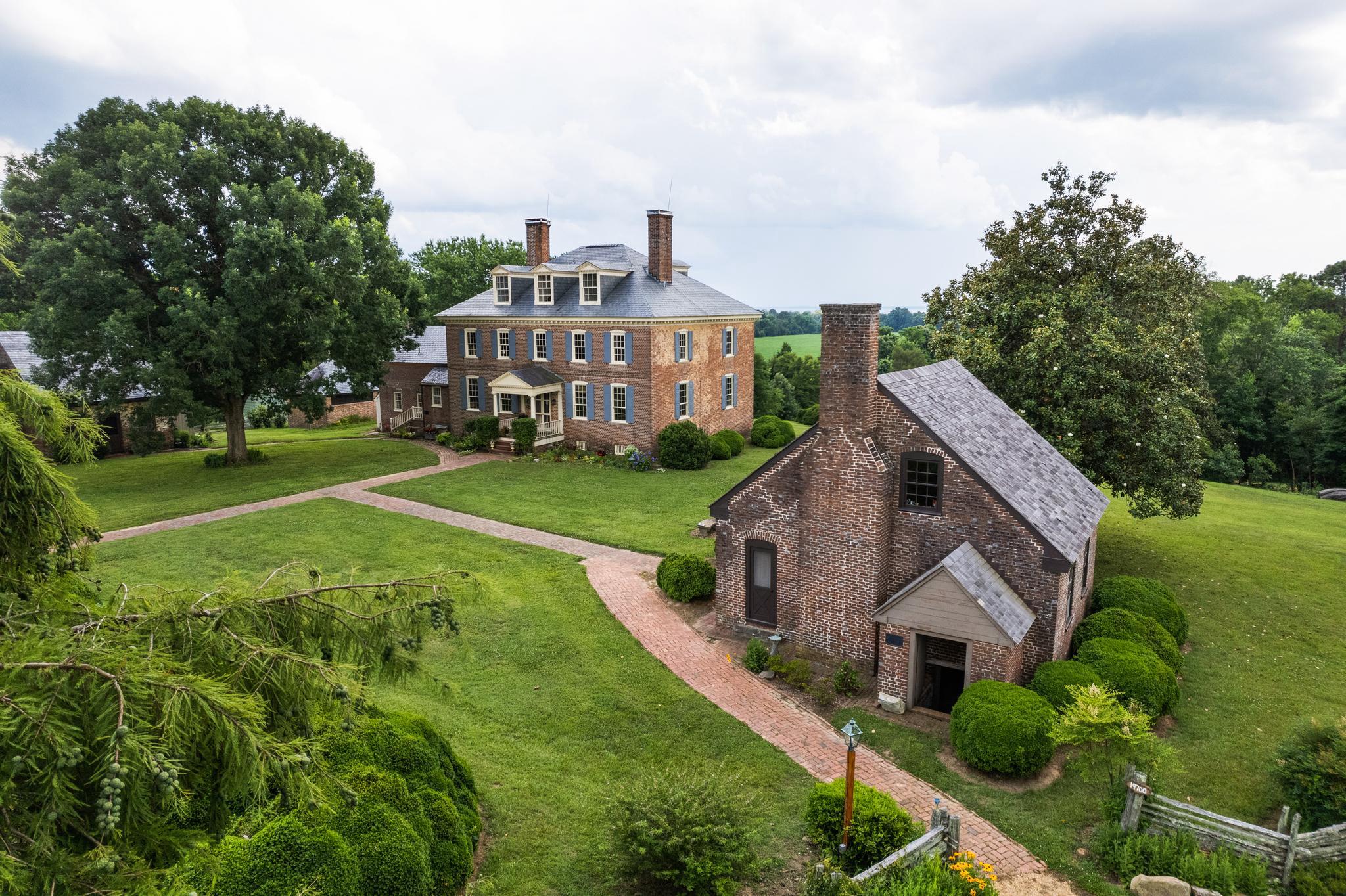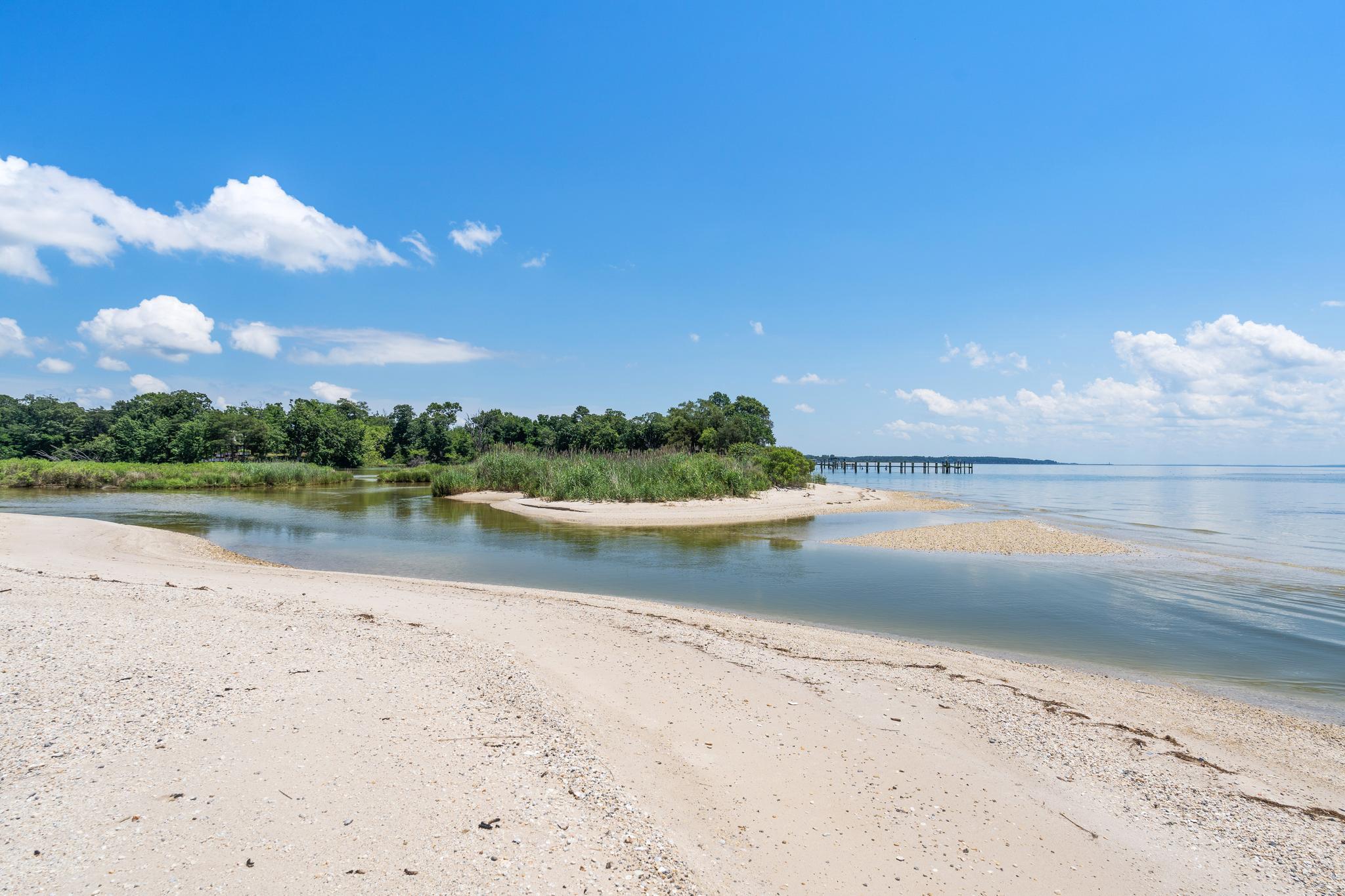 Mulberry Fields
19700 Mulberry Fields Rd
Leonardtown, Maryland, 20650, United States
Status: Active
Mulberry Fields, situated on 500 acres of fertile land with a mile-long view of the Potomac River's white sand shoreline, is truly one of a kind. As you drive along the cedar-lined driveway, you will be transported back in time when the magnificent manor house appears in front of you. It is the only remaining Georgian manor house in St. Mary's County today. From the south façade, the magnificent mile-long "Avenue Field," lined with trees stretching to the Potomac River provides a breathtaking panoramic view downhill to the white sandy riverbank.
The interior of the manor house is of a simple and educated taste. The grand center hall and the 2 front (south) rooms (the great room and dining room) have walls of rectangular raised panels to the ceiling, making it one of the most completely paneled 18th-century houses in Maryland. Throughout the house, many original moldings, doors, and mantels are intact. Air conditioning and heating were added to all rooms. The owners retained an architectural firm and have plans – approved by the Historic Trust – for a renovation that would enlarge the kitchen, the bathrooms and adding another wing to the house on the west side.
Flanking each side of the north entrance are 2 historic dependencies, both similar in design. Each is of brick, 2-story in height. They were placed symmetrically north of the mansion, forming a rectangular court with the Kitchen Garden, Bowling Green and Orchard separated by a row of large boxwoods. These buildings were used as service buildings with the East dependency as "The Kitchen" and the West dependency as the "The Weaving House." These structures were used to house slaves, such as cooks, stable hands, waiters, and housekeepers who were tasked with running the household and gave the mansion and outbuildings the appearance of a busy village. "The Kitchen" has been remodeled and now serves as a guest cottage, while the "Weaving House" retains its original historic riven clapboard partition walls, floors, doors, and hardware. Next to the 2 dependencies flanking the Manor House are numerous other historic buildings, such as the "Dairy" and the "Meat/Smoke House" (both east of the Manor House). Other historic buildings include a Carriage House, a Garage/Tool Shed, an Art Studio, a Pole Barn, a Horse and Cattle Barn, a Tobacco Barn, a remodeled Sheep Barn, 2 Equipment Barns, a Farmhouse, and an old dwelling that could be remodeled and turned into a rental unit.
Several buildings were added in the 1930s. These include 6 occupied rental units, including 3 units in what was previously the Sheep Barn, a 4-BR Farmhouse, a 1-BR Cottage in the renovated "Kitchen" and a 1-BR Trailer. Taken together, these currently produce an income of $70,000. Additional income is provided by leasing the fields for farming and from the U.S. Navy that keeps a navigation signal on the Potomac River. More income can be obtained by renovating some of the existing buildings. With that Mulberry Fields could have a total of twelve rental units.
Mulberry Fields was added to the National Registry of Historic Places in 1973. The Maryland Historical Trust Deed of Easement ALLOWS INDUSTRIAL OR COMMERCIAL activities to be conducted at Mulberry Fields if the external appearances of its buildings are not altered. Owners of Mulberry Fields must abide by a Conservation Easement, a Historical Preservation Easement, and three Rd Easements. Approximately 100 acres of land is leased out for farming and 300 acres is forest.
This unique historic property is close to Leonardtown, Lexington Park and Solomon's Island with numerous historic sites, wineries, antique shops, art galleries and restaurants, Deerfield Airport (private jet) as well as St. Mary's County Regional Airport. It is about a 1h15 min drive to Washington DC and its major airports – Dulles Int'l Airport, and Reagan Nat'l Airport. MORE IN-DEPTH HISTORY AVAILABLE UPON REQUEST.
This unique 6 Bedroom home with 4 Bathrooms is a prime example of the luxury real estate available in Leonardtown, Maryland. You can visit our Maryland search pages for more luxury real estate choices in Leonardtown.