| | |
| --- | --- |
| ffd_listing_title | 5 bedroom house in St Georges Fields |
| ffd_unique_id | |
| ffd_mls_id | |
| ffd_salesforce_id | a0E6g00000A4CCREA3 |
| ffd_address_pb | Albion Street, Hyde Park, W2 |
| address | Albion Street, Hyde Park, W2 |
| baths | 4 |
| beds | 5 |
| ffd_city_pb | Greater London |
| ffd_colistingagent_pb | |
| ffd_colistingagentemail_pb | |
| ffd_colistingagentmlsid | |
| ffd_colistingagentname | |
| ffd_colistingofficemlsid | |
| ffd_colistingofficename_pb | |
| ffd_country_pb | United Kingdom |
| ffd_createddate | 2023-04-16T01:17:49.000+0000 |
| about | Introducing this remarkable Grade II listed house, one of the largest properties on the highly coveted Albion Street. Boasting a generous 3235 sqft of living space, this exceptional residence comprises of 5 spacious bedrooms and 4 stylish bathrooms, providing ample room for the entire family. The property offers an abundance of entertaining space with 2 large reception rooms and a separate dining room, perfect for hosting gatherings with friends and family. The main reception room is truly dramatic with its traditional dark wood panelling and exquisite period features, providing a sense of grandeur and sophistication. The house is beautifully decorated in traditional English decor, complete with many period fireplaces throughout. Additionally, the property features a roof terrace and small patio garden, offering the perfect oasis to relax and unwind. The master suite is located on the first floor and offers a tranquil escape with its spacious layout and elegant decor. A second suite on the second floor offers additional comfort and luxury. An added benefit of this magnificent property is the second entrance on the lower ground floor, leading to a further bedroom and bathroom that could be utilized by live-in staff, au pairs, or nannies. Located in an enviable position, the property is in close proximity to Hyde Park, Connaught Village, Marble Arch Underground Station, and Paddington Station, making it the ideal location for those who desire the best of city living. |
| ffd_displayaddress | |
| floor | |
| ffd_halfbathrooms_pb | 0 |
| ffd_hide_address_on_site | |
| ffd_key_words | Greater London;United Kingdom;City;Greater London, England;Westminster England;City Greater London;City Westminster;Westminster;St Georges Fields Greater London;UK |
| ffd_lastmodifieddate | 2023-05-28T00:36:33.000+0000 |
| lat | 51.513876 |
| ffd_listofficemlsid | |
| ffd_listofficename | |
| ffd_listingagent_pb | 0036g00002ALonDAAT |
| ffd_listing_agent_email | |
| ffd_listing_agent_firstname | |
| ffd_listing_agent_lastname | |
| ffd_listingagentmlsid | |
| ffd_listingagentname | |
| ffd_listing_agent_website | https://www.chestertons.co.uk/en-gb/property-to-buy/gb/hyde+park/hpk100004 |
| price | 6209500 |
| ffd_listingtype | Sale |
| location | Greater London, England, United Kingdom |
| lng | -0.166674 |
| sq_feet | 0 |
| ffd_non_member_paid | |
| ffd_other_currency_amount | 5000000 |
| ffd_other_currency_type | GBP |
| ffd_ownerid | 0056g000006m3TAAAY |
| ffd_pool_pb | |
| ffd_price_upon_request | |
| building_type | Townhouse |
| ffd_id | a0E6g00000A4CCREA3 |
| ffd_totalarea_pb | 3235 |
| ffd_solddate | |
| ffd_soldprice | |
| ffd_state_pb | England |
| ffd_status | Active |
| ffd_threequarterbathrooms | 0 |
| ffd_unit_of_measure | Square Feet |
| ffd_brokerage_id | 0016g00002KskJEAAZ |
| year_built | 0 |
| ffd_postalcode_pb | W2 2AX |
| pba__WebsiteId__c | 346000 |
| pba__Listing_Website__c | https://www.forbesglobalproperties.com/listings/5-bedroom-house-in-st-georges-fields |
| Site_Post_Id__c | 346000 |
| ffd_media | a:22:{i:0;s:88:"https://images.chestertons.co.uk/assets/r/chips/che/HPK/10/HPK100004_47-JPG-l-1600-0.jpg";i:1;s:88:"https://images.chestertons.co.uk/assets/r/chips/che/HPK/10/HPK100004_39-JPG-l-1600-0.jpg";i:2;s:88:"https://images.chestertons.co.uk/assets/r/chips/che/HPK/10/HPK100004_43-JPG-l-1600-0.jpg";i:3;s:88:"https://images.chestertons.co.uk/assets/r/chips/che/HPK/10/HPK100004_33-JPG-l-1600-0.jpg";i:4;s:88:"https://images.chestertons.co.uk/assets/r/chips/che/HPK/10/HPK100004_40-JPG-l-1600-0.jpg";i:5;s:88:"https://images.chestertons.co.uk/assets/r/chips/che/HPK/10/HPK100004_29-JPG-l-1600-0.jpg";i:6;s:88:"https://images.chestertons.co.uk/assets/r/chips/che/HPK/10/HPK100004_36-JPG-l-1600-0.jpg";i:7;s:88:"https://images.chestertons.co.uk/assets/r/chips/che/HPK/10/HPK100004_52-JPG-l-1600-0.jpg";i:8;s:88:"https://images.chestertons.co.uk/assets/r/chips/che/HPK/10/HPK100004_50-JPG-l-1600-0.jpg";i:9;s:88:"https://images.chestertons.co.uk/assets/r/chips/che/HPK/10/HPK100004_51-JPG-l-1600-0.jpg";i:10;s:88:"https://images.chestertons.co.uk/assets/r/chips/che/HPK/10/HPK100004_31-JPG-l-1600-0.jpg";i:11;s:88:"https://images.chestertons.co.uk/assets/r/chips/che/HPK/10/HPK100004_45-JPG-l-1600-0.jpg";i:12;s:88:"https://images.chestertons.co.uk/assets/r/chips/che/HPK/10/HPK100004_46-JPG-l-1600-0.jpg";i:13;s:88:"https://images.chestertons.co.uk/assets/r/chips/che/HPK/10/HPK100004_53-JPG-l-1600-0.jpg";i:14;s:88:"https://images.chestertons.co.uk/assets/r/chips/che/HPK/10/HPK100004_38-JPG-l-1600-0.jpg";i:15;s:88:"https://images.chestertons.co.uk/assets/r/chips/che/HPK/10/HPK100004_49-JPG-l-1600-0.jpg";i:16;s:88:"https://images.chestertons.co.uk/assets/r/chips/che/HPK/10/HPK100004_48-JPG-p-1600-0.jpg";i:17;s:88:"https://images.chestertons.co.uk/assets/r/chips/che/HPK/10/HPK100004_37-JPG-l-1600-0.jpg";i:18;s:88:"https://images.chestertons.co.uk/assets/r/chips/che/HPK/10/HPK100004_35-JPG-l-1600-0.jpg";i:19;s:88:"https://images.chestertons.co.uk/assets/r/chips/che/HPK/10/HPK100004_27-JPG-l-1600-0.jpg";i:20;s:88:"https://images.chestertons.co.uk/assets/r/chips/che/HPK/10/HPK100004_28-JPG-l-1600-0.jpg";i:21;s:88:"https://images.chestertons.co.uk/assets/r/chips/che/HPK/10/HPK100004_54-JPG-l-1600-0.jpg";} |
| _thumbnail_id | 346001 |
| ffd_featured_image | https://images.chestertons.co.uk/assets/r/chips/che/HPK/10/HPK100004_47-JPG-l-1600-0.jpg |
| agents | a:2:{i:0;s:6:"313204";i:1;N;} |
| _wp_old_date | 2023-04-18 |
| ffd_record_is_deleted | |
| featured_images | 346002 |
| listing_images | a:22:{i:0;s:6:"346001";i:1;s:6:"346006";i:2;s:6:"346007";i:3;s:6:"346004";i:4;s:6:"346002";i:5;s:6:"346005";i:6;s:6:"346003";i:7;s:6:"346008";i:8;s:6:"346009";i:9;s:6:"346010";i:10;s:6:"346011";i:11;s:6:"346012";i:12;s:6:"346013";i:13;s:6:"346014";i:14;s:6:"346015";i:15;s:6:"346016";i:16;s:6:"346017";i:17;s:6:"346018";i:18;s:6:"346019";i:19;s:6:"346020";i:20;s:6:"346021";i:21;s:6:"346022";} |
| api_external_id | HPK100004 |
| post_member_id | 312441 |
| post_agent_id | 313204 |
| _sbi_oembed_done_checking | 1 |
| postal_code | W2 2AX |
| ffd_unitnumber | |
| county | Westminster |
| neighborhood | St Georges Fields |
| listed_date | 2023-04-11 00:00:00.000000 |
| ffd_api_external_id | HPK100004 |
| post_coagent_id | |
| _listing_images | field_642ee01c5d170 |
5 bedroom house in St Georges Fields
GBP 5,000,000
(US $6,209,500)
Albion Street, Hyde Park, W2
Greater London, England, W2 2AX, United Kingdom
Status: Active
Introducing this remarkable Grade II listed house, one of the largest properties on the highly coveted Albion Street. Boasting a generous 3235 sqft of living space, this exceptional residence comprises of 5 spacious bedrooms and 4 stylish bathrooms, providing ample room for the entire family.
The property offers an abundance of entertaining space with 2 large reception rooms and a separate dining room, perfect for hosting gatherings with friends and family. The main reception room is truly dramatic with its traditional dark wood panelling and exquisite period features, providing a sense of grandeur and sophistication.
The house is beautifully decorated in traditional English decor, complete with many period fireplaces throughout. Additionally, the property features a roof terrace and small patio garden, offering the perfect oasis to relax and unwind.
The master suite is located on the first floor and offers a tranquil escape with its spacious layout and elegant decor. A second suite on the second floor offers additional comfort and luxury.
An added benefit of this magnificent property is the second entrance on the lower ground floor, leading to a further bedroom and bathroom that could be utilized by live-in staff, au pairs, or nannies.
Located in an enviable position, the property is in close proximity to Hyde Park, Connaught Village, Marble Arch Underground Station, and Paddington Station, making it the ideal location for those who desire the best of city living.
Properties You Might Also Like
GBP 1,950,000
(US $2,421,705)
3 bedroom apartment in Albion Gate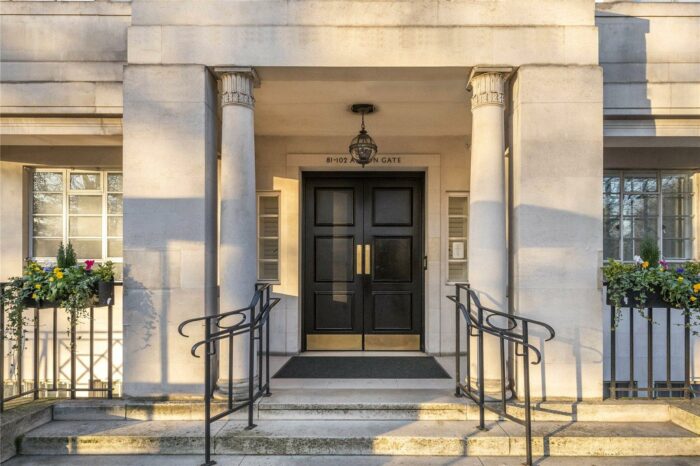 GBP 1,750,000
(US $2,173,325)
Greater London, England, United Kingdom
2 bedroom apartment in Albion Gate
This unique 5 Bedroom home with 4 Bathrooms is a prime example of the luxury real estate available in Greater London, England. You can visit our England search pages for more luxury real estate choices in Greater London.