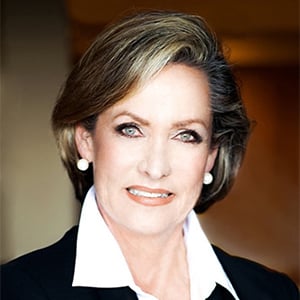 Village Properties
[email protected]

Born and raised in Santa Barbara, Patricia has a deep-rooted understanding of the town's community and all it has to offer. She obtained her real estate license in 1982 followed by her brokerage license in 1990. Patricia felt helping others find their dream home in this town she often refers to as 'paradise' was her way of giving back to the community. 'It's truly a blessing to live and work in such a wonderful place,' she says. 'There are so many special neighborhoods here, I find it thrilling to help my clients either market their property or help them find just the 'right' home.'
Patricia's energy and enthusiasm, coupled with her unyielding determination, diligence and astute attention to details, has elevated her to the highest echelon within the industry. Her vastly educated experience is combined with a dynamic marketing department, enabling her to deliver some of the most advanced and effective marketing in the industry. Such assets have afforded her an ever-growing list of loyal clientele ' most of whom now call her a good friend.
While Patricia services the community through her real estate efforts, her commitment runs deeper than real estate. Her lifelong involvement in local charities, organizations and businesses have enabled her to give back even more. From 1977 to 1993 and again appointed in 2003, she serves as a local airport commissioner. As such she oversees the tremendous changes constantly being made to better serve the community and its needs. Holding a warm place in the hearts of many Santa Barbarans is the local zoo. Having served on the Zoofari Ball Committee for over 10 years and co-chairing the Development Committee, in 2009 Patricia was elected to serve as President of the Board of Directors at the zoo. She finds great joy in helping to constantly make the zoo a wonderful place for local families and those visiting Santa Barbara. 'My extensive involvement and commitment to the community is not only a source of delight in my life, but I've also found it is very beneficial to my clients. I've built strong relationships within the community that are not only very valuable when marketing a property for sale, but they also enable me to better and more quickly acquaint out-of-town clients with the community.'
'In an almost magical way, Santa Barbara maintains a small-town feel while still offering all the features of a big city: from the museums and symphonies to the vast shopping and exquisite restaurants, not to mention all the activities its glorious setting offers.' Feeling lucky to live in, and participate in this wonderful community, when she isn't putting a deal together or volunteering, Patricia enjoys spending time with her husband, Alan, traveling, preparing gourmet meals, taking long walks on the beach, spending quality time with their children, grandchildren and friends and enjoying all that the Santa Barbara lifestyle has to offer.