Agent
Michael & Susan Lytle in Keystone, Colorado
Broker Associates
Contact Agent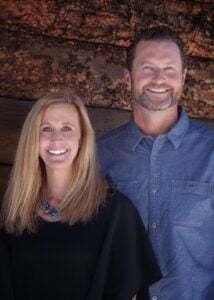 Slifer Smith & Frampton Real Estate
[email protected]
Keystone, Colorado, United States of America
970-390-9592
970-390-7825
Michael is originally from Des Moines, Iowa. He moved to Summit County, Colorado and started working at Keystone Resort immediately after graduating from the University of Iowa in 1993 (Go Hawks!). Michael is skiing or biking every chance he gets. Michael and his wife, Susan, are residents of Silverthorne.
Susan was born and raised in Camp Hill, Pennsylvania. She moved to Summit County, CO in 1993 after graduating from West Chester University, like Michael, Susan began her real estate career in the mid 1990's. She has also been very active in several volunteer positions throughout the community and currently serves on the board for The Slifer Smith & Frampton Foundation.
They enjoy the active outdoor orientate lifestyle the area provides with their 2 daughters. Madison graduated from Cal Poly University in San Luis Obispo with degrees in Aerospace Engineering and Math. She is staying a 5th year to obtain her Masters in Math. Sophie is attending the University of Denver studying Media studies and Business.
Based in Keystone, Michael and Susan have consistenly been top producing real estate agents for the past 28 years and are highly regarded as ethical, capable and knowledgeable Realtors. With over 500 successful transactions, The Lytle Team brings a vast wealth of experience to the table and can help you seamlessly navigate the complexities of buying or selling property in the area. Turn to The Lytle Team as your trusted advisors for all you Summit County real estate needs.
Visit Michael & Susan Lytle's Site
All Properties
Thoughtfully Designed 4-Bed Paired Home at the Base of the Keystone Gondola