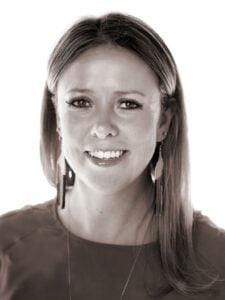 Barker Realty
[email protected]
Santa Fe, NM, United States
505-477-1852
Jenna Harrington, formally Proctor is the person you want to have in your corner!
Jenna comes to you with stellar experience in hotel and hospitality management as well as property management. Jenna was born to nurture and help everyone she connects with. As a Santa Fe native, born and raised, Jenna appreciates the importance of community and the lifelong connections it provides.
Jenna brings a wealth of national sales and negotiating experience to the table. After graduating from St. Michael's high school, she moved to Las Vegas, NV, and graduated from the University of Nevada, Las Vegas with a bachelor's in hospitality management. Working at high-end resorts in Las Vegas and moving on to Los Angeles to begin her career in hospitality management, Jenna helped open Shade Hotel in Manhattan Beach and ran the front desk at Shutters on the Beach, a world-renowned hotel in Santa Monica. Her experience and expertise in hospitality and sales are above the rest. Jenna has had the pleasure to work with elites and politicians from all around the world.
Jenna moved back home to Santa Fe in 2011 joining the sales team at high-end hotels like Eldorado Hotel and Spa and working closely alongside her parent's property management business. In 2013 Jenna was awarded the Young Businesswomen's Professional Award on behalf of the Chamber of Commerce.
Jenna has spent time volunteering for various charities and started an annual blanket drive for the homeless in the winter. Jenna has spent the last 8 years raising her two small children and being a stay-at-home mom while volunteering at their school and taking them on adventures. Jenna also sits on the St. Michaels Foundation board.
Blended with a lifetime love of hospitality and real estate, Jenna offers extraordinary resources to her clients. Jenna is an asset to her clients in a very competitive market. Jenna is a good listener and wholeheartedly puts her clients above the rest and dedicates herself to advocating for their needs. Jenna is dedicated to finding the best neighborhoods, schools, activities, and restaurants you name it – as it aligns with her client's needs.
When Jenna is not working on real estate agreements, she enjoys spending time with her husband and their two young children. Jenna loves to teach people how to use natural solutions, spend as much time outdoors as possible, wining and dining, baking and doing arts and crafts with her kids, and learning how to garden.
Jenna doesn't just own a house in Santa Fe, Jenna is a native of Santa Fe – it is where her kids go to school, it is her neighborhood, her community, and no one knows it better! Meeting and exceeding her client's needs is Jenna's main goal.
Visit Jenna Harrington's Site
Contact
Jenna Harrington
LIC.# REC 2022-0723
Office