Agent
Christopher Graves in Keystone, Colorado
Broker Associate
Contact Agent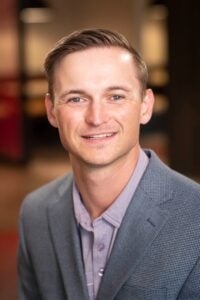 Slifer Smith & Frampton Real Estate
[email protected]
Colorado, United States
970.930.-547-7960
970-930-1970
"Here in Summit County, the sun is bright, the air is pure, and the outdoor recreation is endless."
That's why Christopher Graves has spent his entire adult life in Colorado. Originally from Northern Virginia just outside the Washington D.C. metropolitan area, he moved to Colorado Springs to attend Colorado College, where he majored in History and played NCAA Division III Lacrosse. During this time, his passion for skiing grew immensely, and he quickly decided that he wanted the convenience of living close to many ski resorts. So after graduation, he moved to Silverthorne in 2017, and now cherishes the community that he is proud to call home.
"I love being able to drive to so many beautiful and fun places relatively quickly, which is what makes Summit County unique. Seven ski resorts are less than an hour away, and I also enjoy going down to Denver for ball games and concerts, particularly during our shoulder seasons. One aspect of Real Estate that I appreciate is sharing this lifestyle with my clients and building wholesome relationships."
Graves began to develop his expertise for Summit County property by working in Vacation Rental Property Management in Keystone. This industry provided him the opportunity to learn and evaluate property throughout the county. After a few years, he determined that he wanted to apply this knowledge to a career in Real Estate, so he joined Slifer Smith and Frampton in Keystone as an Office Marketing Coordinator. In this role for two years, he absorbed information from top producing veteran brokers, developed an understanding of the market, and gained valuable marketing skills. Further, Christopher owns and manages a successful vacation rental property in Phoenix, Arizona, so he understands what it takes to turn an investment property into a lucrative and stable business. Overall, his diverse professional background benefits his clients as he helps them with buying and selling property.
When Christopher has down time, you can find him skiing the Steep Gullies at Arapahoe Basin, golfing the Keystone Ranch, mountain biking Summit County's abundant trails, or hanging out at the Maryland Creek Dog Park with his dog Phife. He also enjoys giving back to the community by coaching future Olympians for Team Summit, the local youth ski club.
Visit Christopher Graves's Site