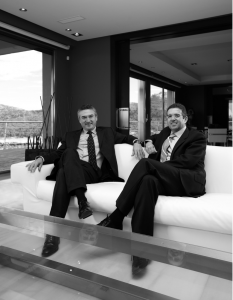 Rimontgó
[email protected]
+34 96 579 1035
+34 609645645
Brothers Antonio and José, are Owners and CEO of Rimontgó and co-recipients of the luxury real estate's Lifetime Achievement Award. Member of the Official Real Estate Property Agent Board in Spain and Founder of several international Real Estate organisations. REALTOR and ABR.
Antonio also plays an active role as a member of the Advisory Committee on Jávea Environment and Town Planning, as well as a Collaborator of the Spanish Association of Public Developers of Land and real Property, who publish a variety of papers. An Asset and Property Manager, Antonio is also a qualified Real Estate Broker as valuations expert for the Spanish Ministry of Economics and Treasury (qualified at the Appraisal Institute, Chicago).
The company is led by Antonio and José Ribes Bas, a third generation of company directors from within the family. They started working in the company at an early age, familiarising themselves with the workings of a real estate company. Antonio and José have built on their experience, and the values passed down the generations, to create a modern company with an international focus that offers good old-fashioned integrity and that is unrivaled in its reputation for customer service.
Visit Antonio Ribes Bas's Site
All Properties