| | |
| --- | --- |
| ffd_listing_title | The Residence at Timber Point |
| ffd_unique_id | |
| ffd_mls_id | |
| ffd_salesforce_id | a0E6g00000A45r3EAB |
| ffd_address_pb | 4280 North Lake Boulevard |
| address | 4280 North Lake Boulevard |
| baths | 2 |
| beds | 5 |
| ffd_city_pb | Carnelian Bay |
| ffd_colistingagent_pb | |
| ffd_colistingagentemail_pb | |
| ffd_colistingagentmlsid | |
| ffd_colistingagentname | |
| ffd_colistingofficemlsid | |
| ffd_colistingofficename_pb | |
| ffd_country_pb | United States |
| ffd_createddate | 2023-03-23T20:20:08.000+0000 |
| about | A classic and timeless Tahoe Lakefront home available for the first time ever on the open market. The property exudes the comforts of generations passed along with great potential for the future. 97 feet of frontage with a private pier and buoy access situated optimally on an ample-size lot to maximize morning sunrises and evening alpenglow. The home has been immaculately maintained over a century and handed down by generations with great care. TRPA has verified over 4700 square feet of Class 6 coverage offering a tremendous template for future redevelopment. A thoughtful and concise floorplan maximizes lake views from the comfortable living room and two water facing upstairs bedrooms. An oversized, wraparound deck is situated in an obvious location for all day lake enjoyment during summer while providing storage for toys and outdoor furnishings below. Everything exactly as it should be.... |
| ffd_displayaddress | |
| floor | |
| ffd_halfbathrooms_pb | |
| ffd_hide_address_on_site | |
| ffd_key_words | Carnelian Bay |
| ffd_lastmodifieddate | 2023-05-18T17:01:16.000+0000 |
| lat | 39.2107 |
| ffd_listofficemlsid | |
| ffd_listofficename | |
| ffd_listingagent_pb | 0036g00000rJUEJAA4 |
| ffd_listing_agent_email | |
| ffd_listing_agent_firstname | |
| ffd_listing_agent_lastname | |
| ffd_listingagentmlsid | |
| ffd_listingagentname | |
| ffd_listing_agent_website | https://tmrrealestate.com/portfolio/4280-north-lake-blvd-carnelian-bay-ca-96140/ |
| price | 6995000 |
| ffd_listingtype | Sale |
| location | Carnelian Bay, California, United States |
| lng | -120.08928 |
| sq_feet | |
| ffd_non_member_paid | |
| ffd_other_currency_amount | 6995000 |
| ffd_other_currency_type | USD |
| ffd_ownerid | 0056g000005qiWAAAY |
| ffd_pool_pb | |
| ffd_price_upon_request | |
| building_type | Waterfront |
| ffd_id | a0E6g00000A45r3EAB |
| ffd_totalarea_pb | 2017 |
| ffd_solddate | |
| ffd_soldprice | |
| ffd_state_pb | California |
| ffd_status | Active |
| ffd_threequarterbathrooms | |
| ffd_unit_of_measure | Square Feet |
| ffd_brokerage_id | 0016g000013kY94AAE |
| year_built | 1929 |
| ffd_postalcode_pb | |
| pba__WebsiteId__c | 335850 |
| pba__Listing_Website__c | https://www.forbesglobalproperties.com/listings/the-residence-at-timber-point |
| Site_Post_Id__c | 335850 |
| ffd_media | a:20:{i:0;s:117:"https://s3.amazonaws.com/propertybase-clients/00D6g000007OY6LEAW/a0O6g00000Cd40J/nallbmn62/001_4280_north_lake-31.jpg";i:1;s:116:"https://s3.amazonaws.com/propertybase-clients/00D6g000007OY6LEAW/a0O6g00000Cd40J/ekdphof9e/003_4280_north_lake-2.jpg";i:2;s:116:"https://s3.amazonaws.com/propertybase-clients/00D6g000007OY6LEAW/a0O6g00000Cd40J/b1sbny3n9/005_4280_north_lake-4.jpg";i:3;s:116:"https://s3.amazonaws.com/propertybase-clients/00D6g000007OY6LEAW/a0O6g00000Cd40J/pv9t1v24f/006_4280_north_lake-5.jpg";i:4;s:116:"https://s3.amazonaws.com/propertybase-clients/00D6g000007OY6LEAW/a0O6g00000Cd40J/agmduwsrc/007_4280_north_lake-6.jpg";i:5;s:116:"https://s3.amazonaws.com/propertybase-clients/00D6g000007OY6LEAW/a0O6g00000Cd40J/n13le4nch/008_4280_north_lake-7.jpg";i:6;s:116:"https://s3.amazonaws.com/propertybase-clients/00D6g000007OY6LEAW/a0O6g00000Cd40J/87doxj5mw/010_4280_north_lake-9.jpg";i:7;s:117:"https://s3.amazonaws.com/propertybase-clients/00D6g000007OY6LEAW/a0O6g00000Cd40J/1rh93t8qx/011_4280_north_lake-10.jpg";i:8;s:117:"https://s3.amazonaws.com/propertybase-clients/00D6g000007OY6LEAW/a0O6g00000Cd40J/73s71c806/018_4280_north_lake-17.jpg";i:9;s:117:"https://s3.amazonaws.com/propertybase-clients/00D6g000007OY6LEAW/a0O6g00000Cd40J/5a7z4d5w5/016_4280_north_lake-15.jpg";i:10;s:117:"https://s3.amazonaws.com/propertybase-clients/00D6g000007OY6LEAW/a0O6g00000Cd40J/4aa8buc7o/020_4280_north_lake-19.jpg";i:11;s:117:"https://s3.amazonaws.com/propertybase-clients/00D6g000007OY6LEAW/a0O6g00000Cd40J/03fuyigee/028_4280_north_lake-27.jpg";i:12;s:117:"https://s3.amazonaws.com/propertybase-clients/00D6g000007OY6LEAW/a0O6g00000Cd40J/hz55m1x80/024_4280_north_lake-23.jpg";i:13;s:117:"https://s3.amazonaws.com/propertybase-clients/00D6g000007OY6LEAW/a0O6g00000Cd40J/ur5vbfy9o/026_4280_north_lake-25.jpg";i:14;s:117:"https://s3.amazonaws.com/propertybase-clients/00D6g000007OY6LEAW/a0O6g00000Cd40J/h37kiu604/047_4280_north_lake-47.jpg";i:15;s:117:"https://s3.amazonaws.com/propertybase-clients/00D6g000007OY6LEAW/a0O6g00000Cd40J/8aac6v0cd/046_4280_north_lake-46.jpg";i:16;s:117:"https://s3.amazonaws.com/propertybase-clients/00D6g000007OY6LEAW/a0O6g00000Cd40J/84dqtntbp/038_4280_north_lake-38.jpg";i:17;s:117:"https://s3.amazonaws.com/propertybase-clients/00D6g000007OY6LEAW/a0O6g00000Cd40J/gfxjhitlk/044_4280_north_lake-44.jpg";i:18;s:117:"https://s3.amazonaws.com/propertybase-clients/00D6g000007OY6LEAW/a0O6g00000Cd40J/tydnv7ouk/013_4280_north_lake-12.jpg";i:19;s:117:"https://s3.amazonaws.com/propertybase-clients/00D6g000007OY6LEAW/a0O6g00000Cd40J/oqqqln63t/035_4280_north_lake-35.jpg";} |
| _thumbnail_id | 335851 |
| ffd_featured_image | https://s3.amazonaws.com/propertybase-clients/00D6g000007OY6LEAW/a0O6g00000Cd40J/nallbmn62/001_4280_north_lake-31.jpg |
| agents | a:1:{i:0;s:4:"7272";} |
| _wp_old_date | 2023-03-24 |
| ffd_record_is_deleted | |
| featured_images | 335851 |
| listing_images | a:20:{i:0;s:6:"335851";i:1;s:6:"335852";i:2;s:6:"335853";i:3;s:6:"335854";i:4;s:6:"335855";i:5;s:6:"335856";i:6;s:6:"335857";i:7;s:6:"335858";i:8;s:6:"335859";i:9;s:6:"335860";i:10;s:6:"335861";i:11;s:6:"335862";i:12;s:6:"335863";i:13;s:6:"335864";i:14;s:6:"335865";i:15;s:6:"335866";i:16;s:6:"335867";i:17;s:6:"335868";i:18;s:6:"335869";i:19;s:6:"335870";} |
| post_member_id | 7578 |
| post_agent_id | 7272 |
| _sbi_oembed_done_checking | 1 |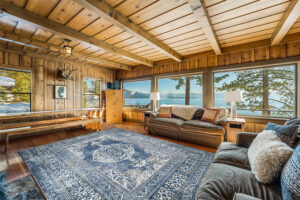 The Residence at Timber Point
4280 North Lake Boulevard
Carnelian Bay, California, United States
Status: Active
A classic and timeless Tahoe Lakefront home available for the first time ever on the open market. The property exudes the comforts of generations passed along with great potential for the future. 97 feet of frontage with a private pier and buoy access situated optimally on an ample-size lot to maximize morning sunrises and evening alpenglow. The home has been immaculately maintained over a century and handed down by generations with great care. TRPA has verified over 4700 square feet of Class 6 coverage offering a tremendous template for future redevelopment.
A thoughtful and concise floorplan maximizes lake views from the comfortable living room and two water facing upstairs bedrooms. An oversized, wraparound deck is situated in an obvious location for all day lake enjoyment during summer while providing storage for toys and outdoor furnishings below. Everything exactly as it should be….
This unique 5 Bedroom home with 2 Bathrooms is a prime example of the luxury real estate available in Carnelian Bay, California. You can visit our California search pages for more luxury real estate choices in Carnelian Bay.