ffd_listing_title
Terrace attic in Höngg: large, sunny with distant view
ffd_unique_id
ffd_mls_id
ffd_salesforce_id
a0E6g00000BG3pnEAD
ffd_address_pb
, Zürich, Bezirk Zürich
address
, Zürich, Bezirk Zürich
baths
0
beds
3
ffd_city_pb
Zürich
ffd_colistingagent_pb
ffd_colistingagentemail_pb
ffd_colistingagentmlsid
ffd_colistingagentname
ffd_colistingofficemlsid
ffd_colistingofficename_pb
ffd_country_pb
Switzerland
ffd_createddate
2023-04-30T01:03:40.000+0000
about
Elevated in a quiet and central location in Zurich Höngg inspires this spacious 5-room attic apartment with large terraces and fantastic views over the city and the lake.
An elevator goes directly to the apartment on the 5th floor. A whopping approx. 172 m² of living space and approx. 170 m² of terrace space spoil you with lots of light and sun; all rooms open onto a terrace. Ideal for the cold season are the fireplace in the living-dining area and the winter garden.
Two bathrooms, a réduit, utility room and a lot of ancillary space in the basement, including a hobby room, give a larger family ample space for private retreat.
The property was built in 1980 and is finished to an upscale but older standard. Create yourself with a comprehensive redesign a dream terrace attic according to your own wishes in a superb location on the sunny slope of Zurich.

ffd_displayaddress
floor
ffd_halfbathrooms_pb
0
ffd_hide_address_on_site
1
ffd_key_words
Zürich;Switzerland;Zürich, Bezirk Zürich
ffd_lastmodifieddate
2023-05-22T01:00:35.000+0000
lat
47.404129999999995
ffd_listofficemlsid
ffd_listofficename
ffd_listingagent_pb
0036g00001yFWc4AAG
ffd_listing_agent_email
ffd_listing_agent_firstname
ffd_listing_agent_lastname
ffd_listingagentmlsid
ffd_listingagentname
ffd_listing_agent_website
https://www.fgp-swissandalps.com/acheter/apartment/bezirk-zurich/suisse/terrace-attic-in-hongg-large-sunny-with-distant-view/
price
3266951.9999999995
ffd_listingtype
Sale
location
Zürich, Bezirk Zürich, Switzerland
lng
8.4949875
sq_feet
0
ffd_non_member_paid
ffd_other_currency_amount
2960000
ffd_other_currency_type
CHF
ffd_ownerid
0056g000007NjzqAAC
ffd_pool_pb
ffd_price_upon_request
building_type
Apartment
ffd_id
a0E6g00000BG3pnEAD
ffd_totalarea_pb
165
ffd_solddate
ffd_soldprice
ffd_state_pb
Bezirk Zürich
ffd_status
Active
ffd_threequarterbathrooms
0
ffd_unit_of_measure
Meters
ffd_brokerage_id
0016g000013kXydAAE
year_built
1980
ffd_postalcode_pb
8000
pba__WebsiteId__c
353819
pba__Listing_Website__c
https://www.forbesglobalproperties.com/listings/terrace-attic-in-hongg-large-sunny-with-distant-view
Site_Post_Id__c
353819
ffd_media
a:7:{i:0;s:98:"https://www.fgp-swissandalps.com/wp-content/uploads/2023/05/82417430-20230424000000-1-original.jpg";i:1;s:98:"https://www.fgp-swissandalps.com/wp-content/uploads/2023/05/82417430-20230424000000-2-original.jpg";i:2;s:98:"https://www.fgp-swissandalps.com/wp-content/uploads/2023/05/82417430-20230424000000-3-original.jpg";i:3;s:98:"https://www.fgp-swissandalps.com/wp-content/uploads/2023/05/82417430-20230424000000-4-original.jpg";i:4;s:98:"https://www.fgp-swissandalps.com/wp-content/uploads/2023/05/82417430-20230424000000-5-original.jpg";i:5;s:98:"https://www.fgp-swissandalps.com/wp-content/uploads/2023/05/82417430-20230424000000-6-original.jpg";i:6;s:98:"https://www.fgp-swissandalps.com/wp-content/uploads/2023/05/82417430-20230424000000-7-original.jpg";}
_thumbnail_id
355109
ffd_featured_image
https://www.fgp-swissandalps.com/wp-content/uploads/2023/05/82417430-20230424000000-1-original.jpg
agents
a:1:{i:0;s:6:"218686";}
_wp_old_date
2023-05-01
ffd_record_is_deleted
featured_images
355109
listing_images
a:7:{i:0;s:6:"355109";i:1;s:6:"355110";i:2;s:6:"355111";i:3;s:6:"355112";i:4;s:6:"355113";i:5;s:6:"355114";i:6;s:6:"355115";}
api_external_id
82417430
_sbi_oembed_done_checking
1
post_member_id
7540
post_agent_id
218686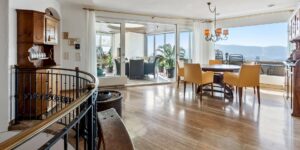 Terrace attic in Höngg: large, sunny with distant view
CHF 2,960,000
(US $3,266,952)
Zürich, Bezirk Zürich, Switzerland
Status: Active
Elevated in a quiet and central location in Zurich Höngg inspires this spacious 5-room attic apartment with large terraces and fantastic views over the city and the lake.
An elevator goes directly to the apartment on the 5th floor. A whopping approx. 172 m² of living space and approx. 170 m² of terrace space spoil you with lots of light and sun; all rooms open onto a terrace. Ideal for the cold season are the fireplace in the living-dining area and the winter garden.
Two bathrooms, a réduit, utility room and a lot of ancillary space in the basement, including a hobby room, give a larger family ample space for private retreat.
The property was built in 1980 and is finished to an upscale but older standard. Create yourself with a comprehensive redesign a dream terrace attic according to your own wishes in a superb location on the sunny slope of Zurich.
Properties You Might Also Like
CHF 2,490,000
(US $2,748,213)
Zürich, Zürich, Switzerland
Breathtaking view of the city from the 17th floor
CHF 2,490,000
(US $2,748,213)
Zürich, Zürich, Switzerland
Urban luxury on the 17th floor above a trendy neighborhood.
This unique 3 Bedroom home is a prime example of the luxury real estate available in Zürich, Bezirk Zürich. You can visit our Bezirk Zürich search pages for more luxury real estate choices in Zürich.