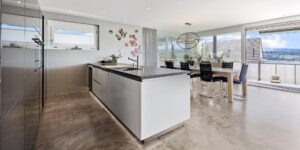 Sunny apartment with dream view
CHF 2,960,000
(US $2,976,870)
Meilen, Zürich, Switzerland
Status: Active
Plenty of space, great views and a flexible floor plan: this 5.5 room apartment fits your life plan.
It is located on the second floor of a modern house divided into 3 family units, very well situated in the Zurich part of the lake. The architecture offers plenty of light, quality finishes and a successful play of colors and materials – and thanks to the ideal orientation, you enjoy a fantastic view of the lake.
The floor plan is well thought out and can be transformed without much effort to suit your needs. Whatever your plans: The living-dining area with its open kitchen is grand and, thanks to full-height windows on three sides, is bathed in light and sunlight. The covered terrace surrounds the apartment on two sides: a beautiful, versatile oasis of rest during the warm season.
When it comes to the layout and materials, those who appreciate personalization will find it to their liking.
The location is ideal: public transportation, shops, recreation center, schools and kindergarten nearby. What more could you ask for?

Properties You Might Also Like
CHF 3,650,000
(US $3,670,802)
Meilen, Zürich, Switzerland
A newly renovated family paradise on the Côte d'Or
CHF 1,980,000
(US $1,991,285)
Oberrieden, Zürich, Switzerland
Lots of space and light in a popular neighborhood