| | |
| --- | --- |
| ffd_listing_title | Split-level in Côte-Saint-Luc, Quebec |
| ffd_unique_id | |
| ffd_mls_id | |
| ffd_salesforce_id | a0E6g00000BG66iEAD |
| ffd_address_pb | 5604, Av. Borden |
| address | 5604, Av. Borden |
| baths | 3 |
| beds | 6 |
| ffd_city_pb | Côte-Saint-Luc |
| ffd_colistingagent_pb | |
| ffd_colistingagentemail_pb | |
| ffd_colistingagentmlsid | |
| ffd_colistingagentname | |
| ffd_colistingofficemlsid | |
| ffd_colistingofficename_pb | |
| ffd_country_pb | Canada |
| ffd_createddate | 2023-05-07T23:05:46.000+0000 |
| about | Grand semi-detached split level situated one of the most desirable streets in CSL. Extension on three floors boasting 4 large bedrooms on upper floor, sky light adding natural light, kitchen with dinette surrounded by generous fenestration, super large den ideal for hosting a big crowd, no backyard neighbour, 2 bedrooms in basement. Enjoy a beautiful large backyard. Proximity to public transport, schools, parks & synagogues. Worthy of a visit. |
| ffd_displayaddress | |
| floor | |
| ffd_halfbathrooms_pb | 0 |
| ffd_hide_address_on_site | |
| ffd_key_words | Côte-Saint-Luc;Canada;Côte-Saint-Luc, Quebec;CA |
| ffd_lastmodifieddate | 2023-05-28T08:05:47.000+0000 |
| lat | 45.47513800 |
| ffd_listofficemlsid | |
| ffd_listofficename | |
| ffd_listingagent_pb | 0036g00002AmfzKAAR |
| ffd_listing_agent_email | |
| ffd_listing_agent_firstname | |
| ffd_listing_agent_lastname | |
| ffd_listingagentmlsid | |
| ffd_listingagentname | |
| ffd_listing_agent_website | |
| price | 1172006 |
| ffd_listingtype | Sale |
| location | Côte-Saint-Luc, Quebec, Canada |
| lng | -73.65415600 |
| sq_feet | 0 |
| ffd_non_member_paid | |
| ffd_other_currency_amount | 1595000 |
| ffd_other_currency_type | CAD |
| ffd_ownerid | 0056g000006UNqeAAG |
| ffd_pool_pb | |
| ffd_price_upon_request | |
| building_type | Split-level |
| ffd_id | a0E6g00000BG66iEAD |
| ffd_totalarea_pb | 0 |
| ffd_solddate | |
| ffd_soldprice | |
| ffd_state_pb | Quebec |
| ffd_status | Active |
| ffd_threequarterbathrooms | 0 |
| ffd_unit_of_measure | |
| ffd_brokerage_id | 0016g00002L3Kc7AAF |
| year_built | 1955 |
| ffd_postalcode_pb | |
| pba__WebsiteId__c | 357737 |
| pba__Listing_Website__c | https://www.forbesglobalproperties.com/listings/split-level-in-cote-saint-luc-quebec |
| Site_Post_Id__c | 357737 |
| ffd_media | a:27:{i:0;s:72:"https://profusionimmo.ca/public/user_files/proprietes/work/9112847-1.jpg";i:1;s:72:"https://profusionimmo.ca/public/user_files/proprietes/work/9112847-2.jpg";i:2;s:72:"https://profusionimmo.ca/public/user_files/proprietes/work/9112847-3.jpg";i:3;s:72:"https://profusionimmo.ca/public/user_files/proprietes/work/9112847-4.jpg";i:4;s:72:"https://profusionimmo.ca/public/user_files/proprietes/work/9112847-5.jpg";i:5;s:72:"https://profusionimmo.ca/public/user_files/proprietes/work/9112847-6.jpg";i:6;s:72:"https://profusionimmo.ca/public/user_files/proprietes/work/9112847-7.jpg";i:7;s:72:"https://profusionimmo.ca/public/user_files/proprietes/work/9112847-8.jpg";i:8;s:72:"https://profusionimmo.ca/public/user_files/proprietes/work/9112847-9.jpg";i:9;s:73:"https://profusionimmo.ca/public/user_files/proprietes/work/9112847-10.jpg";i:10;s:73:"https://profusionimmo.ca/public/user_files/proprietes/work/9112847-11.jpg";i:11;s:73:"https://profusionimmo.ca/public/user_files/proprietes/work/9112847-12.jpg";i:12;s:73:"https://profusionimmo.ca/public/user_files/proprietes/work/9112847-13.jpg";i:13;s:73:"https://profusionimmo.ca/public/user_files/proprietes/work/9112847-14.jpg";i:14;s:73:"https://profusionimmo.ca/public/user_files/proprietes/work/9112847-15.jpg";i:15;s:73:"https://profusionimmo.ca/public/user_files/proprietes/work/9112847-16.jpg";i:16;s:73:"https://profusionimmo.ca/public/user_files/proprietes/work/9112847-17.jpg";i:17;s:73:"https://profusionimmo.ca/public/user_files/proprietes/work/9112847-18.jpg";i:18;s:73:"https://profusionimmo.ca/public/user_files/proprietes/work/9112847-19.jpg";i:19;s:73:"https://profusionimmo.ca/public/user_files/proprietes/work/9112847-20.jpg";i:20;s:73:"https://profusionimmo.ca/public/user_files/proprietes/work/9112847-21.jpg";i:21;s:73:"https://profusionimmo.ca/public/user_files/proprietes/work/9112847-22.jpg";i:22;s:73:"https://profusionimmo.ca/public/user_files/proprietes/work/9112847-23.jpg";i:23;s:73:"https://profusionimmo.ca/public/user_files/proprietes/work/9112847-24.jpg";i:24;s:73:"https://profusionimmo.ca/public/user_files/proprietes/work/9112847-25.jpg";i:25;s:73:"https://profusionimmo.ca/public/user_files/proprietes/work/9112847-26.jpg";i:26;s:73:"https://profusionimmo.ca/public/user_files/proprietes/work/9112847-27.jpg";} |
| _thumbnail_id | 357738 |
| ffd_featured_image | https://profusionimmo.ca/public/user_files/proprietes/work/9112847-1.jpg |
| agents | a:2:{i:0;s:6:"299667";i:1;N;} |
| _wp_old_date | 2023-05-08 |
| ffd_record_is_deleted | |
| featured_images | 357738 |
| listing_images | a:27:{i:0;s:6:"357738";i:1;s:6:"357739";i:2;s:6:"357740";i:3;s:6:"357741";i:4;s:6:"357742";i:5;s:6:"357743";i:6;s:6:"357744";i:7;s:6:"357745";i:8;s:6:"357746";i:9;s:6:"357747";i:10;s:6:"357748";i:11;s:6:"357749";i:12;s:6:"357750";i:13;s:6:"357751";i:14;s:6:"357752";i:15;s:6:"357753";i:16;s:6:"357754";i:17;s:6:"357755";i:18;s:6:"357756";i:19;s:6:"357757";i:20;s:6:"357758";i:21;s:6:"357759";i:22;s:6:"357760";i:23;s:6:"357761";i:24;s:6:"357762";i:25;s:6:"357763";i:26;s:6:"357764";} |
| api_external_id | 9112847 |
| post_member_id | 299987 |
| post_agent_id | 299667 |
| _sbi_oembed_done_checking | 1 |
| ffd_api_external_id | 9112847 |
| post_coagent_id | |
| _listing_images | field_642ee01c5d170 |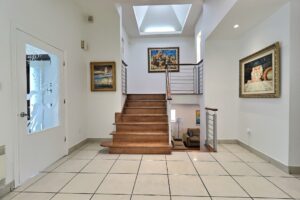 Split-level in Côte-Saint-Luc, Quebec
CAD 1,595,000
(US $1,172,006)
5604, Av. Borden
Côte-Saint-Luc, Quebec, Canada
Status: Active
Grand semi-detached split level situated one of the most desirable streets in CSL. Extension on three floors boasting 4 large bedrooms on upper floor, sky light adding natural light, kitchen with dinette surrounded by generous fenestration, super large den ideal for hosting a big crowd, no backyard neighbour, 2 bedrooms in basement. Enjoy a beautiful large backyard. Proximity to public transport, schools, parks & synagogues. Worthy of a visit.
Properties You Might Also Like
CAD 2,950,000
(US $2,167,660)
Hampstead, Quebec, Canada
Duplex in Hampstead, Quebec
CAD 2,195,000
(US $1,612,886)
Côte-Saint-Luc, Quebec, Canada
House in Côte-Saint-Luc, Quebec
This unique 6 Bedroom home with 3 Bathrooms is a prime example of the luxury real estate available in Côte-Saint-Luc, Quebec. You can visit our Quebec search pages for more luxury real estate choices in Côte-Saint-Luc.