ffd_listing_title
South of Frane, Cap Ferret - Contemporary house with sea view
ffd_unique_id
ffd_mls_id
ffd_salesforce_id
a0E6g000009u43MEAQ
ffd_address_pb
Lège-Cap-Ferret
address
Lège-Cap-Ferret
baths
6
beds
6
ffd_city_pb
Lège-Cap-Ferret
ffd_colistingagent_pb
ffd_colistingagentemail_pb
ffd_colistingagentmlsid
ffd_colistingagentname
ffd_colistingofficemlsid
ffd_colistingofficename_pb
ffd_country_pb
France
ffd_createddate
2022-12-13T10:00:10.000+0000
about

Exceptionally well located on the first line, this contemporary house has been renovated to a very high standard. Also accessible by boat thanks to its private pontoon, it is set in 29062.56 square feet of enclosed landscaped grounds in a dominant position and out of sight.

The majority of its bright rooms enjoy an unobstructed and relaxing view of the Bassin and nature.

With 6 bedrooms, all with matching shower rooms, it can accommodate a large number of guests.

The living room, equipped with a fireplace, is flanked by bay windows opening onto a large terrace.

The unoverlooked swimming pool overlooks the Bassin. Further down, a solarium at the foot of the water, bordered by a converted shed, guarantees another comfortable summer atmosphere.

This modern and comfortable villa has everything you need to cut yourself off from the world and enjoy the tranquility of an exceptional environment.

ffd_displayaddress
floor
ffd_halfbathrooms_pb
0
ffd_hide_address_on_site
ffd_key_words
Lège-Cap-Ferret;France;Lège-Cap-Ferret, Aquitaine;FX
ffd_lastmodifieddate
2022-12-27T17:35:24.000+0000
lat
44.79545
ffd_listofficemlsid
ffd_listofficename
ffd_listingagent_pb
0036g00000rLnB7AAK
ffd_listing_agent_email
ffd_listing_agent_firstname
ffd_listing_agent_lastname
ffd_listingagentmlsid
900670bx
ffd_listingagentname
ffd_listing_agent_website
www.groupe-mercure.com
price
16719053
ffd_listingtype
Sale
location
Lège-Cap-Ferret, Aquitaine, France
lng
-1.14778
sq_feet
2700
ffd_non_member_paid
ffd_other_currency_amount
15750000
ffd_other_currency_type
EUR
ffd_ownerid
0056g000005qqSNAAY
ffd_pool_pb
ffd_price_upon_request
building_type
House
ffd_id
a0E6g000009u43MEAQ
ffd_totalarea_pb
477
ffd_solddate
ffd_soldprice
ffd_state_pb
Aquitaine
ffd_status
Active
ffd_threequarterbathrooms
0
ffd_unit_of_measure
Meters
ffd_brokerage_id
0016g000013kY9lAAE
year_built
0
ffd_postalcode_pb
33950
pba__WebsiteId__c
297774
pba__Listing_Website__c
https://www.forbesglobalproperties.com/listings/south-of-frane-cap-ferret-contemporary-house-with-sea-view/
Site_Post_Id__c
297774
ffd_media
a:10:{i:0;s:108:"https://d1qfj231ug7wdu.cloudfront.net/pictures/estate/5555/5554738/32072244760dd6a9402be87.41869709_1742.jpg";i:1;s:109:"https://d1qfj231ug7wdu.cloudfront.net/pictures/estate/5555/5554738/114559077560dd6a9738f330.77200088_1816.jpg";i:2;s:108:"https://d1qfj231ug7wdu.cloudfront.net/pictures/estate/5555/5554738/32062570660dd6a98e54425.06430215_1496.jpg";i:3;s:108:"https://d1qfj231ug7wdu.cloudfront.net/pictures/estate/5555/5554738/12967152960dd6a9a407ee6.24591891_1697.jpg";i:4;s:109:"https://d1qfj231ug7wdu.cloudfront.net/pictures/estate/5555/5554738/146683642060dd6a9b80da42.97157850_1719.jpg";i:5;s:108:"https://d1qfj231ug7wdu.cloudfront.net/pictures/estate/5555/5554738/88529229060dd6a9d011125.36267534_1835.jpg";i:6;s:109:"https://d1qfj231ug7wdu.cloudfront.net/pictures/estate/5555/5554738/169397823060dd6a9e66b7c3.81109714_1498.jpg";i:7;s:109:"https://d1qfj231ug7wdu.cloudfront.net/pictures/estate/5555/5554738/136253303860dd6a9fde5033.22203617_1640.jpg";i:8;s:108:"https://d1qfj231ug7wdu.cloudfront.net/pictures/estate/5555/5554738/54052847160dd6aa1c22235.76534281_1865.jpg";i:9;s:107:"https://d1qfj231ug7wdu.cloudfront.net/pictures/estate/5555/5554738/2946037560dd6aa4db8ad2.38868754_1697.jpg";}
_thumbnail_id
297775
ffd_featured_image
https://d1qfj231ug7wdu.cloudfront.net/pictures/estate/5555/5554738/32072244760dd6a9402be87.41869709_1742.jpg
agents
a:1:{i:0;s:5:"53010";}
ffd_record_is_deleted
featured_images
297775
primary_media_0_image
297775
_primary_media_0_image
field_5f988067abcc4
primary_media_0_video
_primary_media_0_video
field_5f98807dabcc5
primary_media
1
_primary_media
field_5f98805cabcc3
secondary_media_0_image
297776
_secondary_media_0_image
field_5f988119a39fd
secondary_media_0_video
_secondary_media_0_video
field_5f988119a39fe
secondary_media_1_image
297777
_secondary_media_1_image
field_5f988119a39fd
secondary_media_1_video
_secondary_media_1_video
field_5f988119a39fe
secondary_media_2_image
297778
_secondary_media_2_image
field_5f988119a39fd
secondary_media_2_video
_secondary_media_2_video
field_5f988119a39fe
secondary_media_3_image
297779
_secondary_media_3_image
field_5f988119a39fd
secondary_media_3_video
_secondary_media_3_video
field_5f988119a39fe
secondary_media_4_image
297780
_secondary_media_4_image
field_5f988119a39fd
secondary_media_4_video
_secondary_media_4_video
field_5f988119a39fe
secondary_media_5_image
297781
_secondary_media_5_image
field_5f988119a39fd
secondary_media_5_video
_secondary_media_5_video
field_5f988119a39fe
secondary_media_6_image
297782
_secondary_media_6_image
field_5f988119a39fd
secondary_media_6_video
_secondary_media_6_video
field_5f988119a39fe
secondary_media_7_image
297783
_secondary_media_7_image
field_5f988119a39fd
secondary_media_7_video
_secondary_media_7_video
field_5f988119a39fe
secondary_media_8_image
297784
_secondary_media_8_image
field_5f988119a39fd
secondary_media_8_video
_secondary_media_8_video
field_5f988119a39fe
secondary_media
9
_secondary_media
field_5f988119a39fc
South of Frane, Cap Ferret – Contemporary house with sea view
EUR 15,750,000
(US $16,719,053)
Lège-Cap-Ferret
Lège-Cap-Ferret, Aquitaine, France
Status: Active
Exceptionally well located on the first line, this contemporary house has been renovated to a very high standard. Also accessible by boat thanks to its private pontoon, it is set in 29062.56 square feet of enclosed landscaped grounds in a dominant position and out of sight.
The majority of its bright rooms enjoy an unobstructed and relaxing view of the Bassin and nature.
With 6 bedrooms, all with matching shower rooms, it can accommodate a large number of guests.
The living room, equipped with a fireplace, is flanked by bay windows opening onto a large terrace.
The unoverlooked swimming pool overlooks the Bassin. Further down, a solarium at the foot of the water, bordered by a converted shed, guarantees another comfortable summer atmosphere.
This modern and comfortable villa has everything you need to cut yourself off from the world and enjoy the tranquility of an exceptional environment.
Properties You Might Also Like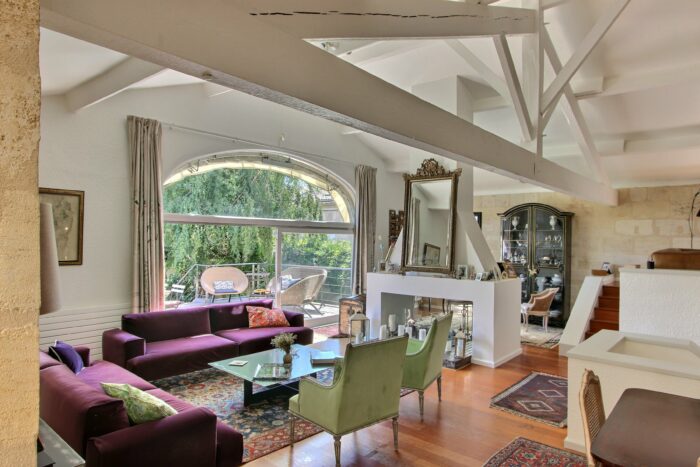 EUR 2,200,000
(US $2,339,261)
Bordeaux, Aquitaine, France
Bordeaux, Parc Bordelais – exceptional architect's house
EUR 2,250,000
(US $2,392,426)
Bordeaux, Aquitaine, France
Bordeaux – Exceptional apartment with panoramic views
This unique 6 Bedroom home with 6 Bathrooms is a prime example of the luxury real estate available in Lège-Cap-Ferret, Aquitaine. You can visit our Aquitaine search pages for more luxury real estate choices in Lège-Cap-Ferret.