ffd_listing_title
South of France - Winery with former Catalan Monastery
ffd_unique_id
ffd_mls_id
ffd_salesforce_id
a0E6g000006JG1uEAG
ffd_address_pb
66000
address
66000
baths
3
beds
4
ffd_city_pb
Perpignan
ffd_country_pb
France
ffd_createddate
2021-01-25T14:24:05.000+0000
about

Former Catalan monastery from the XIXth century, with outstanding views of the sea and the mountains, tastefully renovated, with more than 21,527sq.ft. in total including 7,534sq.ft. of living space.

Wine estate with a modern wine cellar, 3,229sq.ft. of office space, 111.19 acres of land all around including about 37.06 acres of vineyards.

15 AOP vines in production. Great touristic potential. 5min from the sea and the city of Perpignan, 15min from the motorway and 20min from the airport. The property has one of the most beautiful 360° panoramic views of the region and is totally isolated on a hilltop overlooking the plain, in the middle of the vineyards, on a long dead end with very little traffic. Not overlooked. No nuisance.

The owner has tastefully converted the three main bodies of the building, one wing into a beautiful home on two levels, spacious offices and state-of-the-art wine cellar.

5,381sq.ft. on three levels to renovate in an other wing.

Mediterranean garden, swimming pool and pool house.

The wine cellar is very functional, up to standards, with state-of-the-art equipment.

Property Reference: 11510vm

ffd_lastmodifieddate
2022-07-07T08:27:46.000+0000
lat
48.24839
ffd_listingagent_pb
0036g00001jKzY2AAK
ffd_listingagentmlsid
8334TS
ffd_listing_agent_website
https://www.groupe-mercure.com/en/buy/agricultural-properties-pyrenees-orientales-393140-11510vm.html
price
3525150
ffd_listingtype
Sale
location
Perpignan, Pyrenees Orientales - Occitanie, France
lng
-2.97945
ffd_other_currency_amount
3600000
ffd_other_currency_type
EUR
ffd_ownerid
0056g000005qqSmAAI
building_type
Business Opportunity
ffd_id
a0E6g000006JG1uEAG
ffd_state_pb
Pyrenees Orientales - Occitanie
ffd_brokerage_id
0016g000013kY9lAAE
ffd_media
a:14:{i:0;s:112:"https://s3.amazonaws.com/propertybase-clients/00D6g000007OY6LEAW/a0O6g000004NYc2/6gm6icrku/Picture-4982006-1.jpg";i:1;s:113:"https://s3.amazonaws.com/propertybase-clients/00D6g000007OY6LEAW/a0O6g000004NYc2/y8nl5igpd/Picture-4982006-36.jpg";i:2;s:112:"https://s3.amazonaws.com/propertybase-clients/00D6g000007OY6LEAW/a0O6g000004NYc2/fydhxpzpy/Picture-4982006-4.jpg";i:3;s:112:"https://s3.amazonaws.com/propertybase-clients/00D6g000007OY6LEAW/a0O6g000004NYc2/7y2paildp/Picture-4982006-5.jpg";i:4;s:112:"https://s3.amazonaws.com/propertybase-clients/00D6g000007OY6LEAW/a0O6g000004NYc2/wlr60trks/Picture-4982006-9.jpg";i:5;s:113:"https://s3.amazonaws.com/propertybase-clients/00D6g000007OY6LEAW/a0O6g000004NYc2/8vl9vb5qs/Picture-4982006-14.jpg";i:6;s:113:"https://s3.amazonaws.com/propertybase-clients/00D6g000007OY6LEAW/a0O6g000004NYc2/agdvky4wp/Picture-4982006-16.jpg";i:7;s:113:"https://s3.amazonaws.com/propertybase-clients/00D6g000007OY6LEAW/a0O6g000004NYc2/3slnfbqhq/Picture-4982006-15.jpg";i:8;s:113:"https://s3.amazonaws.com/propertybase-clients/00D6g000007OY6LEAW/a0O6g000004NYc2/wgdgtcert/Picture-4982006-35.jpg";i:9;s:112:"https://s3.amazonaws.com/propertybase-clients/00D6g000007OY6LEAW/a0O6g000004NYc2/692g2fiiv/Picture-4982006-3.jpg";i:10;s:113:"https://s3.amazonaws.com/propertybase-clients/00D6g000007OY6LEAW/a0O6g000004NYc2/ss9afo51z/Picture-4982006-55.jpg";i:11;s:112:"https://s3.amazonaws.com/propertybase-clients/00D6g000007OY6LEAW/a0O6g000004NYc2/i82aijrrq/Picture-4982006-7.jpg";i:12;s:113:"https://s3.amazonaws.com/propertybase-clients/00D6g000007OY6LEAW/a0O6g000004NYc2/dwivx9yrc/Picture-4982006-27.jpg";i:13;s:113:"https://s3.amazonaws.com/propertybase-clients/00D6g000007OY6LEAW/a0O6g000004NYc2/4ufuwxdpy/Picture-4982006-18.jpg";}
_thumbnail_id
212066
ffd_featured_image
https://s3.amazonaws.com/propertybase-clients/00D6g000007OY6LEAW/a0O6g000004NYc2/6gm6icrku/Picture-4982006-1.jpg
agents
a:1:{i:0;s:6:"158421";}
ffd_record_is_deleted
sq_feet
4843759
ffd_pool_pb
1
ffd_totalarea_pb
7534
_wp_old_slug
south-of-france-wine-chateau-overlooking-sea-and-moutains
ffd_displayaddress
ffd_price_upon_request
ffd_unit_of_measure
Square Feet
pba__WebsiteId__c
83409
pba__Listing_Website__c
https://www.forbesglobalproperties.com/listings/south-of-france-winery-with-former-catalan-monastery/
Site_Post_Id__c
83409
ffd_key_words
Perpignan; Perpignan, Pyrenees Orientales - Occitanie; Vineyards & Wineries; Perpignan Vineyards & Wineries; France
ffd_hide_address_on_site
ffd_status
Active
ffd_colistingagent_pb
ffd_colistingagentemail_pb
ffd_colistingagentmlsid
ffd_colistingagentname
ffd_colistingofficemlsid
ffd_colistingofficename_pb
floor
ffd_halfbathrooms_pb
ffd_listofficemlsid
ffd_listofficename
ffd_listing_agent_email
ffd_listing_agent_firstname
ffd_listing_agent_lastname
ffd_listingagentname
ffd_solddate
ffd_soldprice
year_built
ffd_postalcode_pb
ffd_non_member_paid
ffd_threequarterbathrooms
featured_images
212066
primary_media_0_image
212066
_primary_media_0_image
field_5f988067abcc4
primary_media_0_video
_primary_media_0_video
field_5f98807dabcc5
primary_media_1_image
212068
_primary_media_1_image
field_5f988067abcc4
primary_media_1_video
_primary_media_1_video
field_5f98807dabcc5
primary_media
2
_primary_media
field_5f98805cabcc3
secondary_media_0_image
212066
_secondary_media_0_image
field_5f988119a39fd
secondary_media_0_video
_secondary_media_0_video
field_5f988119a39fe
secondary_media_1_image
212067
_secondary_media_1_image
field_5f988119a39fd
secondary_media_1_video
_secondary_media_1_video
field_5f988119a39fe
secondary_media_2_image
212068
_secondary_media_2_image
field_5f988119a39fd
secondary_media_2_video
_secondary_media_2_video
field_5f988119a39fe
secondary_media_3_image
212069
_secondary_media_3_image
field_5f988119a39fd
secondary_media_3_video
_secondary_media_3_video
field_5f988119a39fe
secondary_media_4_image
212070
_secondary_media_4_image
field_5f988119a39fd
secondary_media_4_video
_secondary_media_4_video
field_5f988119a39fe
secondary_media_5_image
212071
_secondary_media_5_image
field_5f988119a39fd
secondary_media_5_video
_secondary_media_5_video
field_5f988119a39fe
secondary_media_6_image
212072
_secondary_media_6_image
field_5f988119a39fd
secondary_media_6_video
_secondary_media_6_video
field_5f988119a39fe
secondary_media_7_image
212073
_secondary_media_7_image
field_5f988119a39fd
secondary_media_7_video
_secondary_media_7_video
field_5f988119a39fe
secondary_media_8_image
212074
_secondary_media_8_image
field_5f988119a39fd
secondary_media_8_video
_secondary_media_8_video
field_5f988119a39fe
secondary_media_9_image
212075
_secondary_media_9_image
field_5f988119a39fd
secondary_media_9_video
_secondary_media_9_video
field_5f988119a39fe
secondary_media_10_image
212076
_secondary_media_10_image
field_5f988119a39fd
secondary_media_10_video
_secondary_media_10_video
field_5f988119a39fe
secondary_media_11_image
212077
_secondary_media_11_image
field_5f988119a39fd
secondary_media_11_video
_secondary_media_11_video
field_5f988119a39fe
secondary_media_12_image
212078
_secondary_media_12_image
field_5f988119a39fd
secondary_media_12_video
_secondary_media_12_video
field_5f988119a39fe
secondary_media_13_image
212079
_secondary_media_13_image
field_5f988119a39fd
secondary_media_13_video
_secondary_media_13_video
field_5f988119a39fe
secondary_media
14
_secondary_media
field_5f988119a39fc
South of France – Winery with former Catalan Monastery
EUR 3,600,000
(US $3,525,150)
66000
Perpignan, Pyrenees Orientales - Occitanie, France
Status: Active
Former Catalan monastery from the XIXth century, with outstanding views of the sea and the mountains, tastefully renovated, with more than 21,527sq.ft. in total including 7,534sq.ft. of living space.
Wine estate with a modern wine cellar, 3,229sq.ft. of office space, 111.19 acres of land all around including about 37.06 acres of vineyards.
15 AOP vines in production. Great touristic potential. 5min from the sea and the city of Perpignan, 15min from the motorway and 20min from the airport. The property has one of the most beautiful 360° panoramic views of the region and is totally isolated on a hilltop overlooking the plain, in the middle of the vineyards, on a long dead end with very little traffic. Not overlooked. No nuisance.
The owner has tastefully converted the three main bodies of the building, one wing into a beautiful home on two levels, spacious offices and state-of-the-art wine cellar.
5,381sq.ft. on three levels to renovate in an other wing.
Mediterranean garden, swimming pool and pool house.
The wine cellar is very functional, up to standards, with state-of-the-art equipment.
Property Reference: 11510vm
Properties You Might Also Like
EUR 1,358,000
(US $1,329,765)
Paimpol, Brittany, France
Brittany – 17th c. Manor located 5min from the beaches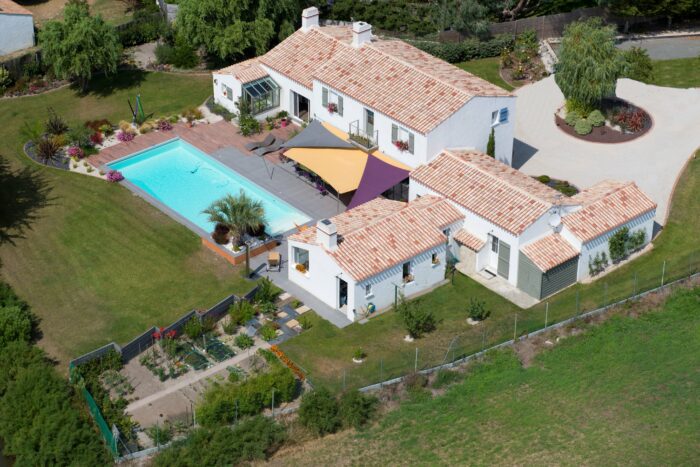 EUR 2,070,000
(US $2,192,186)
Noirmoutier-en-l'Île, Pays de la Loire, France
West of France – Prestige villa near the sea
This unique 4 Bedroom home with 3 Bathrooms is a prime example of the luxury real estate available in Perpignan, Pyrenees Orientales - Occitanie. You can visit our Pyrenees Orientales - Occitanie search pages for more luxury real estate choices in Perpignan.