ffd_listing_title
South of France - 19th century Chateau with outbuildings and pool
ffd_unique_id
ffd_mls_id
ffd_salesforce_id
a0E6g000007hcRVEAY
ffd_address_pb
Albi
address
Albi
baths
6
beds
6
ffd_city_pb
Albi
ffd_colistingagent_pb
ffd_colistingagentemail_pb
ffd_colistingagentmlsid
ffd_colistingagentname
ffd_colistingofficemlsid
ffd_colistingofficename_pb
ffd_country_pb
France
ffd_createddate
2022-01-07T16:00:51.000+0000
about

19th century chateau of 6,243 sq. ft. with two rectangular towers on either side of the central logis. Outbuilding, old barn of 2.153 sq. ft. used as offices near the swimming pool.

This property is located in a hundred year old park of several hectares, planted with trees, landscaped, well groomed and partly fenced.

This chateau is superbly renovated. 2 living rooms, dining room, large open-plan kitchen, library/video room, 5 bedrooms, 5 bathrooms.

On the second floor, a large space used as a dormitory or artist's studio opens onto two apartments: one in each tower. They are each composed of a bedroom, an office space, a dressing room, and a bathroom (basin, shower or bathtub).

The large terrace facing the park has a panoramic view of the valley.

This property is ideally located in the heart of the golden triangle, Cordes sur Ciel, Albi, Gaillac and near Montauban and Toulouse (50 minutes from Toulouse Blagnac airport). Just 2 kilometers from a medieval village with the first amenities.

This restoration carried out in the rules of Art was supervised by a designer and an architect. Many original elements such as fireplaces, woodwork, parquet floors, etc... have been preserved.

Not overlooked, this character property can remain a beautiful family home or be used for a commercial or artisanal activity. Its infrastructure can provide many possibilities (gites, guest rooms, reception of customers for seminars, exhibition room and crafts, ...)

This property is a part of the historical heritage of the region, just like its village.

ffd_displayaddress
floor
ffd_halfbathrooms_pb
5
ffd_hide_address_on_site
ffd_key_words
Albi; Albi, Midi-Pyrénées; France;Midi-Pyrénées;FX;Midi-Pyrénées;FX;Midi-Pyrénées;FX
ffd_lastmodifieddate
2022-12-20T11:05:23.000+0000
lat
43.92509
ffd_listofficemlsid
ffd_listofficename
ffd_listingagent_pb
0036g00001jKtMfAAK
ffd_listing_agent_email
ffd_listing_agent_firstname
ffd_listing_agent_lastname
ffd_listingagentmlsid
8529TS
ffd_listingagentname
ffd_listing_agent_website
https://www.groupe-mercure.com/en/buy/character-houses-tarn-393140-8529ts.html
price
1752783
ffd_listingtype
Sale
location
Albi, Midi-Pyrénées, France
lng
2.14864
sq_feet
190000
ffd_non_member_paid
ffd_other_currency_amount
1790000
ffd_other_currency_type
EUR
ffd_ownerid
0056g0000077w0dAAA
ffd_pool_pb
ffd_price_upon_request
building_type
Single Family
ffd_id
a0E6g000007hcRVEAY
ffd_totalarea_pb
580
ffd_solddate
ffd_soldprice
ffd_state_pb
Midi-Pyrénées
ffd_status
Active
ffd_threequarterbathrooms
0
ffd_unit_of_measure
Meters
ffd_brokerage_id
0016g000013kY9lAAE
year_built
1800
ffd_postalcode_pb
81000
pba__WebsiteId__c
299025
pba__Listing_Website__c
https://www.forbesglobalproperties.com/listings/south-of-france-19th-century-chateau-with-outbuildings-and-pool/
Site_Post_Id__c
299025
ffd_media
a:16:{i:0;s:109:"https://d1qfj231ug7wdu.cloudfront.net/pictures/estate/6534/6533080/114761388262da6dd27d1d16.30911833_4096.jpg";i:1;s:108:"https://d1qfj231ug7wdu.cloudfront.net/pictures/estate/6534/6533080/23788430362da6e02997f25.90392562_4096.jpg";i:2;s:109:"https://d1qfj231ug7wdu.cloudfront.net/pictures/estate/6534/6533080/209121212662da6e1f505215.68141057_4096.jpg";i:3;s:108:"https://d1qfj231ug7wdu.cloudfront.net/pictures/estate/6534/6533080/74341302262da6dba98d063.43418884_4096.jpg";i:4;s:109:"https://d1qfj231ug7wdu.cloudfront.net/pictures/estate/6534/6533080/145373488662da6f58c665c3.74627448_4096.jpg";i:5;s:109:"https://d1qfj231ug7wdu.cloudfront.net/pictures/estate/6534/6533080/114130801662da6eff924a56.42763296_4096.jpg";i:6;s:109:"https://d1qfj231ug7wdu.cloudfront.net/pictures/estate/6534/6533080/178178605262da6f15d45093.73068669_4096.jpg";i:7;s:109:"https://d1qfj231ug7wdu.cloudfront.net/pictures/estate/6534/6533080/117578179862da6f445644a1.10958702_4096.jpg";i:8;s:108:"https://d1qfj231ug7wdu.cloudfront.net/pictures/estate/6534/6533080/81181846762da6f2dba72a2.15776016_4096.jpg";i:9;s:109:"https://d1qfj231ug7wdu.cloudfront.net/pictures/estate/6534/6533080/158678707662da6f6e1c7c51.31640675_4096.jpg";i:10;s:108:"https://d1qfj231ug7wdu.cloudfront.net/pictures/estate/6534/6533080/18962785862da6f83807318.23999540_4096.jpg";i:11;s:108:"https://d1qfj231ug7wdu.cloudfront.net/pictures/estate/6534/6533080/48828749062626f009b2d66.81379480_2560.jpg";i:12;s:109:"https://d1qfj231ug7wdu.cloudfront.net/pictures/estate/6534/6533080/186529345762da6fc270dd76.17185830_4096.jpg";i:13;s:109:"https://d1qfj231ug7wdu.cloudfront.net/pictures/estate/6534/6533080/194161638062da6fd77dcec6.83317235_4096.jpg";i:14;s:108:"https://d1qfj231ug7wdu.cloudfront.net/pictures/estate/6534/6533080/49651967262da6feb2df5f2.91353468_4096.jpg";i:15;s:109:"https://d1qfj231ug7wdu.cloudfront.net/pictures/estate/6534/6533080/127873415062da6ecd3ccf15.28689066_4096.jpg";}
_thumbnail_id
299026
ffd_featured_image
https://d1qfj231ug7wdu.cloudfront.net/pictures/estate/6534/6533080/114761388262da6dd27d1d16.30911833_4096.jpg
agents
a:1:{i:0;s:6:"158376";}
_wp_old_date
2022-12-20
ffd_record_is_deleted
featured_images
299026
primary_media_0_image
299026
_primary_media_0_image
field_5f988067abcc4
primary_media_0_video
_primary_media_0_video
field_5f98807dabcc5
primary_media
1
_primary_media
field_5f98805cabcc3
secondary_media_0_image
299027
_secondary_media_0_image
field_5f988119a39fd
secondary_media_0_video
_secondary_media_0_video
field_5f988119a39fe
secondary_media_1_image
299028
_secondary_media_1_image
field_5f988119a39fd
secondary_media_1_video
_secondary_media_1_video
field_5f988119a39fe
secondary_media_2_image
299029
_secondary_media_2_image
field_5f988119a39fd
secondary_media_2_video
_secondary_media_2_video
field_5f988119a39fe
secondary_media_3_image
299030
_secondary_media_3_image
field_5f988119a39fd
secondary_media_3_video
_secondary_media_3_video
field_5f988119a39fe
secondary_media_4_image
299031
_secondary_media_4_image
field_5f988119a39fd
secondary_media_4_video
_secondary_media_4_video
field_5f988119a39fe
secondary_media_5_image
299032
_secondary_media_5_image
field_5f988119a39fd
secondary_media_5_video
_secondary_media_5_video
field_5f988119a39fe
secondary_media_6_image
299033
_secondary_media_6_image
field_5f988119a39fd
secondary_media_6_video
_secondary_media_6_video
field_5f988119a39fe
secondary_media_7_image
299034
_secondary_media_7_image
field_5f988119a39fd
secondary_media_7_video
_secondary_media_7_video
field_5f988119a39fe
secondary_media_8_image
299035
_secondary_media_8_image
field_5f988119a39fd
secondary_media_8_video
_secondary_media_8_video
field_5f988119a39fe
secondary_media_9_image
299036
_secondary_media_9_image
field_5f988119a39fd
secondary_media_9_video
_secondary_media_9_video
field_5f988119a39fe
secondary_media_10_image
299037
_secondary_media_10_image
field_5f988119a39fd
secondary_media_10_video
_secondary_media_10_video
field_5f988119a39fe
secondary_media_11_image
299038
_secondary_media_11_image
field_5f988119a39fd
secondary_media_11_video
_secondary_media_11_video
field_5f988119a39fe
secondary_media_12_image
299039
_secondary_media_12_image
field_5f988119a39fd
secondary_media_12_video
_secondary_media_12_video
field_5f988119a39fe
secondary_media_13_image
299040
_secondary_media_13_image
field_5f988119a39fd
secondary_media_13_video
_secondary_media_13_video
field_5f988119a39fe
secondary_media_14_image
299041
_secondary_media_14_image
field_5f988119a39fd
secondary_media_14_video
_secondary_media_14_video
field_5f988119a39fe
secondary_media
15
_secondary_media
field_5f988119a39fc
South of France – 19th century Chateau with outbuildings and pool
EUR 1,790,000
(US $1,752,783)
Albi
Albi, Midi-Pyrénées, France
Status: Active
19th century chateau of 6,243 sq. ft. with two rectangular towers on either side of the central logis. Outbuilding, old barn of 2.153 sq. ft. used as offices near the swimming pool.
This property is located in a hundred year old park of several hectares, planted with trees, landscaped, well groomed and partly fenced.
This chateau is superbly renovated. 2 living rooms, dining room, large open-plan kitchen, library/video room, 5 bedrooms, 5 bathrooms.
On the second floor, a large space used as a dormitory or artist's studio opens onto two apartments: one in each tower. They are each composed of a bedroom, an office space, a dressing room, and a bathroom (basin, shower or bathtub).
The large terrace facing the park has a panoramic view of the valley.
This property is ideally located in the heart of the golden triangle, Cordes sur Ciel, Albi, Gaillac and near Montauban and Toulouse (50 minutes from Toulouse Blagnac airport). Just 2 kilometers from a medieval village with the first amenities.
This restoration carried out in the rules of Art was supervised by a designer and an architect. Many original elements such as fireplaces, woodwork, parquet floors, etc... have been preserved.
Not overlooked, this character property can remain a beautiful family home or be used for a commercial or artisanal activity. Its infrastructure can provide many possibilities (gites, guest rooms, reception of customers for seminars, exhibition room and crafts, ...)
This property is a part of the historical heritage of the region, just like its village.
Properties You Might Also Like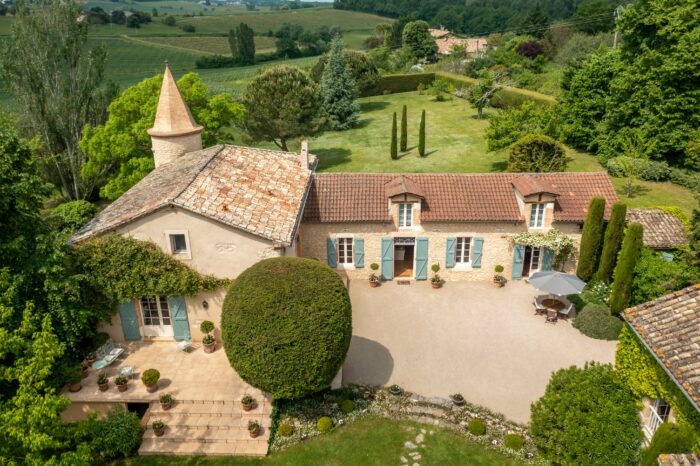 EUR 1,290,000
(US $1,263,179)
South of France, elegant 19th century manor house
EUR 1,490,000
(US $1,459,021)
Estaing, Aveyron - Occitanie, France
Outstanding environment for this fully renovated 16th chateau
This unique 6 Bedroom home with 6 Bathrooms is a prime example of the luxury real estate available in Albi, Midi-Pyrénées. You can visit our Midi-Pyrénées search pages for more luxury real estate choices in Albi.