ffd_listing_title
Savoie, Medieval chateau converted into a luxury hotel
ffd_unique_id
ffd_mls_id
ffd_salesforce_id
a0E6g000007Z4F0EAK
ffd_address_pb
CHATEAU DE LA TOUR DU PUITS 73800 Coise-Saint-Jean-Pied-Gauthier - France
address
CHATEAU DE LA TOUR DU PUITS 73800 Coise-Saint-Jean-Pied-Gauthier - France
baths
8
beds
8
ffd_city_pb
Coise-Saint-Jean-Pied-Gauthier
ffd_colistingagent_pb
ffd_colistingagentemail_pb
ffd_colistingagentmlsid
ffd_colistingagentname
ffd_colistingofficemlsid
ffd_colistingofficename_pb
ffd_country_pb
France
ffd_createddate
2021-11-22T16:36:42.000+0000
about

This chateau of medieval inspiration in the Combe de Savoie between the Chartreuse and Bauges massifs is exceptional (rebuilt in the 18th century).

Entirely renovated with taste, in the heart of an estate of approximately 17 acres of parkland, orchards, gardens and flowers, it has a magnificent panorama.

This prestigious residence consists of a first living area with 7 fully equipped suites and a master suite on a complete level with private lounge and fireplace, dressing room and bathroom.

Refined decoration and top-of-the-range features.

A beautiful reception room opens onto a terrace. A professional kitchen with a pantry.

The relaxation and leisure annex - otherwise known as the Sarto - offers: SPA, fitness, sauna, heated outdoor pool.

A second outbuilding with a beautiful and large reception room with a kitchen, a pantry, a professional laundry room and a beautiful, vaulted cellar allows the organization of events.

A third building, organized for the personnel, including 3 independent studios fully equipped, a 3-room apartment, complete the estate.

Former stables rehabilitated for use as a bicycle garage and games storage.

Beautiful 15th century fortified house to be renovated.

A heliport with a large, recent hangar and its storage facility can accommodate friends or clients coming from Geneva, Lyon, Turin, etc...

ffd_displayaddress
floor
ffd_halfbathrooms_pb
ffd_hide_address_on_site
1
ffd_key_words
Coise-Saint-Jean-Pied-Gauthier; Coise-Saint-Jean-Pied-Gauthier, Savoie; Castles & Chateaus; Coise-Saint-Jean-Pied-Gauthier Castles & Chateaus; France
ffd_lastmodifieddate
2022-05-09T07:52:03.000+0000
lat
45.50483
ffd_listofficemlsid
ffd_listofficename
ffd_listingagent_pb
0036g00000rLnEcAAK
ffd_listing_agent_email
ffd_listing_agent_firstname
ffd_listing_agent_lastname
ffd_listingagentmlsid
4462LY
ffd_listingagentname
ffd_listing_agent_website
https://www.groupe-mercure.com/en/buy/character-houses-savoie-2112-4462ly.html
price
3427230
ffd_listingtype
Sale
location
Coise-Saint-Jean-Pied-Gauthier, Savoie, France
lng
6.1079
sq_feet
ffd_non_member_paid
ffd_other_currency_amount
3500000
ffd_other_currency_type
EUR
ffd_ownerid
0056g000007KJOYAA4
ffd_pool_pb
ffd_price_upon_request
building_type
House
ffd_id
a0E6g000007Z4F0EAK
ffd_totalarea_pb
5651
ffd_solddate
ffd_soldprice
ffd_state_pb
Savoie
ffd_status
Active
ffd_unit_of_measure
Square Feet
ffd_brokerage_id
0016g000013kY9lAAE
year_built
ffd_postalcode_pb
pba__WebsiteId__c
154672
pba__Listing_Website__c
https://www.forbesglobalproperties.com/listings/savoie-medieval-chateau-converted-into-a-luxury-hotel/
Site_Post_Id__c
154672
ffd_media
a:10:{i:0;s:112:"https://s3.amazonaws.com/propertybase-clients/00D6g000007OY6LEAW/a0O6g000007S3az/wwjyl3se8/Picture-5985051-1.jpg";i:1;s:112:"https://s3.amazonaws.com/propertybase-clients/00D6g000007OY6LEAW/a0O6g000007S3az/d2gwrlxp7/Picture-5985051-2.jpg";i:2;s:112:"https://s3.amazonaws.com/propertybase-clients/00D6g000007OY6LEAW/a0O6g000007S3az/23x2fdh7m/Picture-5985051-3.jpg";i:3;s:112:"https://s3.amazonaws.com/propertybase-clients/00D6g000007OY6LEAW/a0O6g000007S3az/l09h556yl/Picture-5985051-4.jpg";i:4;s:113:"https://s3.amazonaws.com/propertybase-clients/00D6g000007OY6LEAW/a0O6g000007S3az/v5eqzxa1m/Picture-5985051-12.jpg";i:5;s:113:"https://s3.amazonaws.com/propertybase-clients/00D6g000007OY6LEAW/a0O6g000007S3az/vpxwy4g22/Picture-5985051-18.jpg";i:6;s:113:"https://s3.amazonaws.com/propertybase-clients/00D6g000007OY6LEAW/a0O6g000007S3az/ucjs0kmw3/Picture-5985051-21.jpg";i:7;s:113:"https://s3.amazonaws.com/propertybase-clients/00D6g000007OY6LEAW/a0O6g000007S3az/tmx8y2nnw/Picture-5985051-20.jpg";i:8;s:113:"https://s3.amazonaws.com/propertybase-clients/00D6g000007OY6LEAW/a0O6g000007S3az/no1s3byp5/Picture-5985051-24.jpg";i:9;s:113:"https://s3.amazonaws.com/propertybase-clients/00D6g000007OY6LEAW/a0O6g000007S3az/iefp3kxmv/Picture-5985051-25.jpg";}
_thumbnail_id
154673
ffd_featured_image
https://s3.amazonaws.com/propertybase-clients/00D6g000007OY6LEAW/a0O6g000007S3az/wwjyl3se8/Picture-5985051-1.jpg
agents
a:1:{i:0;s:5:"53605";}
_wp_old_date
2021-11-24
ffd_record_is_deleted
ffd_threequarterbathrooms
featured_images
154673
primary_media_0_image
154673
_primary_media_0_image
field_5f988067abcc4
primary_media_0_video
_primary_media_0_video
field_5f98807dabcc5
primary_media_1_image
154674
_primary_media_1_image
field_5f988067abcc4
primary_media_1_video
_primary_media_1_video
field_5f98807dabcc5
primary_media_2_image
154675
_primary_media_2_image
field_5f988067abcc4
primary_media_2_video
_primary_media_2_video
field_5f98807dabcc5
primary_media_3_image
154676
_primary_media_3_image
field_5f988067abcc4
primary_media_3_video
_primary_media_3_video
field_5f98807dabcc5
primary_media_4_image
154677
_primary_media_4_image
field_5f988067abcc4
primary_media_4_video
_primary_media_4_video
field_5f98807dabcc5
primary_media_5_image
154679
_primary_media_5_image
field_5f988067abcc4
primary_media_5_video
_primary_media_5_video
field_5f98807dabcc5
primary_media
6
_primary_media
field_5f98805cabcc3
secondary_media_0_image
154673
_secondary_media_0_image
field_5f988119a39fd
secondary_media_0_video
_secondary_media_0_video
field_5f988119a39fe
secondary_media_1_image
154674
_secondary_media_1_image
field_5f988119a39fd
secondary_media_1_video
_secondary_media_1_video
field_5f988119a39fe
secondary_media_2_image
154675
_secondary_media_2_image
field_5f988119a39fd
secondary_media_2_video
_secondary_media_2_video
field_5f988119a39fe
secondary_media_3_image
154677
_secondary_media_3_image
field_5f988119a39fd
secondary_media_3_video
_secondary_media_3_video
field_5f988119a39fe
secondary_media_4_image
154678
_secondary_media_4_image
field_5f988119a39fd
secondary_media_4_video
_secondary_media_4_video
field_5f988119a39fe
secondary_media_5_image
154679
_secondary_media_5_image
field_5f988119a39fd
secondary_media_5_video
_secondary_media_5_video
field_5f988119a39fe
secondary_media_6_image
154680
_secondary_media_6_image
field_5f988119a39fd
secondary_media_6_video
_secondary_media_6_video
field_5f988119a39fe
secondary_media_7_image
154681
_secondary_media_7_image
field_5f988119a39fd
secondary_media_7_video
_secondary_media_7_video
field_5f988119a39fe
secondary_media_8_image
154682
_secondary_media_8_image
field_5f988119a39fd
secondary_media_8_video
_secondary_media_8_video
field_5f988119a39fe
secondary_media
9
_secondary_media
field_5f988119a39fc
Savoie, Medieval chateau converted into a luxury hotel
EUR 3,500,000
(US $3,427,230)
Coise-Saint-Jean-Pied-Gauthier, Savoie, France
Status: Active
This chateau of medieval inspiration in the Combe de Savoie between the Chartreuse and Bauges massifs is exceptional (rebuilt in the 18th century).
Entirely renovated with taste, in the heart of an estate of approximately 17 acres of parkland, orchards, gardens and flowers, it has a magnificent panorama.
This prestigious residence consists of a first living area with 7 fully equipped suites and a master suite on a complete level with private lounge and fireplace, dressing room and bathroom.
Refined decoration and top-of-the-range features.
A beautiful reception room opens onto a terrace. A professional kitchen with a pantry.
The relaxation and leisure annex - otherwise known as the Sarto - offers: SPA, fitness, sauna, heated outdoor pool.
A second outbuilding with a beautiful and large reception room with a kitchen, a pantry, a professional laundry room and a beautiful, vaulted cellar allows the organization of events.
A third building, organized for the personnel, including 3 independent studios fully equipped, a 3-room apartment, complete the estate.
Former stables rehabilitated for use as a bicycle garage and games storage.
Beautiful 15th century fortified house to be renovated.
A heliport with a large, recent hangar and its storage facility can accommodate friends or clients coming from Geneva, Lyon, Turin, etc...
Properties You Might Also Like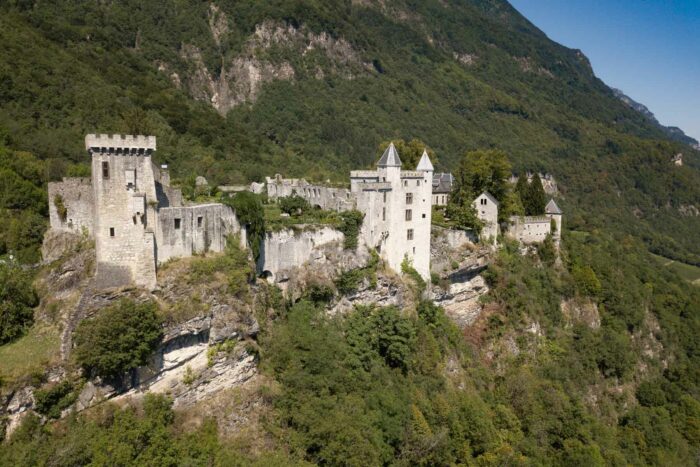 EUR 3,500,000
(US $3,706,594)
Saint-Pierre-d'Albigny, Savoie, France
East of France, 15th century manor house with an exceptional panorama
EUR 1,950,000
(US $2,073,436)
SUPERB INDIVIDUAL CHALET MERIBEL
This unique 8 Bedroom home with 8 Bathrooms is a prime example of the luxury real estate available in Coise-Saint-Jean-Pied-Gauthier, Savoie. You can visit our Savoie search pages for more luxury real estate choices in Coise-Saint-Jean-Pied-Gauthier.