| | |
| --- | --- |
| ffd_listing_title | RENAISSANCE VILLA ON THE HILLS NEAR FLORENCE |
| ffd_unique_id | |
| ffd_mls_id | |
| ffd_salesforce_id | a0E6g000008o7jKEAQ |
| ffd_address_pb | via imprunetana per pozzolatico |
| address | via imprunetana per pozzolatico |
| baths | 6 |
| beds | 6 |
| ffd_city_pb | Florence |
| ffd_colistingagent_pb | |
| ffd_colistingagentemail_pb | |
| ffd_colistingagentmlsid | |
| ffd_colistingagentname | |
| ffd_colistingofficemlsid | |
| ffd_colistingofficename_pb | |
| ffd_country_pb | |
| ffd_createddate | 2022-05-05T14:53:11.000+0000 |
| about | In a panoramic position surrounded by the landscape of the Florentine hills and at the gates of the Chianti region we present a splendid Medieval Villa recently restored with interiors of 90's design. In the past it was used as a watch tower and only in the 15th century it became a Renaissance Villa with the shape of a Castle. The property is surrounded by a beautiful 2 hectares park (20,000 square meters), part of which is an olive grove with 130 trees. In another area of the garden there is space where a swimming pool could be built as well as a space that can be used as a parking area. Internally the villa has an area of 700 square meters and is on three levels divided as follows: On the ground floor we find an entrance patio that overlooks a courtyard with a view of the garden and the surrounding hills. There are two living rooms, a dining room (to which a kitchen could be added instead of where it is currently located in the basement) and a guest bathroom. - An important spiral staircase or the lift, in addition to the service staircase, lead us to the other floors. On the upper floor we find the sleeping area composed of four double bedrooms with en-suite bathrooms; one with hydro-massage, two with a bath and a shower and two with just a shower, a shoe room, a laundry room and finally a wardrobe room. In the tower there is a belvedere with a 360° view with the possibility of housing a fifth bedroom with bathroom or a studio/refuge for the owner or his guests, also perfect for an artist painter/writer etc. In the basement there is a fully equipped professional kitchen with pantry, a dining room, large vaulted cellars that lead into the garden. Ideal for a tavern or any other use. The basement is completed by a technical room and a laundry room. Dependance: independent cottage disposed on two levels, composed of an entrance area, a living area with living room, dining room and kitchen, and another room used as a bedroom or study. On the first floor there is the master bedroom with bathroom. The Villa is equipped with a water source and water from the aqueduct. The Villa is a unique object for those looking for privacy a few kilometers from Florence. There is a convenient bus stop that connects to Florence and the SMN Station in front of the gate. There is methane heating with fancoil to which you can add air conditioning. Includes a water softening system. Finishings: coffered wooden ceilings, travertine and cocciopesto floors, volumetric alarm perimeter and external walkway, bright with large windows, privacy. |
| ffd_displayaddress | |
| floor | |
| ffd_halfbathrooms_pb | |
| ffd_hide_address_on_site | 1 |
| ffd_key_words | Florence;Country, Farm & Ranch;Country, Farm & Ranch Florence |
| ffd_lastmodifieddate | 2023-03-08T13:41:15.000+0000 |
| lat | 43.72612 |
| ffd_listofficemlsid | |
| ffd_listofficename | |
| ffd_listingagent_pb | 0036g00001o9S8EAAU |
| ffd_listing_agent_email | |
| ffd_listing_agent_firstname | |
| ffd_listing_agent_lastname | |
| ffd_listingagentmlsid | |
| ffd_listingagentname | |
| ffd_listing_agent_website | |
| price | 2683000 |
| ffd_listingtype | Sale |
| location | Florence |
| lng | 11.24568 |
| sq_feet | |
| ffd_non_member_paid | |
| ffd_other_currency_amount | 2500000 |
| ffd_other_currency_type | EUR |
| ffd_ownerid | 0056g000007K6UMAA0 |
| ffd_pool_pb | |
| ffd_price_upon_request | |
| building_type | Villa |
| ffd_id | a0E6g000008o7jKEAQ |
| ffd_totalarea_pb | 700 |
| ffd_solddate | |
| ffd_soldprice | |
| ffd_state_pb | |
| ffd_status | Active |
| ffd_unit_of_measure | Meters |
| ffd_brokerage_id | 0016g000023kROSAA2 |
| year_built | 1400 |
| ffd_postalcode_pb | |
| pba__WebsiteId__c | 195844 |
| pba__Listing_Website__c | https://www.forbesglobalproperties.com/listings/renaissance-villa-on-the-hills-near-florence |
| Site_Post_Id__c | 195844 |
| ffd_media | a:12:{i:0;s:98:"https://s3.amazonaws.com/propertybase-clients/00D6g000007OY6LEAW/a0O6g000008WSpq/753cofy54/002.jpg";i:1;s:98:"https://s3.amazonaws.com/propertybase-clients/00D6g000007OY6LEAW/a0O6g000008WSpq/03i60m03h/001.jpg";i:2;s:98:"https://s3.amazonaws.com/propertybase-clients/00D6g000007OY6LEAW/a0O6g000008WSpq/jh3cywuwe/004.jpg";i:3;s:98:"https://s3.amazonaws.com/propertybase-clients/00D6g000007OY6LEAW/a0O6g000008WSpq/gt8rmi9ds/005.jpg";i:4;s:98:"https://s3.amazonaws.com/propertybase-clients/00D6g000007OY6LEAW/a0O6g000008WSpq/8qyxabq9p/006.jpg";i:5;s:98:"https://s3.amazonaws.com/propertybase-clients/00D6g000007OY6LEAW/a0O6g000008WSpq/n9qv074h0/007.jpg";i:6;s:98:"https://s3.amazonaws.com/propertybase-clients/00D6g000007OY6LEAW/a0O6g000008WSpq/ul8sf8tvh/008.jpg";i:7;s:98:"https://s3.amazonaws.com/propertybase-clients/00D6g000007OY6LEAW/a0O6g000008WSpq/gdekuwir9/009.jpg";i:8;s:108:"https://s3.amazonaws.com/propertybase-clients/00D6g000007OY6LEAW/a0O6g000008WSpq/2w27t77h1/Checcacci_016.jpg";i:9;s:108:"https://s3.amazonaws.com/propertybase-clients/00D6g000007OY6LEAW/a0O6g000008WSpq/ado4wf1sf/Checcacci_003.jpg";i:10;s:108:"https://s3.amazonaws.com/propertybase-clients/00D6g000007OY6LEAW/a0O6g000008WSpq/5lurc2t1h/Checcacci_001.jpg";i:11;s:98:"https://s3.amazonaws.com/propertybase-clients/00D6g000007OY6LEAW/a0O6g000008WSpq/2dv0v10t8/011.jpg";} |
| _thumbnail_id | 195846 |
| ffd_featured_image | https://s3.amazonaws.com/propertybase-clients/00D6g000007OY6LEAW/a0O6g000008WSpq/753cofy54/002.jpg |
| agents | a:1:{i:0;s:6:"183831";} |
| _wp_old_date | 2022-05-20 |
| ffd_record_is_deleted | |
| ffd_threequarterbathrooms | |
| _wp_old_slug | renaissance-villa-in-the-hills-of-impruneta |
| featured_images | 195846 |
| listing_images | a:9:{i:0;s:6:"195846";i:1;s:6:"195845";i:2;s:6:"195847";i:3;s:6:"195848";i:4;s:6:"195849";i:5;s:6:"195850";i:6;s:6:"195851";i:7;s:6:"195852";i:8;s:6:"195853";} |
| post_member_id | 183774 |
| post_agent_id | 183831 |
| _sbi_oembed_done_checking | 1 |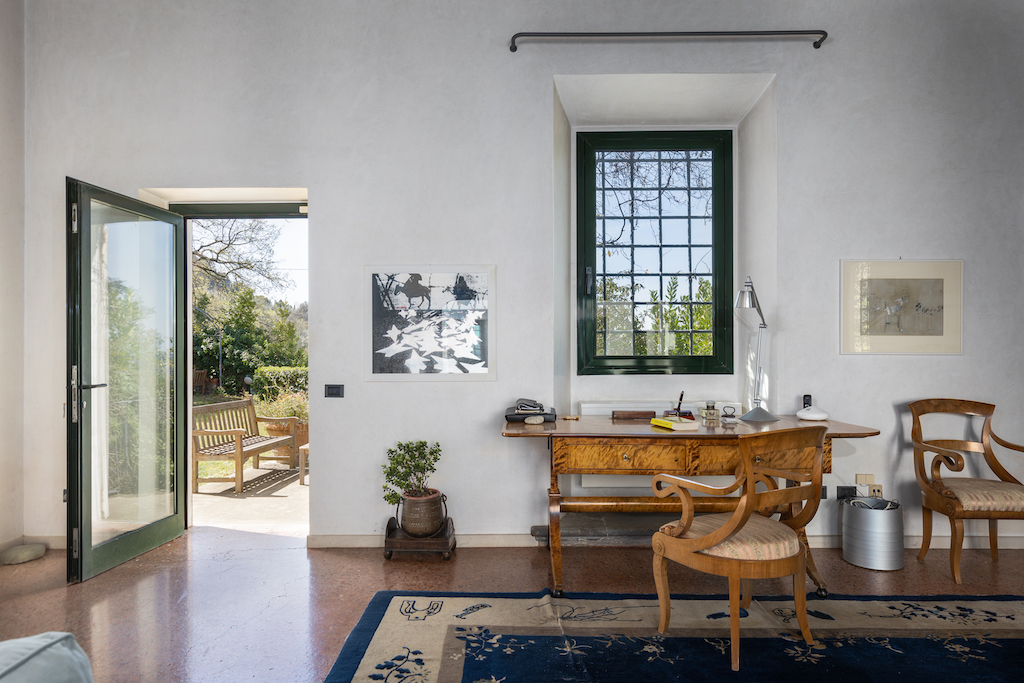 RENAISSANCE VILLA ON THE HILLS NEAR FLORENCE
EUR 2,500,000
(US $2,683,000)
Florence
Status: Active
In a panoramic position surrounded by the landscape of the Florentine hills and at the gates of the Chianti region we present a splendid Medieval Villa recently restored with interiors of 90's design.
In the past it was used as a watch tower and only in the 15th century it became a Renaissance Villa with the shape of a Castle.
The property is surrounded by a beautiful 2 hectares park (20,000 square meters), part of which is an olive grove with 130 trees. In another area of the garden there is space where a swimming pool could be built as well as a space that can be used as a parking area.
Internally the villa has an area of 700 square meters and is on three levels divided as follows:
On the ground floor we find an entrance patio that overlooks a courtyard with a view of the garden and the surrounding hills. There are two living rooms, a dining room (to which a kitchen could be added instead of where it is currently located in the basement) and a guest bathroom.
– An important spiral staircase or the lift, in addition to the service staircase, lead us to the other floors. On the upper floor we find the sleeping area composed of four double bedrooms with en-suite bathrooms; one with hydro-massage, two with a bath and a shower and two with just a shower, a shoe room, a laundry room and finally a wardrobe room.
In the tower there is a belvedere with a 360° view with the possibility of housing a fifth bedroom with bathroom or a studio/refuge for the owner or his guests, also perfect for an artist painter/writer etc.
In the basement there is a fully equipped professional kitchen with pantry, a dining room, large vaulted cellars that lead into the garden. Ideal for a tavern or any other use.
The basement is completed by a technical room and a laundry room.
Dependance: independent cottage disposed on two levels, composed of an entrance area, a living area with living room, dining room and kitchen, and another room used as a bedroom or study. On the first floor there is the master bedroom with bathroom.
The Villa is equipped with a water source and water from the aqueduct.
The Villa is a unique object for those looking for privacy a few kilometers from Florence.
There is a convenient bus stop that connects to Florence and the SMN Station in front of the gate.
There is methane heating with fancoil to which you can add air conditioning.
Includes a water softening system.
Finishings: coffered wooden ceilings, travertine and cocciopesto floors, volumetric alarm perimeter and external walkway, bright with large windows, privacy.
This unique 6 Bedroom home with 6 Bathrooms is a prime example of the luxury real estate available in Florence, . You can visit our search pages for more luxury real estate choices in Florence.