ffd_listing_title
Rare generosity in absolutely quiet location
ffd_unique_id
ffd_mls_id
ffd_salesforce_id
a0E6g00000BG3HaEAL
ffd_address_pb
, Wollerau, Bezirk Höfe
address
, Wollerau, Bezirk Höfe
baths
0
beds
5
ffd_city_pb
Wollerau
ffd_colistingagent_pb
ffd_colistingagentemail_pb
ffd_colistingagentmlsid
ffd_colistingagentname
ffd_colistingofficemlsid
ffd_colistingofficename_pb
ffd_country_pb
Switzerland
ffd_createddate
2023-04-28T14:02:23.000+0000
about
A rare generous space for your lifestyle: this 8-room attic maisonette meets a wide variety of living needs.
The property extends over the 1st and 2nd floor and the attic floor of a cubic-modern apartment building with elevator to the 2nd floor. The 1st floor is dedicated to the trio of dining, cooking, housekeeping, living, complemented by a balcony and a large terrace. With three bedrooms, a split bathroom and the parents' area with dressing room and private wellness bathroom with Arven wood sauna, the 2nd floor offers space for the whole family. In the attic floor lures a studio with bathroom, connections for a small kitchen and roof terrace with lake view.
The garden is an absolute dream and offers plenty of space for your own ideas. In an absolutely quiet, green location between the village center and the edge of the forest, this spatial miracle surprises with a living feeling like in a family home – and a rare variety of outdoor spaces and possibilities. A 3-room studio/office can be acquired additionally.

ffd_displayaddress
floor
ffd_halfbathrooms_pb
0
ffd_hide_address_on_site
1
ffd_key_words
Wollerau;Switzerland;Wollerau, Bezirk Höfe
ffd_lastmodifieddate
2023-05-28T01:02:14.000+0000
lat
47.18632
ffd_listofficemlsid
ffd_listofficename
ffd_listingagent_pb
0036g00001yFWc4AAG
ffd_listing_agent_email
ffd_listing_agent_firstname
ffd_listing_agent_lastname
ffd_listingagentmlsid
ffd_listingagentname
ffd_listing_agent_website
https://www.fgp-swissandalps.com/acheter/apartment/bezirk-hofe/wollerau-8832/rare-generosity-in-absolutely-quiet-location/
price
5982053.999999999
ffd_listingtype
Sale
location
Wollerau, Bezirk Höfe, Switzerland
lng
8.7216275
sq_feet
0
ffd_non_member_paid
ffd_other_currency_amount
5420000
ffd_other_currency_type
CHF
ffd_ownerid
0056g000007NjzqAAC
ffd_pool_pb
ffd_price_upon_request
1
building_type
Apartment
ffd_id
a0E6g00000BG3HaEAL
ffd_totalarea_pb
308
ffd_solddate
ffd_soldprice
ffd_state_pb
Bezirk Höfe
ffd_status
Active
ffd_threequarterbathrooms
0
ffd_unit_of_measure
Meters
ffd_brokerage_id
0016g000013kXydAAE
year_built
2006
ffd_postalcode_pb
8832
pba__WebsiteId__c
352249
pba__Listing_Website__c
https://www.forbesglobalproperties.com/listings/rare-generosity-in-absolutely-quiet-location
Site_Post_Id__c
352249
ffd_media
a:2:{i:0;s:139:"https://www.fgp-swissandalps.com/wp-content/uploads/2023/05/7692157-20230525000000-1-61530310637ff782a033a6.42313169_1920.webp-original.jpg";i:1;s:140:"https://www.fgp-swissandalps.com/wp-content/uploads/2023/05/7692157-20230525000000-8-738207853637ff7a5ddfc95.79474327_1920.webp-original.jpg";}
_thumbnail_id
368475
ffd_featured_image
https://www.fgp-swissandalps.com/wp-content/uploads/2023/05/7692157-20230525000000-1-61530310637ff782a033a6.42313169_1920.webp-original.jpg
agents
a:2:{i:0;s:6:"218686";i:1;N;}
ffd_record_is_deleted
_wp_old_slug
rare-generosity-many-possibilities
featured_images
368475
listing_images
a:11:{i:0;s:6:"368475";i:1;s:6:"387520";i:2;s:6:"387524";i:3;s:6:"387528";i:4;s:6:"387532";i:5;s:6:"387536";i:6;s:6:"387541";i:7;s:6:"368476";i:8;s:6:"387544";i:9;s:6:"387547";i:10;s:6:"387550";}
api_external_id
7692157
_sbi_oembed_done_checking
1
post_member_id
7540
post_agent_id
218686
postal_code
8832
listed_date
2023-05-19
ffd_api_external_id
7692157
post_coagent_id
_listing_images
field_642ee01c5d170
Rare generosity in absolutely quiet location
Wollerau, Bezirk Höfe, 8832, Switzerland
Status: Active
A rare generous space for your lifestyle: this 8-room attic maisonette meets a wide variety of living needs.
The property extends over the 1st and 2nd floor and the attic floor of a cubic-modern apartment building with elevator to the 2nd floor. The 1st floor is dedicated to the trio of dining, cooking, housekeeping, living, complemented by a balcony and a large terrace. With three bedrooms, a split bathroom and the parents' area with dressing room and private wellness bathroom with Arven wood sauna, the 2nd floor offers space for the whole family. In the attic floor lures a studio with bathroom, connections for a small kitchen and roof terrace with lake view.
The garden is an absolute dream and offers plenty of space for your own ideas. In an absolutely quiet, green location between the village center and the edge of the forest, this spatial miracle surprises with a living feeling like in a family home – and a rare variety of outdoor spaces and possibilities. A 3-room studio/office can be acquired additionally.
Properties You Might Also Like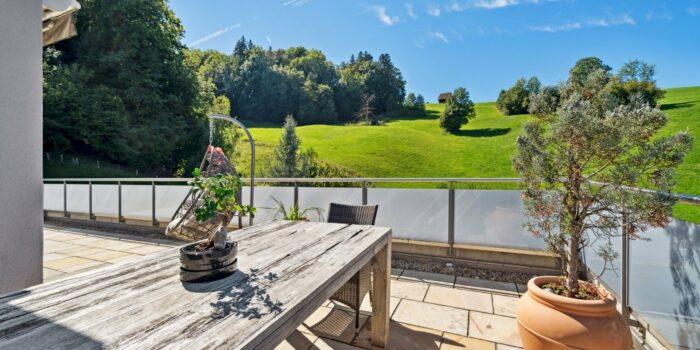 CHF 5,700,000
(US $6,291,090)
Wollerau, Schwyz, Switzerland
A rare generosity, many possibilities
CHF 4,500,000
(US $4,966,650)
Schindellegi, Schwyz, Switzerland
Atypical villa on a sunny and panoramic site
This unique 5 Bedroom home is a prime example of the luxury real estate available in Wollerau, Bezirk Höfe. You can visit our Bezirk Höfe search pages for more luxury real estate choices in Wollerau.