| | |
| --- | --- |
| ffd_listing_title | Pierpoint Building Penthouse |
| ffd_unique_id | |
| ffd_mls_id | |
| ffd_salesforce_id | a0E6g00000A3wGXEAZ |
| ffd_address_pb | Pierpoint Building, 16 Westferry Road, E14 |
| address | Pierpoint Building, 16 Westferry Road, E14 |
| baths | 2 |
| beds | 3 |
| ffd_city_pb | Greater London |
| ffd_colistingagent_pb | |
| ffd_colistingagentemail_pb | |
| ffd_colistingagentmlsid | |
| ffd_colistingagentname | |
| ffd_colistingofficemlsid | |
| ffd_colistingofficename_pb | |
| ffd_country_pb | United Kingdom |
| ffd_createddate | 2023-02-11T10:41:09.000+0000 |
| about | A rare opportunity to acquire one of the most singular properties that Canary Wharf has to offer. The penthouse in Pierpoint Building boasts almost 3,000sq ft of internal living space, as well as 3,700sq ft of private outside space. The property offers an exceptional West-facing aspect, featuring the most unobstructed direct river views it is possible to find in the area. Accessed securely, via key-operated lift access to the 9th floor, the apartment features a rare sense of space & flow throughout, with an abundance of natural light, & direct river views from all principal rooms. The main reception room adjoins a beautiful rounded bay surrounded by floor-to-ceiling windows. The principal bedroom suite offers over 250sq ft of space, with a generous en suite bathroom, & dressing room. Additionally there are 2 other double bedrooms & an office, as well as a separate kitchen. On the 10th floor is located a beautiful 500sq ft "sun room" with floor-to-ceiling windows on 3 sides, which opens out on to quite possibly the largest private roof terrace in the whole of Canary Wharf. At 3,700sq ft, approximately, this apartment offers a garden in the sky, overlooking The River Thames, & The City, & overlooked by no one, bar the occasional seagull. Other delights to be found on the roof terrace include a private hot tub & sauna, as well as a "crow's nest" atop the "sun room". Millennium Harbour is a comparatively low-density private residential development with striking architecture by CZWG Architects, by Ballymore Properties. It is a secure, 100% private, gated development with 24 hour concierge, well-tended communal gardens & a residents' gym. Millennium Harbour is favourably-located at the top of Westferry Road, on the doorstep of Canary Wharf & all of its offices, shops, bars & restaurants. Nearby transport links include: Canary Wharf Jubilee Line, Heron Quays DLR (<1km), Elizabeth Line (<1.3km) stations. [All times & distances are approximate.] There are 2 secure, allocated parking spaces included. The property additionally benefits from a remarkably low service charge, considering the square footage. A satisfactory EWS1 form is available. The property is offered chain-free. |
| ffd_displayaddress | |
| floor | |
| ffd_halfbathrooms_pb | 0 |
| ffd_hide_address_on_site | |
| ffd_key_words | Greater London;United Kingdom;City;Greater London, England;Tower Hamlets England;City Greater London;City Tower Hamlets;Tower Hamlets;Millwall Greater London;UK |
| ffd_lastmodifieddate | 2023-03-23T10:44:51.000+0000 |
| lat | 51.500858 |
| ffd_listofficemlsid | |
| ffd_listofficename | |
| ffd_listingagent_pb | 0036g00002ALrUYAA1 |
| ffd_listing_agent_email | |
| ffd_listing_agent_firstname | |
| ffd_listing_agent_lastname | |
| ffd_listingagentmlsid | |
| ffd_listingagentname | |
| ffd_listing_agent_website | https://www.chestertons.co.uk/en-gb/property-to-buy/gb/millwall/hea206084 |
| price | 3494789 |
| ffd_listingtype | Sale |
| location | Greater London, England, United Kingdom |
| lng | -0.027178 |
| sq_feet | 0 |
| ffd_non_member_paid | |
| ffd_other_currency_amount | 3300000 |
| ffd_other_currency_type | GBP |
| ffd_ownerid | 0056g000006m3deAAA |
| ffd_pool_pb | |
| ffd_price_upon_request | |
| building_type | Apartment |
| ffd_id | a0E6g00000A3wGXEAZ |
| ffd_totalarea_pb | 2918 |
| ffd_solddate | |
| ffd_soldprice | |
| ffd_state_pb | England |
| ffd_status | Active |
| ffd_threequarterbathrooms | 0 |
| ffd_unit_of_measure | Square Feet |
| ffd_brokerage_id | 0016g00002KskJEAAZ |
| year_built | 0 |
| ffd_postalcode_pb | E14 8NQ |
| pba__WebsiteId__c | 318272 |
| pba__Listing_Website__c | https://www.forbesglobalproperties.com/listings/pierpoint-building-penthouse |
| Site_Post_Id__c | 318272 |
| ffd_media | a:36:{i:0;s:88:"https://images.chestertons.co.uk/assets/r/chips/che/HEA/20/HEA206084_45-JPG-l-1600-0.jpg";i:1;s:88:"https://images.chestertons.co.uk/assets/r/chips/che/HEA/20/HEA206084_51-JPG-l-1600-0.jpg";i:2;s:88:"https://images.chestertons.co.uk/assets/r/chips/che/HEA/20/HEA206084_25-JPG-l-1600-0.jpg";i:3;s:88:"https://images.chestertons.co.uk/assets/r/chips/che/HEA/20/HEA206084_05-JPG-l-1600-0.jpg";i:4;s:88:"https://images.chestertons.co.uk/assets/r/chips/che/HEA/20/HEA206084_11-JPG-l-1600-0.jpg";i:5;s:88:"https://images.chestertons.co.uk/assets/r/chips/che/HEA/20/HEA206084_35-JPG-l-1600-0.jpg";i:6;s:88:"https://images.chestertons.co.uk/assets/r/chips/che/HEA/20/HEA206084_52-JPG-l-1600-0.jpg";i:7;s:88:"https://images.chestertons.co.uk/assets/r/chips/che/HEA/20/HEA206084_54-JPG-l-1600-0.jpg";i:8;s:88:"https://images.chestertons.co.uk/assets/r/chips/che/HEA/20/HEA206084_19-JPG-l-1600-0.jpg";i:9;s:88:"https://images.chestertons.co.uk/assets/r/chips/che/HEA/20/HEA206084_44-JPG-l-1600-0.jpg";i:10;s:88:"https://images.chestertons.co.uk/assets/r/chips/che/HEA/20/HEA206084_01-JPG-l-1600-0.jpg";i:11;s:88:"https://images.chestertons.co.uk/assets/r/chips/che/HEA/20/HEA206084_33-JPG-l-1600-0.jpg";i:12;s:88:"https://images.chestertons.co.uk/assets/r/chips/che/HEA/20/HEA206084_10-JPG-l-1600-0.jpg";i:13;s:88:"https://images.chestertons.co.uk/assets/r/chips/che/HEA/20/HEA206084_04-JPG-l-1600-0.jpg";i:14;s:88:"https://images.chestertons.co.uk/assets/r/chips/che/HEA/20/HEA206084_09-JPG-l-1600-0.jpg";i:15;s:88:"https://images.chestertons.co.uk/assets/r/chips/che/HEA/20/HEA206084_03-JPG-l-1600-0.jpg";i:16;s:88:"https://images.chestertons.co.uk/assets/r/chips/che/HEA/20/HEA206084_02-JPG-l-1600-0.jpg";i:17;s:88:"https://images.chestertons.co.uk/assets/r/chips/che/HEA/20/HEA206084_17-JPG-l-1600-0.jpg";i:18;s:88:"https://images.chestertons.co.uk/assets/r/chips/che/HEA/20/HEA206084_15-JPG-l-1600-0.jpg";i:19;s:88:"https://images.chestertons.co.uk/assets/r/chips/che/HEA/20/HEA206084_12-JPG-l-1600-0.jpg";i:20;s:88:"https://images.chestertons.co.uk/assets/r/chips/che/HEA/20/HEA206084_14-JPG-l-1600-0.jpg";i:21;s:88:"https://images.chestertons.co.uk/assets/r/chips/che/HEA/20/HEA206084_16-JPG-l-1600-0.jpg";i:22;s:88:"https://images.chestertons.co.uk/assets/r/chips/che/HEA/20/HEA206084_18-JPG-l-1600-0.jpg";i:23;s:88:"https://images.chestertons.co.uk/assets/r/chips/che/HEA/20/HEA206084_21-JPG-p-1600-0.jpg";i:24;s:88:"https://images.chestertons.co.uk/assets/r/chips/che/HEA/20/HEA206084_22-PNG-l-1600-0.jpg";i:25;s:88:"https://images.chestertons.co.uk/assets/r/chips/che/HEA/20/HEA206084_27-JPG-l-1600-0.jpg";i:26;s:88:"https://images.chestertons.co.uk/assets/r/chips/che/HEA/20/HEA206084_28-JPG-l-1600-0.jpg";i:27;s:88:"https://images.chestertons.co.uk/assets/r/chips/che/HEA/20/HEA206084_30-JPG-l-1600-0.jpg";i:28;s:88:"https://images.chestertons.co.uk/assets/r/chips/che/HEA/20/HEA206084_31-JPG-l-1600-0.jpg";i:29;s:88:"https://images.chestertons.co.uk/assets/r/chips/che/HEA/20/HEA206084_32-JPG-l-1600-0.jpg";i:30;s:88:"https://images.chestertons.co.uk/assets/r/chips/che/HEA/20/HEA206084_36-JPG-l-1600-0.jpg";i:31;s:88:"https://images.chestertons.co.uk/assets/r/chips/che/HEA/20/HEA206084_37-JPG-l-1600-0.jpg";i:32;s:88:"https://images.chestertons.co.uk/assets/r/chips/che/HEA/20/HEA206084_40-JPG-l-1600-0.jpg";i:33;s:88:"https://images.chestertons.co.uk/assets/r/chips/che/HEA/20/HEA206084_43-JPG-l-1600-0.jpg";i:34;s:88:"https://images.chestertons.co.uk/assets/r/chips/che/HEA/20/HEA206084_46-JPG-l-1600-0.jpg";i:35;s:88:"https://images.chestertons.co.uk/assets/r/chips/che/HEA/20/HEA206084_49-JPG-l-1600-0.jpg";} |
| _thumbnail_id | 323305 |
| ffd_featured_image | https://images.chestertons.co.uk/assets/r/chips/che/HEA/20/HEA206084_45-JPG-l-1600-0.jpg |
| agents | a:1:{i:0;s:6:"313256";} |
| _wp_old_date | 2023-02-16 |
| ffd_record_is_deleted | |
| _wp_old_slug | 3-bedroom-flat-apartment-in-pierpoint-building |
| featured_images | 323305 |
| primary_media_0_image | 323305 |
| _primary_media_0_image | field_5f988067abcc4 |
| primary_media_0_video | |
| _primary_media_0_video | field_5f98807dabcc5 |
| primary_media_1_image | 323311 |
| _primary_media_1_image | field_5f988067abcc4 |
| primary_media_1_video | |
| _primary_media_1_video | field_5f98807dabcc5 |
| primary_media_2_image | 323285 |
| _primary_media_2_image | field_5f988067abcc4 |
| primary_media_2_video | |
| _primary_media_2_video | field_5f98807dabcc5 |
| primary_media | 3 |
| _primary_media | field_5f98805cabcc3 |
| secondary_media_0_image | 323305 |
| _secondary_media_0_image | field_5f988119a39fd |
| secondary_media_0_video | |
| _secondary_media_0_video | field_5f988119a39fe |
| secondary_media_1_image | 323311 |
| _secondary_media_1_image | field_5f988119a39fd |
| secondary_media_1_video | |
| _secondary_media_1_video | field_5f988119a39fe |
| secondary_media_2_image | 323285 |
| _secondary_media_2_image | field_5f988119a39fd |
| secondary_media_2_video | |
| _secondary_media_2_video | field_5f988119a39fe |
| secondary_media_3_image | 318278 |
| _secondary_media_3_image | field_5f988119a39fd |
| secondary_media_3_video | |
| _secondary_media_3_video | field_5f988119a39fe |
| secondary_media_4_image | 318280 |
| _secondary_media_4_image | field_5f988119a39fd |
| secondary_media_4_video | |
| _secondary_media_4_video | field_5f988119a39fe |
| secondary_media_5_image | 323295 |
| _secondary_media_5_image | field_5f988119a39fd |
| secondary_media_5_video | |
| _secondary_media_5_video | field_5f988119a39fe |
| secondary_media_6_image | 323312 |
| _secondary_media_6_image | field_5f988119a39fd |
| secondary_media_6_video | |
| _secondary_media_6_video | field_5f988119a39fe |
| secondary_media_7_image | 323314 |
| _secondary_media_7_image | field_5f988119a39fd |
| secondary_media_7_video | |
| _secondary_media_7_video | field_5f988119a39fe |
| secondary_media_8_image | 318291 |
| _secondary_media_8_image | field_5f988119a39fd |
| secondary_media_8_video | |
| _secondary_media_8_video | field_5f988119a39fe |
| secondary_media_9_image | 323304 |
| _secondary_media_9_image | field_5f988119a39fd |
| secondary_media_9_video | |
| _secondary_media_9_video | field_5f988119a39fe |
| secondary_media_10_image | 318273 |
| _secondary_media_10_image | field_5f988119a39fd |
| secondary_media_10_video | |
| _secondary_media_10_video | field_5f988119a39fe |
| secondary_media_11_image | 323293 |
| _secondary_media_11_image | field_5f988119a39fd |
| secondary_media_11_video | |
| _secondary_media_11_video | field_5f988119a39fe |
| secondary_media_12_image | 318283 |
| _secondary_media_12_image | field_5f988119a39fd |
| secondary_media_12_video | |
| _secondary_media_12_video | field_5f988119a39fe |
| secondary_media_13_image | 318276 |
| _secondary_media_13_image | field_5f988119a39fd |
| secondary_media_13_video | |
| _secondary_media_13_video | field_5f988119a39fe |
| secondary_media_14_image | 318284 |
| _secondary_media_14_image | field_5f988119a39fd |
| secondary_media_14_video | |
| _secondary_media_14_video | field_5f988119a39fe |
| secondary_media_15_image | 318282 |
| _secondary_media_15_image | field_5f988119a39fd |
| secondary_media_15_video | |
| _secondary_media_15_video | field_5f988119a39fe |
| secondary_media_16_image | 318274 |
| _secondary_media_16_image | field_5f988119a39fd |
| secondary_media_16_video | |
| _secondary_media_16_video | field_5f988119a39fe |
| secondary_media_17_image | 318275 |
| _secondary_media_17_image | field_5f988119a39fd |
| secondary_media_17_video | |
| _secondary_media_17_video | field_5f988119a39fe |
| secondary_media_18_image | 318288 |
| _secondary_media_18_image | field_5f988119a39fd |
| secondary_media_18_video | |
| _secondary_media_18_video | field_5f988119a39fe |
| secondary_media_19_image | 318285 |
| _secondary_media_19_image | field_5f988119a39fd |
| secondary_media_19_video | |
| _secondary_media_19_video | field_5f988119a39fe |
| secondary_media_20_image | 318287 |
| _secondary_media_20_image | field_5f988119a39fd |
| secondary_media_20_video | |
| _secondary_media_20_video | field_5f988119a39fe |
| secondary_media_21_image | 318289 |
| _secondary_media_21_image | field_5f988119a39fd |
| secondary_media_21_video | |
| _secondary_media_21_video | field_5f988119a39fe |
| secondary_media_22_image | 318290 |
| _secondary_media_22_image | field_5f988119a39fd |
| secondary_media_22_video | |
| _secondary_media_22_video | field_5f988119a39fe |
| secondary_media_23_image | 318293 |
| _secondary_media_23_image | field_5f988119a39fd |
| secondary_media_23_video | |
| _secondary_media_23_video | field_5f988119a39fe |
| secondary_media_24_image | 318294 |
| _secondary_media_24_image | field_5f988119a39fd |
| secondary_media_24_video | |
| _secondary_media_24_video | field_5f988119a39fe |
| secondary_media_25_image | 323287 |
| _secondary_media_25_image | field_5f988119a39fd |
| secondary_media_25_video | |
| _secondary_media_25_video | field_5f988119a39fe |
| secondary_media_26_image | 323288 |
| _secondary_media_26_image | field_5f988119a39fd |
| secondary_media_26_video | |
| _secondary_media_26_video | field_5f988119a39fe |
| secondary_media_27_image | 323290 |
| _secondary_media_27_image | field_5f988119a39fd |
| secondary_media_27_video | |
| _secondary_media_27_video | field_5f988119a39fe |
| secondary_media_28_image | 323291 |
| _secondary_media_28_image | field_5f988119a39fd |
| secondary_media_28_video | |
| _secondary_media_28_video | field_5f988119a39fe |
| secondary_media_29_image | 323292 |
| _secondary_media_29_image | field_5f988119a39fd |
| secondary_media_29_video | |
| _secondary_media_29_video | field_5f988119a39fe |
| secondary_media_30_image | 323296 |
| _secondary_media_30_image | field_5f988119a39fd |
| secondary_media_30_video | |
| _secondary_media_30_video | field_5f988119a39fe |
| secondary_media_31_image | 323297 |
| _secondary_media_31_image | field_5f988119a39fd |
| secondary_media_31_video | |
| _secondary_media_31_video | field_5f988119a39fe |
| secondary_media_32_image | 323300 |
| _secondary_media_32_image | field_5f988119a39fd |
| secondary_media_32_video | |
| _secondary_media_32_video | field_5f988119a39fe |
| secondary_media_33_image | 323303 |
| _secondary_media_33_image | field_5f988119a39fd |
| secondary_media_33_video | |
| _secondary_media_33_video | field_5f988119a39fe |
| secondary_media_34_image | 323306 |
| _secondary_media_34_image | field_5f988119a39fd |
| secondary_media_34_video | |
| _secondary_media_34_video | field_5f988119a39fe |
| secondary_media_35_image | 323309 |
| _secondary_media_35_image | field_5f988119a39fd |
| secondary_media_35_video | |
| _secondary_media_35_video | field_5f988119a39fe |
| secondary_media | 36 |
| _secondary_media | field_5f988119a39fc |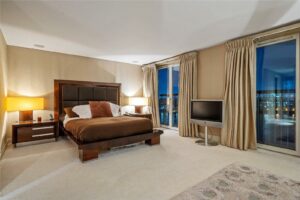 Pierpoint Building Penthouse
GBP 3,300,000
(US $3,494,789)
Pierpoint Building, 16 Westferry Road, E14
Greater London, England, United Kingdom
Status: Active
A rare opportunity to acquire one of the most singular properties that Canary Wharf has to offer. The penthouse in Pierpoint Building boasts almost 3,000sq ft of internal living space, as well as 3,700sq ft of private outside space. The property offers an exceptional West-facing aspect, featuring the most unobstructed direct river views it is possible to find in the area. Accessed securely, via key-operated lift access to the 9th floor, the apartment features a rare sense of space & flow throughout, with an abundance of natural light, & direct river views from all principal rooms. The main reception room adjoins a beautiful rounded bay surrounded by floor-to-ceiling windows. The principal bedroom suite offers over 250sq ft of space, with a generous en suite bathroom, & dressing room. Additionally there are 2 other double bedrooms & an office, as well as a separate kitchen. On the 10th floor is located a beautiful 500sq ft "sun room" with floor-to-ceiling windows on 3 sides, which opens out on to quite possibly the largest private roof terrace in the whole of Canary Wharf. At 3,700sq ft, approximately, this apartment offers a garden in the sky, overlooking The River Thames, & The City, & overlooked by no one, bar the occasional seagull. Other delights to be found on the roof terrace include a private hot tub & sauna, as well as a "crow's nest" atop the "sun room". Millennium Harbour is a comparatively low-density private residential development with striking architecture by CZWG Architects, by Ballymore Properties. It is a secure, 100% private, gated development with 24 hour concierge, well-tended communal gardens & a residents' gym. Millennium Harbour is favourably-located at the top of Westferry Road, on the doorstep of Canary Wharf & all of its offices, shops, bars & restaurants. Nearby transport links include: Canary Wharf Jubilee Line, Heron Quays DLR (<1km), Elizabeth Line (<1.3km) stations. [All times & distances are approximate.] There are 2 secure, allocated parking spaces included. The property additionally benefits from a remarkably low service charge, considering the square footage. A satisfactory EWS1 form is available. The property is offered chain-free.
Properties You Might Also Like
GBP 1,950,000
(US $2,065,103)
Greater London, England, United Kingdom
3 bedroom Flat/Apartment in South Quay
GBP 1,780,000
(US $1,885,068)
Greater London, England, United Kingdom
3 bedroom Flat in London Dock
This unique 3 Bedroom home with 2 Bathrooms is a prime example of the luxury real estate available in Greater London, England. You can visit our England search pages for more luxury real estate choices in Greater London.