ffd_listing_title
Outstanding environment for this fully renovated 16th chateau
ffd_unique_id
ffd_mls_id
ffd_salesforce_id
a0E6g000006JI1WEAW
ffd_address_pb
12190
address
12190
baths
7
beds
7
ffd_city_pb
Estaing
ffd_colistingagent_pb
ffd_colistingagentemail_pb
ffd_colistingagentmlsid
ffd_colistingagentname
ffd_colistingofficemlsid
ffd_colistingofficename_pb
ffd_country_pb
France
ffd_createddate
2021-01-25T15:25:43.000+0000
about

Fully restored XVIth and XVIIIth century chateau of 5381sq.ft., including 4305sq.ft of living space, with 13 main rooms Logis and a medieval dungeon. Great comfort and quality restoration. Beautiful view of the valley.

The chateau : Many fireplaces, one with a bread oven

Ground floor: Tower: entrance hall and spiral staircase, bright living room of 602sq.ft., vaulted dining room of 387sq.ft, spiral staircase, vaulted projection room of 269sq.ft, insert fireplace, kitchen of 16 m², pantry, laundry room

1st floor : sitting room of 430sq.ft. with fireplace, 2 bedrooms of 129, 193 & 279sq.ft. with their bath/shower rooms and toilet, mezzanine

2nd Floor :attic bedroom of 193 & 226sq.ft with shower rooms, 602sq.ft room awaiting development

3rd floor: In the keep, vaulted bedroom of 226sq.ft with bathroom.

Garden level South: vaulted cellar, large room

Outbuildings: Beautiful barn of 170 m² on 2 levels, former chestnut dryer of 10 m² converted to store logs. 37.08 acres of land and woods. Swimming pool.

Village 4 minutes away with amenities.

Rodez airport about 35 minutes.

Quiet environment.

ffd_displayaddress
floor
ffd_halfbathrooms_pb
ffd_hide_address_on_site
ffd_key_words
Estaing; Estaing, Aveyron - Occitanie; Castles & Chateaus; Estaing Castles & Chateaus; France
ffd_lastmodifieddate
2022-05-05T10:03:04.000+0000
lat
44.0207300
ffd_listofficemlsid
ffd_listofficename
ffd_listingagent_pb
0036g00001jKtMfAAK
ffd_listing_agent_email
ffd_listing_agent_firstname
galibert
ffd_listing_agent_lastname
Karine
ffd_listingagentmlsid
12215vm
ffd_listingagentname
ffd_listing_agent_website
https://www.groupe-mercure.com/en/search-by-reference.html?ref=12215vm
price
1459021
ffd_listingtype
Sale
location
Estaing, Aveyron - Occitanie, France
lng
2.6324200
sq_feet
1625135
ffd_non_member_paid
ffd_other_currency_amount
1490000
ffd_other_currency_type
EUR
ffd_ownerid
0056g000005qqSmAAI
ffd_pool_pb
1
ffd_price_upon_request
building_type
House
ffd_id
a0E6g000006JI1WEAW
ffd_totalarea_pb
4327
ffd_solddate
ffd_soldprice
ffd_state_pb
Aveyron - Occitanie
ffd_status
Active
ffd_unit_of_measure
Square Feet
ffd_brokerage_id
0016g000013kY9lAAE
year_built
ffd_postalcode_pb
pba__WebsiteId__c
170911
pba__Listing_Website__c
https://www.forbesglobalproperties.com/listings/outstanding-environment-for-this-fully-renovated-16th-chateau/
Site_Post_Id__c
170911
ffd_media
a:8:{i:0;s:110:"https://s3.amazonaws.com/propertybase-clients/00D6g000007OY6LEAW/a0O6g000004NYfo/ujksqkc24/12215vm%20-%201.jpg";i:1;s:110:"https://s3.amazonaws.com/propertybase-clients/00D6g000007OY6LEAW/a0O6g000004NYfo/eqp9q5wl0/12215vm%20-%202.jpg";i:2;s:110:"https://s3.amazonaws.com/propertybase-clients/00D6g000007OY6LEAW/a0O6g000004NYfo/0cu4wkb59/12215vm%20-%203.jpg";i:3;s:110:"https://s3.amazonaws.com/propertybase-clients/00D6g000007OY6LEAW/a0O6g000004NYfo/lfnfqej3o/12215vm%20-%204.jpg";i:4;s:110:"https://s3.amazonaws.com/propertybase-clients/00D6g000007OY6LEAW/a0O6g000004NYfo/v2o4dp97c/12215vm%20-%207.jpg";i:5;s:110:"https://s3.amazonaws.com/propertybase-clients/00D6g000007OY6LEAW/a0O6g000004NYfo/c6tionzm8/12215vm%20-%208.jpg";i:6;s:107:"https://s3.amazonaws.com/propertybase-clients/00D6g000007OY6LEAW/a0O6g000004NYfo/3920mkm6h/12215vm-%205.jpg";i:7;s:110:"https://s3.amazonaws.com/propertybase-clients/00D6g000007OY6LEAW/a0O6g000004NYfo/ph2tyglcb/12215vm%20-%206.jpg";}
_thumbnail_id
170912
ffd_featured_image
https://s3.amazonaws.com/propertybase-clients/00D6g000007OY6LEAW/a0O6g000004NYfo/ujksqkc24/12215vm%20-%201.jpg
agents
a:1:{i:0;s:6:"158376";}
_wp_old_date
2022-02-10
ffd_record_is_deleted
ffd_threequarterbathrooms
featured_images
170912
primary_media_0_image
170912
_primary_media_0_image
field_5f988067abcc4
primary_media_0_video
_primary_media_0_video
field_5f98807dabcc5
primary_media_1_image
170913
_primary_media_1_image
field_5f988067abcc4
primary_media_1_video
_primary_media_1_video
field_5f98807dabcc5
primary_media_2_image
170914
_primary_media_2_image
field_5f988067abcc4
primary_media_2_video
_primary_media_2_video
field_5f98807dabcc5
primary_media_3_image
170915
_primary_media_3_image
field_5f988067abcc4
primary_media_3_video
_primary_media_3_video
field_5f98807dabcc5
primary_media_4_image
170916
_primary_media_4_image
field_5f988067abcc4
primary_media_4_video
_primary_media_4_video
field_5f98807dabcc5
primary_media_5_image
170918
_primary_media_5_image
field_5f988067abcc4
primary_media_5_video
_primary_media_5_video
field_5f98807dabcc5
primary_media
6
_primary_media
field_5f98805cabcc3
secondary_media_0_image
170917
_secondary_media_0_image
field_5f988119a39fd
secondary_media_0_video
_secondary_media_0_video
field_5f988119a39fe
secondary_media_1_image
170919
_secondary_media_1_image
field_5f988119a39fd
secondary_media_1_video
_secondary_media_1_video
field_5f988119a39fe
secondary_media
2
_secondary_media
field_5f988119a39fc
Outstanding environment for this fully renovated 16th chateau
EUR 1,490,000
(US $1,459,021)
12190
Estaing, Aveyron - Occitanie, France
Status: Active
Fully restored XVIth and XVIIIth century chateau of 5381sq.ft., including 4305sq.ft of living space, with 13 main rooms Logis and a medieval dungeon. Great comfort and quality restoration. Beautiful view of the valley.
The chateau : Many fireplaces, one with a bread oven
Ground floor: Tower: entrance hall and spiral staircase, bright living room of 602sq.ft., vaulted dining room of 387sq.ft, spiral staircase, vaulted projection room of 269sq.ft, insert fireplace, kitchen of 16 m², pantry, laundry room
1st floor : sitting room of 430sq.ft. with fireplace, 2 bedrooms of 129, 193 & 279sq.ft. with their bath/shower rooms and toilet, mezzanine
2nd Floor :attic bedroom of 193 & 226sq.ft with shower rooms, 602sq.ft room awaiting development
3rd floor: In the keep, vaulted bedroom of 226sq.ft with bathroom.
Garden level South: vaulted cellar, large room
Outbuildings: Beautiful barn of 170 m² on 2 levels, former chestnut dryer of 10 m² converted to store logs. 37.08 acres of land and woods. Swimming pool.
Village 4 minutes away with amenities.
Rodez airport about 35 minutes.
Quiet environment.
Properties You Might Also Like
EUR 1,790,000
(US $1,752,783)
Albi, Midi-Pyrénées, France
South of France – 19th century Chateau with outbuildings and pool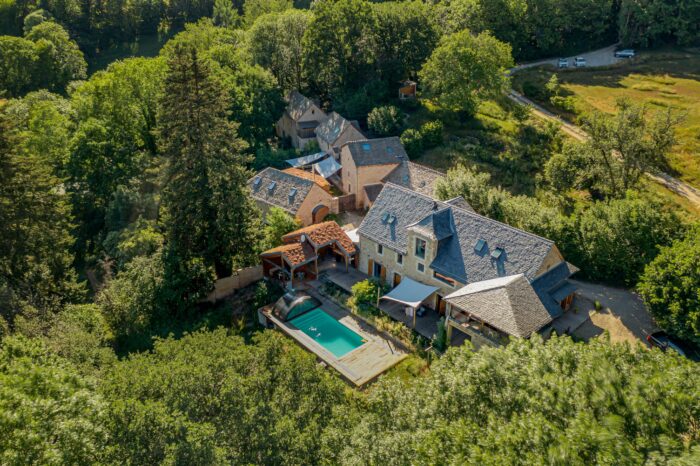 EUR 4,980,000
(US $5,273,954)
Sévérac d'Aveyron, Languedoc-Roussillon, France
South of France, superb 17th century hamlet restored as colodge
This unique 7 Bedroom home with 7 Bathrooms is a prime example of the luxury real estate available in Estaing, Aveyron - Occitanie. You can visit our Aveyron - Occitanie search pages for more luxury real estate choices in Estaing.