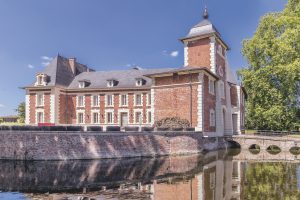 North of France – 18th chateau set on 105,486 sq. ft.
EUR 2,730,000
(US $2,928,236)
Valenciennes, Nord Pas de Calais, France
Status: Active
At the Belgium border, this superb chateau dating from the 18th century with watering moats, set on 105486 sq ft of land, is situated in a green area. It is adjoining a 86 acres wood.
This property offers 12916 sq ft of living space of which 3229 sq ft on the second floor must be converted. All the comfort of a contemporary construction.
The chateau has been fully restored by an architect between 2009 to 2013: exterior and interior structure, frame, roof, cave, stave, garden … High end features. Elevator on the 4 levels, integral sound system. Garage, gas heating.
Property reference: 19296NC