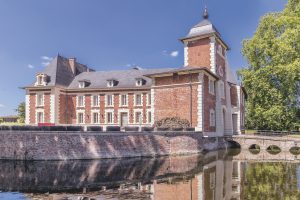 North of France – 18th chateau set on 105,486 sq. ft.
EUR 2,934,000
(US $3,514,884)
59300
Valenciennes, Nord Pas de Calais, France
At the Belgium border, this superb chateau dating from the 18th century with watering moats, set on 105486 sq ft of land, is situated in a green area. It is adjoining a 86 acres wood.
This property offers 12916 sq ft of living space of which 3229 sq ft on the second floor must be converted. All the comfort of a contemporary construction.
The chateau has been fully restored by an architect between 2009 to 2013: exterior and interior structure, frame, roof, cave, stave, garden … High end features. Elevator on the 4 levels, integral sound system. Garage, gas heating.
Property reference: 19296NC
Listing Agent
Sophie van Cayzeele
Groupe Mercure
s.vancayzeele@groupe-mercure.com