| | |
| --- | --- |
| ffd_listing_title | Luxury Apartment in Florence by the River |
| ffd_unique_id | |
| ffd_mls_id | |
| ffd_salesforce_id | a0E6g00000BGAtoEAH |
| ffd_address_pb | Lungarno Vespucci |
| address | Lungarno Vespucci |
| baths | 7 |
| beds | 6 |
| ffd_city_pb | Florence |
| ffd_colistingagent_pb | |
| ffd_colistingagentemail_pb | |
| ffd_colistingagentmlsid | |
| ffd_colistingagentname | |
| ffd_colistingofficemlsid | |
| ffd_colistingofficename_pb | |
| ffd_country_pb | Italy |
| ffd_createddate | 2023-05-22T10:53:21.000+0000 |
| about | This exclusive property, located in Florence's renowned Lungarno Amerigo Vespucci district, represents the best of Renaissance architecture. A refined renovation has resulted in the emergence of a luxury apartment on the fourth floor of an elegant condominium, featuring a doorman available at all hours and two elevators offering exclusive access to the carport. The front door leads to a wide hallway with a guest bathroom that opens onto the large living area. A triple living room features two French doors that open onto balconies from which there are views of the Lungarno and the Ponte Vecchio. The finely furnished kitchen communicates with the living room and is equipped with all modern appliances. The sleeping area, located in a separate wing of the apartment, offers five double bedrooms, each with a private windowed bathroom. A room for service staff and a spacious laundry room complete the interior. The surface of the apartment is entirely covered in fine parquet flooring, while the bathrooms are enhanced by high-quality marble inserts. This exclusive property represents a unique opportunity to own a prestigious residence in the beautiful city of Florence. |
| ffd_displayaddress | |
| floor | |
| ffd_halfbathrooms_pb | |
| ffd_hide_address_on_site | |
| ffd_key_words | Florence |
| ffd_lastmodifieddate | 2023-05-22T17:20:16.000+0000 |
| lat | 43.77214 |
| ffd_listofficemlsid | |
| ffd_listofficename | |
| ffd_listingagent_pb | 0036g00001o9SElAAM |
| ffd_listing_agent_email | |
| ffd_listing_agent_firstname | |
| ffd_listing_agent_lastname | |
| ffd_listingagentmlsid | |
| ffd_listingagentname | |
| ffd_listing_agent_website | |
| price | 3756199.9999999995 |
| ffd_listingtype | Sale |
| location | Florence, Italy |
| lng | 11.24477 |
| sq_feet | |
| ffd_non_member_paid | |
| ffd_other_currency_amount | 3500000 |
| ffd_other_currency_type | EUR |
| ffd_ownerid | 0056g000007K6UMAA0 |
| ffd_pool_pb | |
| ffd_price_upon_request | |
| building_type | Apartment |
| ffd_id | a0E6g00000BGAtoEAH |
| ffd_totalarea_pb | 287 |
| ffd_solddate | |
| ffd_soldprice | |
| ffd_state_pb | |
| ffd_status | Active |
| ffd_threequarterbathrooms | |
| ffd_unit_of_measure | Meters |
| ffd_brokerage_id | 0016g000023kROSAA2 |
| year_built | |
| ffd_postalcode_pb | |
| pba__WebsiteId__c | 365537 |
| pba__Listing_Website__c | https://www.forbesglobalproperties.com/listings/luxury-apartment-in-florence-by-the-river |
| Site_Post_Id__c | 365537 |
| ffd_media | a:31:{i:0;s:124:"https://s3.amazonaws.com/propertybase-clients/00D6g000007OY6LEAW/a0O6g00000AoJFs/q7hstear7/VESPUCCI%2060%20PER%20SITO-28.jpg";i:1;s:124:"https://s3.amazonaws.com/propertybase-clients/00D6g000007OY6LEAW/a0O6g00000AoJFs/haerkgdq1/VESPUCCI%2060%20PER%20SITO-30.jpg";i:2;s:123:"https://s3.amazonaws.com/propertybase-clients/00D6g000007OY6LEAW/a0O6g00000AoJFs/2x7crapcq/VESPUCCI%2060%20PER%20SITO-2.jpg";i:3;s:123:"https://s3.amazonaws.com/propertybase-clients/00D6g000007OY6LEAW/a0O6g00000AoJFs/s36d3478r/VESPUCCI%2060%20PER%20SITO-1.jpg";i:4;s:124:"https://s3.amazonaws.com/propertybase-clients/00D6g000007OY6LEAW/a0O6g00000AoJFs/uyb3z4wst/VESPUCCI%2060%20PER%20SITO-10.jpg";i:5;s:124:"https://s3.amazonaws.com/propertybase-clients/00D6g000007OY6LEAW/a0O6g00000AoJFs/9abqkwnli/VESPUCCI%2060%20PER%20SITO-11.jpg";i:6;s:124:"https://s3.amazonaws.com/propertybase-clients/00D6g000007OY6LEAW/a0O6g00000AoJFs/p1mqrwn1l/VESPUCCI%2060%20PER%20SITO-12.jpg";i:7;s:124:"https://s3.amazonaws.com/propertybase-clients/00D6g000007OY6LEAW/a0O6g00000AoJFs/a0txkwr8a/VESPUCCI%2060%20PER%20SITO-13.jpg";i:8;s:124:"https://s3.amazonaws.com/propertybase-clients/00D6g000007OY6LEAW/a0O6g00000AoJFs/2yxhvmisw/VESPUCCI%2060%20PER%20SITO-14.jpg";i:9;s:124:"https://s3.amazonaws.com/propertybase-clients/00D6g000007OY6LEAW/a0O6g00000AoJFs/bvfal0oqb/VESPUCCI%2060%20PER%20SITO-15.jpg";i:10;s:124:"https://s3.amazonaws.com/propertybase-clients/00D6g000007OY6LEAW/a0O6g00000AoJFs/mi8r4qjt8/VESPUCCI%2060%20PER%20SITO-16.jpg";i:11;s:124:"https://s3.amazonaws.com/propertybase-clients/00D6g000007OY6LEAW/a0O6g00000AoJFs/z4dulim0u/VESPUCCI%2060%20PER%20SITO-17.jpg";i:12;s:124:"https://s3.amazonaws.com/propertybase-clients/00D6g000007OY6LEAW/a0O6g00000AoJFs/rkapzr76j/VESPUCCI%2060%20PER%20SITO-18.jpg";i:13;s:124:"https://s3.amazonaws.com/propertybase-clients/00D6g000007OY6LEAW/a0O6g00000AoJFs/isevh5ef5/VESPUCCI%2060%20PER%20SITO-19.jpg";i:14;s:124:"https://s3.amazonaws.com/propertybase-clients/00D6g000007OY6LEAW/a0O6g00000AoJFs/cmkyalm27/VESPUCCI%2060%20PER%20SITO-20.jpg";i:15;s:124:"https://s3.amazonaws.com/propertybase-clients/00D6g000007OY6LEAW/a0O6g00000AoJFs/z3pd80c9m/VESPUCCI%2060%20PER%20SITO-21.jpg";i:16;s:124:"https://s3.amazonaws.com/propertybase-clients/00D6g000007OY6LEAW/a0O6g00000AoJFs/ymuo859zt/VESPUCCI%2060%20PER%20SITO-22.jpg";i:17;s:124:"https://s3.amazonaws.com/propertybase-clients/00D6g000007OY6LEAW/a0O6g00000AoJFs/e825rxyuy/VESPUCCI%2060%20PER%20SITO-23.jpg";i:18;s:124:"https://s3.amazonaws.com/propertybase-clients/00D6g000007OY6LEAW/a0O6g00000AoJFs/s0ss98qz2/VESPUCCI%2060%20PER%20SITO-24.jpg";i:19;s:124:"https://s3.amazonaws.com/propertybase-clients/00D6g000007OY6LEAW/a0O6g00000AoJFs/r3qvjxlge/VESPUCCI%2060%20PER%20SITO-25.jpg";i:20;s:124:"https://s3.amazonaws.com/propertybase-clients/00D6g000007OY6LEAW/a0O6g00000AoJFs/ukdyn45np/VESPUCCI%2060%20PER%20SITO-26.jpg";i:21;s:124:"https://s3.amazonaws.com/propertybase-clients/00D6g000007OY6LEAW/a0O6g00000AoJFs/16u0837ej/VESPUCCI%2060%20PER%20SITO-27.jpg";i:22;s:124:"https://s3.amazonaws.com/propertybase-clients/00D6g000007OY6LEAW/a0O6g00000AoJFs/4aze2t84q/VESPUCCI%2060%20PER%20SITO-29.jpg";i:23;s:123:"https://s3.amazonaws.com/propertybase-clients/00D6g000007OY6LEAW/a0O6g00000AoJFs/1ccvuuxs5/VESPUCCI%2060%20PER%20SITO-3.jpg";i:24;s:124:"https://s3.amazonaws.com/propertybase-clients/00D6g000007OY6LEAW/a0O6g00000AoJFs/93tu845ty/VESPUCCI%2060%20PER%20SITO-31.jpg";i:25;s:123:"https://s3.amazonaws.com/propertybase-clients/00D6g000007OY6LEAW/a0O6g00000AoJFs/s4vmx4t49/VESPUCCI%2060%20PER%20SITO-4.jpg";i:26;s:123:"https://s3.amazonaws.com/propertybase-clients/00D6g000007OY6LEAW/a0O6g00000AoJFs/r3r5adomo/VESPUCCI%2060%20PER%20SITO-5.jpg";i:27;s:123:"https://s3.amazonaws.com/propertybase-clients/00D6g000007OY6LEAW/a0O6g00000AoJFs/p7mi1qbgs/VESPUCCI%2060%20PER%20SITO-6.jpg";i:28;s:123:"https://s3.amazonaws.com/propertybase-clients/00D6g000007OY6LEAW/a0O6g00000AoJFs/ejzcxolp1/VESPUCCI%2060%20PER%20SITO-7.jpg";i:29;s:123:"https://s3.amazonaws.com/propertybase-clients/00D6g000007OY6LEAW/a0O6g00000AoJFs/vo7sq8yx5/VESPUCCI%2060%20PER%20SITO-8.jpg";i:30;s:123:"https://s3.amazonaws.com/propertybase-clients/00D6g000007OY6LEAW/a0O6g00000AoJFs/xx9m95jr0/VESPUCCI%2060%20PER%20SITO-9.jpg";} |
| _thumbnail_id | 365538 |
| ffd_featured_image | https://s3.amazonaws.com/propertybase-clients/00D6g000007OY6LEAW/a0O6g00000AoJFs/q7hstear7/VESPUCCI%2060%20PER%20SITO-28.jpg |
| agents | a:1:{i:0;s:6:"183835";} |
| ffd_record_is_deleted | |
| featured_images | 365538 |
| listing_images | a:31:{i:0;s:6:"365538";i:1;s:6:"365539";i:2;s:6:"365540";i:3;s:6:"365541";i:4;s:6:"365542";i:5;s:6:"365543";i:6;s:6:"365544";i:7;s:6:"365545";i:8;s:6:"365546";i:9;s:6:"365547";i:10;s:6:"365548";i:11;s:6:"365549";i:12;s:6:"365550";i:13;s:6:"365551";i:14;s:6:"365552";i:15;s:6:"365553";i:16;s:6:"365554";i:17;s:6:"365555";i:18;s:6:"365556";i:19;s:6:"365557";i:20;s:6:"365558";i:21;s:6:"365559";i:22;s:6:"365560";i:23;s:6:"365561";i:24;s:6:"365562";i:25;s:6:"365563";i:26;s:6:"365564";i:27;s:6:"365565";i:28;s:6:"365566";i:29;s:6:"365567";i:30;s:6:"365568";} |
| post_member_id | 183774 |
| post_agent_id | 183835 |
| _sbi_oembed_done_checking | 1 |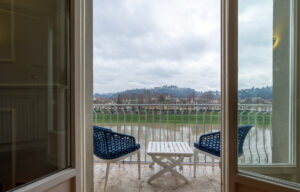 Luxury Apartment in Florence by the River
EUR 3,500,000
(US $3,756,200)
Lungarno Vespucci
Florence, Italy
Status: Active
This exclusive property, located in Florence's renowned Lungarno Amerigo Vespucci district, represents the best of Renaissance architecture. A refined renovation has resulted in the emergence of a luxury apartment on the fourth floor of an elegant condominium, featuring a doorman available at all hours and two elevators offering exclusive access to the carport.
The front door leads to a wide hallway with a guest bathroom that opens onto the large living area. A triple living room features two French doors that open onto balconies from which there are views of the Lungarno and the Ponte Vecchio. The finely furnished kitchen communicates with the living room and is equipped with all modern appliances. The sleeping area, located in a separate wing of the apartment, offers five double bedrooms, each with a private windowed bathroom. A room for service staff and a spacious laundry room complete the interior.
The surface of the apartment is entirely covered in fine parquet flooring, while the bathrooms are enhanced by high-quality marble inserts. This exclusive property represents a unique opportunity to own a prestigious residence in the beautiful city of Florence.
This unique 6 Bedroom home with 7 Bathrooms is a prime example of the luxury real estate available in Florence, . You can visit our search pages for more luxury real estate choices in Florence.