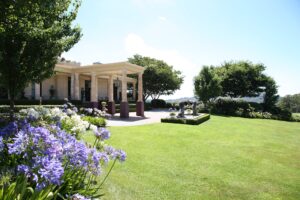 Linden Hall
166 McEvilly Road
Robertson, New South Wales, Australia
Status: Active
Linden Hall is unimaginable, and unforgettable.
It sits in the midst of some of the most beautiful country estates in Australia, in the renowned Southern Highlands just two hours from Sydney. Yet it is in a category all of its own, and every moment spent beyond its magnificent gates is a moment more of knowing it is a very hard place to leave.
Seven years in planning and building, this extraordinary seven bedroom six bathroom home in the lovely rolling hills around Robertson was completed only in 2007. Leading architect Richard Rowe commissioned to seek inspiration from the drawings of the iconic 19th century Point Piper mansion Henrietta Villa, sadly razed by fire in the 1850s.
And his execution was perfect. Linden Hall is a window into the past, but its purpose and personality is wedded seamlessly to serving every requirement of the present. Spanning some 2000 square metres across two main levels (there's a handsome 4200 bottle cellar below ground as well) this is every inch a mansion. It rooms and spaces are of proportion and finish rarely seen, and it has been designed to connect at every opportunity with its exquisite views and surrounds.
Linden Hall's estate spans 80 hectares which is teeming wonderland of rolling pastures, natural forest, prime beef cattle and stunning manicured gardens teeming with flora, vegetables, herbs, sculptures, charming guest cottages and an enchanting array of water features – including a pool and summer house that is pure old style Hollywood glamour.