ffd_listing_title
Homesdale
ffd_unique_id
ffd_mls_id
ffd_salesforce_id
a0E6g00000A3vsuEAB
ffd_address_pb
19 McCarrs Road, Church Point
address
19 McCarrs Road, Church Point
baths
3
beds
4
ffd_city_pb
Church Point
ffd_colistingagent_pb
ffd_colistingagentemail_pb
ffd_colistingagentmlsid
ffd_colistingagentname
ffd_colistingofficemlsid
ffd_colistingofficename_pb
ffd_country_pb
Australia
ffd_createddate
2023-02-10T00:20:20.000+0000
about

An exquisite entertainer of rare design, scale and privacy – this masterpiece surpasses all expectations It is one of the first homes in Church Point and enjoys a majestic position overlooking Pittwater with glistening water views and an indulgent level of comfort and warmth.

A traditional home with a distinctly country ambience, it sprawls over a huge single level with French doors opening to the outdoors. A choice of spacious living zones including formal lounge and dining rooms, a casual living area and wide terracotta tiled verandah. A selection of delightful alfresco retreats and a mosaic tiled infinity edge 15m swimming pool with a shuttered poolhouse.

Established terraced garden of dry-stone walls with perfumed plants, olive grove, level lawns and manicured hedging providing total privacy. The impressively spacious chef's kitchen boasts Gaggenau gas appliances, and an oversized cherrywood and stainless island bench. Four grand light-filled bedrooms, including a huge master enjoying a vast dressing room plus chic ensuite. Skylights throughout, soaring ornate ceilings, timber floorboards and parquetry, double lock-up garage plus generous off-street parking

ffd_displayaddress
floor
ffd_halfbathrooms_pb
ffd_hide_address_on_site
1
ffd_key_words
New South Wales
ffd_lastmodifieddate
2023-02-10T23:56:29.000+0000
lat
-33.64485
ffd_listofficemlsid
ffd_listofficename
ffd_listingagent_pb
0036g00000rJYEBAA4
ffd_listing_agent_email
ffd_listing_agent_firstname
ffd_listing_agent_lastname
ffd_listingagentmlsid
ffd_listingagentname
ffd_listing_agent_website
price
4943683
ffd_listingtype
Sale
location
Church Point, New South Wales, Australia
lng
151.28449
sq_feet
ffd_non_member_paid
ffd_other_currency_amount
7200000
ffd_other_currency_type
AUD
ffd_ownerid
0056g000007MUnoAAG
ffd_pool_pb
ffd_price_upon_request
building_type
ffd_id
a0E6g00000A3vsuEAB
ffd_totalarea_pb
ffd_solddate
ffd_soldprice
ffd_state_pb
New South Wales
ffd_status
Active
ffd_threequarterbathrooms
ffd_unit_of_measure
ffd_brokerage_id
0016g00001WG82AAAT
year_built
ffd_postalcode_pb
pba__WebsiteId__c
313447
pba__Listing_Website__c
https://www.forbesglobalproperties.com/listings/homesdale
Site_Post_Id__c
313447
ffd_media
a:10:{i:0;s:107:"https://s3.amazonaws.com/propertybase-clients/00D6g000007OY6LEAW/a0O6g00000CaV9S/5t1n7y13h/homesdale-28.jpg";i:1;s:130:"https://s3.amazonaws.com/propertybase-clients/00D6g000007OY6LEAW/a0O6g00000CaV9S/wa8vq9rav/homesdale%20gate%20-vertical%20corr.jpg";i:2;s:120:"https://s3.amazonaws.com/propertybase-clients/00D6g000007OY6LEAW/a0O6g00000CaV9S/5nzv5yrs2/homesdale%20courtyard%202.jpg";i:3;s:115:"https://s3.amazonaws.com/propertybase-clients/00D6g000007OY6LEAW/a0O6g00000CaV9S/pjdiyz6zr/homesdale%20pool%202.jpg";i:4;s:119:"https://s3.amazonaws.com/propertybase-clients/00D6g000007OY6LEAW/a0O6g00000CaV9S/x7npvlsu2/homesdale%20dining%20png.jpg";i:5;s:120:"https://s3.amazonaws.com/propertybase-clients/00D6g000007OY6LEAW/a0O6g00000CaV9S/9goc8eii0/homesdale%20lounge%20left.jpg";i:6;s:121:"https://s3.amazonaws.com/propertybase-clients/00D6g000007OY6LEAW/a0O6g00000CaV9S/hhwnin67t/homesdale%20popov%20studio.jpg";i:7;s:142:"https://s3.amazonaws.com/propertybase-clients/00D6g000007OY6LEAW/a0O6g00000CaV9S/wh65i8gkm/homesdale%20verandah%20sun%20&%20pool%20%281%29.jpg";i:8;s:129:"https://s3.amazonaws.com/propertybase-clients/00D6g000007OY6LEAW/a0O6g00000CaV9S/b6gdedjae/19_Mccarrs_Creek_Road_Church_Point.jpg";i:9;s:132:"https://s3.amazonaws.com/propertybase-clients/00D6g000007OY6LEAW/a0O6g00000CaV9S/nyb0rvalo/19_Mccarrs_Creek_Road_Church_Point_SP.jpg";}
_thumbnail_id
313448
ffd_featured_image
https://s3.amazonaws.com/propertybase-clients/00D6g000007OY6LEAW/a0O6g00000CaV9S/5t1n7y13h/homesdale-28.jpg
agents
a:1:{i:0;s:5:"90460";}
ffd_record_is_deleted
featured_images
313448
primary_media_0_image
313448
_primary_media_0_image
field_5f988067abcc4
primary_media_0_video
_primary_media_0_video
field_5f98807dabcc5
primary_media_1_image
313449
_primary_media_1_image
field_5f988067abcc4
primary_media_1_video
_primary_media_1_video
field_5f98807dabcc5
primary_media_2_image
313450
_primary_media_2_image
field_5f988067abcc4
primary_media_2_video
_primary_media_2_video
field_5f98807dabcc5
primary_media_3_image
313451
_primary_media_3_image
field_5f988067abcc4
primary_media_3_video
_primary_media_3_video
field_5f98807dabcc5
primary_media
4
_primary_media
field_5f98805cabcc3
secondary_media_0_image
313448
_secondary_media_0_image
field_5f988119a39fd
secondary_media_0_video
_secondary_media_0_video
field_5f988119a39fe
secondary_media_1_image
313449
_secondary_media_1_image
field_5f988119a39fd
secondary_media_1_video
_secondary_media_1_video
field_5f988119a39fe
secondary_media_2_image
313450
_secondary_media_2_image
field_5f988119a39fd
secondary_media_2_video
_secondary_media_2_video
field_5f988119a39fe
secondary_media_3_image
313451
_secondary_media_3_image
field_5f988119a39fd
secondary_media_3_video
_secondary_media_3_video
field_5f988119a39fe
secondary_media_4_image
313455
_secondary_media_4_image
field_5f988119a39fd
secondary_media_4_video
_secondary_media_4_video
field_5f988119a39fe
secondary_media_5_image
313453
_secondary_media_5_image
field_5f988119a39fd
secondary_media_5_video
_secondary_media_5_video
field_5f988119a39fe
secondary_media_6_image
313454
_secondary_media_6_image
field_5f988119a39fd
secondary_media_6_video
_secondary_media_6_video
field_5f988119a39fe
secondary_media_7_image
313456
_secondary_media_7_image
field_5f988119a39fd
secondary_media_7_video
_secondary_media_7_video
field_5f988119a39fe
secondary_media_8_image
313457
_secondary_media_8_image
field_5f988119a39fd
secondary_media_8_video
_secondary_media_8_video
field_5f988119a39fe
secondary_media
9
_secondary_media
field_5f988119a39fc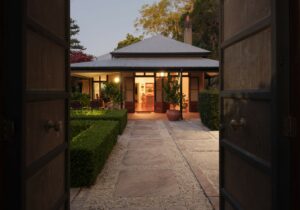 Homesdale
AUD 7,200,000
(US $4,943,683)
Church Point, New South Wales, Australia
Status: Active
An exquisite entertainer of rare design, scale and privacy – this masterpiece surpasses all expectations It is one of the first homes in Church Point and enjoys a majestic position overlooking Pittwater with glistening water views and an indulgent level of comfort and warmth.
A traditional home with a distinctly country ambience, it sprawls over a huge single level with French doors opening to the outdoors. A choice of spacious living zones including formal lounge and dining rooms, a casual living area and wide terracotta tiled verandah. A selection of delightful alfresco retreats and a mosaic tiled infinity edge 15m swimming pool with a shuttered poolhouse.
Established terraced garden of dry-stone walls with perfumed plants, olive grove, level lawns and manicured hedging providing total privacy. The impressively spacious chef's kitchen boasts Gaggenau gas appliances, and an oversized cherrywood and stainless island bench. Four grand light-filled bedrooms, including a huge master enjoying a vast dressing room plus chic ensuite. Skylights throughout, soaring ornate ceilings, timber floorboards and parquetry, double lock-up garage plus generous off-street parking
This unique 4 Bedroom home with 3 Bathrooms is a prime example of the luxury real estate available in Church Point, New South Wales. You can visit our New South Wales search pages for more luxury real estate choices in Church Point.