| | |
| --- | --- |
| ffd_listing_title | Exclusive Villa in Cannigione, Sardinia, Italy |
| ffd_unique_id | |
| ffd_mls_id | |
| ffd_salesforce_id | a0E6g000009eaboEAA |
| ffd_address_pb | Loc. Micalosu |
| address | Loc. Micalosu |
| baths | |
| beds | |
| ffd_city_pb | Cannigione |
| ffd_colistingagent_pb | |
| ffd_colistingagentemail_pb | |
| ffd_colistingagentmlsid | |
| ffd_colistingagentname | |
| ffd_colistingofficemlsid | |
| ffd_colistingofficename_pb | |
| ffd_country_pb | Italy |
| ffd_createddate | 2022-09-21T10:58:38.000+0000 |
| about | Beautiful property in the seaside resort town of Cannigione, a district of Arzachena, originally a fishing village, is a renowned tourist village. Its promenade is made up of the docks of a large, modern port. The villa is composed of three units, each units housing two rooms and two bathrooms, a private swimming pool and verandas facing the sea, about 10.000 m2, part of which are maintained as a garden; and the village of Cannigione just a stone's throw away. |
| ffd_displayaddress | |
| floor | |
| ffd_halfbathrooms_pb | |
| ffd_hide_address_on_site | 1 |
| ffd_key_words | Cannigione; Cannigione, Sardinia; Cannigione, Sardinia; Italy |
| ffd_lastmodifieddate | 2023-05-26T22:32:33.000+0000 |
| lat | 41.1133500 |
| ffd_listofficemlsid | |
| ffd_listofficename | |
| ffd_listingagent_pb | 0036g00001pePjrAAE |
| ffd_listing_agent_email | |
| ffd_listing_agent_firstname | |
| ffd_listing_agent_lastname | |
| ffd_listingagentmlsid | |
| ffd_listingagentname | |
| ffd_listing_agent_website | https://rarexproperties.com/en/ |
| price | 1717120 |
| ffd_listingtype | Sale |
| location | Cannigione, Sardinia, Italy |
| lng | 9.4391700 |
| sq_feet | |
| ffd_non_member_paid | |
| ffd_other_currency_amount | 1600000 |
| ffd_other_currency_type | EUR |
| ffd_ownerid | 0056g000007LStOAAW |
| ffd_pool_pb | |
| ffd_price_upon_request | 1 |
| building_type | Villa |
| ffd_id | a0E6g000009eaboEAA |
| ffd_totalarea_pb | |
| ffd_solddate | |
| ffd_soldprice | |
| ffd_state_pb | Sardinia |
| ffd_status | Active |
| ffd_threequarterbathrooms | |
| ffd_unit_of_measure | |
| ffd_brokerage_id | 0016g000025E56OAAS |
| year_built | |
| ffd_postalcode_pb | |
| pba__WebsiteId__c | 247609 |
| pba__Listing_Website__c | https://www.forbesglobalproperties.com/listings/exclusive-villa-in-cannigione-sardinia-italy |
| Site_Post_Id__c | 247609 |
| ffd_media | a:10:{i:0;s:113:"https://s3.amazonaws.com/propertybase-clients/00D6g000007OY6LEAW/a0O6g000008cC2w/qlq6igeor/Stazzu%20Vigna-560.jpg";i:1;s:113:"https://s3.amazonaws.com/propertybase-clients/00D6g000007OY6LEAW/a0O6g000008cC2w/0vxko3cen/Stazzu%20Vigna-562.jpg";i:2;s:113:"https://s3.amazonaws.com/propertybase-clients/00D6g000007OY6LEAW/a0O6g000008cC2w/qn0mzg7m3/Stazzu%20Vigna-555.jpg";i:3;s:113:"https://s3.amazonaws.com/propertybase-clients/00D6g000007OY6LEAW/a0O6g000008cC2w/8fo5ks0k0/Stazzu%20Vigna-564.jpg";i:4;s:113:"https://s3.amazonaws.com/propertybase-clients/00D6g000007OY6LEAW/a0O6g000008cC2w/0gy739rfz/Stazzu%20Vigna-569.jpg";i:5;s:113:"https://s3.amazonaws.com/propertybase-clients/00D6g000007OY6LEAW/a0O6g000008cC2w/1ok8tugp6/Stazzu%20Vigna-574.jpg";i:6;s:113:"https://s3.amazonaws.com/propertybase-clients/00D6g000007OY6LEAW/a0O6g000008cC2w/0ikfbcm69/Stazzu%20Vigna-575.jpg";i:7;s:113:"https://s3.amazonaws.com/propertybase-clients/00D6g000007OY6LEAW/a0O6g000008cC2w/et374h6hv/Stazzu%20Vigna-588.jpg";i:8;s:113:"https://s3.amazonaws.com/propertybase-clients/00D6g000007OY6LEAW/a0O6g000008cC2w/apvt0rhbw/Stazzu%20Vigna-604.jpg";i:9;s:113:"https://s3.amazonaws.com/propertybase-clients/00D6g000007OY6LEAW/a0O6g000008cC2w/jh2o405m8/Stazzu%20Vigna-608.jpg";} |
| _thumbnail_id | 247610 |
| ffd_featured_image | https://s3.amazonaws.com/propertybase-clients/00D6g000007OY6LEAW/a0O6g000008cC2w/qlq6igeor/Stazzu%20Vigna-560.jpg |
| agents | a:1:{i:0;s:6:"194858";} |
| ffd_record_is_deleted | |
| featured_images | 247610 |
| listing_images | a:10:{i:0;s:6:"247610";i:1;s:6:"247612";i:2;s:6:"247613";i:3;s:6:"247614";i:4;s:6:"247615";i:5;s:6:"247616";i:6;s:6:"247617";i:7;s:6:"247618";i:8;s:6:"247619";i:9;s:6:"247620";} |
| post_member_id | 194846 |
| post_agent_id | 194858 |
| _sbi_oembed_done_checking | 1 |
Exclusive Villa in Cannigione, Sardinia, Italy
Cannigione, Sardinia, Italy
Status: Active
Beautiful property in the seaside resort town of Cannigione, a district of Arzachena, originally a fishing village, is a renowned tourist village. Its promenade is made up of the docks of a large, modern port.
The villa is composed of three units, each units housing two rooms and two bathrooms, a private swimming pool and verandas facing the sea, about 10.000 m2, part of which are maintained as a garden; and the village of Cannigione just a stone's throw away.
Properties You Might Also Like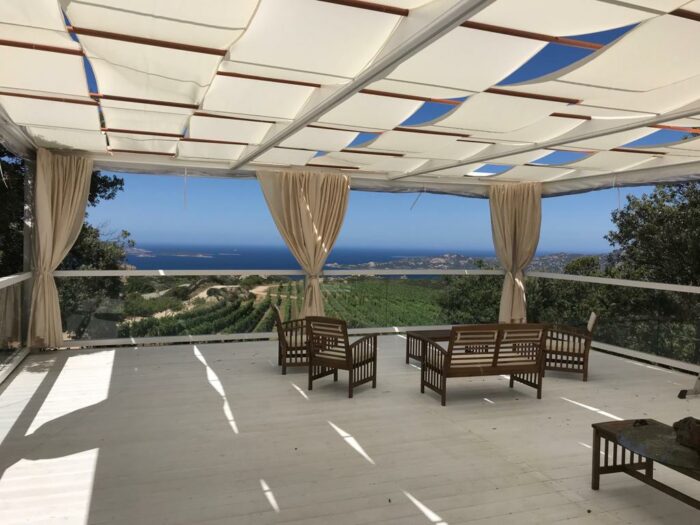 Cannigione, Sardinia, Italy
Vermentino Vineyard Estate, Costa Smeralda, Sardinia, Italy
Costa Smeralda, Sardinia, Italy
Villa Lu Muntiggiu, elegant villa in Costa Smeralda, Sardinia, Italy
This unique home is a prime example of the luxury real estate available in Cannigione, Sardinia. You can visit our Sardinia search pages for more luxury real estate choices in Cannigione.