ffd_listing_title
Charming flat in the centre of Cologny
ffd_unique_id
ffd_mls_id
ffd_salesforce_id
a0E6g00000BG3I9EAL
ffd_address_pb
chemin des Hauts-Crêts, 4
address
chemin des Hauts-Crêts, 4
baths
2
beds
2
ffd_city_pb
Cologny
ffd_colistingagent_pb
ffd_colistingagentemail_pb
ffd_colistingagentmlsid
ffd_colistingagentname
ffd_colistingofficemlsid
ffd_colistingofficename_pb
ffd_country_pb
Switzerland
ffd_createddate
2023-04-28T14:04:14.000+0000
about
Close to the centre of Geneva and all amenities, perfectly served by public transport and close to the lake, this charming residence enjoys absolute calm. A few steps from the centre of the prestigious village of Cologny, it offers an ideal living environment in a residential setting.
This elegant 160 m2 garden level apartment consists of a large and bright living room, a dining room and a large, fully equipped kitchen with top of the range appliances and a dining area.
All the reception rooms as well as the kitchen offer a view and access to a pleasant terrace and its lovely garden.
The sleeping area has a spacious master suite with dressing room and ensuite bathroom, as well as an additional bedroom.
The night area also has a lovely garden with terrace. This bright flat is finished to a high standard and has plenty of storage space.
The two gardens total 500 m2 and have two different exposures. The gardens have been meticulously landscaped with a Mediterranean style ideal for relaxing.
A large cellar and a double garage complete this flat.

ffd_displayaddress
floor
ffd_halfbathrooms_pb
0
ffd_hide_address_on_site
1
ffd_key_words
Cologny;Switzerland;Cologny, Genève
ffd_lastmodifieddate
2023-05-28T01:01:09.000+0000
lat
46.212193823878
ffd_listofficemlsid
ffd_listofficename
ffd_listingagent_pb
0036g00002HRlMpAAL
ffd_listing_agent_email
ffd_listing_agent_firstname
ffd_listing_agent_lastname
ffd_listingagentmlsid
ffd_listingagentname
ffd_listing_agent_website
https://www.fgp-swissandalps.com/acheter/apartment/geneve/cologny-1223/charming-flat-in-the-centre-of-cologny/
price
4194059.9999999995
ffd_listingtype
Sale
location
Cologny, Geneva, Switzerland
lng
6.1842508035169
sq_feet
0
ffd_non_member_paid
ffd_other_currency_amount
3800000
ffd_other_currency_type
CHF
ffd_ownerid
0056g0000088LSRAA2
ffd_pool_pb
ffd_price_upon_request
building_type
Apartment
ffd_id
a0E6g00000BG3I9EAL
ffd_totalarea_pb
160.1
ffd_solddate
ffd_soldprice
ffd_state_pb
Genève
ffd_status
Active
ffd_threequarterbathrooms
0
ffd_unit_of_measure
Meters
ffd_brokerage_id
0016g000013kXydAAE
year_built
0
ffd_postalcode_pb
1223
pba__WebsiteId__c
352730
pba__Listing_Website__c
https://www.forbesglobalproperties.com/listings/charming-flat-in-the-centre-of-cologny
Site_Post_Id__c
352730
ffd_media
a:13:{i:0;s:125:"https://www.fgp-swissandalps.com/wp-content/uploads/2023/04/100079-20230404145337-1-photo-8g4lvrFA74AIUBiatr2cas48UB3V658.jpg";i:1;s:125:"https://www.fgp-swissandalps.com/wp-content/uploads/2023/04/100079-20230404145337-2-photo-8g4lvrFA74AIUBiatr2cas48UB3V658.jpg";i:2;s:125:"https://www.fgp-swissandalps.com/wp-content/uploads/2023/04/100079-20230404145337-3-photo-8g4lvrFA74AIUBiatr2cas48UB3V658.jpg";i:3;s:125:"https://www.fgp-swissandalps.com/wp-content/uploads/2023/04/100079-20230404145337-4-photo-8g4lvrFA74AIUBiatr2cas48UB3V658.jpg";i:4;s:125:"https://www.fgp-swissandalps.com/wp-content/uploads/2023/04/100079-20230404145337-5-photo-8g4lvrFA74AIUBiatr2cas48UB3V658.jpg";i:5;s:125:"https://www.fgp-swissandalps.com/wp-content/uploads/2023/04/100079-20230404145337-6-photo-8g4lvrFA74AIUBiatr2cas48UB3V658.jpg";i:6;s:125:"https://www.fgp-swissandalps.com/wp-content/uploads/2023/04/100079-20230404145337-7-photo-8g4lvrFA74AIUBiatr2cas48UB3V658.jpg";i:7;s:125:"https://www.fgp-swissandalps.com/wp-content/uploads/2023/04/100079-20230404145337-8-photo-8g4lvrFA74AIUBiatr2cas48UB3V658.jpg";i:8;s:125:"https://www.fgp-swissandalps.com/wp-content/uploads/2023/04/100079-20230404145337-9-photo-8g4lvrFA74AIUBiatr2cas48UB3V658.jpg";i:9;s:126:"https://www.fgp-swissandalps.com/wp-content/uploads/2023/04/100079-20230404145337-10-photo-8g4lvrFA74AIUBiatr2cas48UB3V658.jpg";i:10;s:126:"https://www.fgp-swissandalps.com/wp-content/uploads/2023/04/100079-20230404145337-11-photo-8g4lvrFA74AIUBiatr2cas48UB3V658.jpg";i:11;s:126:"https://www.fgp-swissandalps.com/wp-content/uploads/2023/04/100079-20230404145337-12-photo-8g4lvrFA74AIUBiatr2cas48UB3V658.jpg";i:12;s:126:"https://www.fgp-swissandalps.com/wp-content/uploads/2023/04/100079-20230404145337-13-photo-8g4lvrFA74AIUBiatr2cas48UB3V658.jpg";}
_thumbnail_id
352731
ffd_featured_image
https://www.fgp-swissandalps.com/wp-content/uploads/2023/04/100079-20230404145337-1-photo-8g4lvrFA74AIUBiatr2cas48UB3V658.jpg
agents
a:2:{i:0;s:6:"340440";i:1;N;}
ffd_record_is_deleted
featured_images
352731
listing_images
a:13:{i:0;s:6:"352731";i:1;s:6:"352732";i:2;s:6:"352733";i:3;s:6:"352734";i:4;s:6:"352735";i:5;s:6:"352736";i:6;s:6:"352737";i:7;s:6:"352738";i:8;s:6:"352739";i:9;s:6:"352740";i:10;s:6:"352741";i:11;s:6:"352742";i:12;s:6:"352743";}
api_external_id
36860
_sbi_oembed_done_checking
1
post_member_id
7540
post_agent_id
340440
postal_code
1223
listed_date
2023-02-13
ffd_api_external_id
36860
post_coagent_id
_listing_images
field_642ee01c5d170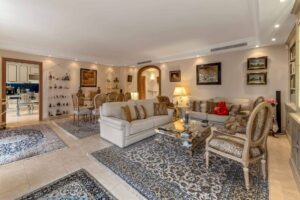 Charming flat in the centre of Cologny
CHF 3,800,000
(US $4,194,060)
Cologny, Genève, 1223, Switzerland
Status: Active
Close to the centre of Geneva and all amenities, perfectly served by public transport and close to the lake, this charming residence enjoys absolute calm. A few steps from the centre of the prestigious village of Cologny, it offers an ideal living environment in a residential setting.
This elegant 160 m2 garden level apartment consists of a large and bright living room, a dining room and a large, fully equipped kitchen with top of the range appliances and a dining area.
All the reception rooms as well as the kitchen offer a view and access to a pleasant terrace and its lovely garden.
The sleeping area has a spacious master suite with dressing room and ensuite bathroom, as well as an additional bedroom.
The night area also has a lovely garden with terrace. This bright flat is finished to a high standard and has plenty of storage space.
The two gardens total 500 m2 and have two different exposures. The gardens have been meticulously landscaped with a Mediterranean style ideal for relaxing.
A large cellar and a double garage complete this flat.