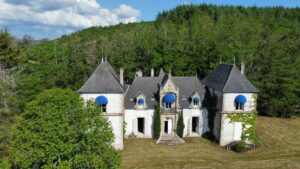 Center of France – 18th century castle in a dominant position
EUR 1,575,000
(US $1,717,711)
Autun, Bourgogne Franche Comté, France
Status: Active
Situated in a quiet, hilly and pleasant region, this 445 sqm castle built on 2 levels and its 440 sqm converted outbuildings represent a total living area of 885 sqm.
Renovated and carefully maintained, this property offers a breathtaking view of the magnificent forest landscapes of the Morvan natural park. Due to the quality of the renovations, the continuous maintenance and the period furniture, it is possible to move in immediately to this property with 12 bedrooms and 9 bathrooms distributed over 4 buildings. The property is sold with a large part of the furniture.
The outbuildings are composed of 3 gites of about 100 sqm each and 2 flats, one of about 35 sqm and the other of about 55 sqm.
Beautiful living rooms with a total of 9 fireplaces, most of them in working order. The grounds of almost 13 hectares offer parkland, woods, meadow, orchard and a spring-fed pond. Shops and means of transport a few kilometers away.
Location: This property is situated in Saône-et-Loire, in South Burgundy, 15 minutes from Autun, approx. 1.20 hours from Lyon, 2 hours from Paris by TGV train (TGV train station 45 minutes away) and 3 hours from Geneva by road.
Property reference: 1594VA
Properties You Might Also Like
EUR 2,350,000
(US $2,562,934)
Etang-sur-Arroux, Burgundy, France
19th c. Chateau fully renovated
EUR 3,500,000
(US $3,817,135)
Givry, Saone-et-Loire, France
East of France, south Burgundy, 18th c. with chapel