ffd_listing_title
Brittany, 15th century manor house
ffd_unique_id
ffd_mls_id
ffd_salesforce_id
a0E6g00000A49zDEAR
ffd_address_pb
Lamballe-Armor
address
Lamballe-Armor
baths
11
beds
11
ffd_city_pb
Lamballe-Armor
ffd_colistingagent_pb
ffd_colistingagentemail_pb
ffd_colistingagentmlsid
ffd_colistingagentname
ffd_colistingofficemlsid
ffd_colistingofficename_pb
ffd_country_pb
France
ffd_createddate
2023-04-07T14:00:15.000+0000
about

Magnificent manor house of the 15th century, classified as a historical monument, surrounded by greenery with its hundred-year-old trees. This place is very pleasant, without any opposite and in absolute tranquility.

With a surface area of approximately 700 sqm, the manor house has 20 rooms, including 11 sumptuous bedrooms.

Surrounded by its 20 hectares of land, it offers, with its outbuildings, a set of possibilities for professional activities or simply a prestigious vacation spot.

The outbuildings are composed of former stables and an orangery, two small pavilions and a dovecote.

A house, which can be converted into a gîte, completes this property.

Rich in history, this place has hosted the greatest Breton families. During several decades the manor house, transformed into a luxury hotel, has seen illustrious personalities pass through.

This marvelous property is ready to welcome all your personal or professional projects.

ffd_displayaddress
floor
ffd_halfbathrooms_pb
1
ffd_hide_address_on_site
ffd_key_words
Lamballe-Armor;France;Lamballe-Armor, Brittany;FX
ffd_lastmodifieddate
2023-05-22T15:57:40.000+0000
lat
48.46865
ffd_listofficemlsid
ffd_listofficename
ffd_listingagent_pb
0036g00001wBEjvAAG
ffd_listing_agent_email
ffd_listing_agent_firstname
ffd_listing_agent_lastname
ffd_listingagentmlsid
20247BR
ffd_listingagentname
ffd_listing_agent_website
https://www.groupe-mercure.com/en/buy/character-houses-cotes-d-armor-14582-20247br-2.html
price
2167864
ffd_listingtype
Sale
location
Lamballe-Armor, Brittany, France
lng
-2.51566
sq_feet
200000
ffd_non_member_paid
ffd_other_currency_amount
2020000
ffd_other_currency_type
EUR
ffd_ownerid
0056g000007MNz4AAG
ffd_pool_pb
ffd_price_upon_request
building_type
Single Family
ffd_id
a0E6g00000A49zDEAR
ffd_totalarea_pb
734
ffd_solddate
ffd_soldprice
ffd_state_pb
Brittany
ffd_status
Active
ffd_threequarterbathrooms
0
ffd_unit_of_measure
Meters
ffd_brokerage_id
0016g000013kY9lAAE
year_built
1500
ffd_postalcode_pb
22400
pba__WebsiteId__c
342526
pba__Listing_Website__c
https://www.forbesglobalproperties.com/listings/brittany-15th-century-manor-house
Site_Post_Id__c
342526
ffd_media
a:4:{i:0;s:109:"https://d1qfj231ug7wdu.cloudfront.net/pictures/estate/7337/7336864/1392287698643d4334c0e765.34023950_2048.jpg";i:1;s:109:"https://d1qfj231ug7wdu.cloudfront.net/pictures/estate/7337/7336864/2011238929643d432956a8d9.30446154_2048.jpg";i:2;s:109:"https://d1qfj231ug7wdu.cloudfront.net/pictures/estate/7337/7336864/1667917097643d431f9848c2.78933902_2048.jpg";i:3;s:109:"https://d1qfj231ug7wdu.cloudfront.net/pictures/estate/7337/7336864/1882322306643d433f7f94f4.93780589_2048.jpg";}
_thumbnail_id
345634
ffd_featured_image
https://d1qfj231ug7wdu.cloudfront.net/pictures/estate/7337/7336864/1392287698643d4334c0e765.34023950_2048.jpg
agents
a:1:{i:0;s:6:"203846";}
ffd_record_is_deleted
featured_images
345634
listing_images
a:4:{i:0;s:6:"345634";i:1;s:6:"345635";i:2;s:6:"345636";i:3;s:6:"345637";}
api_external_id
7336864
post_member_id
7560
post_agent_id
203846
_sbi_oembed_done_checking
1
no_api_update
1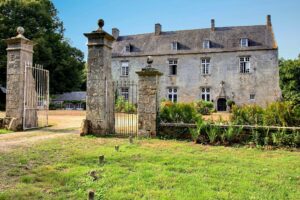 Brittany, 15th century manor house
EUR 2,020,000
(US $2,167,864)
Lamballe-Armor
Lamballe-Armor, Brittany, France
Status: Active
Magnificent manor house of the 15th century, classified as a historical monument, surrounded by greenery with its hundred-year-old trees. This place is very pleasant, without any opposite and in absolute tranquility.
With a surface area of approximately 700 sqm, the manor house has 20 rooms, including 11 sumptuous bedrooms.
Surrounded by its 20 hectares of land, it offers, with its outbuildings, a set of possibilities for professional activities or simply a prestigious vacation spot.
The outbuildings are composed of former stables and an orangery, two small pavilions and a dovecote.
A house, which can be converted into a gîte, completes this property.
Rich in history, this place has hosted the greatest Breton families. During several decades the manor house, transformed into a luxury hotel, has seen illustrious personalities pass through.
This marvelous property is ready to welcome all your personal or professional projects.
Properties You Might Also Like
EUR 3,600,000
(US $3,863,520)
Perpignan, Pyrenees Orientales - Occitanie, France
South of France – Winery with former Catalan Monastery
EUR 3,700,000
(US $3,970,840)
Douarnenez, Brittany, France
Brittany, manor house on the frontline of the sea
This unique 11 Bedroom home with 11 Bathrooms is a prime example of the luxury real estate available in Lamballe-Armor, Brittany. You can visit our Brittany search pages for more luxury real estate choices in Lamballe-Armor.