ffd_listing_title
Bordeaux - Private mansion in the city centre
ffd_unique_id
ffd_mls_id
ffd_salesforce_id
a0E6g00000A46cXEAR
ffd_address_pb
Bordeaux (Caudéran)
address
Bordeaux (Caudéran)
baths
3
beds
5
ffd_city_pb
Bordeaux
ffd_colistingagent_pb
ffd_colistingagentemail_pb
ffd_colistingagentmlsid
ffd_colistingagentname
ffd_colistingofficemlsid
ffd_colistingofficename_pb
ffd_country_pb
France
ffd_createddate
2023-03-27T08:00:32.000+0000
about

At the entrance of the city centre, discover this noble mansion of 425 sqm composed of thirteen rooms spread over four levels. This historical building dating from the 19th century is looking for a second life.

The building has a sumptuous, delicately sculpted facade and a 200 sqm garden to the rear with a parking area for 2 cars that can be easily extended.

Various possible uses: liberal professions, diplomatic establishments (embassy, consulate, others), offices (start-up, scale-up, others), coworking, coliving or tourism investment and luxury concierge (ex SquareBreak of AccorHotels)...

10 min from the Palais de Justice and the Pellegrin hospital. 20 minutes from Mérignac airport and the Saint Jean TGV station (2 hours from Paris Montparnasse). Near the private tennis club Villa Primrose and 15 minutes from the best golf courses in the city. 8 km from the wine route and 55 km from the ocean.

ffd_displayaddress
floor
ffd_halfbathrooms_pb
3
ffd_hide_address_on_site
ffd_key_words
Bordeaux;France;City;Bordeaux, Aquitaine;City Bordeaux;Caudéran Bordeaux;FX
ffd_lastmodifieddate
2023-05-22T15:57:32.000+0000
lat
44.8447
ffd_listofficemlsid
ffd_listofficename
ffd_listingagent_pb
0036g00001jKugTAAS
ffd_listing_agent_email
ffd_listing_agent_firstname
ffd_listing_agent_lastname
ffd_listingagentmlsid
900840bx
ffd_listingagentname
ffd_listing_agent_website
https://www.groupe-mercure.com/en/buy/character-houses-gironde-2415-900840bx.html
price
2092739.9999999998
ffd_listingtype
Sale
location
Bordeaux, Aquitaine, France
lng
-0.60053
sq_feet
0
ffd_non_member_paid
ffd_other_currency_amount
1950000
ffd_other_currency_type
EUR
ffd_ownerid
0056g0000077w1gAAA
ffd_pool_pb
ffd_price_upon_request
building_type
Single Family
ffd_id
a0E6g00000A46cXEAR
ffd_totalarea_pb
425
ffd_solddate
ffd_soldprice
ffd_state_pb
Aquitaine
ffd_status
Active
ffd_threequarterbathrooms
0
ffd_unit_of_measure
Meters
ffd_brokerage_id
0016g000013kY9lAAE
year_built
0
ffd_postalcode_pb
33000
pba__WebsiteId__c
342305
pba__Listing_Website__c
https://www.forbesglobalproperties.com/listings/bordeaux-private-mansion-in-the-city-centre
Site_Post_Id__c
342305
ffd_media
a:10:{i:0;s:111:"https://d1qfj231ug7wdu.cloudfront.net/pictures/estate/82266/82265163/2116926778641c5bfc509668.57990811_3600.jpg";i:1;s:111:"https://d1qfj231ug7wdu.cloudfront.net/pictures/estate/82266/82265163/1412788141641c5bf448eab2.78440317_3600.jpg";i:2;s:110:"https://d1qfj231ug7wdu.cloudfront.net/pictures/estate/82266/82265163/592580565641c5c0e8477a3.28157911_3600.jpg";i:3;s:111:"https://d1qfj231ug7wdu.cloudfront.net/pictures/estate/82266/82265163/1094661854641c5c16a3f423.32414324_3600.jpg";i:4;s:111:"https://d1qfj231ug7wdu.cloudfront.net/pictures/estate/82266/82265163/1230602438641c5c389efd42.86945219_3600.jpg";i:5;s:110:"https://d1qfj231ug7wdu.cloudfront.net/pictures/estate/82266/82265163/952303671641c5c40907979.87183931_3600.jpg";i:6;s:110:"https://d1qfj231ug7wdu.cloudfront.net/pictures/estate/82266/82265163/410517573641c5c26a5b9b4.09317989_3600.jpg";i:7;s:110:"https://d1qfj231ug7wdu.cloudfront.net/pictures/estate/82266/82265163/985711369641c5c2f50d563.84923185_3600.jpg";i:8;s:111:"https://d1qfj231ug7wdu.cloudfront.net/pictures/estate/82266/82265163/1209729881641c5be07cd2d7.68179285_3600.jpg";i:9;s:109:"https://d1qfj231ug7wdu.cloudfront.net/pictures/estate/82266/82265163/81977961641c5b12b5ca51.86384025_1974.jpg";}
_thumbnail_id
342306
ffd_featured_image
https://d1qfj231ug7wdu.cloudfront.net/pictures/estate/82266/82265163/2116926778641c5bfc509668.57990811_3600.jpg
agents
a:1:{i:0;s:6:"158386";}
_wp_old_date
2023-04-07
ffd_record_is_deleted
featured_images
342306
listing_images
a:10:{i:0;s:6:"342306";i:1;s:6:"342307";i:2;s:6:"342308";i:3;s:6:"342309";i:4;s:6:"342310";i:5;s:6:"342311";i:6;s:6:"342312";i:7;s:6:"342313";i:8;s:6:"342314";i:9;s:6:"342315";}
api_external_id
82265163
post_member_id
7560
post_agent_id
158386
_sbi_oembed_done_checking
1
no_api_update
1
Bordeaux – Private mansion in the city centre
EUR 1,950,000
(US $2,092,740)
Bordeaux (Caudéran)
Bordeaux, Aquitaine, France
Status: Active
At the entrance of the city centre, discover this noble mansion of 425 sqm composed of thirteen rooms spread over four levels. This historical building dating from the 19th century is looking for a second life.
The building has a sumptuous, delicately sculpted facade and a 200 sqm garden to the rear with a parking area for 2 cars that can be easily extended.
Various possible uses: liberal professions, diplomatic establishments (embassy, consulate, others), offices (start-up, scale-up, others), coworking, coliving or tourism investment and luxury concierge (ex SquareBreak of AccorHotels)…
10 min from the Palais de Justice and the Pellegrin hospital. 20 minutes from Mérignac airport and the Saint Jean TGV station (2 hours from Paris Montparnasse). Near the private tennis club Villa Primrose and 15 minutes from the best golf courses in the city. 8 km from the wine route and 55 km from the ocean.
Properties You Might Also Like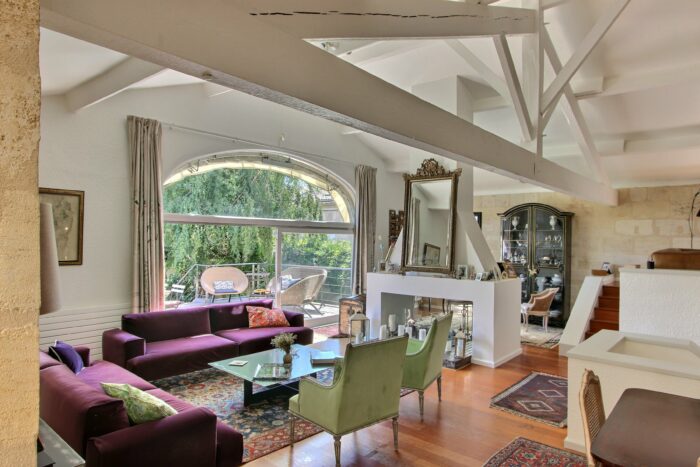 EUR 2,200,000
(US $2,361,040)
Bordeaux, Aquitaine, France
Bordeaux, Parc Bordelais – exceptional architect's house
EUR 2,250,000
(US $2,414,700)
Bordeaux, Aquitaine, France
Bordeaux – Exceptional apartment with panoramic views