ffd_listing_title
Arciform 5 Bed Contemporary Designed Villa: Convey the Feelings of Comfort
ffd_unique_id
ffd_mls_id
ffd_salesforce_id
a0E6g00000BG7hfEAD
ffd_address_pb
Lapta
address
Lapta
baths
7
beds
5
ffd_city_pb
Lapta
ffd_colistingagent_pb
0036g00002NG0kSAAT
ffd_colistingagentemail_pb
ffd_colistingagentmlsid
ffd_colistingagentname
ffd_colistingofficemlsid
ffd_colistingofficename_pb
ffd_country_pb
Cyprus
ffd_createddate
2023-05-12T10:37:12.000+0000
about

This free flowing architecturally designed building adopts arcuate and ogee principles to soften the building's impact and to meld it into the surrounding landscape. The graceful blend of wavy curves conveys feelings of comfort, ease and sensual qualities as they remind us of the human body, giving a pleasing flow and rhythm to the structure. The design conceptualization brings a distinctive intriguing feel to the interior spaces as it gently wraps around the surrounding environment.

With high quality finishes throughout, the property is being sold fully furnished. The 400 sq m build area includes 5 substantial bedrooms, state of the art kitchen, spacious open living areas, 7 bathrooms, sauna, jacuzzi, gym and an elevated large terrace.

The exterior is bounded by stone walls, a private swimming pool, terraced landscaped areas, wide paved access with steel entrance gate and internal parking spaces.

The exterior arcuate design of this villa can only be fully appreciated from the inside.

ffd_displayaddress
floor
ffd_halfbathrooms_pb
ffd_hide_address_on_site
ffd_key_words
Kyrenia
ffd_lastmodifieddate
2023-05-13T06:08:17.000+0000
lat
35.3464955
ffd_listofficemlsid
ffd_listofficename
ffd_listingagent_pb
0036g00002NG0kNAAT
ffd_listing_agent_email
ffd_listing_agent_firstname
ffd_listing_agent_lastname
ffd_listingagentmlsid
ffd_listingagentname
ffd_listing_agent_website
https://bestinvest.com.tr/properties/arciform-5-bed-contemporary-designed-villa-convey-the-feelings-of-comfort-and-ease/
price
2173325
ffd_listingtype
Sale
location
Lapta, Kyrenia, Cyprus
lng
33.1742477
sq_feet
ffd_non_member_paid
ffd_other_currency_amount
1750000
ffd_other_currency_type
GBP
ffd_ownerid
0056g0000088SLxAAM
ffd_pool_pb
ffd_price_upon_request
building_type
Villa
ffd_id
a0E6g00000BG7hfEAD
ffd_totalarea_pb
400
ffd_solddate
ffd_soldprice
ffd_state_pb
Kyrenia
ffd_status
Active
ffd_threequarterbathrooms
ffd_unit_of_measure
Meters
ffd_brokerage_id
0016g00002TdTAIAA3
year_built
ffd_postalcode_pb
pba__WebsiteId__c
360889
pba__Listing_Website__c
https://www.forbesglobalproperties.com/listings/arciform-5-bed-contemporary-designed-villa-convey-the-feelings-of-comfort
Site_Post_Id__c
360889
ffd_media
a:11:{i:0;s:107:"https://s3.amazonaws.com/propertybase-clients/00D6g000007OY6LEAW/a0O6g00000Anazd/ur73c5fzm/01%20%281%29.jpg";i:1;s:107:"https://s3.amazonaws.com/propertybase-clients/00D6g000007OY6LEAW/a0O6g00000Anazd/p5xb6affb/02%20%282%29.jpg";i:2;s:107:"https://s3.amazonaws.com/propertybase-clients/00D6g000007OY6LEAW/a0O6g00000Anazd/mum0ctbwu/03%20%282%29.jpg";i:3;s:107:"https://s3.amazonaws.com/propertybase-clients/00D6g000007OY6LEAW/a0O6g00000Anazd/x6xgrdkvw/04%20%281%29.jpg";i:4;s:107:"https://s3.amazonaws.com/propertybase-clients/00D6g000007OY6LEAW/a0O6g00000Anazd/u2vpw8mf1/05%20%281%29.jpg";i:5;s:107:"https://s3.amazonaws.com/propertybase-clients/00D6g000007OY6LEAW/a0O6g00000Anazd/9n2tjrge2/06%20%282%29.jpg";i:6;s:104:"https://s3.amazonaws.com/propertybase-clients/00D6g000007OY6LEAW/a0O6g00000Anazd/izq731no6/06%281%29.jpg";i:7;s:97:"https://s3.amazonaws.com/propertybase-clients/00D6g000007OY6LEAW/a0O6g00000Anazd/tfi9qnj6b/07.jpg";i:8;s:107:"https://s3.amazonaws.com/propertybase-clients/00D6g000007OY6LEAW/a0O6g00000Anazd/3t97mtixa/08%20%281%29.jpg";i:9;s:107:"https://s3.amazonaws.com/propertybase-clients/00D6g000007OY6LEAW/a0O6g00000Anazd/xiqs2psn9/09%20%281%29.jpg";i:10;s:107:"https://s3.amazonaws.com/propertybase-clients/00D6g000007OY6LEAW/a0O6g00000Anazd/yopyu2u50/10%20%281%29.jpg";}
_thumbnail_id
360890
ffd_featured_image
https://s3.amazonaws.com/propertybase-clients/00D6g000007OY6LEAW/a0O6g00000Anazd/ur73c5fzm/01%20%281%29.jpg
agents
a:2:{i:0;s:6:"358297";i:1;s:6:"358299";}
_wp_old_date
2023-05-13
ffd_record_is_deleted
featured_images
360890
listing_images
a:11:{i:0;s:6:"360890";i:1;s:6:"360891";i:2;s:6:"360892";i:3;s:6:"360893";i:4;s:6:"360894";i:5;s:6:"360895";i:6;s:6:"360896";i:7;s:6:"360897";i:8;s:6:"360898";i:9;s:6:"360899";i:10;s:6:"360900";}
_sbi_oembed_done_checking
1
post_member_id
349228
post_agent_id
358297
post_coagent_id
358299
Arciform 5 Bed Contemporary Designed Villa: Convey the Feelings of Comfort
GBP 1,750,000
(US $2,173,325)
Lapta
Lapta, Kyrenia, Cyprus
Status: Active
This free flowing architecturally designed building adopts arcuate and ogee principles to soften the building's impact and to meld it into the surrounding landscape. The graceful blend of wavy curves conveys feelings of comfort, ease and sensual qualities as they remind us of the human body, giving a pleasing flow and rhythm to the structure. The design conceptualization brings a distinctive intriguing feel to the interior spaces as it gently wraps around the surrounding environment.
With high quality finishes throughout, the property is being sold fully furnished. The 400 sq m build area includes 5 substantial bedrooms, state of the art kitchen, spacious open living areas, 7 bathrooms, sauna, jacuzzi, gym and an elevated large terrace.
The exterior is bounded by stone walls, a private swimming pool, terraced landscaped areas, wide paved access with steel entrance gate and internal parking spaces.
The exterior arcuate design of this villa can only be fully appreciated from the inside.
Properties You Might Also Like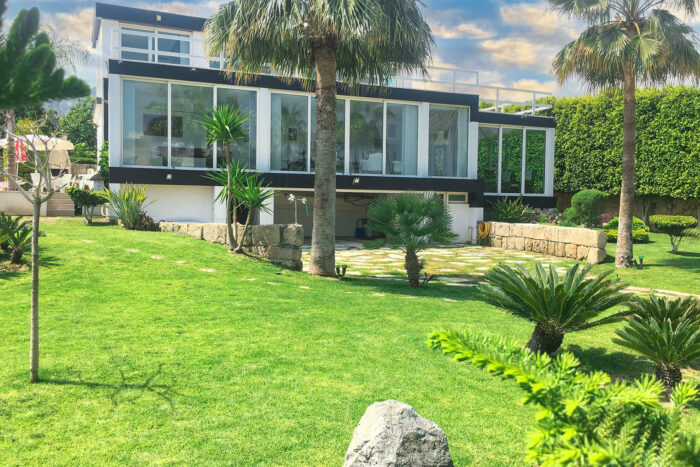 GBP 1,500,000
(US $1,862,850)
Karaoğlanoğlu, Kyrenia, Cyprus
Mature Elegance with Additional Living Accommodation "A Coastline Paradise"
EUR 2,700,000
(US $2,897,640)
A Tranquil Oasis of Coastal Living: Perched on the Mediterranean Rivera