| | |
| --- | --- |
| ffd_listing_title | A Hillside Mid-Century Modern Masterpiece |
| ffd_unique_id | |
| ffd_mls_id | |
| ffd_salesforce_id | a0E6g00000A48A7EAJ |
| ffd_address_pb | 7550 N 21st Place |
| address | 7550 N 21st Place |
| baths | 5 |
| beds | 6 |
| ffd_city_pb | Phoenix |
| ffd_colistingagent_pb | 0036g00001eou46AAA |
| ffd_colistingagentemail_pb | |
| ffd_colistingagentmlsid | |
| ffd_colistingagentname | |
| ffd_colistingofficemlsid | |
| ffd_colistingofficename_pb | |
| ffd_country_pb | United States |
| ffd_createddate | 2023-03-31T21:09:01.000+0000 |
| about | You have never seen a property like this before!! This Mid-Century Modern, Hillside masterpiece was designed by renowned architect Arthur Froehlich. The winding, floating staircase is a piece of art, curving over a reflection pool in the main entry making this property feel like a piece of art. The home is filled with soaring ceilings and windows to capture the skyline views. The property wraps the hillside boasting two large, flat green grass areas carved into the mountain. The pool house is located below the main home and opens to the pool, rock water feature, and patio perfect for entertaining. The primary bedroom is lined by patios and a deck with expansive views. The home is over 7,300 square feet with six bedrooms and five and a half baths. There are three fireplaces inside, one outside, and one in the pool house. Indoor steam and sauna, as well as a below-ground, hand-tiled indoor spa, make this home feel more like a resort than a home. Throughout the property, you will find rare plants and mature trees, including King Palm and Plumeria. There are water features around every corner and walkways around the entire property. Froehlich is best known for his masterfully designed horse race tracks, most notably Hollywood Park Racetrack, Keeneland in Lexington, Kentucky, and Aqueduct Racetrack and Belmont Park, both in New York. His portfolio ranges from Hanna-Barbera animation studio and the Screen Directors Guild in Hollywood, to parking structures, such as one he did for UCLA. |
| ffd_displayaddress | |
| floor | |
| ffd_halfbathrooms_pb | 1 |
| ffd_hide_address_on_site | |
| ffd_key_words | Phoenix |
| ffd_lastmodifieddate | 2023-05-24T20:19:35.000+0000 |
| lat | 33.54732 |
| ffd_listofficemlsid | |
| ffd_listofficename | |
| ffd_listingagent_pb | 0036g00001eouKNAAY |
| ffd_listing_agent_email | |
| ffd_listing_agent_firstname | |
| ffd_listing_agent_lastname | |
| ffd_listingagentmlsid | SA581254000 |
| ffd_listingagentname | |
| ffd_listing_agent_website | https://www.establishaz.com/7550-n-21st-place-copy-copy |
| price | 3900000 |
| ffd_listingtype | Sale |
| location | Phoenix, Arizona, United States |
| lng | -112.03701 |
| sq_feet | |
| ffd_non_member_paid | |
| ffd_other_currency_amount | 3900000 |
| ffd_other_currency_type | USD |
| ffd_ownerid | 0056g000006oiglAAA |
| ffd_pool_pb | |
| ffd_price_upon_request | |
| building_type | Single Family |
| ffd_id | a0E6g00000A48A7EAJ |
| ffd_totalarea_pb | 7316 |
| ffd_solddate | |
| ffd_soldprice | |
| ffd_state_pb | Arizona |
| ffd_status | Active |
| ffd_threequarterbathrooms | |
| ffd_unit_of_measure | Square Feet |
| ffd_brokerage_id | 0016g00001u1SrLAAU |
| year_built | 1981 |
| ffd_postalcode_pb | |
| pba__WebsiteId__c | 340045 |
| pba__Listing_Website__c | https://www.forbesglobalproperties.com/listings/a-hillside-mid-century-modern-masterpiece |
| Site_Post_Id__c | 340045 |
| ffd_media | a:11:{i:0;s:98:"https://s3.amazonaws.com/propertybase-clients/00D6g000007OY6LEAW/a0O6g00000CdYq8/s95hydtr2/001.jpg";i:1;s:98:"https://s3.amazonaws.com/propertybase-clients/00D6g000007OY6LEAW/a0O6g00000CdYq8/elpsstkvj/002.jpg";i:2;s:98:"https://s3.amazonaws.com/propertybase-clients/00D6g000007OY6LEAW/a0O6g00000CdYq8/b02kxawn6/003.jpg";i:3;s:98:"https://s3.amazonaws.com/propertybase-clients/00D6g000007OY6LEAW/a0O6g00000CdYq8/2ggly85yd/004.jpg";i:4;s:98:"https://s3.amazonaws.com/propertybase-clients/00D6g000007OY6LEAW/a0O6g00000CdYq8/b20clghpy/005.jpg";i:5;s:98:"https://s3.amazonaws.com/propertybase-clients/00D6g000007OY6LEAW/a0O6g00000CdYq8/lc5fdu29u/006.jpg";i:6;s:98:"https://s3.amazonaws.com/propertybase-clients/00D6g000007OY6LEAW/a0O6g00000CdYq8/iywehm1ml/007.jpg";i:7;s:98:"https://s3.amazonaws.com/propertybase-clients/00D6g000007OY6LEAW/a0O6g00000CdYq8/10pg9tqno/008.jpg";i:8;s:98:"https://s3.amazonaws.com/propertybase-clients/00D6g000007OY6LEAW/a0O6g00000CdYq8/mgbxzgk05/009.jpg";i:9;s:98:"https://s3.amazonaws.com/propertybase-clients/00D6g000007OY6LEAW/a0O6g00000CdYq8/9vp33tjf6/010.jpg";i:10;s:98:"https://s3.amazonaws.com/propertybase-clients/00D6g000007OY6LEAW/a0O6g00000CdYq8/cx1fgonrv/011.jpg";} |
| _thumbnail_id | 340046 |
| ffd_featured_image | https://s3.amazonaws.com/propertybase-clients/00D6g000007OY6LEAW/a0O6g00000CdYq8/s95hydtr2/001.jpg |
| agents | a:2:{i:0;s:6:"340475";i:1;s:6:"145835";} |
| _wp_old_date | 2023-04-03 |
| ffd_record_is_deleted | |
| featured_images | 340046 |
| listing_images | a:11:{i:0;s:6:"340046";i:1;s:6:"340047";i:2;s:6:"340048";i:3;s:6:"340049";i:4;s:6:"340050";i:5;s:6:"340051";i:6;s:6:"340052";i:7;s:6:"340053";i:8;s:6:"340054";i:9;s:6:"340055";i:10;s:6:"340056";} |
| post_member_id | 143489 |
| post_agent_id | 340475 |
| post_coagent_id | 145835 |
| _sbi_oembed_done_checking | 1 |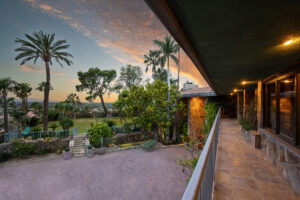 A Hillside Mid-Century Modern Masterpiece
7550 N 21st Place
Phoenix, Arizona, United States
Status: Active
You have never seen a property like this before!! This Mid-Century Modern, Hillside masterpiece was designed by renowned architect Arthur Froehlich. The winding, floating staircase is a piece of art, curving over a reflection pool in the main entry making this property feel like a piece of art. The home is filled with soaring ceilings and windows to capture the skyline views. The property wraps the hillside boasting two large, flat green grass areas carved into the mountain. The pool house is located below the main home and opens to the pool, rock water feature, and patio perfect for entertaining. The primary bedroom is lined by patios and a deck with expansive views.
The home is over 7,300 square feet with six bedrooms and five and a half baths. There are three fireplaces inside, one outside, and one in the pool house. Indoor steam and sauna, as well as a below-ground, hand-tiled indoor spa, make this home feel more like a resort than a home. Throughout the property, you will find rare plants and mature trees, including King Palm and Plumeria. There are water features around every corner and walkways around the entire property.
Froehlich is best known for his masterfully designed horse race tracks, most notably Hollywood Park Racetrack, Keeneland in Lexington, Kentucky, and Aqueduct Racetrack and Belmont Park, both in New York. His portfolio ranges from Hanna-Barbera animation studio and the Screen Directors Guild in Hollywood, to parking structures, such as one he did for UCLA.