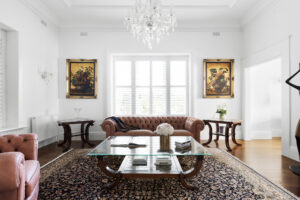 A Beautiful Place. A Beautiful Proposition.
AUD 23,500,000
(US $15,282,634)
9 Ottawa Road, Toorak
Melbourne, Victoria, Australia
Status: Active
To acquire one of the finest holdings in one of the finest courts in of Melbourne is one thing. But to acquire it knowing there is scope to do even more, is something else again. And it makes this home a very tantalising prospect. Every corner of this substantial circa 1500 square metre holding is immaculate. From the recent refurbishment of the delightful four-bedroom 1930s residence which has injected light, space, relaxation, and a sense of pure romance, through to the re-imagining of the sweeping grounds under the direction of celebrated designer Jack Merlo, with lush rolling lawns, magnificent gardens, lovely blossom trees and a delightful pool enclosure and water features. Flanked by some of Toorak's most beautifully curated properties, and with direct access to Toorak's premier boulevard in Albany Road, Number 9 is a home rich in position, provenance and potential, and stands as one of the most enticing homes to be presented to the market this spring.
Properties You Might Also Like
AUD 4,450,000
(US $2,893,946)
Melbourne, Victoria, Australia
A Beautifully Proportioned Toorak Escape
AUD 28,000,000
(US $18,209,096)
Melbourne, Victoria, Australia
Little Milton