ffd_listing_title
8-room family house with fantastic private sun garden
ffd_unique_id
ffd_mls_id
ffd_salesforce_id
a0E6g00000AQjjcEAD
ffd_address_pb
Zürich, Zürich
address
Zürich, Zürich
baths
0
beds
4
ffd_city_pb
Zürich
ffd_colistingagent_pb
ffd_colistingagentemail_pb
ffd_colistingagentmlsid
ffd_colistingagentname
ffd_colistingofficemlsid
ffd_colistingofficename_pb
ffd_country_pb
Switzerland
ffd_createddate
2023-01-13T02:01:04.000+0000
about
On one of the highest south-facing slopes of the city of Zurich, surrounded by meadows and forest, this fantastic family home in Witikon delights with a dreamlike garden, utmost privacy, an infinity pool and almost rural green distant views.
The 8-room house consists of a part built in 1958 – very well maintained with mostly modernized interior – and an extension built in 2014. In the garden floor open on the south side in front of the large living-dining area with fireplace wide panoramic windows to the wonderfully secluded, excellent sunny garden.
On the upper floor, all three large bedrooms open onto a terrace. They have direct access to one of the dignified bathrooms, the parents room also to a dressing room. A granny annexe complements the lush space of about 249 m² of living space.
In the basement you keep yourself healthy and lively in the fitness / wellness area with sauna. The garage holds three cars, 1 Smart and 1 motorcycle.

ffd_displayaddress
floor
ffd_halfbathrooms_pb
0
ffd_hide_address_on_site
1
ffd_key_words
Zürich;Switzerland;Zürich, Zürich;Zürich
ffd_lastmodifieddate
2023-01-30T02:01:23.000+0000
lat
47.3622175
ffd_listofficemlsid
ffd_listofficename
ffd_listingagent_pb
0036g00001yFWc4AAG
ffd_listing_agent_email
ffd_listing_agent_firstname
ffd_listing_agent_lastname
ffd_listingagentmlsid
ffd_listingagentname
ffd_listing_agent_website
https://www.fgp-swissandalps.com/acheter/house-villa/zurich/zurich-8000/family-house-with-a-fantastic-private-garden/
price
6998707
ffd_listingtype
Sale
location
Zürich, Zürich, Switzerland
lng
8.588595
sq_feet
0
ffd_non_member_paid
ffd_other_currency_amount
6500000
ffd_other_currency_type
CHF
ffd_ownerid
0056g000007NjzqAAC
ffd_pool_pb
ffd_price_upon_request
building_type
ffd_id
a0E6g00000AQjjcEAD
ffd_totalarea_pb
249
ffd_solddate
ffd_soldprice
ffd_state_pb
Zürich
ffd_status
Active
ffd_threequarterbathrooms
0
ffd_unit_of_measure
Meters
ffd_brokerage_id
0016g000013kXydAAE
year_built
1958
ffd_postalcode_pb
8000
pba__WebsiteId__c
306958
pba__Listing_Website__c
https://www.forbesglobalproperties.com/listings/8-room-family-house-with-fantastic-private-sun-garden
Site_Post_Id__c
306958
ffd_media
a:11:{i:0;s:127:"https://www.fgp-swissandalps.com/wp-content/uploads/2023/01/8009792-20230117000000-1-208593759663bdee06743954.12382435_1920.jpg";i:1;s:127:"https://www.fgp-swissandalps.com/wp-content/uploads/2023/01/8009792-20230117000000-2-134380982563bdee0b376763.08954145_1920.jpg";i:2;s:126:"https://www.fgp-swissandalps.com/wp-content/uploads/2023/01/8009792-20230117000000-3-71972945463bdee0ef3f926.06509346_1920.jpg";i:3;s:127:"https://www.fgp-swissandalps.com/wp-content/uploads/2023/01/8009792-20230117000000-4-210062990363bdee145cd4d5.47003037_1920.jpg";i:4;s:126:"https://www.fgp-swissandalps.com/wp-content/uploads/2023/01/8009792-20230117000000-5-75302331063bdee199f69c1.77120187_1920.jpg";i:5;s:127:"https://www.fgp-swissandalps.com/wp-content/uploads/2023/01/8009792-20230117000000-6-139224285163bdee1ea55c17.84300008_1920.jpg";i:6;s:127:"https://www.fgp-swissandalps.com/wp-content/uploads/2023/01/8009792-20230117000000-7-204368686563bdee24228f88.27973841_1920.jpg";i:7;s:126:"https://www.fgp-swissandalps.com/wp-content/uploads/2023/01/8009792-20230117000000-8-18288770763bdee295fee42.62436781_1920.jpg";i:8;s:127:"https://www.fgp-swissandalps.com/wp-content/uploads/2023/01/8009792-20230117000000-9-143707868163bdee2e2bda83.43940669_1920.jpg";i:9;s:128:"https://www.fgp-swissandalps.com/wp-content/uploads/2023/01/8009792-20230117000000-10-102965715163bdee3464c890.78577050_1920.jpg";i:10;s:128:"https://www.fgp-swissandalps.com/wp-content/uploads/2023/01/8009792-20230117000000-11-207670488063bdee392b2d93.51902569_1920.jpg";}
_thumbnail_id
307643
ffd_featured_image
https://www.fgp-swissandalps.com/wp-content/uploads/2023/01/8009792-20230117000000-1-208593759663bdee06743954.12382435_1920.jpg
agents
a:1:{i:0;s:6:"218686";}
ffd_record_is_deleted
_wp_old_slug
family-house-with-a-fantastic-private-garden
featured_images
307643
primary_media_0_image
307643
_primary_media_0_image
field_5f988067abcc4
primary_media_0_video
_primary_media_0_video
field_5f98807dabcc5
primary_media_1_image
307644
_primary_media_1_image
field_5f988067abcc4
primary_media_1_video
_primary_media_1_video
field_5f98807dabcc5
primary_media_2_image
307645
_primary_media_2_image
field_5f988067abcc4
primary_media_2_video
_primary_media_2_video
field_5f98807dabcc5
primary_media_3_image
307646
_primary_media_3_image
field_5f988067abcc4
primary_media_3_video
_primary_media_3_video
field_5f98807dabcc5
primary_media_4_image
307647
_primary_media_4_image
field_5f988067abcc4
primary_media_4_video
_primary_media_4_video
field_5f98807dabcc5
primary_media_5_image
307648
_primary_media_5_image
field_5f988067abcc4
primary_media_5_video
_primary_media_5_video
field_5f98807dabcc5
primary_media
6
_primary_media
field_5f98805cabcc3
secondary_media_0_image
307643
_secondary_media_0_image
field_5f988119a39fd
secondary_media_0_video
_secondary_media_0_video
field_5f988119a39fe
secondary_media_1_image
307644
_secondary_media_1_image
field_5f988119a39fd
secondary_media_1_video
_secondary_media_1_video
field_5f988119a39fe
secondary_media_2_image
307645
_secondary_media_2_image
field_5f988119a39fd
secondary_media_2_video
_secondary_media_2_video
field_5f988119a39fe
secondary_media_3_image
307646
_secondary_media_3_image
field_5f988119a39fd
secondary_media_3_video
_secondary_media_3_video
field_5f988119a39fe
secondary_media_4_image
307647
_secondary_media_4_image
field_5f988119a39fd
secondary_media_4_video
_secondary_media_4_video
field_5f988119a39fe
secondary_media_5_image
307648
_secondary_media_5_image
field_5f988119a39fd
secondary_media_5_video
_secondary_media_5_video
field_5f988119a39fe
secondary_media_6_image
307649
_secondary_media_6_image
field_5f988119a39fd
secondary_media_6_video
_secondary_media_6_video
field_5f988119a39fe
secondary_media_7_image
307650
_secondary_media_7_image
field_5f988119a39fd
secondary_media_7_video
_secondary_media_7_video
field_5f988119a39fe
secondary_media_8_image
307651
_secondary_media_8_image
field_5f988119a39fd
secondary_media_8_video
_secondary_media_8_video
field_5f988119a39fe
secondary_media_9_image
307652
_secondary_media_9_image
field_5f988119a39fd
secondary_media_9_video
_secondary_media_9_video
field_5f988119a39fe
secondary_media_10_image
307653
_secondary_media_10_image
field_5f988119a39fd
secondary_media_10_video
_secondary_media_10_video
field_5f988119a39fe
secondary_media
11
_secondary_media
field_5f988119a39fc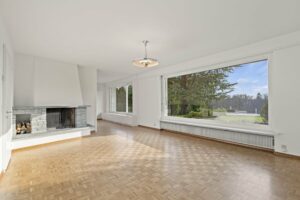 8-room family house with fantastic private sun garden
CHF 6,500,000
(US $6,998,707)
Zürich, Zürich, Switzerland
Status: Active
On one of the highest south-facing slopes of the city of Zurich, surrounded by meadows and forest, this fantastic family home in Witikon delights with a dreamlike garden, utmost privacy, an infinity pool and almost rural green distant views.
The 8-room house consists of a part built in 1958 – very well maintained with mostly modernized interior – and an extension built in 2014. In the garden floor open on the south side in front of the large living-dining area with fireplace wide panoramic windows to the wonderfully secluded, excellent sunny garden.
On the upper floor, all three large bedrooms open onto a terrace. They have direct access to one of the dignified bathrooms, the parents room also to a dressing room. A granny annexe complements the lush space of about 249 m² of living space.
In the basement you keep yourself healthy and lively in the fitness / wellness area with sauna. The garage holds three cars, 1 Smart and 1 motorcycle.

Properties You Might Also Like
CHF 3,640,000
(US $3,660,745)
Zürich, Zürich, Switzerland
Refined and generous habitat: completely renovated corner house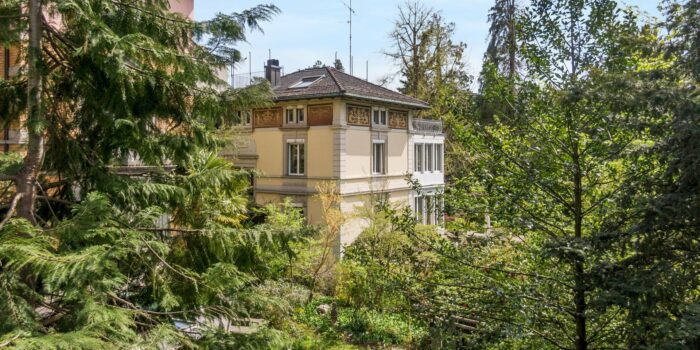 CHF 9,000,000
(US $9,640,144)
Zürich, Zürich, Switzerland
Spacious urban villa in Renaissance style. A real rarity!