| | |
| --- | --- |
| ffd_listing_title | 6 bedroom House in St John's Wood |
| ffd_unique_id | |
| ffd_mls_id | |
| ffd_salesforce_id | a0E6g00000A42UPEAZ |
| ffd_address_pb | Denning Close, St John's Wood, NW8 |
| address | Denning Close, St John's Wood, NW8 |
| baths | 6 |
| beds | 6 |
| ffd_city_pb | Greater London |
| ffd_colistingagent_pb | |
| ffd_colistingagentemail_pb | |
| ffd_colistingagentmlsid | |
| ffd_colistingagentname | |
| ffd_colistingofficemlsid | |
| ffd_colistingofficename_pb | |
| ffd_country_pb | United Kingdom |
| ffd_createddate | 2023-03-10T00:33:12.000+0000 |
| about | Nestled on a private road near Hamilton Terrace, this exceptional low-built residence offers a unique and understated luxury living experience. Except for two retaining walls, the property has been fully rebuilt to the highest standard, resulting in over 5,000 sq. ft. of lateral living space across predominantly three floors. On the ground floor, this home features a contemporary kitchen/breakfast room, spacious living room, formal dining room, family room and a study with lots of natural light provided by skylights and a 30ft atrium. The first floor houses the principal bedroom suite, which boasts a generously sized bedroom, large dressing room and additional hidden panelled wardrobes. The en suite bathroom comes complete with a steam room/shower. Five additional double bedrooms are spread throughout the property, three of which have their own en suite bathrooms. Two further bathrooms are available for shared use. Further benefits include a spa/massage room, two car garage, air conditioning in all bedrooms, wet underfloor heating system, douches in all bathrooms, CCTV wired throughout internal and external, cinema room, professionally managed Lutron and Savant home automation system which allows control of heating, ac, lighting and some of the blinds. There is also a laundry shoot running directly from the first floor to the basement utility room. Denning Close is discreetly located off Hall Road, within walking distance of The American School (approximately 0.5 miles) and St John's Wood High Street (approximately 0.6 miles) with all its fashionable boutique shops, restaurants and nearby to all forms of public transport including St John's Wood Underground station (approximately 0.5 miles/Jubilee Line). |
| ffd_displayaddress | |
| floor | |
| ffd_halfbathrooms_pb | 0 |
| ffd_hide_address_on_site | |
| ffd_key_words | Greater London;United Kingdom;City;Greater London, England;London Borough of Camden England;City Greater London;City London Borough of Camden;London Borough of Camden;UK |
| ffd_lastmodifieddate | 2023-03-24T00:35:37.000+0000 |
| lat | 51.529272 |
| ffd_listofficemlsid | |
| ffd_listofficename | |
| ffd_listingagent_pb | 0036g00002ALrTpAAL |
| ffd_listing_agent_email | |
| ffd_listing_agent_firstname | |
| ffd_listing_agent_lastname | |
| ffd_listingagentmlsid | |
| ffd_listingagentname | |
| ffd_listing_agent_website | https://www.chestertons.co.uk/en-gb/property-to-buy/gb/st+john-s+wood/hea213724 |
| price | 9266486 |
| ffd_listingtype | Sale |
| location | Greater London, England, United Kingdom |
| lng | -0.178141 |
| sq_feet | 0 |
| ffd_non_member_paid | |
| ffd_other_currency_amount | 8750000 |
| ffd_other_currency_type | GBP |
| ffd_ownerid | 0056g000006m3dZAAQ |
| ffd_pool_pb | |
| ffd_price_upon_request | |
| building_type | Townhouse |
| ffd_id | a0E6g00000A42UPEAZ |
| ffd_totalarea_pb | 5032 |
| ffd_solddate | |
| ffd_soldprice | |
| ffd_state_pb | England |
| ffd_status | Active |
| ffd_threequarterbathrooms | 0 |
| ffd_unit_of_measure | Square Feet |
| ffd_brokerage_id | 0016g00002KskJEAAZ |
| year_built | 0 |
| ffd_postalcode_pb | NW8 9PJ |
| pba__WebsiteId__c | 330419 |
| pba__Listing_Website__c | https://www.forbesglobalproperties.com/listings/6-bedroom-house-in-st-johns-wood-2 |
| Site_Post_Id__c | 330419 |
| ffd_media | a:30:{i:0;s:88:"https://images.chestertons.co.uk/assets/r/chips/che/HEA/21/HEA213724_21-JPG-l-1600-0.jpg";i:1;s:88:"https://images.chestertons.co.uk/assets/r/chips/che/HEA/21/HEA213724_51-JPG-l-1600-0.jpg";i:2;s:88:"https://images.chestertons.co.uk/assets/r/chips/che/HEA/21/HEA213724_62-JPG-l-1600-0.jpg";i:3;s:88:"https://images.chestertons.co.uk/assets/r/chips/che/HEA/21/HEA213724_32-JPG-l-1600-0.jpg";i:4;s:88:"https://images.chestertons.co.uk/assets/r/chips/che/HEA/21/HEA213724_34-JPG-l-1600-0.jpg";i:5;s:88:"https://images.chestertons.co.uk/assets/r/chips/che/HEA/21/HEA213724_30-JPG-l-1600-0.jpg";i:6;s:88:"https://images.chestertons.co.uk/assets/r/chips/che/HEA/21/HEA213724_22-JPG-l-1600-0.jpg";i:7;s:88:"https://images.chestertons.co.uk/assets/r/chips/che/HEA/21/HEA213724_19-JPG-l-1600-0.jpg";i:8;s:88:"https://images.chestertons.co.uk/assets/r/chips/che/HEA/21/HEA213724_37-JPG-l-1600-0.jpg";i:9;s:88:"https://images.chestertons.co.uk/assets/r/chips/che/HEA/21/HEA213724_26-JPG-l-1600-0.jpg";i:10;s:88:"https://images.chestertons.co.uk/assets/r/chips/che/HEA/21/HEA213724_29-JPG-l-1600-0.jpg";i:11;s:88:"https://images.chestertons.co.uk/assets/r/chips/che/HEA/21/HEA213724_31-JPG-l-1600-0.jpg";i:12;s:88:"https://images.chestertons.co.uk/assets/r/chips/che/HEA/21/HEA213724_61-JPG-l-1600-0.jpg";i:13;s:88:"https://images.chestertons.co.uk/assets/r/chips/che/HEA/21/HEA213724_33-JPG-l-1600-0.jpg";i:14;s:88:"https://images.chestertons.co.uk/assets/r/chips/che/HEA/21/HEA213724_36-JPG-l-1600-0.jpg";i:15;s:88:"https://images.chestertons.co.uk/assets/r/chips/che/HEA/21/HEA213724_39-JPG-l-1600-0.jpg";i:16;s:88:"https://images.chestertons.co.uk/assets/r/chips/che/HEA/21/HEA213724_43-JPG-l-1600-0.jpg";i:17;s:88:"https://images.chestertons.co.uk/assets/r/chips/che/HEA/21/HEA213724_46-JPG-l-1600-0.jpg";i:18;s:88:"https://images.chestertons.co.uk/assets/r/chips/che/HEA/21/HEA213724_47-JPG-l-1600-0.jpg";i:19;s:88:"https://images.chestertons.co.uk/assets/r/chips/che/HEA/21/HEA213724_49-JPG-l-1600-0.jpg";i:20;s:88:"https://images.chestertons.co.uk/assets/r/chips/che/HEA/21/HEA213724_52-JPG-l-1600-0.jpg";i:21;s:88:"https://images.chestertons.co.uk/assets/r/chips/che/HEA/21/HEA213724_54-JPG-l-1600-0.jpg";i:22;s:88:"https://images.chestertons.co.uk/assets/r/chips/che/HEA/21/HEA213724_55-JPG-l-1600-0.jpg";i:23;s:88:"https://images.chestertons.co.uk/assets/r/chips/che/HEA/21/HEA213724_56-JPG-l-1600-0.jpg";i:24;s:88:"https://images.chestertons.co.uk/assets/r/chips/che/HEA/21/HEA213724_58-JPG-l-1600-0.jpg";i:25;s:88:"https://images.chestertons.co.uk/assets/r/chips/che/HEA/21/HEA213724_59-JPG-l-1600-0.jpg";i:26;s:88:"https://images.chestertons.co.uk/assets/r/chips/che/HEA/21/HEA213724_60-JPG-l-1600-0.jpg";i:27;s:88:"https://images.chestertons.co.uk/assets/r/chips/che/HEA/21/HEA213724_64-JPG-l-1600-0.jpg";i:28;s:88:"https://images.chestertons.co.uk/assets/r/chips/che/HEA/21/HEA213724_18-JPG-l-1600-0.jpg";i:29;s:88:"https://images.chestertons.co.uk/assets/r/chips/che/HEA/21/HEA213724_67-PNG-l-1600-0.jpg";} |
| _thumbnail_id | 330420 |
| ffd_featured_image | https://images.chestertons.co.uk/assets/r/chips/che/HEA/21/HEA213724_21-JPG-l-1600-0.jpg |
| agents | a:1:{i:0;s:6:"313255";} |
| _wp_old_date | 2023-03-11 |
| ffd_record_is_deleted | |
| _wp_old_slug | 6-bedroom-house-in-denning-close |
| featured_images | 330420 |
| primary_media_0_image | 330420 |
| _primary_media_0_image | field_5f988067abcc4 |
| primary_media_0_video | |
| _primary_media_0_video | field_5f98807dabcc5 |
| primary_media_1_image | 330421 |
| _primary_media_1_image | field_5f988067abcc4 |
| primary_media_1_video | |
| _primary_media_1_video | field_5f98807dabcc5 |
| primary_media_2_image | 330422 |
| _primary_media_2_image | field_5f988067abcc4 |
| primary_media_2_video | |
| _primary_media_2_video | field_5f98807dabcc5 |
| primary_media | 3 |
| _primary_media | field_5f98805cabcc3 |
| secondary_media_0_image | 330427 |
| _secondary_media_0_image | field_5f988119a39fd |
| secondary_media_0_video | |
| _secondary_media_0_video | field_5f988119a39fe |
| secondary_media_1_image | 330421 |
| _secondary_media_1_image | field_5f988119a39fd |
| secondary_media_1_video | |
| _secondary_media_1_video | field_5f988119a39fe |
| secondary_media_2_image | 330422 |
| _secondary_media_2_image | field_5f988119a39fd |
| secondary_media_2_video | |
| _secondary_media_2_video | field_5f988119a39fe |
| secondary_media_3_image | 330433 |
| _secondary_media_3_image | field_5f988119a39fd |
| secondary_media_3_video | |
| _secondary_media_3_video | field_5f988119a39fe |
| secondary_media_4_image | 330434 |
| _secondary_media_4_image | field_5f988119a39fd |
| secondary_media_4_video | |
| _secondary_media_4_video | field_5f988119a39fe |
| secondary_media_5_image | 330431 |
| _secondary_media_5_image | field_5f988119a39fd |
| secondary_media_5_video | |
| _secondary_media_5_video | field_5f988119a39fe |
| secondary_media_6_image | 330439 |
| _secondary_media_6_image | field_5f988119a39fd |
| secondary_media_6_video | |
| _secondary_media_6_video | field_5f988119a39fe |
| secondary_media_7_image | 330429 |
| _secondary_media_7_image | field_5f988119a39fd |
| secondary_media_7_video | |
| _secondary_media_7_video | field_5f988119a39fe |
| secondary_media_8_image | 330430 |
| _secondary_media_8_image | field_5f988119a39fd |
| secondary_media_8_video | |
| _secondary_media_8_video | field_5f988119a39fe |
| secondary_media_9_image | 330446 |
| _secondary_media_9_image | field_5f988119a39fd |
| secondary_media_9_video | |
| _secondary_media_9_video | field_5f988119a39fe |
| secondary_media_10_image | 330444 |
| _secondary_media_10_image | field_5f988119a39fd |
| secondary_media_10_video | |
| _secondary_media_10_video | field_5f988119a39fe |
| secondary_media_11_image | 330437 |
| _secondary_media_11_image | field_5f988119a39fd |
| secondary_media_11_video | |
| _secondary_media_11_video | field_5f988119a39fe |
| secondary_media_12_image | 330443 |
| _secondary_media_12_image | field_5f988119a39fd |
| secondary_media_12_video | |
| _secondary_media_12_video | field_5f988119a39fe |
| secondary_media_13_image | 330445 |
| _secondary_media_13_image | field_5f988119a39fd |
| secondary_media_13_video | |
| _secondary_media_13_video | field_5f988119a39fe |
| secondary_media_14_image | 330447 |
| _secondary_media_14_image | field_5f988119a39fd |
| secondary_media_14_video | |
| _secondary_media_14_video | field_5f988119a39fe |
| secondary_media_15_image | 330448 |
| _secondary_media_15_image | field_5f988119a39fd |
| secondary_media_15_video | |
| _secondary_media_15_video | field_5f988119a39fe |
| secondary_media_16_image | 330449 |
| _secondary_media_16_image | field_5f988119a39fd |
| secondary_media_16_video | |
| _secondary_media_16_video | field_5f988119a39fe |
| secondary_media | 17 |
| _secondary_media | field_5f988119a39fc |
6 bedroom House in St John's Wood
GBP 8,750,000
(US $9,266,486)
Denning Close, St John's Wood, NW8
Greater London, England, United Kingdom
Status: Active
Nestled on a private road near Hamilton Terrace, this exceptional low-built residence offers a unique and understated luxury living experience. Except for two retaining walls, the property has been fully rebuilt to the highest standard, resulting in over 5,000 sq. ft. of lateral living space across predominantly three floors. On the ground floor, this home features a contemporary kitchen/breakfast room, spacious living room, formal dining room, family room and a study with lots of natural light provided by skylights and a 30ft atrium. The first floor houses the principal bedroom suite, which boasts a generously sized bedroom, large dressing room and additional hidden panelled wardrobes. The en suite bathroom comes complete with a steam room/shower. Five additional double bedrooms are spread throughout the property, three of which have their own en suite bathrooms. Two further bathrooms are available for shared use. Further benefits include a spa/massage room, two car garage, air conditioning in all bedrooms, wet underfloor heating system, douches in all bathrooms, CCTV wired throughout internal and external, cinema room, professionally managed Lutron and Savant home automation system which allows control of heating, ac, lighting and some of the blinds. There is also a laundry shoot running directly from the first floor to the basement utility room. Denning Close is discreetly located off Hall Road, within walking distance of The American School (approximately 0.5 miles) and St John's Wood High Street (approximately 0.6 miles) with all its fashionable boutique shops, restaurants and nearby to all forms of public transport including St John's Wood Underground station (approximately 0.5 miles/Jubilee Line).
Properties You Might Also Like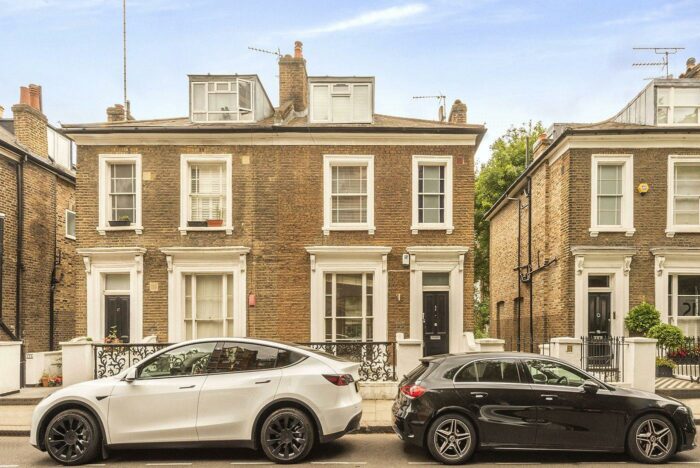 GBP 2,900,000
(US $3,071,178)
Greater London, England, United Kingdom
4 bedroom House in Warwick Avenue
GBP 1,800,000
(US $1,906,249)
Greater London, England, United Kingdom
3 bedroom Flat/Apartment in Warwick Avenue
This unique 6 Bedroom home with 6 Bathrooms is a prime example of the luxury real estate available in Greater London, England. You can visit our England search pages for more luxury real estate choices in Greater London.