| | |
| --- | --- |
| ffd_listing_title | 501 West Ave #2001, Austin, TX |
| ffd_unique_id | |
| ffd_mls_id | |
| ffd_salesforce_id | a0E6g00000BG5LREA1 |
| ffd_address_pb | 501 West Ave #2001 |
| address | 501 West Ave #2001 |
| baths | 3 |
| beds | 3 |
| ffd_city_pb | Austin |
| ffd_colistingagent_pb | 0036g00001xdiftAAA |
| ffd_colistingagentemail_pb | |
| ffd_colistingagentmlsid | |
| ffd_colistingagentname | |
| ffd_colistingofficemlsid | |
| ffd_colistingofficename_pb | |
| ffd_country_pb | United States |
| ffd_createddate | 2023-05-03T05:37:06.000+0000 |
| about | ​LUXURY LIVING IN DOWNTOWN AUSTIN Revel in dramatic floor-to-ceiling views of downtown Austin's skyline and Lady Bird Lake. This residence is one of the most coveted floor plans offered at Fifth and West, but rarely comes available. With three bedrooms and 3 bathrooms plus a study, it's the perfect layout for entertaining. Capitalizing on being located on the Western edge of Downtown and overlooking the Capitol view corridor, this home boasts two terraces, walls of insulated UV filtering glass, and sweeping Eastern views of Downtown Austin's iconic city skyline and Lady Bird Lake. SLEEK DESIGNER FINISHES At the center of the home is a sleek designer kitchen distinguished by a 10-ft quartz island with a waterfall edge and breakfast bar. Custom flat-panel Italian cabinets, luxurious Miele appliances, a low-profile vent hood and large pantry makes this a dream for home chefs. A gracious study welcomes you to the expansive owner's wing. Enjoy a tranquil spa bath while savoring panoramic sunsets in this natural light filled oasis. Dual vanities, frameless glass walk-in shower and two large closets complete your primary bedroom. Designer details such as Italkraft closets, Hansgrohe accessories, Kohler fixtures and wide-plank, white oak hardwood floors are featured throughout. Streamline your life with technology. This home has state-of-the-art features including motorized window shades, USB outlets, pre-wiring for sound, a smart thermostat and keyless entry. A laundry room large enough for a full-size side-by-side washer and dryer and utility sink is no small extravagance. This home comes with two premium parking spots and an urban storage unit. ​A FULL SUITE OF COMMUNITY AMENITIES Conceived by an award-winning architecture and design team, Fifth and West is a low-density luxury community packed with amenities - 24 hour concierge, yoga & fitness studio, guest suites, pool, pet park, conference room and so much more. Live within walking distance of Whole Foods, Book People, the hike and bike trail at Lady Bird Lake and a host of restaurant and nightlife options. You will always have something new and unique to walk to! 24-Hour Advance Showing Notice. |
| ffd_displayaddress | |
| floor | |
| ffd_halfbathrooms_pb | 0 |
| ffd_hide_address_on_site | |
| ffd_key_words | Austin;United States;Austin, TX;USA |
| ffd_lastmodifieddate | 2023-05-28T05:38:23.000+0000 |
| lat | 0.0 |
| ffd_listofficemlsid | |
| ffd_listofficename | |
| ffd_listingagent_pb | 0036g00001xdi6PAAQ |
| ffd_listing_agent_email | |
| ffd_listing_agent_firstname | |
| ffd_listing_agent_lastname | |
| ffd_listingagentmlsid | |
| ffd_listingagentname | |
| ffd_listing_agent_website | https://www.moreland.com |
| price | 2499000 |
| ffd_listingtype | Sale |
| location | Austin, Texas, United States |
| lng | 0.0 |
| sq_feet | 0 |
| ffd_non_member_paid | |
| ffd_other_currency_amount | 2499000 |
| ffd_other_currency_type | USD |
| ffd_ownerid | 0056g000007NElpAAG |
| ffd_pool_pb | |
| ffd_price_upon_request | |
| building_type | Single Family |
| ffd_id | a0E6g00000BG5LREA1 |
| ffd_totalarea_pb | 0 |
| ffd_solddate | |
| ffd_soldprice | |
| ffd_state_pb | Texas |
| ffd_status | Active |
| ffd_threequarterbathrooms | 0 |
| ffd_unit_of_measure | Square Feet |
| ffd_brokerage_id | 0016g00002DnyKUAAZ |
| year_built | 0 |
| ffd_postalcode_pb | 78701 |
| pba__WebsiteId__c | 363440 |
| pba__Listing_Website__c | https://www.forbesglobalproperties.com/listings/501-west-ave-2001-austin-tx |
| Site_Post_Id__c | 363440 |
| ffd_media | a:30:{i:0;s:121:"https://5241e237e8ca89f68ae3-93af0715f0ee41f3c44620e30f2e5f01.ssl.cf1.rackcdn.com/properties/photos/16802140052721143.jpg";i:1;s:121:"https://5241e237e8ca89f68ae3-93af0715f0ee41f3c44620e30f2e5f01.ssl.cf1.rackcdn.com/properties/photos/16802140606160824.jpg";i:2;s:121:"https://5241e237e8ca89f68ae3-93af0715f0ee41f3c44620e30f2e5f01.ssl.cf1.rackcdn.com/properties/photos/16802139998338025.jpg";i:3;s:121:"https://5241e237e8ca89f68ae3-93af0715f0ee41f3c44620e30f2e5f01.ssl.cf1.rackcdn.com/properties/photos/16802140028670833.jpg";i:4;s:121:"https://5241e237e8ca89f68ae3-93af0715f0ee41f3c44620e30f2e5f01.ssl.cf1.rackcdn.com/properties/photos/16802140076836917.jpg";i:5;s:120:"https://5241e237e8ca89f68ae3-93af0715f0ee41f3c44620e30f2e5f01.ssl.cf1.rackcdn.com/properties/photos/1680214009580631.jpg";i:6;s:120:"https://5241e237e8ca89f68ae3-93af0715f0ee41f3c44620e30f2e5f01.ssl.cf1.rackcdn.com/properties/photos/1680214011798666.jpg";i:7;s:121:"https://5241e237e8ca89f68ae3-93af0715f0ee41f3c44620e30f2e5f01.ssl.cf1.rackcdn.com/properties/photos/16802140138385243.jpg";i:8;s:121:"https://5241e237e8ca89f68ae3-93af0715f0ee41f3c44620e30f2e5f01.ssl.cf1.rackcdn.com/properties/photos/16802140159062326.jpg";i:9;s:121:"https://5241e237e8ca89f68ae3-93af0715f0ee41f3c44620e30f2e5f01.ssl.cf1.rackcdn.com/properties/photos/16802140178234513.jpg";i:10;s:121:"https://5241e237e8ca89f68ae3-93af0715f0ee41f3c44620e30f2e5f01.ssl.cf1.rackcdn.com/properties/photos/16802140193399951.jpg";i:11;s:120:"https://5241e237e8ca89f68ae3-93af0715f0ee41f3c44620e30f2e5f01.ssl.cf1.rackcdn.com/properties/photos/1680214020434492.jpg";i:12;s:120:"https://5241e237e8ca89f68ae3-93af0715f0ee41f3c44620e30f2e5f01.ssl.cf1.rackcdn.com/properties/photos/1680214021880042.jpg";i:13;s:121:"https://5241e237e8ca89f68ae3-93af0715f0ee41f3c44620e30f2e5f01.ssl.cf1.rackcdn.com/properties/photos/16802140259921463.jpg";i:14;s:121:"https://5241e237e8ca89f68ae3-93af0715f0ee41f3c44620e30f2e5f01.ssl.cf1.rackcdn.com/properties/photos/16802140277391553.jpg";i:15;s:120:"https://5241e237e8ca89f68ae3-93af0715f0ee41f3c44620e30f2e5f01.ssl.cf1.rackcdn.com/properties/photos/1680214029336124.jpg";i:16;s:121:"https://5241e237e8ca89f68ae3-93af0715f0ee41f3c44620e30f2e5f01.ssl.cf1.rackcdn.com/properties/photos/16802140302581885.jpg";i:17;s:121:"https://5241e237e8ca89f68ae3-93af0715f0ee41f3c44620e30f2e5f01.ssl.cf1.rackcdn.com/properties/photos/16802140321493082.jpg";i:18;s:121:"https://5241e237e8ca89f68ae3-93af0715f0ee41f3c44620e30f2e5f01.ssl.cf1.rackcdn.com/properties/photos/16802140344453084.jpg";i:19;s:121:"https://5241e237e8ca89f68ae3-93af0715f0ee41f3c44620e30f2e5f01.ssl.cf1.rackcdn.com/properties/photos/16802140361346915.jpg";i:20;s:120:"https://5241e237e8ca89f68ae3-93af0715f0ee41f3c44620e30f2e5f01.ssl.cf1.rackcdn.com/properties/photos/1680214038611227.jpg";i:21;s:121:"https://5241e237e8ca89f68ae3-93af0715f0ee41f3c44620e30f2e5f01.ssl.cf1.rackcdn.com/properties/photos/16802140415251129.jpg";i:22;s:121:"https://5241e237e8ca89f68ae3-93af0715f0ee41f3c44620e30f2e5f01.ssl.cf1.rackcdn.com/properties/photos/16802140432472694.jpg";i:23;s:119:"https://5241e237e8ca89f68ae3-93af0715f0ee41f3c44620e30f2e5f01.ssl.cf1.rackcdn.com/properties/photos/168021404482463.jpg";i:24;s:121:"https://5241e237e8ca89f68ae3-93af0715f0ee41f3c44620e30f2e5f01.ssl.cf1.rackcdn.com/properties/photos/16802140465235953.jpg";i:25;s:121:"https://5241e237e8ca89f68ae3-93af0715f0ee41f3c44620e30f2e5f01.ssl.cf1.rackcdn.com/properties/photos/16802140485440035.jpg";i:26;s:120:"https://5241e237e8ca89f68ae3-93af0715f0ee41f3c44620e30f2e5f01.ssl.cf1.rackcdn.com/properties/photos/1680214053555656.jpg";i:27;s:121:"https://5241e237e8ca89f68ae3-93af0715f0ee41f3c44620e30f2e5f01.ssl.cf1.rackcdn.com/properties/photos/16802140564996934.jpg";i:28;s:121:"https://5241e237e8ca89f68ae3-93af0715f0ee41f3c44620e30f2e5f01.ssl.cf1.rackcdn.com/properties/photos/16802140592011197.jpg";i:29;s:121:"https://5241e237e8ca89f68ae3-93af0715f0ee41f3c44620e30f2e5f01.ssl.cf1.rackcdn.com/properties/photos/16802139974333467.jpg";} |
| _thumbnail_id | 362151 |
| ffd_featured_image | https://5241e237e8ca89f68ae3-93af0715f0ee41f3c44620e30f2e5f01.ssl.cf1.rackcdn.com/properties/photos/16802140052721143.jpg |
| agents | a:2:{i:0;s:6:"215704";i:1;s:6:"215669";} |
| _wp_old_date | 2023-05-18 |
| ffd_record_is_deleted | |
| featured_images | 362151 |
| listing_images | a:30:{i:0;s:6:"362151";i:1;s:6:"362150";i:2;s:6:"362153";i:3;s:6:"362154";i:4;s:6:"362155";i:5;s:6:"362156";i:6;s:6:"362157";i:7;s:6:"362158";i:8;s:6:"362159";i:9;s:6:"362160";i:10;s:6:"362161";i:11;s:6:"362162";i:12;s:6:"362163";i:13;s:6:"362164";i:14;s:6:"362165";i:15;s:6:"362166";i:16;s:6:"362167";i:17;s:6:"362168";i:18;s:6:"362169";i:19;s:6:"362170";i:20;s:6:"362171";i:21;s:6:"362172";i:22;s:6:"362145";i:23;s:6:"362144";i:24;s:6:"362173";i:25;s:6:"362146";i:26;s:6:"362147";i:27;s:6:"362148";i:28;s:6:"362149";i:29;s:6:"362152";} |
| api_external_id | 134689057 |
| post_member_id | 215782 |
| post_agent_id | 215704 |
| post_coagent_id | 215669 |
| _sbi_oembed_done_checking | 1 |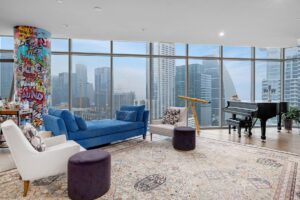 501 West Ave #2001, Austin, TX
501 West Ave #2001
Austin, Texas, United States
Status: Active
​LUXURY LIVING IN DOWNTOWN AUSTIN
Revel in dramatic floor-to-ceiling views of downtown Austin's skyline and Lady Bird Lake. This residence is one of the most coveted floor plans offered at Fifth and West, but rarely comes available. With three bedrooms and 3 bathrooms plus a study, it's the perfect layout for entertaining. Capitalizing on being located on the Western edge of Downtown and overlooking the Capitol view corridor, this home boasts two terraces, walls of insulated UV filtering glass, and sweeping Eastern views of Downtown Austin's iconic city skyline and Lady Bird Lake.
SLEEK DESIGNER FINISHES
At the center of the home is a sleek designer kitchen distinguished by a 10-ft quartz island with a waterfall edge and breakfast bar. Custom flat-panel Italian cabinets, luxurious Miele appliances, a low-profile vent hood and large pantry makes this a dream for home chefs. A gracious study welcomes you to the expansive owner's wing. Enjoy a tranquil spa bath while savoring panoramic sunsets in this natural light filled oasis. Dual vanities, frameless glass walk-in shower and two large closets complete your primary bedroom. Designer details such as Italkraft closets, Hansgrohe accessories, Kohler fixtures and wide-plank, white oak hardwood floors are featured throughout. Streamline your life with technology. This home has state-of-the-art features including motorized window shades, USB outlets, pre-wiring for sound, a smart thermostat and keyless entry. A laundry room large enough for a full-size side-by-side washer and dryer and utility sink is no small extravagance. This home comes with two premium parking spots and an urban storage unit.
​A FULL SUITE OF COMMUNITY AMENITIES
Conceived by an award-winning architecture and design team, Fifth and West is a low-density luxury community packed with amenities – 24 hour concierge, yoga & fitness studio, guest suites, pool, pet park, conference room and so much more. Live within walking distance of Whole Foods, Book People, the hike and bike trail at Lady Bird Lake and a host of restaurant and nightlife options. You will always have something new and unique to walk to! 24-Hour Advance Showing Notice.
Listing Agent
Array