| | |
| --- | --- |
| ffd_listing_title | 5 bedroom house in Stoke Newington |
| ffd_unique_id | |
| ffd_mls_id | |
| ffd_salesforce_id | a0E6g00000BGCNsEAP |
| ffd_address_pb | Stoke Newington Church Street, Stoke Newington, N16 |
| address | Stoke Newington Church Street, Stoke Newington, N16 |
| baths | 4 |
| beds | 5 |
| ffd_city_pb | Greater London |
| ffd_colistingagent_pb | |
| ffd_colistingagentemail_pb | |
| ffd_colistingagentmlsid | |
| ffd_colistingagentname | |
| ffd_colistingofficemlsid | |
| ffd_colistingofficename_pb | |
| ffd_country_pb | United Kingdom |
| ffd_createddate | 2023-05-23T21:47:16.000+0000 |
| about | A truly exceptional opportunity to acquire a unique and substantial, (circa 3,865 sq ft) Georgian, Grade II* listed house, steeped in history, right in the very heart of Stoke Newington, benefitting from a separate one bedroom flat in the basement. Accommodation is rich in character and comprises; a grand entrance hallway, leading to the formal dining area, complete with detailed fireplace and coving, which opens to the kitchen that enjoys serene views across the good sized private garden, accessed via the hallway. The first floor houses the formal drawing room that must be viewed to be appreciated, bathed in natural light courtesy of the three beautiful floor to ceiling windows and featuring ornate coving and fireplace. Accessed off the wonderful grand reception is a delightful study full of character. There is a double bedroom set behind which is currently utilised as another study. The principal bedroom occupies the front of the second floor, with the en-suite bathroom positioned off of it, with an additional bedroom set behind. A further three double bedrooms and a bathroom suite are on the top floor, along with jaw dropping, uninterrupted City views from the rear that must be viewed to be appreciated. There is a self contained one bedroom apartment on the lower level. A remarkable home. The house occupies an imposing position on Stoke Newington Church St, now benefitting more peaceful courtesy of the recently enforced low traffic neighbourhood (LTN) scheme, offering peace in the very heart of Stoke Newington and within close proximity to the greenery and amenities of Clissold Park as well as various highly regarded local schools. Stoke Newington Church Street also provides superb, independent local shopping and a wide range of eateries, as well as Spence bakery, fishmonger, deli, wine shop and Meat N16. |
| ffd_displayaddress | |
| floor | |
| ffd_halfbathrooms_pb | 0 |
| ffd_hide_address_on_site | |
| ffd_key_words | Greater London;United Kingdom;City;Greater London, England;Hackney England;City Greater London;City Hackney;Hackney;UK |
| ffd_lastmodifieddate | 2023-05-28T00:36:28.000+0000 |
| lat | 51.562063 |
| ffd_listofficemlsid | |
| ffd_listofficename | |
| ffd_listingagent_pb | 0036g00002ALrTLAA1 |
| ffd_listing_agent_email | |
| ffd_listing_agent_firstname | |
| ffd_listing_agent_lastname | |
| ffd_listingagentmlsid | |
| ffd_listingagentname | |
| ffd_listing_agent_website | https://www.chestertons.co.uk/en-gb/property-to-buy/gb/street/stoke+newington+church+street+n16/hea135387 |
| price | 6209500 |
| ffd_listingtype | Sale |
| location | Greater London, England, United Kingdom |
| lng | -0.078201 |
| sq_feet | 0 |
| ffd_non_member_paid | |
| ffd_other_currency_amount | 5000000 |
| ffd_other_currency_type | GBP |
| ffd_ownerid | 0056g000006m3dUAAQ |
| ffd_pool_pb | |
| ffd_price_upon_request | |
| building_type | Townhouse |
| ffd_id | a0E6g00000BGCNsEAP |
| ffd_totalarea_pb | 0 |
| ffd_solddate | |
| ffd_soldprice | |
| ffd_state_pb | England |
| ffd_status | Active |
| ffd_threequarterbathrooms | 0 |
| ffd_unit_of_measure | Square Feet |
| ffd_brokerage_id | 0016g00002KskJEAAZ |
| year_built | 0 |
| ffd_postalcode_pb | N16 0AS |
| pba__WebsiteId__c | 366848 |
| pba__Listing_Website__c | https://www.forbesglobalproperties.com/listings/5-bedroom-house-in-stoke-newington |
| Site_Post_Id__c | 366848 |
| ffd_media | a:31:{i:0;s:88:"https://images.chestertons.co.uk/assets/r/chips/che/HEA/13/HEA135387_62-JPG-l-1600-0.jpg";i:1;s:88:"https://images.chestertons.co.uk/assets/r/chips/che/HEA/13/HEA135387_65-JPG-l-1600-0.jpg";i:2;s:88:"https://images.chestertons.co.uk/assets/r/chips/che/HEA/13/HEA135387_27-JPG-l-1600-0.jpg";i:3;s:88:"https://images.chestertons.co.uk/assets/r/chips/che/HEA/13/HEA135387_09-JPG-l-1600-0.jpg";i:4;s:88:"https://images.chestertons.co.uk/assets/r/chips/che/HEA/13/HEA135387_40-JPG-l-1600-0.jpg";i:5;s:88:"https://images.chestertons.co.uk/assets/r/chips/che/HEA/13/HEA135387_64-JPG-l-1600-0.jpg";i:6;s:88:"https://images.chestertons.co.uk/assets/r/chips/che/HEA/13/HEA135387_30-JPG-l-1600-0.jpg";i:7;s:88:"https://images.chestertons.co.uk/assets/r/chips/che/HEA/13/HEA135387_18-JPG-l-1600-0.jpg";i:8;s:88:"https://images.chestertons.co.uk/assets/r/chips/che/HEA/13/HEA135387_26-JPG-p-1600-0.jpg";i:9;s:88:"https://images.chestertons.co.uk/assets/r/chips/che/HEA/13/HEA135387_08-JPG-p-1600-0.jpg";i:10;s:88:"https://images.chestertons.co.uk/assets/r/chips/che/HEA/13/HEA135387_47-JPG-l-1600-0.jpg";i:11;s:88:"https://images.chestertons.co.uk/assets/r/chips/che/HEA/13/HEA135387_41-JPG-l-1600-0.jpg";i:12;s:88:"https://images.chestertons.co.uk/assets/r/chips/che/HEA/13/HEA135387_37-JPG-l-1600-0.jpg";i:13;s:88:"https://images.chestertons.co.uk/assets/r/chips/che/HEA/13/HEA135387_59-JPG-l-1600-0.jpg";i:14;s:88:"https://images.chestertons.co.uk/assets/r/chips/che/HEA/13/HEA135387_53-JPG-l-1600-0.jpg";i:15;s:88:"https://images.chestertons.co.uk/assets/r/chips/che/HEA/13/HEA135387_42-JPG-l-1600-0.jpg";i:16;s:88:"https://images.chestertons.co.uk/assets/r/chips/che/HEA/13/HEA135387_60-JPG-p-1600-0.jpg";i:17;s:88:"https://images.chestertons.co.uk/assets/r/chips/che/HEA/13/HEA135387_50-JPG-l-1600-0.jpg";i:18;s:88:"https://images.chestertons.co.uk/assets/r/chips/che/HEA/13/HEA135387_44-JPG-l-1600-0.jpg";i:19;s:88:"https://images.chestertons.co.uk/assets/r/chips/che/HEA/13/HEA135387_49-JPG-l-1600-0.jpg";i:20;s:88:"https://images.chestertons.co.uk/assets/r/chips/che/HEA/13/HEA135387_56-JPG-p-1600-0.jpg";i:21;s:88:"https://images.chestertons.co.uk/assets/r/chips/che/HEA/13/HEA135387_51-JPG-p-1600-0.jpg";i:22;s:88:"https://images.chestertons.co.uk/assets/r/chips/che/HEA/13/HEA135387_57-JPG-p-1600-0.jpg";i:23;s:88:"https://images.chestertons.co.uk/assets/r/chips/che/HEA/13/HEA135387_22-JPG-l-1600-0.jpg";i:24;s:88:"https://images.chestertons.co.uk/assets/r/chips/che/HEA/13/HEA135387_66-JPG-l-1600-0.jpg";i:25;s:88:"https://images.chestertons.co.uk/assets/r/chips/che/HEA/13/HEA135387_32-JPG-l-1600-0.jpg";i:26;s:88:"https://images.chestertons.co.uk/assets/r/chips/che/HEA/13/HEA135387_46-JPG-l-1600-0.jpg";i:27;s:88:"https://images.chestertons.co.uk/assets/r/chips/che/HEA/13/HEA135387_63-JPG-l-1600-0.jpg";i:28;s:88:"https://images.chestertons.co.uk/assets/r/chips/che/HEA/13/HEA135387_29-JPG-l-1600-0.jpg";i:29;s:88:"https://images.chestertons.co.uk/assets/r/chips/che/HEA/13/HEA135387_39-JPG-l-1600-0.jpg";i:30;s:88:"https://images.chestertons.co.uk/assets/r/chips/che/HEA/13/HEA135387_68-JPG-l-1600-0.jpg";} |
| _thumbnail_id | 366849 |
| ffd_featured_image | https://images.chestertons.co.uk/assets/r/chips/che/HEA/13/HEA135387_62-JPG-l-1600-0.jpg |
| agents | a:2:{i:0;s:6:"313254";i:1;N;} |
| _wp_old_date | 2023-05-24 |
| ffd_record_is_deleted | |
| featured_images | 366849 |
| listing_images | a:31:{i:0;s:6:"366849";i:1;s:6:"366850";i:2;s:6:"366851";i:3;s:6:"366852";i:4;s:6:"366853";i:5;s:6:"366854";i:6;s:6:"366855";i:7;s:6:"366856";i:8;s:6:"367576";i:9;s:6:"366858";i:10;s:6:"366859";i:11;s:6:"366860";i:12;s:6:"366861";i:13;s:6:"366862";i:14;s:6:"366863";i:15;s:6:"366864";i:16;s:6:"366865";i:17;s:6:"366866";i:18;s:6:"367577";i:19;s:6:"367578";i:20;s:6:"367579";i:21;s:6:"366870";i:22;s:6:"366871";i:23;s:6:"367580";i:24;s:6:"366873";i:25;s:6:"367581";i:26;s:6:"367582";i:27;s:6:"367583";i:28;s:6:"367584";i:29;s:6:"367585";i:30;s:6:"366879";} |
| api_external_id | HEA135387 |
| post_member_id | 312441 |
| post_agent_id | 313254 |
| _sbi_oembed_done_checking | 1 |
| postal_code | N16 0AS |
| ffd_unitnumber | |
| county | Hackney |
| neighborhood | |
| listed_date | 2023-05-19 00:00:00.000000 |
| ffd_api_external_id | HEA135387 |
| post_coagent_id | |
| _listing_images | field_642ee01c5d170 |
5 bedroom house in Stoke Newington
GBP 5,000,000
(US $6,209,500)
Stoke Newington Church Street, Stoke Newington, N16
Greater London, England, N16 0AS, United Kingdom
Status: Active
A truly exceptional opportunity to acquire a unique and substantial, (circa 3,865 sq ft) Georgian, Grade II* listed house, steeped in history, right in the very heart of Stoke Newington, benefitting from a separate one bedroom flat in the basement. Accommodation is rich in character and comprises; a grand entrance hallway, leading to the formal dining area, complete with detailed fireplace and coving, which opens to the kitchen that enjoys serene views across the good sized private garden, accessed via the hallway. The first floor houses the formal drawing room that must be viewed to be appreciated, bathed in natural light courtesy of the three beautiful floor to ceiling windows and featuring ornate coving and fireplace. Accessed off the wonderful grand reception is a delightful study full of character. There is a double bedroom set behind which is currently utilised as another study. The principal bedroom occupies the front of the second floor, with the en-suite bathroom positioned off of it, with an additional bedroom set behind. A further three double bedrooms and a bathroom suite are on the top floor, along with jaw dropping, uninterrupted City views from the rear that must be viewed to be appreciated. There is a self contained one bedroom apartment on the lower level. A remarkable home. The house occupies an imposing position on Stoke Newington Church St, now benefitting more peaceful courtesy of the recently enforced low traffic neighbourhood (LTN) scheme, offering peace in the very heart of Stoke Newington and within close proximity to the greenery and amenities of Clissold Park as well as various highly regarded local schools. Stoke Newington Church Street also provides superb, independent local shopping and a wide range of eateries, as well as Spence bakery, fishmonger, deli, wine shop and Meat N16.
Properties You Might Also Like
GBP 2,495,000
(US $3,098,541)
Greater London, England, United Kingdom
5 bedroom House in Clissold Crescent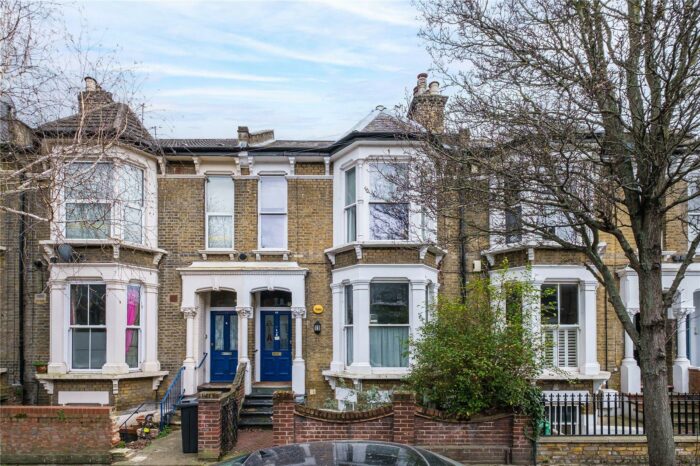 GBP 1,650,000
(US $2,049,135)
Greater London, England, United Kingdom
5 bedroom house in Stoke Newington Central
This unique 5 Bedroom home with 4 Bathrooms is a prime example of the luxury real estate available in Greater London, England. You can visit our England search pages for more luxury real estate choices in Greater London.