| | |
| --- | --- |
| ffd_listing_title | 5 bedroom House in Stamford Brook |
| ffd_unique_id | |
| ffd_mls_id | |
| ffd_salesforce_id | a0E6g00000A3wJeEAJ |
| ffd_address_pb | Chiswick High Road, Stamford Brook, W4 |
| address | Chiswick High Road, Stamford Brook, W4 |
| baths | 3 |
| beds | 5 |
| ffd_city_pb | Greater London |
| ffd_colistingagent_pb | |
| ffd_colistingagentemail_pb | |
| ffd_colistingagentmlsid | |
| ffd_colistingagentname | |
| ffd_colistingofficemlsid | |
| ffd_colistingofficename_pb | |
| ffd_country_pb | United Kingdom |
| ffd_createddate | 2023-02-11T10:54:26.000+0000 |
| about | An exquisite sympathetically restored and refurbished Grade II listed townhouse, featuring a 40' south facing rear garden. Built in 1838, the property is a rare example in London of Late Regency architecture and retains many original features. Originally part of the John Blore designed William Terrace, a terrace of ten townhouses with white neoclassical mouldings, the house is centrally located close to the amenities of Chiswick High Road and Kings Street and is moments from Stamford Brook Station, The River and St Peters Square. The accommodation comprises a 25'6 kitchen/breakfast room which opens onto a modern glass conservatory/sunroom, a full-width drawing room with 2.9m ceilings and double french doors with original shutters leading onto a balcony, a luxurious master bedroom suite across the entire second floor, three further bedrooms, family bathroom and cloakroom on the upper floors and an open aspect beautifully landscaped south facing garden. On the lower ground floor, there is a spacious double bedroom with a small patio, bathroom, 16'9 reception room and two vaults. The lower ground floor can be accessed independently, which offers flexibility of use. Offered to the market with no onward chain. |
| ffd_displayaddress | |
| floor | |
| ffd_halfbathrooms_pb | 0 |
| ffd_hide_address_on_site | |
| ffd_key_words | Greater London;United Kingdom;City;Greater London, England;Hounslow England;City Greater London;City Hounslow;Hounslow;Stamford Brook Greater London;UK |
| ffd_lastmodifieddate | 2023-03-24T00:27:23.000+0000 |
| lat | 51.493054 |
| ffd_listofficemlsid | |
| ffd_listofficename | |
| ffd_listingagent_pb | 0036g00002AM6pmAAD |
| ffd_listing_agent_email | |
| ffd_listing_agent_firstname | |
| ffd_listing_agent_lastname | |
| ffd_listingagentmlsid | |
| ffd_listingagentname | |
| ffd_listing_agent_website | https://www.chestertons.co.uk/en-gb/property-to-buy/gb/street/chiswick+high+road+w4/chk210072 |
| price | 2382811 |
| ffd_listingtype | Sale |
| location | Greater London, England, United Kingdom |
| lng | -0.246847 |
| sq_feet | 0 |
| ffd_non_member_paid | |
| ffd_other_currency_amount | 2250000 |
| ffd_other_currency_type | GBP |
| ffd_ownerid | 0056g000006m29xAAA |
| ffd_pool_pb | |
| ffd_price_upon_request | |
| building_type | Townhouse |
| ffd_id | a0E6g00000A3wJeEAJ |
| ffd_totalarea_pb | 0 |
| ffd_solddate | |
| ffd_soldprice | |
| ffd_state_pb | England |
| ffd_status | Active |
| ffd_threequarterbathrooms | 0 |
| ffd_unit_of_measure | Square Feet |
| ffd_brokerage_id | 0016g00002KskJEAAZ |
| year_built | 0 |
| ffd_postalcode_pb | W4 2ND |
| pba__WebsiteId__c | 315249 |
| pba__Listing_Website__c | https://www.forbesglobalproperties.com/listings/5-bedroom-house-in-stamford-brook |
| Site_Post_Id__c | 315249 |
| ffd_media | a:21:{i:0;s:88:"https://images.chestertons.co.uk/assets/r/chips/che/CHK/21/CHK210072_25-JPG-l-1600-0.jpg";i:1;s:88:"https://images.chestertons.co.uk/assets/r/chips/che/CHK/21/CHK210072_31-JPG-l-1600-0.jpg";i:2;s:88:"https://images.chestertons.co.uk/assets/r/chips/che/CHK/21/CHK210072_14-JPG-l-1600-0.jpg";i:3;s:88:"https://images.chestertons.co.uk/assets/r/chips/che/CHK/21/CHK210072_22-JPG-l-1600-0.jpg";i:4;s:88:"https://images.chestertons.co.uk/assets/r/chips/che/CHK/21/CHK210072_11-JPG-l-1600-0.jpg";i:5;s:88:"https://images.chestertons.co.uk/assets/r/chips/che/CHK/21/CHK210072_23-JPG-l-1600-0.jpg";i:6;s:88:"https://images.chestertons.co.uk/assets/r/chips/che/CHK/21/CHK210072_07-JPG-l-1600-0.jpg";i:7;s:88:"https://images.chestertons.co.uk/assets/r/chips/che/CHK/21/CHK210072_08-JPG-l-1600-0.jpg";i:8;s:88:"https://images.chestertons.co.uk/assets/r/chips/che/CHK/21/CHK210072_02-JPG-l-1600-0.jpg";i:9;s:88:"https://images.chestertons.co.uk/assets/r/chips/che/CHK/21/CHK210072_03-JPG-l-1600-0.jpg";i:10;s:88:"https://images.chestertons.co.uk/assets/r/chips/che/CHK/21/CHK210072_04-JPG-l-1600-0.jpg";i:11;s:88:"https://images.chestertons.co.uk/assets/r/chips/che/CHK/21/CHK210072_09-JPG-l-1600-0.jpg";i:12;s:88:"https://images.chestertons.co.uk/assets/r/chips/che/CHK/21/CHK210072_16-JPG-l-1600-0.jpg";i:13;s:88:"https://images.chestertons.co.uk/assets/r/chips/che/CHK/21/CHK210072_17-JPG-l-1600-0.jpg";i:14;s:88:"https://images.chestertons.co.uk/assets/r/chips/che/CHK/21/CHK210072_21-JPG-l-1600-0.jpg";i:15;s:88:"https://images.chestertons.co.uk/assets/r/chips/che/CHK/21/CHK210072_26-JPG-l-1600-0.jpg";i:16;s:88:"https://images.chestertons.co.uk/assets/r/chips/che/CHK/21/CHK210072_28-JPG-l-1600-0.jpg";i:17;s:88:"https://images.chestertons.co.uk/assets/r/chips/che/CHK/21/CHK210072_29-JPG-l-1600-0.jpg";i:18;s:88:"https://images.chestertons.co.uk/assets/r/chips/che/CHK/21/CHK210072_01-PNG-l-1600-0.jpg";i:19;s:88:"https://images.chestertons.co.uk/assets/r/chips/che/CHK/21/CHK210072_30-JPG-p-1600-0.jpg";i:20;s:88:"https://images.chestertons.co.uk/assets/r/chips/che/CHK/21/CHK210072_34-JPG-l-1600-0.jpg";} |
| _thumbnail_id | 315252 |
| ffd_featured_image | https://images.chestertons.co.uk/assets/r/chips/che/CHK/21/CHK210072_25-JPG-l-1600-0.jpg |
| agents | a:1:{i:0;s:6:"315693";} |
| _wp_old_date | 2023-02-14 |
| ffd_record_is_deleted | |
| _wp_old_slug | 5-bedroom-house-in-chiswick-high-road |
| featured_images | 315252 |
| primary_media_0_image | 315252 |
| _primary_media_0_image | field_5f988067abcc4 |
| primary_media_0_video | |
| _primary_media_0_video | field_5f98807dabcc5 |
| primary_media_1_image | 315251 |
| _primary_media_1_image | field_5f988067abcc4 |
| primary_media_1_video | |
| _primary_media_1_video | field_5f98807dabcc5 |
| primary_media_2_image | 315250 |
| _primary_media_2_image | field_5f988067abcc4 |
| primary_media_2_video | |
| _primary_media_2_video | field_5f98807dabcc5 |
| primary_media | 3 |
| _primary_media | field_5f98805cabcc3 |
| secondary_media_0_image | 315252 |
| _secondary_media_0_image | field_5f988119a39fd |
| secondary_media_0_video | |
| _secondary_media_0_video | field_5f988119a39fe |
| secondary_media_1_image | 315251 |
| _secondary_media_1_image | field_5f988119a39fd |
| secondary_media_1_video | |
| _secondary_media_1_video | field_5f988119a39fe |
| secondary_media_2_image | 315250 |
| _secondary_media_2_image | field_5f988119a39fd |
| secondary_media_2_video | |
| _secondary_media_2_video | field_5f988119a39fe |
| secondary_media_3_image | 315253 |
| _secondary_media_3_image | field_5f988119a39fd |
| secondary_media_3_video | |
| _secondary_media_3_video | field_5f988119a39fe |
| secondary_media_4_image | 315254 |
| _secondary_media_4_image | field_5f988119a39fd |
| secondary_media_4_video | |
| _secondary_media_4_video | field_5f988119a39fe |
| secondary_media_5_image | 315255 |
| _secondary_media_5_image | field_5f988119a39fd |
| secondary_media_5_video | |
| _secondary_media_5_video | field_5f988119a39fe |
| secondary_media_6_image | 315256 |
| _secondary_media_6_image | field_5f988119a39fd |
| secondary_media_6_video | |
| _secondary_media_6_video | field_5f988119a39fe |
| secondary_media_7_image | 315257 |
| _secondary_media_7_image | field_5f988119a39fd |
| secondary_media_7_video | |
| _secondary_media_7_video | field_5f988119a39fe |
| secondary_media_8_image | 315258 |
| _secondary_media_8_image | field_5f988119a39fd |
| secondary_media_8_video | |
| _secondary_media_8_video | field_5f988119a39fe |
| secondary_media_9_image | 315259 |
| _secondary_media_9_image | field_5f988119a39fd |
| secondary_media_9_video | |
| _secondary_media_9_video | field_5f988119a39fe |
| secondary_media_10_image | 315260 |
| _secondary_media_10_image | field_5f988119a39fd |
| secondary_media_10_video | |
| _secondary_media_10_video | field_5f988119a39fe |
| secondary_media_11_image | 315261 |
| _secondary_media_11_image | field_5f988119a39fd |
| secondary_media_11_video | |
| _secondary_media_11_video | field_5f988119a39fe |
| secondary_media_12_image | 315262 |
| _secondary_media_12_image | field_5f988119a39fd |
| secondary_media_12_video | |
| _secondary_media_12_video | field_5f988119a39fe |
| secondary_media_13_image | 315263 |
| _secondary_media_13_image | field_5f988119a39fd |
| secondary_media_13_video | |
| _secondary_media_13_video | field_5f988119a39fe |
| secondary_media_14_image | 315264 |
| _secondary_media_14_image | field_5f988119a39fd |
| secondary_media_14_video | |
| _secondary_media_14_video | field_5f988119a39fe |
| secondary_media_15_image | 315265 |
| _secondary_media_15_image | field_5f988119a39fd |
| secondary_media_15_video | |
| _secondary_media_15_video | field_5f988119a39fe |
| secondary_media_16_image | 315266 |
| _secondary_media_16_image | field_5f988119a39fd |
| secondary_media_16_video | |
| _secondary_media_16_video | field_5f988119a39fe |
| secondary_media_17_image | 315267 |
| _secondary_media_17_image | field_5f988119a39fd |
| secondary_media_17_video | |
| _secondary_media_17_video | field_5f988119a39fe |
| secondary_media_18_image | 315268 |
| _secondary_media_18_image | field_5f988119a39fd |
| secondary_media_18_video | |
| _secondary_media_18_video | field_5f988119a39fe |
| secondary_media_19_image | 315269 |
| _secondary_media_19_image | field_5f988119a39fd |
| secondary_media_19_video | |
| _secondary_media_19_video | field_5f988119a39fe |
| secondary_media_20_image | 315270 |
| _secondary_media_20_image | field_5f988119a39fd |
| secondary_media_20_video | |
| _secondary_media_20_video | field_5f988119a39fe |
| secondary_media | 21 |
| _secondary_media | field_5f988119a39fc |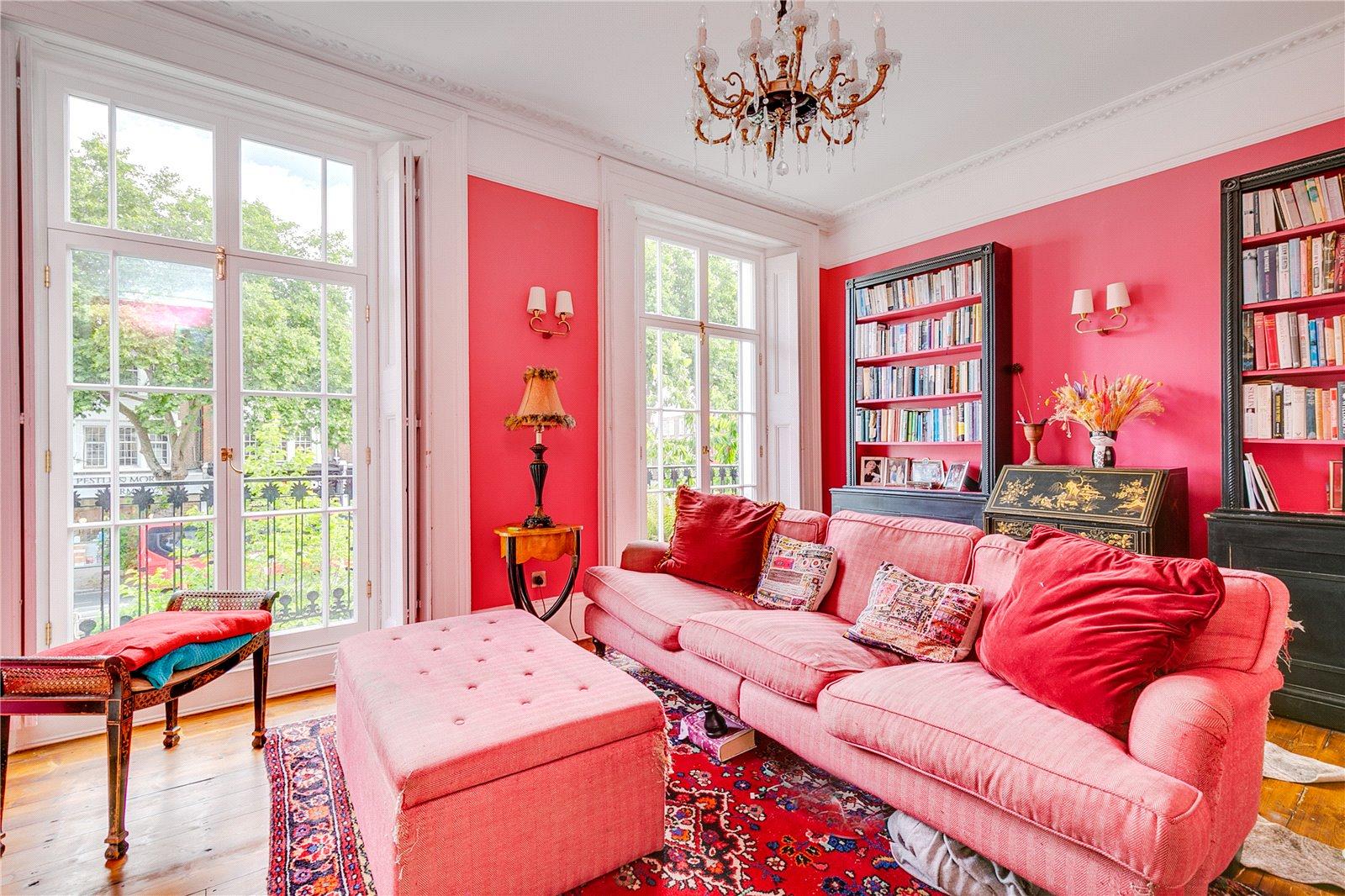 5 bedroom House in Stamford Brook
GBP 2,250,000
(US $2,382,811)
Chiswick High Road, Stamford Brook, W4
Greater London, England, United Kingdom
Status: Active
An exquisite sympathetically restored and refurbished Grade II listed townhouse, featuring a 40' south facing rear garden. Built in 1838, the property is a rare example in London of Late Regency architecture and retains many original features. Originally part of the John Blore designed William Terrace, a terrace of ten townhouses with white neoclassical mouldings, the house is centrally located close to the amenities of Chiswick High Road and Kings Street and is moments from Stamford Brook Station, The River and St Peters Square. The accommodation comprises a 25'6 kitchen/breakfast room which opens onto a modern glass conservatory/sunroom, a full-width drawing room with 2.9m ceilings and double french doors with original shutters leading onto a balcony, a luxurious master bedroom suite across the entire second floor, three further bedrooms, family bathroom and cloakroom on the upper floors and an open aspect beautifully landscaped south facing garden. On the lower ground floor, there is a spacious double bedroom with a small patio, bathroom, 16'9 reception room and two vaults. The lower ground floor can be accessed independently, which offers flexibility of use. Offered to the market with no onward chain.
Properties You Might Also Like
GBP 4,500,000
(US $4,765,621)
Greater London, England, United Kingdom
5 bedroom House in Bedford Park
GBP 1,900,000
(US $2,012,151)
Greater London, England, United Kingdom
4 bedroom House near Ravenscourt Park
This unique 5 Bedroom home with 3 Bathrooms is a prime example of the luxury real estate available in Greater London, England. You can visit our England search pages for more luxury real estate choices in Greater London.