| | |
| --- | --- |
| ffd_listing_title | 5 bedroom House in Munster Village |
| ffd_unique_id | |
| ffd_mls_id | |
| ffd_salesforce_id | a0E6g00000A3wyMEAR |
| ffd_address_pb | Bishops Road, Fulham, SW6 |
| address | Bishops Road, Fulham, SW6 |
| baths | 3 |
| beds | 5 |
| ffd_city_pb | Greater London |
| ffd_colistingagent_pb | |
| ffd_colistingagentemail_pb | |
| ffd_colistingagentmlsid | |
| ffd_colistingagentname | |
| ffd_colistingofficemlsid | |
| ffd_colistingofficename_pb | |
| ffd_country_pb | United Kingdom |
| ffd_createddate | 2023-02-15T08:50:33.000+0000 |
| about | A lovely 5 bedroom period terraced house in good decorative order throughout benefiting from a cellar and a larger than average private garden along with being on the optimum part of the street. The accommodation enjoys a lovely double reception room leading neatly through to the side extended kitchen/dining room which opens on to the particularly private garden via full width bi-folding doors. Furthermore on the ground floor is access to a useful Cellar. On the first floor are three double bedrooms and a bathroom with the principal bedroom opening on to a front facing wrought-ironed balcony. Finally on the top floor are two further bedrooms and two bathrooms, one being en-suite. The location of the property allows momentary access to all the shops, bars, boutiques and restaurants lining the Fulham Road with Parsons Green station being the nearest underground. |
| ffd_displayaddress | |
| floor | |
| ffd_halfbathrooms_pb | 0 |
| ffd_hide_address_on_site | |
| ffd_key_words | Greater London;United Kingdom;City;Greater London, England;Hammersmith and Fulham England;City Greater London;City Hammersmith and Fulham;Hammersmith and Fulham;Munster Village Greater London;UK |
| ffd_lastmodifieddate | 2023-03-23T00:03:34.000+0000 |
| lat | 51.477554 |
| ffd_listofficemlsid | |
| ffd_listofficename | |
| ffd_listingagent_pb | 0036g00002ALqo8AAD |
| ffd_listing_agent_email | |
| ffd_listing_agent_firstname | |
| ffd_listing_agent_lastname | |
| ffd_listingagentmlsid | |
| ffd_listingagentname | |
| ffd_listing_agent_website | https://www.chestertons.co.uk/en-gb/property-to-buy/gb/fulham/ful220334 |
| price | 1800346 |
| ffd_listingtype | Sale |
| location | Greater London, England, United Kingdom |
| lng | -0.209005 |
| sq_feet | 0 |
| ffd_non_member_paid | |
| ffd_other_currency_amount | 1700000 |
| ffd_other_currency_type | GBP |
| ffd_ownerid | 0056g000006m3aGAAQ |
| ffd_pool_pb | |
| ffd_price_upon_request | |
| building_type | Townhouse |
| ffd_id | a0E6g00000A3wyMEAR |
| ffd_totalarea_pb | 0 |
| ffd_solddate | |
| ffd_soldprice | |
| ffd_state_pb | England |
| ffd_status | Under Contract |
| ffd_threequarterbathrooms | 0 |
| ffd_unit_of_measure | Square Feet |
| ffd_brokerage_id | 0016g00002KskJEAAZ |
| year_built | 0 |
| ffd_postalcode_pb | SW6 7JG |
| pba__WebsiteId__c | 317608 |
| pba__Listing_Website__c | https://www.forbesglobalproperties.com/listings/5-bedroom-house-in-munster-village |
| Site_Post_Id__c | 317608 |
| ffd_media | a:13:{i:0;s:88:"https://images.chestertons.co.uk/assets/r/chips/che/FUL/22/FUL220334_10-JPG-l-1600-0.jpg";i:1;s:88:"https://images.chestertons.co.uk/assets/r/chips/che/FUL/22/FUL220334_13-JPG-l-1600-0.jpg";i:2;s:88:"https://images.chestertons.co.uk/assets/r/chips/che/FUL/22/FUL220334_18-JPG-l-1600-0.jpg";i:3;s:88:"https://images.chestertons.co.uk/assets/r/chips/che/FUL/22/FUL220334_15-JPG-l-1600-0.jpg";i:4;s:88:"https://images.chestertons.co.uk/assets/r/chips/che/FUL/22/FUL220334_08-JPG-l-1600-0.jpg";i:5;s:88:"https://images.chestertons.co.uk/assets/r/chips/che/FUL/22/FUL220334_02-JPG-l-1600-0.jpg";i:6;s:88:"https://images.chestertons.co.uk/assets/r/chips/che/FUL/22/FUL220334_04-JPG-l-1600-0.jpg";i:7;s:88:"https://images.chestertons.co.uk/assets/r/chips/che/FUL/22/FUL220334_07-JPG-l-1600-0.jpg";i:8;s:88:"https://images.chestertons.co.uk/assets/r/chips/che/FUL/22/FUL220334_09-JPG-l-1600-0.jpg";i:9;s:88:"https://images.chestertons.co.uk/assets/r/chips/che/FUL/22/FUL220334_14-JPG-l-1600-0.jpg";i:10;s:88:"https://images.chestertons.co.uk/assets/r/chips/che/FUL/22/FUL220334_17-JPG-l-1600-0.jpg";i:11;s:88:"https://images.chestertons.co.uk/assets/r/chips/che/FUL/22/FUL220334_19-JPG-p-1600-0.jpg";i:12;s:88:"https://images.chestertons.co.uk/assets/r/chips/che/FUL/22/FUL220334_20-PNG-l-1600-0.jpg";} |
| _thumbnail_id | 317609 |
| ffd_featured_image | https://images.chestertons.co.uk/assets/r/chips/che/FUL/22/FUL220334_10-JPG-l-1600-0.jpg |
| agents | a:1:{i:0;s:6:"313233";} |
| _wp_old_date | 2023-02-16 |
| ffd_record_is_deleted | |
| _wp_old_slug | 5-bedroom-house-in-bishops-road |
| featured_images | 317609 |
| primary_media_0_image | 317609 |
| _primary_media_0_image | field_5f988067abcc4 |
| primary_media_0_video | |
| _primary_media_0_video | field_5f98807dabcc5 |
| primary_media_1_image | 317610 |
| _primary_media_1_image | field_5f988067abcc4 |
| primary_media_1_video | |
| _primary_media_1_video | field_5f98807dabcc5 |
| primary_media_2_image | 317611 |
| _primary_media_2_image | field_5f988067abcc4 |
| primary_media_2_video | |
| _primary_media_2_video | field_5f98807dabcc5 |
| primary_media | 3 |
| _primary_media | field_5f98805cabcc3 |
| secondary_media_0_image | 317609 |
| _secondary_media_0_image | field_5f988119a39fd |
| secondary_media_0_video | |
| _secondary_media_0_video | field_5f988119a39fe |
| secondary_media_1_image | 317618 |
| _secondary_media_1_image | field_5f988119a39fd |
| secondary_media_1_video | |
| _secondary_media_1_video | field_5f988119a39fe |
| secondary_media_2_image | 317611 |
| _secondary_media_2_image | field_5f988119a39fd |
| secondary_media_2_video | |
| _secondary_media_2_video | field_5f988119a39fe |
| secondary_media_3_image | 317619 |
| _secondary_media_3_image | field_5f988119a39fd |
| secondary_media_3_video | |
| _secondary_media_3_video | field_5f988119a39fe |
| secondary_media_4_image | 317616 |
| _secondary_media_4_image | field_5f988119a39fd |
| secondary_media_4_video | |
| _secondary_media_4_video | field_5f988119a39fe |
| secondary_media_5_image | 317614 |
| _secondary_media_5_image | field_5f988119a39fd |
| secondary_media_5_video | |
| _secondary_media_5_video | field_5f988119a39fe |
| secondary_media_6_image | 317617 |
| _secondary_media_6_image | field_5f988119a39fd |
| secondary_media_6_video | |
| _secondary_media_6_video | field_5f988119a39fe |
| secondary_media_7_image | 317620 |
| _secondary_media_7_image | field_5f988119a39fd |
| secondary_media_7_video | |
| _secondary_media_7_video | field_5f988119a39fe |
| secondary_media_8_image | 317621 |
| _secondary_media_8_image | field_5f988119a39fd |
| secondary_media_8_video | |
| _secondary_media_8_video | field_5f988119a39fe |
| secondary_media | 9 |
| _secondary_media | field_5f988119a39fc |
5 bedroom House in Munster Village
GBP 1,700,000
(US $1,800,346)
Bishops Road, Fulham, SW6
Greater London, England, United Kingdom
Status: Under Contract
A lovely 5 bedroom period terraced house in good decorative order throughout benefiting from a cellar and a larger than average private garden along with being on the optimum part of the street. The accommodation enjoys a lovely double reception room leading neatly through to the side extended kitchen/dining room which opens on to the particularly private garden via full width bi-folding doors. Furthermore on the ground floor is access to a useful Cellar. On the first floor are three double bedrooms and a bathroom with the principal bedroom opening on to a front facing wrought-ironed balcony. Finally on the top floor are two further bedrooms and two bathrooms, one being en-suite. The location of the property allows momentary access to all the shops, bars, boutiques and restaurants lining the Fulham Road with Parsons Green station being the nearest underground.
Properties You Might Also Like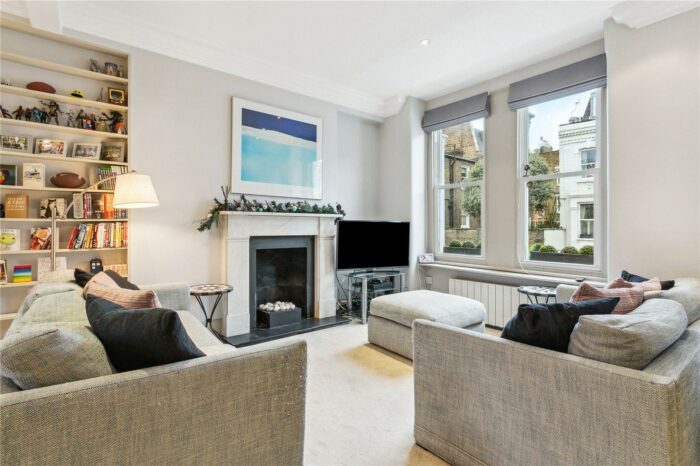 GBP 1,650,000
(US $1,985,882)
Greater London, England, United Kingdom
4 bedroom House in Kilmaine Road
GBP 3,150,000
(US $3,335,935)
Greater London, England, United Kingdom
7 bedroom House in Parsons Green
This unique 5 Bedroom home with 3 Bathrooms is a prime example of the luxury real estate available in Greater London, England. You can visit our England search pages for more luxury real estate choices in Greater London.