| | |
| --- | --- |
| ffd_listing_title | 5 bedroom house in Highbury |
| ffd_unique_id | |
| ffd_mls_id | |
| ffd_salesforce_id | a0E6g00000BG7g8EAD |
| ffd_address_pb | Gillespie Road, Highbury, N5 |
| address | Gillespie Road, Highbury, N5 |
| baths | 2 |
| beds | 5 |
| ffd_city_pb | Greater London |
| ffd_colistingagent_pb | |
| ffd_colistingagentemail_pb | |
| ffd_colistingagentmlsid | |
| ffd_colistingagentname | |
| ffd_colistingofficemlsid | |
| ffd_colistingofficename_pb | |
| ffd_country_pb | United Kingdom |
| ffd_createddate | 2023-05-12T00:24:19.000+0000 |
| about | A light filled and architecturally designed Victorian family home, set moments from Arsenal (Underground) which enjoys enviable and uninterrupted rear views across Gillespie Park nature reserve. Accommodation is well balanced and generously proportioned comprising; impressive ceiling heights and herringbone flooring on the ground floor, with the kitchen housed at the front, dining space and reception area positioned at the rear, bathed in light courtesy of the large sky light and providing access to the landscaped rear garden which backs on to the green space of Gillespie Park nature reserve. There is also a WC on this level. There is a generous double bedroom with excellent fitted storage at the front of the first floor, large family bathroom, also complete with excellent storage and the study to the rear, which features enviable green views across the nature reserve. There is an additional double bedroom on the second floor, along with two single children's rooms, converted from a former double bedroom which can easily be converted back. There is a large roof terrace to the rear, which along with the principal bedroom on the top floor (with en-suite and helpful eaves storage) also enjoys the views of the nature reserve. A special family home, rarely available on the open market that must be viewed to be appreciated. The property is conveniently located for access to the shops of Highbury Barn, including the renowned Godfreys Butchers, the fishmongers and the Fromagerie. Sought after independent coffee shops and restaurants can also be found locally that include, Finks Salt & Sweet, The Plimsoll & Farang, with the greenery of Highbury Park, the trains and Underground at Highbury & Islington station, Finsbury Park station, Arsenal Underground and Drayton Park station, all providing superb links across London. Arsenal is the closest of the above mentioned stations, with trains on the Piccadilly Line through Kings Cross, the Theatre District, Covent Garden, Piccadilly and out to Heathrow. It is worth noting that the Highbury Stadium Square development, formerly home to Arsenal Football Club, houses an all singing, all dancing Fitness First gym, complete with swimming pool. The property falls within the catchment area for both Gillespie Primary school and St Johns Highbury Vale C of E Primary school, both of which are close by, along with the outstanding Ambler school. The locally famed hidden gem of Gillespie Park is also easily accessible, offering a local nature reserve in inner city London. |
| ffd_displayaddress | |
| floor | |
| ffd_halfbathrooms_pb | 0 |
| ffd_hide_address_on_site | |
| ffd_key_words | Greater London;United Kingdom;City;Greater London, England;Islington England;City Greater London;City Islington;Islington;UK |
| ffd_lastmodifieddate | 2023-05-28T00:24:31.000+0000 |
| lat | 51.558549 |
| ffd_listofficemlsid | |
| ffd_listofficename | |
| ffd_listingagent_pb | 0036g00002ALrTLAA1 |
| ffd_listing_agent_email | |
| ffd_listing_agent_firstname | |
| ffd_listing_agent_lastname | |
| ffd_listingagentmlsid | |
| ffd_listingagentname | |
| ffd_listing_agent_website | https://www.chestertons.co.uk/en-gb/property-to-buy/gb/street/gillespie+road+n5/hea206129 |
| price | 2173325 |
| ffd_listingtype | Sale |
| location | Greater London, England, United Kingdom |
| lng | -0.105456 |
| sq_feet | 0 |
| ffd_non_member_paid | |
| ffd_other_currency_amount | 1650000 |
| ffd_other_currency_type | GBP |
| ffd_ownerid | 0056g000006m3dUAAQ |
| ffd_pool_pb | |
| ffd_price_upon_request | |
| building_type | Townhouse |
| ffd_id | a0E6g00000BG7g8EAD |
| ffd_totalarea_pb | 0 |
| ffd_solddate | |
| ffd_soldprice | |
| ffd_state_pb | England |
| ffd_status | Active |
| ffd_threequarterbathrooms | 0 |
| ffd_unit_of_measure | Square Feet |
| ffd_brokerage_id | 0016g00002KskJEAAZ |
| year_built | 0 |
| ffd_postalcode_pb | N5 1LP |
| pba__WebsiteId__c | 360901 |
| pba__Listing_Website__c | https://www.forbesglobalproperties.com/listings/5-bedroom-house-in-highbury-2 |
| Site_Post_Id__c | 360901 |
| ffd_media | a:24:{i:0;s:88:"https://images.chestertons.co.uk/assets/r/chips/che/HEA/20/HEA206129_27-JPG-l-1600-0.jpg";i:1;s:88:"https://images.chestertons.co.uk/assets/r/chips/che/HEA/20/HEA206129_25-JPG-l-1600-0.jpg";i:2;s:88:"https://images.chestertons.co.uk/assets/r/chips/che/HEA/20/HEA206129_16-JPG-l-1600-0.jpg";i:3;s:88:"https://images.chestertons.co.uk/assets/r/chips/che/HEA/20/HEA206129_18-JPG-l-1600-0.jpg";i:4;s:88:"https://images.chestertons.co.uk/assets/r/chips/che/HEA/20/HEA206129_06-JPG-l-1600-0.jpg";i:5;s:88:"https://images.chestertons.co.uk/assets/r/chips/che/HEA/20/HEA206129_22-JPG-l-1600-0.jpg";i:6;s:88:"https://images.chestertons.co.uk/assets/r/chips/che/HEA/20/HEA206129_30-JPG-l-1600-0.jpg";i:7;s:88:"https://images.chestertons.co.uk/assets/r/chips/che/HEA/20/HEA206129_28-JPG-l-1600-0.jpg";i:8;s:88:"https://images.chestertons.co.uk/assets/r/chips/che/HEA/20/HEA206129_26-JPG-l-1600-0.jpg";i:9;s:88:"https://images.chestertons.co.uk/assets/r/chips/che/HEA/20/HEA206129_21-JPG-l-1600-0.jpg";i:10;s:88:"https://images.chestertons.co.uk/assets/r/chips/che/HEA/20/HEA206129_02-JPG-l-1600-0.jpg";i:11;s:88:"https://images.chestertons.co.uk/assets/r/chips/che/HEA/20/HEA206129_03-JPG-l-1600-0.jpg";i:12;s:88:"https://images.chestertons.co.uk/assets/r/chips/che/HEA/20/HEA206129_05-JPG-l-1600-0.jpg";i:13;s:88:"https://images.chestertons.co.uk/assets/r/chips/che/HEA/20/HEA206129_09-JPG-p-1600-0.jpg";i:14;s:88:"https://images.chestertons.co.uk/assets/r/chips/che/HEA/20/HEA206129_12-JPG-l-1600-0.jpg";i:15;s:88:"https://images.chestertons.co.uk/assets/r/chips/che/HEA/20/HEA206129_14-JPG-l-1600-0.jpg";i:16;s:88:"https://images.chestertons.co.uk/assets/r/chips/che/HEA/20/HEA206129_15-JPG-l-1600-0.jpg";i:17;s:88:"https://images.chestertons.co.uk/assets/r/chips/che/HEA/20/HEA206129_17-JPG-l-1600-0.jpg";i:18;s:88:"https://images.chestertons.co.uk/assets/r/chips/che/HEA/20/HEA206129_23-JPG-p-1600-0.jpg";i:19;s:88:"https://images.chestertons.co.uk/assets/r/chips/che/HEA/20/HEA206129_07-JPG-l-1600-0.jpg";i:20;s:88:"https://images.chestertons.co.uk/assets/r/chips/che/HEA/20/HEA206129_08-JPG-l-1600-0.jpg";i:21;s:88:"https://images.chestertons.co.uk/assets/r/chips/che/HEA/20/HEA206129_20-JPG-l-1600-0.jpg";i:22;s:88:"https://images.chestertons.co.uk/assets/r/chips/che/HEA/20/HEA206129_19-JPG-p-1600-0.jpg";i:23;s:88:"https://images.chestertons.co.uk/assets/r/chips/che/HEA/20/HEA206129_32-JPG-l-1600-0.jpg";} |
| _thumbnail_id | 360902 |
| ffd_featured_image | https://images.chestertons.co.uk/assets/r/chips/che/HEA/20/HEA206129_27-JPG-l-1600-0.jpg |
| agents | a:1:{i:0;s:6:"313254";} |
| _wp_old_date | 2023-05-13 |
| ffd_record_is_deleted | |
| featured_images | 360902 |
| listing_images | a:24:{i:0;s:6:"360902";i:1;s:6:"360903";i:2;s:6:"360904";i:3;s:6:"360905";i:4;s:6:"360906";i:5;s:6:"360907";i:6;s:6:"360908";i:7;s:6:"360909";i:8;s:6:"360910";i:9;s:6:"360911";i:10;s:6:"360912";i:11;s:6:"360913";i:12;s:6:"360914";i:13;s:6:"360915";i:14;s:6:"360916";i:15;s:6:"360917";i:16;s:6:"360918";i:17;s:6:"360919";i:18;s:6:"360920";i:19;s:6:"360921";i:20;s:6:"360922";i:21;s:6:"360923";i:22;s:6:"360924";i:23;s:6:"360925";} |
| api_external_id | HEA206129 |
| post_member_id | 312441 |
| post_agent_id | 313254 |
| _sbi_oembed_done_checking | 1 |
| no_api_update | 1 |
| _edit_lock | 1685714888:1454 |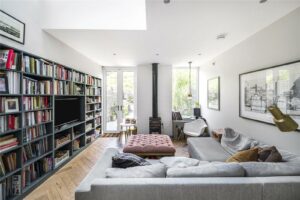 5 bedroom house in Highbury
GBP 1,650,000
(US $2,173,325)
Gillespie Road, Highbury, N5
Greater London, England, United Kingdom
Status: Active
A light filled and architecturally designed Victorian family home, set moments from Arsenal (Underground) which enjoys enviable and uninterrupted rear views across Gillespie Park nature reserve. Accommodation is well balanced and generously proportioned comprising; impressive ceiling heights and herringbone flooring on the ground floor, with the kitchen housed at the front, dining space and reception area positioned at the rear, bathed in light courtesy of the large sky light and providing access to the landscaped rear garden which backs on to the green space of Gillespie Park nature reserve. There is also a WC on this level. There is a generous double bedroom with excellent fitted storage at the front of the first floor, large family bathroom, also complete with excellent storage and the study to the rear, which features enviable green views across the nature reserve. There is an additional double bedroom on the second floor, along with two single children's rooms, converted from a former double bedroom which can easily be converted back. There is a large roof terrace to the rear, which along with the principal bedroom on the top floor (with en-suite and helpful eaves storage) also enjoys the views of the nature reserve. A special family home, rarely available on the open market that must be viewed to be appreciated. The property is conveniently located for access to the shops of Highbury Barn, including the renowned Godfreys Butchers, the fishmongers and the Fromagerie. Sought after independent coffee shops and restaurants can also be found locally that include, Finks Salt & Sweet, The Plimsoll & Farang, with the greenery of Highbury Park, the trains and Underground at Highbury & Islington station, Finsbury Park station, Arsenal Underground and Drayton Park station, all providing superb links across London. Arsenal is the closest of the above mentioned stations, with trains on the Piccadilly Line through Kings Cross, the Theatre District, Covent Garden, Piccadilly and out to Heathrow. It is worth noting that the Highbury Stadium Square development, formerly home to Arsenal Football Club, houses an all singing, all dancing Fitness First gym, complete with swimming pool. The property falls within the catchment area for both Gillespie Primary school and St Johns Highbury Vale C of E Primary school, both of which are close by, along with the outstanding Ambler school. The locally famed hidden gem of Gillespie Park is also easily accessible, offering a local nature reserve in inner city London.
Properties You Might Also Like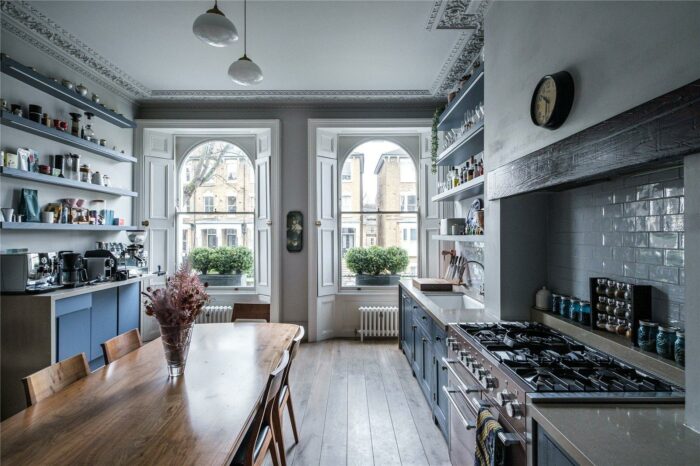 GBP 2,750,000
(US $3,415,225)
Greater London, England, United Kingdom
3 bedroom apartment in Highbury
GBP 1,750,000
(US $2,173,325)
Greater London, England, United Kingdom
4 bedroom maisonette in Highbury
This unique 5 Bedroom home with 2 Bathrooms is a prime example of the luxury real estate available in Greater London, England. You can visit our England search pages for more luxury real estate choices in Greater London.