| | |
| --- | --- |
| ffd_listing_title | 5 bedroom House in Highbury |
| ffd_unique_id | |
| ffd_mls_id | |
| ffd_salesforce_id | a0E6g00000A3wKEEAZ |
| ffd_address_pb | Battledean Road, Highbury Fields, N5 |
| address | Battledean Road, Highbury Fields, N5 |
| baths | 3 |
| beds | 5 |
| ffd_city_pb | Greater London |
| ffd_colistingagent_pb | |
| ffd_colistingagentemail_pb | |
| ffd_colistingagentmlsid | |
| ffd_colistingagentname | |
| ffd_colistingofficemlsid | |
| ffd_colistingofficename_pb | |
| ffd_country_pb | United Kingdom |
| ffd_createddate | 2023-02-11T10:57:28.000+0000 |
| about | A substantial, architecturally designed and thoughtfully extended (courtesy of Emmett Russell architects) Victorian family home, set moments from Highbury Fields, whilst backing onto the 2 acres of greenery of Olden Gardens. An exceptional home, refurbished to an impressive standard with light-filled and beautifully presented accommodation. Entering from street level, the uncluttered entrance hallway benefits from a sleek cloakroom and bespoke Brompton bike storage. The ground floor has been extended to the rear and opened up internally, resulting in a single large open plan space linked fully to the garden and subtly divided to provide different settings for day-to-day life. The dining space is housed at the front of this level, with the Roundhouse kitchen in the heart of the space. There is underfloor heating throughout. The garden, designed by award winning landscape gardener Sue Townsend, is accessed from the reception space at the rear. The principal bedroom is at the front of the first floor, cleverly designed to incorporate a walk-in wardrobe, which leads to the en-suite. There is a study at the rear of this level along with a separate W.C. There are three double bedrooms on the second floor, along with a family bathroom. The current owners have created the attic conversion which lends itself to either an additional reception space or fifth bedroom and enjoys remarkable views of the London skyline from the Post Office tower to Alexandra Palace. There is also a self-contained laundry room and access via the half landing to the West facing roof terrace, ideal for sundowner drinks. AlexCotton interiors were instructed to use a pallet of natural and warm materials with oak for floors and external cladding to the rear, simple plywood joinery in the study and a subtly green veined marble in the bathrooms. Battledean Road is superbly placed for almost immediate access to the greenery of Highbury Fields whilst Highbury Corner and the transportation hub of Highbury and Islington (Victoria Line and North London Line) is also within close walking distance. |
| ffd_displayaddress | |
| floor | |
| ffd_halfbathrooms_pb | 0 |
| ffd_hide_address_on_site | |
| ffd_key_words | Greater London;United Kingdom;City;Greater London, England;Islington England;City Greater London;City Islington;Islington;UK |
| ffd_lastmodifieddate | 2023-04-02T00:30:20.000+0000 |
| lat | 51.551688 |
| ffd_listofficemlsid | |
| ffd_listofficename | |
| ffd_listingagent_pb | 0036g00002ALrTLAA1 |
| ffd_listing_agent_email | |
| ffd_listing_agent_firstname | |
| ffd_listing_agent_lastname | |
| ffd_listingagentmlsid | |
| ffd_listingagentname | |
| ffd_listing_agent_website | https://www.chestertons.co.uk/en-gb/property-to-buy/gb/street/battledean+road+n5/hea222365 |
| price | 2647567 |
| ffd_listingtype | Sale |
| location | Greater London, England, United Kingdom |
| lng | -0.10358 |
| sq_feet | 0 |
| ffd_non_member_paid | |
| ffd_other_currency_amount | 2500000 |
| ffd_other_currency_type | GBP |
| ffd_ownerid | 0056g000006m3dUAAQ |
| ffd_pool_pb | |
| ffd_price_upon_request | |
| building_type | Townhouse |
| ffd_id | a0E6g00000A3wKEEAZ |
| ffd_totalarea_pb | 0 |
| ffd_solddate | |
| ffd_soldprice | |
| ffd_state_pb | England |
| ffd_status | Active |
| ffd_threequarterbathrooms | 0 |
| ffd_unit_of_measure | Square Feet |
| ffd_brokerage_id | 0016g00002KskJEAAZ |
| year_built | 0 |
| ffd_postalcode_pb | N5 1UX |
| pba__WebsiteId__c | 314822 |
| pba__Listing_Website__c | https://www.forbesglobalproperties.com/listings/5-bedroom-house-in-highbury |
| Site_Post_Id__c | 314822 |
| ffd_media | a:56:{i:0;s:88:"https://images.chestertons.co.uk/assets/r/chips/che/HEA/22/HEA222365_45-JPG-l-1600-0.jpg";i:1;s:88:"https://images.chestertons.co.uk/assets/r/chips/che/HEA/22/HEA222365_48-JPG-l-1600-0.jpg";i:2;s:88:"https://images.chestertons.co.uk/assets/r/chips/che/HEA/22/HEA222365_51-JPG-l-1600-0.jpg";i:3;s:88:"https://images.chestertons.co.uk/assets/r/chips/che/HEA/22/HEA222365_70-JPG-l-1600-0.jpg";i:4;s:88:"https://images.chestertons.co.uk/assets/r/chips/che/HEA/22/HEA222365_40-JPG-l-1600-0.jpg";i:5;s:88:"https://images.chestertons.co.uk/assets/r/chips/che/HEA/22/HEA222365_83-JPG-l-1600-0.jpg";i:6;s:88:"https://images.chestertons.co.uk/assets/r/chips/che/HEA/22/HEA222365_85-JPG-l-1600-0.jpg";i:7;s:88:"https://images.chestertons.co.uk/assets/r/chips/che/HEA/22/HEA222365_81-JPG-l-1600-0.jpg";i:8;s:88:"https://images.chestertons.co.uk/assets/r/chips/che/HEA/22/HEA222365_47-JPG-l-1600-0.jpg";i:9;s:88:"https://images.chestertons.co.uk/assets/r/chips/che/HEA/22/HEA222365_84-JPG-l-1600-0.jpg";i:10;s:88:"https://images.chestertons.co.uk/assets/r/chips/che/HEA/22/HEA222365_50-JPG-l-1600-0.jpg";i:11;s:88:"https://images.chestertons.co.uk/assets/r/chips/che/HEA/22/HEA222365_52-JPG-l-1600-0.jpg";i:12;s:88:"https://images.chestertons.co.uk/assets/r/chips/che/HEA/22/HEA222365_66-JPG-l-1600-0.jpg";i:13;s:88:"https://images.chestertons.co.uk/assets/r/chips/che/HEA/22/HEA222365_53-JPG-l-1600-0.jpg";i:14;s:88:"https://images.chestertons.co.uk/assets/r/chips/che/HEA/22/HEA222365_64-JPG-l-1600-0.jpg";i:15;s:88:"https://images.chestertons.co.uk/assets/r/chips/che/HEA/22/HEA222365_49-JPG-l-1600-0.jpg";i:16;s:88:"https://images.chestertons.co.uk/assets/r/chips/che/HEA/22/HEA222365_54-JPG-l-1600-0.jpg";i:17;s:88:"https://images.chestertons.co.uk/assets/r/chips/che/HEA/22/HEA222365_02-JPG-l-1600-0.jpg";i:18;s:88:"https://images.chestertons.co.uk/assets/r/chips/che/HEA/22/HEA222365_01-JPG-l-1600-0.jpg";i:19;s:88:"https://images.chestertons.co.uk/assets/r/chips/che/HEA/22/HEA222365_03-JPG-l-1600-0.jpg";i:20;s:88:"https://images.chestertons.co.uk/assets/r/chips/che/HEA/22/HEA222365_72-JPG-l-1600-0.jpg";i:21;s:88:"https://images.chestertons.co.uk/assets/r/chips/che/HEA/22/HEA222365_71-JPG-l-1600-0.jpg";i:22;s:88:"https://images.chestertons.co.uk/assets/r/chips/che/HEA/22/HEA222365_68-JPG-l-1600-0.jpg";i:23;s:88:"https://images.chestertons.co.uk/assets/r/chips/che/HEA/22/HEA222365_67-JPG-l-1600-0.jpg";i:24;s:88:"https://images.chestertons.co.uk/assets/r/chips/che/HEA/22/HEA222365_33-JPG-l-1600-0.jpg";i:25;s:88:"https://images.chestertons.co.uk/assets/r/chips/che/HEA/22/HEA222365_32-JPG-l-1600-0.jpg";i:26;s:88:"https://images.chestertons.co.uk/assets/r/chips/che/HEA/22/HEA222365_34-JPG-l-1600-0.jpg";i:27;s:88:"https://images.chestertons.co.uk/assets/r/chips/che/HEA/22/HEA222365_35-JPG-l-1600-0.jpg";i:28;s:88:"https://images.chestertons.co.uk/assets/r/chips/che/HEA/22/HEA222365_36-JPG-l-1600-0.jpg";i:29;s:88:"https://images.chestertons.co.uk/assets/r/chips/che/HEA/22/HEA222365_41-JPG-l-1600-0.jpg";i:30;s:88:"https://images.chestertons.co.uk/assets/r/chips/che/HEA/22/HEA222365_42-JPG-l-1600-0.jpg";i:31;s:88:"https://images.chestertons.co.uk/assets/r/chips/che/HEA/22/HEA222365_38-JPG-l-1600-0.jpg";i:32;s:88:"https://images.chestertons.co.uk/assets/r/chips/che/HEA/22/HEA222365_74-JPG-l-1600-0.jpg";i:33;s:88:"https://images.chestertons.co.uk/assets/r/chips/che/HEA/22/HEA222365_87-JPG-l-1600-0.jpg";i:34;s:88:"https://images.chestertons.co.uk/assets/r/chips/che/HEA/22/HEA222365_75-JPG-l-1600-0.jpg";i:35;s:88:"https://images.chestertons.co.uk/assets/r/chips/che/HEA/22/HEA222365_43-JPG-l-1600-0.jpg";i:36;s:88:"https://images.chestertons.co.uk/assets/r/chips/che/HEA/22/HEA222365_80-JPG-l-1600-0.jpg";i:37;s:88:"https://images.chestertons.co.uk/assets/r/chips/che/HEA/22/HEA222365_86-JPG-l-1600-0.jpg";i:38;s:88:"https://images.chestertons.co.uk/assets/r/chips/che/HEA/22/HEA222365_60-JPG-l-1600-0.jpg";i:39;s:88:"https://images.chestertons.co.uk/assets/r/chips/che/HEA/22/HEA222365_79-JPG-l-1600-0.jpg";i:40;s:88:"https://images.chestertons.co.uk/assets/r/chips/che/HEA/22/HEA222365_78-JPG-l-1600-0.jpg";i:41;s:88:"https://images.chestertons.co.uk/assets/r/chips/che/HEA/22/HEA222365_76-JPG-l-1600-0.jpg";i:42;s:88:"https://images.chestertons.co.uk/assets/r/chips/che/HEA/22/HEA222365_46-JPG-l-1600-0.jpg";i:43;s:88:"https://images.chestertons.co.uk/assets/r/chips/che/HEA/22/HEA222365_29-GIF-l-1600-0.jpg";i:44;s:88:"https://images.chestertons.co.uk/assets/r/chips/che/HEA/22/HEA222365_18-JPG-l-1600-0.jpg";i:45;s:88:"https://images.chestertons.co.uk/assets/r/chips/che/HEA/22/HEA222365_20-JPG-l-1600-0.jpg";i:46;s:88:"https://images.chestertons.co.uk/assets/r/chips/che/HEA/22/HEA222365_19-JPG-l-1600-0.jpg";i:47;s:88:"https://images.chestertons.co.uk/assets/r/chips/che/HEA/22/HEA222365_28-JPG-l-1600-0.jpg";i:48;s:88:"https://images.chestertons.co.uk/assets/r/chips/che/HEA/22/HEA222365_30-JPG-l-1600-0.jpg";i:49;s:88:"https://images.chestertons.co.uk/assets/r/chips/che/HEA/22/HEA222365_04-JPG-l-1600-0.jpg";i:50;s:88:"https://images.chestertons.co.uk/assets/r/chips/che/HEA/22/HEA222365_05-JPG-l-1600-0.jpg";i:51;s:88:"https://images.chestertons.co.uk/assets/r/chips/che/HEA/22/HEA222365_09-JPG-l-1600-0.jpg";i:52;s:88:"https://images.chestertons.co.uk/assets/r/chips/che/HEA/22/HEA222365_63-JPG-p-1600-0.jpg";i:53;s:88:"https://images.chestertons.co.uk/assets/r/chips/che/HEA/22/HEA222365_62-JPG-p-1600-0.jpg";i:54;s:88:"https://images.chestertons.co.uk/assets/r/chips/che/HEA/22/HEA222365_69-JPG-l-1600-0.jpg";i:55;s:88:"https://images.chestertons.co.uk/assets/r/chips/che/HEA/22/HEA222365_73-JPG-l-1600-0.jpg";} |
| _thumbnail_id | 314823 |
| ffd_featured_image | https://images.chestertons.co.uk/assets/r/chips/che/HEA/22/HEA222365_45-JPG-l-1600-0.jpg |
| agents | a:1:{i:0;s:6:"313254";} |
| _wp_old_date | 2023-02-13 |
| ffd_record_is_deleted | |
| _wp_old_slug | 5-bedroom-house-in-battledean-road |
| featured_images | 314823 |
| primary_media_0_image | 314823 |
| _primary_media_0_image | field_5f988067abcc4 |
| primary_media_0_video | |
| _primary_media_0_video | field_5f98807dabcc5 |
| primary_media_1_image | 314824 |
| _primary_media_1_image | field_5f988067abcc4 |
| primary_media_1_video | |
| _primary_media_1_video | field_5f98807dabcc5 |
| primary_media_2_image | 314825 |
| _primary_media_2_image | field_5f988067abcc4 |
| primary_media_2_video | |
| _primary_media_2_video | field_5f98807dabcc5 |
| primary_media | 3 |
| _primary_media | field_5f98805cabcc3 |
| secondary_media_0_image | 314823 |
| _secondary_media_0_image | field_5f988119a39fd |
| secondary_media_0_video | |
| _secondary_media_0_video | field_5f988119a39fe |
| secondary_media_1_image | 314824 |
| _secondary_media_1_image | field_5f988119a39fd |
| secondary_media_1_video | |
| _secondary_media_1_video | field_5f988119a39fe |
| secondary_media_2_image | 314825 |
| _secondary_media_2_image | field_5f988119a39fd |
| secondary_media_2_video | |
| _secondary_media_2_video | field_5f988119a39fe |
| secondary_media_3_image | 314826 |
| _secondary_media_3_image | field_5f988119a39fd |
| secondary_media_3_video | |
| _secondary_media_3_video | field_5f988119a39fe |
| secondary_media_4_image | 314827 |
| _secondary_media_4_image | field_5f988119a39fd |
| secondary_media_4_video | |
| _secondary_media_4_video | field_5f988119a39fe |
| secondary_media_5_image | 314828 |
| _secondary_media_5_image | field_5f988119a39fd |
| secondary_media_5_video | |
| _secondary_media_5_video | field_5f988119a39fe |
| secondary_media_6_image | 314829 |
| _secondary_media_6_image | field_5f988119a39fd |
| secondary_media_6_video | |
| _secondary_media_6_video | field_5f988119a39fe |
| secondary_media_7_image | 314830 |
| _secondary_media_7_image | field_5f988119a39fd |
| secondary_media_7_video | |
| _secondary_media_7_video | field_5f988119a39fe |
| secondary_media_8_image | 314831 |
| _secondary_media_8_image | field_5f988119a39fd |
| secondary_media_8_video | |
| _secondary_media_8_video | field_5f988119a39fe |
| secondary_media_9_image | 314832 |
| _secondary_media_9_image | field_5f988119a39fd |
| secondary_media_9_video | |
| _secondary_media_9_video | field_5f988119a39fe |
| secondary_media_10_image | 314833 |
| _secondary_media_10_image | field_5f988119a39fd |
| secondary_media_10_video | |
| _secondary_media_10_video | field_5f988119a39fe |
| secondary_media_11_image | 314834 |
| _secondary_media_11_image | field_5f988119a39fd |
| secondary_media_11_video | |
| _secondary_media_11_video | field_5f988119a39fe |
| secondary_media_12_image | 314835 |
| _secondary_media_12_image | field_5f988119a39fd |
| secondary_media_12_video | |
| _secondary_media_12_video | field_5f988119a39fe |
| secondary_media_13_image | 314836 |
| _secondary_media_13_image | field_5f988119a39fd |
| secondary_media_13_video | |
| _secondary_media_13_video | field_5f988119a39fe |
| secondary_media_14_image | 314837 |
| _secondary_media_14_image | field_5f988119a39fd |
| secondary_media_14_video | |
| _secondary_media_14_video | field_5f988119a39fe |
| secondary_media_15_image | 314838 |
| _secondary_media_15_image | field_5f988119a39fd |
| secondary_media_15_video | |
| _secondary_media_15_video | field_5f988119a39fe |
| secondary_media_16_image | 314839 |
| _secondary_media_16_image | field_5f988119a39fd |
| secondary_media_16_video | |
| _secondary_media_16_video | field_5f988119a39fe |
| secondary_media_17_image | 314840 |
| _secondary_media_17_image | field_5f988119a39fd |
| secondary_media_17_video | |
| _secondary_media_17_video | field_5f988119a39fe |
| secondary_media_18_image | 314841 |
| _secondary_media_18_image | field_5f988119a39fd |
| secondary_media_18_video | |
| _secondary_media_18_video | field_5f988119a39fe |
| secondary_media_19_image | 314842 |
| _secondary_media_19_image | field_5f988119a39fd |
| secondary_media_19_video | |
| _secondary_media_19_video | field_5f988119a39fe |
| secondary_media_20_image | 314843 |
| _secondary_media_20_image | field_5f988119a39fd |
| secondary_media_20_video | |
| _secondary_media_20_video | field_5f988119a39fe |
| secondary_media_21_image | 314844 |
| _secondary_media_21_image | field_5f988119a39fd |
| secondary_media_21_video | |
| _secondary_media_21_video | field_5f988119a39fe |
| secondary_media_22_image | 314845 |
| _secondary_media_22_image | field_5f988119a39fd |
| secondary_media_22_video | |
| _secondary_media_22_video | field_5f988119a39fe |
| secondary_media_23_image | 314846 |
| _secondary_media_23_image | field_5f988119a39fd |
| secondary_media_23_video | |
| _secondary_media_23_video | field_5f988119a39fe |
| secondary_media_24_image | 314847 |
| _secondary_media_24_image | field_5f988119a39fd |
| secondary_media_24_video | |
| _secondary_media_24_video | field_5f988119a39fe |
| secondary_media_25_image | 314848 |
| _secondary_media_25_image | field_5f988119a39fd |
| secondary_media_25_video | |
| _secondary_media_25_video | field_5f988119a39fe |
| secondary_media_26_image | 314849 |
| _secondary_media_26_image | field_5f988119a39fd |
| secondary_media_26_video | |
| _secondary_media_26_video | field_5f988119a39fe |
| secondary_media_27_image | 314850 |
| _secondary_media_27_image | field_5f988119a39fd |
| secondary_media_27_video | |
| _secondary_media_27_video | field_5f988119a39fe |
| secondary_media_28_image | 314851 |
| _secondary_media_28_image | field_5f988119a39fd |
| secondary_media_28_video | |
| _secondary_media_28_video | field_5f988119a39fe |
| secondary_media_29_image | 314852 |
| _secondary_media_29_image | field_5f988119a39fd |
| secondary_media_29_video | |
| _secondary_media_29_video | field_5f988119a39fe |
| secondary_media_30_image | 314853 |
| _secondary_media_30_image | field_5f988119a39fd |
| secondary_media_30_video | |
| _secondary_media_30_video | field_5f988119a39fe |
| secondary_media_31_image | 314854 |
| _secondary_media_31_image | field_5f988119a39fd |
| secondary_media_31_video | |
| _secondary_media_31_video | field_5f988119a39fe |
| secondary_media_32_image | 314855 |
| _secondary_media_32_image | field_5f988119a39fd |
| secondary_media_32_video | |
| _secondary_media_32_video | field_5f988119a39fe |
| secondary_media_33_image | 314856 |
| _secondary_media_33_image | field_5f988119a39fd |
| secondary_media_33_video | |
| _secondary_media_33_video | field_5f988119a39fe |
| secondary_media_34_image | 314857 |
| _secondary_media_34_image | field_5f988119a39fd |
| secondary_media_34_video | |
| _secondary_media_34_video | field_5f988119a39fe |
| secondary_media_35_image | 314858 |
| _secondary_media_35_image | field_5f988119a39fd |
| secondary_media_35_video | |
| _secondary_media_35_video | field_5f988119a39fe |
| secondary_media_36_image | 314859 |
| _secondary_media_36_image | field_5f988119a39fd |
| secondary_media_36_video | |
| _secondary_media_36_video | field_5f988119a39fe |
| secondary_media_37_image | 314860 |
| _secondary_media_37_image | field_5f988119a39fd |
| secondary_media_37_video | |
| _secondary_media_37_video | field_5f988119a39fe |
| secondary_media_38_image | 314861 |
| _secondary_media_38_image | field_5f988119a39fd |
| secondary_media_38_video | |
| _secondary_media_38_video | field_5f988119a39fe |
| secondary_media_39_image | 314862 |
| _secondary_media_39_image | field_5f988119a39fd |
| secondary_media_39_video | |
| _secondary_media_39_video | field_5f988119a39fe |
| secondary_media_40_image | 314863 |
| _secondary_media_40_image | field_5f988119a39fd |
| secondary_media_40_video | |
| _secondary_media_40_video | field_5f988119a39fe |
| secondary_media_41_image | 314864 |
| _secondary_media_41_image | field_5f988119a39fd |
| secondary_media_41_video | |
| _secondary_media_41_video | field_5f988119a39fe |
| secondary_media_42_image | 314865 |
| _secondary_media_42_image | field_5f988119a39fd |
| secondary_media_42_video | |
| _secondary_media_42_video | field_5f988119a39fe |
| secondary_media_43_image | 314866 |
| _secondary_media_43_image | field_5f988119a39fd |
| secondary_media_43_video | |
| _secondary_media_43_video | field_5f988119a39fe |
| secondary_media_44_image | 314867 |
| _secondary_media_44_image | field_5f988119a39fd |
| secondary_media_44_video | |
| _secondary_media_44_video | field_5f988119a39fe |
| secondary_media_45_image | 314868 |
| _secondary_media_45_image | field_5f988119a39fd |
| secondary_media_45_video | |
| _secondary_media_45_video | field_5f988119a39fe |
| secondary_media_46_image | 314869 |
| _secondary_media_46_image | field_5f988119a39fd |
| secondary_media_46_video | |
| _secondary_media_46_video | field_5f988119a39fe |
| secondary_media_47_image | 314870 |
| _secondary_media_47_image | field_5f988119a39fd |
| secondary_media_47_video | |
| _secondary_media_47_video | field_5f988119a39fe |
| secondary_media_48_image | 314871 |
| _secondary_media_48_image | field_5f988119a39fd |
| secondary_media_48_video | |
| _secondary_media_48_video | field_5f988119a39fe |
| secondary_media_49_image | 314872 |
| _secondary_media_49_image | field_5f988119a39fd |
| secondary_media_49_video | |
| _secondary_media_49_video | field_5f988119a39fe |
| secondary_media_50_image | 314873 |
| _secondary_media_50_image | field_5f988119a39fd |
| secondary_media_50_video | |
| _secondary_media_50_video | field_5f988119a39fe |
| secondary_media_51_image | 314874 |
| _secondary_media_51_image | field_5f988119a39fd |
| secondary_media_51_video | |
| _secondary_media_51_video | field_5f988119a39fe |
| secondary_media_52_image | 314875 |
| _secondary_media_52_image | field_5f988119a39fd |
| secondary_media_52_video | |
| _secondary_media_52_video | field_5f988119a39fe |
| secondary_media_53_image | 314876 |
| _secondary_media_53_image | field_5f988119a39fd |
| secondary_media_53_video | |
| _secondary_media_53_video | field_5f988119a39fe |
| secondary_media_54_image | 314877 |
| _secondary_media_54_image | field_5f988119a39fd |
| secondary_media_54_video | |
| _secondary_media_54_video | field_5f988119a39fe |
| secondary_media_55_image | 314878 |
| _secondary_media_55_image | field_5f988119a39fd |
| secondary_media_55_video | |
| _secondary_media_55_video | field_5f988119a39fe |
| secondary_media | 56 |
| _secondary_media | field_5f988119a39fc |
5 bedroom House in Highbury
GBP 2,500,000
(US $2,647,567)
Battledean Road, Highbury Fields, N5
Greater London, England, United Kingdom
Status: Active
A substantial, architecturally designed and thoughtfully extended (courtesy of Emmett Russell architects) Victorian family home, set moments from Highbury Fields, whilst backing onto the 2 acres of greenery of Olden Gardens. An exceptional home, refurbished to an impressive standard with light-filled and beautifully presented accommodation. Entering from street level, the uncluttered entrance hallway benefits from a sleek cloakroom and bespoke Brompton bike storage. The ground floor has been extended to the rear and opened up internally, resulting in a single large open plan space linked fully to the garden and subtly divided to provide different settings for day-to-day life. The dining space is housed at the front of this level, with the Roundhouse kitchen in the heart of the space. There is underfloor heating throughout. The garden, designed by award winning landscape gardener Sue Townsend, is accessed from the reception space at the rear. The principal bedroom is at the front of the first floor, cleverly designed to incorporate a walk-in wardrobe, which leads to the en-suite. There is a study at the rear of this level along with a separate W.C. There are three double bedrooms on the second floor, along with a family bathroom. The current owners have created the attic conversion which lends itself to either an additional reception space or fifth bedroom and enjoys remarkable views of the London skyline from the Post Office tower to Alexandra Palace. There is also a self-contained laundry room and access via the half landing to the West facing roof terrace, ideal for sundowner drinks. AlexCotton interiors were instructed to use a pallet of natural and warm materials with oak for floors and external cladding to the rear, simple plywood joinery in the study and a subtly green veined marble in the bathrooms. Battledean Road is superbly placed for almost immediate access to the greenery of Highbury Fields whilst Highbury Corner and the transportation hub of Highbury and Islington (Victoria Line and North London Line) is also within close walking distance.
Properties You Might Also Like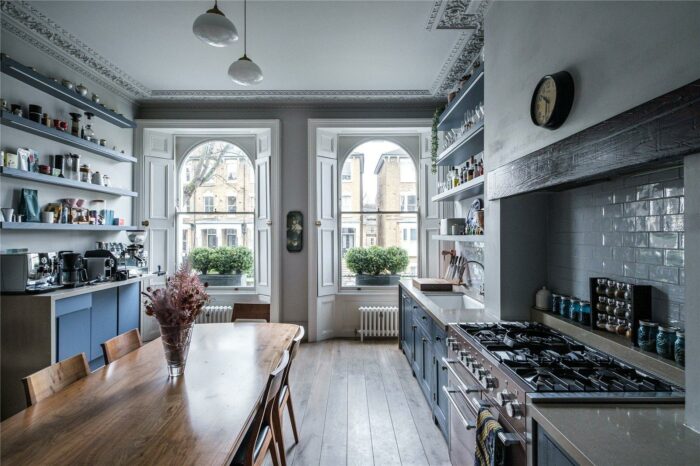 GBP 2,750,000
(US $2,912,324)
Greater London, England, United Kingdom
3 bedroom Flat/Apartment in Highbury
GBP 3,000,000
(US $3,177,081)
Greater London, England, United Kingdom
5 bedroom House in Highbury
This unique 5 Bedroom home with 3 Bathrooms is a prime example of the luxury real estate available in Greater London, England. You can visit our England search pages for more luxury real estate choices in Greater London.