| | |
| --- | --- |
| ffd_listing_title | 5 bedroom house in Fulham Broadway |
| ffd_unique_id | |
| ffd_mls_id | |
| ffd_salesforce_id | a0E6g00000A49OMEAZ |
| ffd_address_pb | Waterford Road, Fulham, SW6 |
| address | Waterford Road, Fulham, SW6 |
| baths | 2 |
| beds | 5 |
| ffd_city_pb | Greater London |
| ffd_colistingagent_pb | |
| ffd_colistingagentemail_pb | |
| ffd_colistingagentmlsid | |
| ffd_colistingagentname | |
| ffd_colistingofficemlsid | |
| ffd_colistingofficename_pb | |
| ffd_country_pb | United Kingdom |
| ffd_createddate | 2023-04-05T00:29:48.000+0000 |
| about | A beautiful family home, located in the heart of the Moore Park Estate, arranged over four floors as a large breakfast kitchen with dining area and doors to secluded patio garden, double reception room with traditional fireplace, master bedroom with en-suite, three further bedrooms, bathroom, dressing room and study (or bedroom five). Waterford Road is considered a 'super prime' Fulham location perfectly positioned between Eel Brook Common and the Chelsea border. A selection of shops, bars and restaurants can be found along Kings Road and Fulham Broadway underground (district line) is also very close by. |
| ffd_displayaddress | |
| floor | |
| ffd_halfbathrooms_pb | 0 |
| ffd_hide_address_on_site | |
| ffd_key_words | Greater London;United Kingdom;City;Greater London, England;Hammersmith and Fulham England;City Greater London;City Hammersmith and Fulham;Hammersmith and Fulham;Fulham Broadway Greater London;UK |
| ffd_lastmodifieddate | 2023-05-28T00:30:24.000+0000 |
| lat | 51.478169 |
| ffd_listofficemlsid | |
| ffd_listofficename | |
| ffd_listingagent_pb | 0036g00002ALqo8AAD |
| ffd_listing_agent_email | |
| ffd_listing_agent_firstname | |
| ffd_listing_agent_lastname | |
| ffd_listingagentmlsid | |
| ffd_listingagentname | |
| ffd_listing_agent_website | https://www.chestertons.co.uk/en-gb/property-to-buy/gb/fulham/par210070 |
| price | 2850160.5 |
| ffd_listingtype | Sale |
| location | Greater London, England, United Kingdom |
| lng | -0.192233 |
| sq_feet | 0 |
| ffd_non_member_paid | |
| ffd_other_currency_amount | 2295000 |
| ffd_other_currency_type | GBP |
| ffd_ownerid | 0056g000006m3aGAAQ |
| ffd_pool_pb | |
| ffd_price_upon_request | |
| building_type | Townhouse |
| ffd_id | a0E6g00000A49OMEAZ |
| ffd_totalarea_pb | 2049 |
| ffd_solddate | |
| ffd_soldprice | |
| ffd_state_pb | England |
| ffd_status | Active |
| ffd_threequarterbathrooms | 0 |
| ffd_unit_of_measure | Square Feet |
| ffd_brokerage_id | 0016g00002KskJEAAZ |
| year_built | 0 |
| ffd_postalcode_pb | SW6 2DR |
| pba__WebsiteId__c | 341562 |
| pba__Listing_Website__c | https://www.forbesglobalproperties.com/listings/5-bedroom-house-in-fulham-broadway |
| Site_Post_Id__c | 341562 |
| ffd_media | a:14:{i:0;s:88:"https://images.chestertons.co.uk/assets/r/chips/che/PAR/21/PAR210070_13-JPG-l-1600-0.jpg";i:1;s:88:"https://images.chestertons.co.uk/assets/r/chips/che/PAR/21/PAR210070_02-JPG-l-1600-0.jpg";i:2;s:88:"https://images.chestertons.co.uk/assets/r/chips/che/PAR/21/PAR210070_03-JPG-l-1600-0.jpg";i:3;s:88:"https://images.chestertons.co.uk/assets/r/chips/che/PAR/21/PAR210070_06-JPG-l-1600-0.jpg";i:4;s:88:"https://images.chestertons.co.uk/assets/r/chips/che/PAR/21/PAR210070_07-JPG-l-1600-0.jpg";i:5;s:88:"https://images.chestertons.co.uk/assets/r/chips/che/PAR/21/PAR210070_05-JPG-l-1600-0.jpg";i:6;s:88:"https://images.chestertons.co.uk/assets/r/chips/che/PAR/21/PAR210070_11-JPG-l-1600-0.jpg";i:7;s:88:"https://images.chestertons.co.uk/assets/r/chips/che/PAR/21/PAR210070_04-JPG-l-1600-0.jpg";i:8;s:88:"https://images.chestertons.co.uk/assets/r/chips/che/PAR/21/PAR210070_09-JPG-l-1600-0.jpg";i:9;s:88:"https://images.chestertons.co.uk/assets/r/chips/che/PAR/21/PAR210070_08-JPG-l-1600-0.jpg";i:10;s:88:"https://images.chestertons.co.uk/assets/r/chips/che/PAR/21/PAR210070_12-JPG-l-1600-0.jpg";i:11;s:88:"https://images.chestertons.co.uk/assets/r/chips/che/PAR/21/PAR210070_10-JPG-l-1600-0.jpg";i:12;s:88:"https://images.chestertons.co.uk/assets/r/chips/che/PAR/21/PAR210070_01-JPG-p-1600-0.jpg";i:13;s:88:"https://images.chestertons.co.uk/assets/r/chips/che/PAR/21/PAR210070_14-PNG-l-1600-0.jpg";} |
| _thumbnail_id | 341563 |
| ffd_featured_image | https://images.chestertons.co.uk/assets/r/chips/che/PAR/21/PAR210070_13-JPG-l-1600-0.jpg |
| agents | a:2:{i:0;s:6:"313233";i:1;N;} |
| ffd_record_is_deleted | |
| _wp_old_slug | 4-bedroom-house-in-fulham-broadway |
| featured_images | 341563 |
| listing_images | a:13:{i:0;s:6:"341563";i:1;s:6:"341568";i:2;s:6:"341569";i:3;s:6:"341564";i:4;s:6:"341565";i:5;s:6:"341570";i:6;s:6:"341566";i:7;s:6:"341567";i:8;s:6:"341571";i:9;s:6:"341573";i:10;s:6:"341574";i:11;s:6:"341575";i:12;s:6:"341576";} |
| api_external_id | PAR210070 |
| post_member_id | 312441 |
| post_agent_id | 313233 |
| _sbi_oembed_done_checking | 1 |
| postal_code | SW6 2DR |
| ffd_unitnumber | |
| county | Hammersmith and Fulham |
| neighborhood | Fulham Broadway |
| listed_date | 2023-03-30 00:00:00.000000 |
| ffd_api_external_id | PAR210070 |
| post_coagent_id | |
| _listing_images | field_642ee01c5d170 |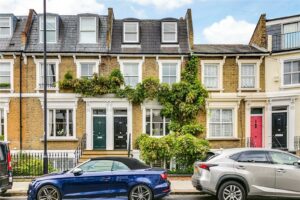 5 bedroom house in Fulham Broadway
GBP 2,295,000
(US $2,850,161)
Waterford Road, Fulham, SW6
Greater London, England, SW6 2DR, United Kingdom
Status: Active
A beautiful family home, located in the heart of the Moore Park Estate, arranged over four floors as a large breakfast kitchen with dining area and doors to secluded patio garden, double reception room with traditional fireplace, master bedroom with en-suite, three further bedrooms, bathroom, dressing room and study (or bedroom five).
Waterford Road is considered a 'super prime' Fulham location perfectly positioned between Eel Brook Common and the Chelsea border. A selection of shops, bars and restaurants can be found along Kings Road and Fulham Broadway underground (district line) is also very close by.
Properties You Might Also Like
GBP 7,500,000
(US $9,314,250)
Greater London, England, United Kingdom
5 bedroom house in West Brompton
GBP 4,499,950
(US $5,588,488)
Greater London, England, United Kingdom
3 bedroom apartment in Sands End
This unique 5 Bedroom home with 2 Bathrooms is a prime example of the luxury real estate available in Greater London, England. You can visit our England search pages for more luxury real estate choices in Greater London.