| | |
| --- | --- |
| ffd_listing_title | 5 bedroom House in East Putney |
| ffd_unique_id | |
| ffd_mls_id | |
| ffd_salesforce_id | a0E6g00000A3wJjEAJ |
| ffd_address_pb | Schubert Road, East Putney, SW15 |
| address | Schubert Road, East Putney, SW15 |
| baths | 2 |
| beds | 5 |
| ffd_city_pb | Greater London |
| ffd_colistingagent_pb | |
| ffd_colistingagentemail_pb | |
| ffd_colistingagentmlsid | |
| ffd_colistingagentname | |
| ffd_colistingofficemlsid | |
| ffd_colistingofficename_pb | |
| ffd_country_pb | United Kingdom |
| ffd_createddate | 2023-02-11T10:55:35.000+0000 |
| about | A beautifully finished home packed with gorgeous features throughout, offering 3195sf of internal accommodation and a secluded West facing garden on the ever popular East Putney grid. As you enter the property on the Upper Ground floor level you are greeted by a large hallway with typical Victorian character. On this floor you have a front reception room with 3m high ceilings. There is also another large reception room at the back of the house with feature fire place, overlooking the large West facing garden. This room also offer a terrace. The Lower Ground floor which benefits from its own front door features the large fitted kitchen with island, ample dining room space for entertaining which flows effortlessly through to the secluded 43 foot West facing garden via bi-folding doors. There is also a WC located on this level. On the first floor of the house you have two large bedrooms and an exquisitely finished family bathroom which along with one of the bedrooms provides access to another West facing balcony. The second floor has 3 further bedrooms, a WC and another family Bathroom. The top floor offers flexible accommodation with open plan bedroom, kitchen and living area which would be perfect for an older child or nanny. This floor also has a utility room. Schubert Road is located in the East Putney grid, with excellent access to both East Putney Underground station as well as Putney and Wandsworth Town mainline stations. The Thamesclipper at Wandsworth Riverside Pier is also close by. Popular Wandsworth Park and Thames riverside walks are a short stroll away. Some excellent schools are nearby, including Brandlehow and Hurlingham Primary School as well as Putney High School for Girls. |
| ffd_displayaddress | |
| floor | |
| ffd_halfbathrooms_pb | 0 |
| ffd_hide_address_on_site | |
| ffd_key_words | Greater London;United Kingdom;City;Greater London, England;London Borough of Wandsworth England;City Greater London;City London Borough of Wandsworth;London Borough of Wandsworth;East Putney Greater London;UK |
| ffd_lastmodifieddate | 2023-03-24T00:27:58.000+0000 |
| lat | 51.458764 |
| ffd_listofficemlsid | |
| ffd_listofficename | |
| ffd_listingagent_pb | 0036g00002AM6plAAD |
| ffd_listing_agent_email | |
| ffd_listing_agent_firstname | |
| ffd_listing_agent_lastname | |
| ffd_listingagentmlsid | |
| ffd_listingagentname | |
| ffd_listing_agent_website | https://www.chestertons.co.uk/en-gb/property-to-buy/gb/east+putney/wes220005 |
| price | 2435762 |
| ffd_listingtype | Sale |
| location | Greater London, England, United Kingdom |
| lng | -0.205001 |
| sq_feet | 0 |
| ffd_non_member_paid | |
| ffd_other_currency_amount | 2300000 |
| ffd_other_currency_type | GBP |
| ffd_ownerid | 0056g000006m29xAAA |
| ffd_pool_pb | |
| ffd_price_upon_request | |
| building_type | Townhouse |
| ffd_id | a0E6g00000A3wJjEAJ |
| ffd_totalarea_pb | 3195 |
| ffd_solddate | |
| ffd_soldprice | |
| ffd_state_pb | England |
| ffd_status | Active |
| ffd_threequarterbathrooms | 0 |
| ffd_unit_of_measure | Square Feet |
| ffd_brokerage_id | 0016g00002KskJEAAZ |
| year_built | 0 |
| ffd_postalcode_pb | SW15 2QT |
| pba__WebsiteId__c | 320775 |
| pba__Listing_Website__c | https://www.forbesglobalproperties.com/listings/5-bedroom-house-in-east-putney |
| Site_Post_Id__c | 320775 |
| ffd_media | a:13:{i:0;s:88:"https://images.chestertons.co.uk/assets/r/chips/che/WES/22/WES220005_26-JPG-l-1600-0.jpg";i:1;s:88:"https://images.chestertons.co.uk/assets/r/chips/che/WES/22/WES220005_15-JPG-l-1600-0.jpg";i:2;s:88:"https://images.chestertons.co.uk/assets/r/chips/che/WES/22/WES220005_24-JPG-l-1600-0.jpg";i:3;s:88:"https://images.chestertons.co.uk/assets/r/chips/che/WES/22/WES220005_09-JPG-l-1600-0.jpg";i:4;s:88:"https://images.chestertons.co.uk/assets/r/chips/che/WES/22/WES220005_25-JPG-l-1600-0.jpg";i:5;s:88:"https://images.chestertons.co.uk/assets/r/chips/che/WES/22/WES220005_20-JPG-l-1600-0.jpg";i:6;s:88:"https://images.chestertons.co.uk/assets/r/chips/che/WES/22/WES220005_27-JPG-l-1600-0.jpg";i:7;s:88:"https://images.chestertons.co.uk/assets/r/chips/che/WES/22/WES220005_08-JPG-l-1600-0.jpg";i:8;s:88:"https://images.chestertons.co.uk/assets/r/chips/che/WES/22/WES220005_03-JPG-l-1600-0.jpg";i:9;s:88:"https://images.chestertons.co.uk/assets/r/chips/che/WES/22/WES220005_22-JPG-l-1600-0.jpg";i:10;s:88:"https://images.chestertons.co.uk/assets/r/chips/che/WES/22/WES220005_04-JPG-l-1600-0.jpg";i:11;s:88:"https://images.chestertons.co.uk/assets/r/chips/che/WES/22/WES220005_02-JPG-p-1600-0.jpg";i:12;s:88:"https://images.chestertons.co.uk/assets/r/chips/che/WES/22/WES220005_01-PNG-l-1600-0.jpg";} |
| _thumbnail_id | 320776 |
| ffd_featured_image | https://images.chestertons.co.uk/assets/r/chips/che/WES/22/WES220005_26-JPG-l-1600-0.jpg |
| agents | a:1:{i:0;s:6:"315692";} |
| _wp_old_date | 2023-02-17 |
| ffd_record_is_deleted | |
| _wp_old_slug | 5-bedroom-house-in-schubert-road |
| featured_images | 320776 |
| primary_media_0_image | 320776 |
| _primary_media_0_image | field_5f988067abcc4 |
| primary_media_0_video | |
| _primary_media_0_video | field_5f98807dabcc5 |
| primary_media_1_image | 320777 |
| _primary_media_1_image | field_5f988067abcc4 |
| primary_media_1_video | |
| _primary_media_1_video | field_5f98807dabcc5 |
| primary_media_2_image | 320778 |
| _primary_media_2_image | field_5f988067abcc4 |
| primary_media_2_video | |
| _primary_media_2_video | field_5f98807dabcc5 |
| primary_media | 3 |
| _primary_media | field_5f98805cabcc3 |
| secondary_media_0_image | 320776 |
| _secondary_media_0_image | field_5f988119a39fd |
| secondary_media_0_video | |
| _secondary_media_0_video | field_5f988119a39fe |
| secondary_media_1_image | 320785 |
| _secondary_media_1_image | field_5f988119a39fd |
| secondary_media_1_video | |
| _secondary_media_1_video | field_5f988119a39fe |
| secondary_media_2_image | 320778 |
| _secondary_media_2_image | field_5f988119a39fd |
| secondary_media_2_video | |
| _secondary_media_2_video | field_5f988119a39fe |
| secondary_media_3_image | 320779 |
| _secondary_media_3_image | field_5f988119a39fd |
| secondary_media_3_video | |
| _secondary_media_3_video | field_5f988119a39fe |
| secondary_media_4_image | 320780 |
| _secondary_media_4_image | field_5f988119a39fd |
| secondary_media_4_video | |
| _secondary_media_4_video | field_5f988119a39fe |
| secondary_media_5_image | 320783 |
| _secondary_media_5_image | field_5f988119a39fd |
| secondary_media_5_video | |
| _secondary_media_5_video | field_5f988119a39fe |
| secondary_media_6_image | 320782 |
| _secondary_media_6_image | field_5f988119a39fd |
| secondary_media_6_video | |
| _secondary_media_6_video | field_5f988119a39fe |
| secondary_media_7_image | 320786 |
| _secondary_media_7_image | field_5f988119a39fd |
| secondary_media_7_video | |
| _secondary_media_7_video | field_5f988119a39fe |
| secondary_media_8_image | 320787 |
| _secondary_media_8_image | field_5f988119a39fd |
| secondary_media_8_video | |
| _secondary_media_8_video | field_5f988119a39fe |
| secondary_media_9_image | 320788 |
| _secondary_media_9_image | field_5f988119a39fd |
| secondary_media_9_video | |
| _secondary_media_9_video | field_5f988119a39fe |
| secondary_media | 10 |
| _secondary_media | field_5f988119a39fc |
5 bedroom House in East Putney
GBP 2,300,000
(US $2,435,762)
Schubert Road, East Putney, SW15
Greater London, England, United Kingdom
Status: Active
A beautifully finished home packed with gorgeous features throughout, offering 3195sf of internal accommodation and a secluded West facing garden on the ever popular East Putney grid. As you enter the property on the Upper Ground floor level you are greeted by a large hallway with typical Victorian character. On this floor you have a front reception room with 3m high ceilings. There is also another large reception room at the back of the house with feature fire place, overlooking the large West facing garden. This room also offer a terrace. The Lower Ground floor which benefits from its own front door features the large fitted kitchen with island, ample dining room space for entertaining which flows effortlessly through to the secluded 43 foot West facing garden via bi-folding doors. There is also a WC located on this level. On the first floor of the house you have two large bedrooms and an exquisitely finished family bathroom which along with one of the bedrooms provides access to another West facing balcony. The second floor has 3 further bedrooms, a WC and another family Bathroom. The top floor offers flexible accommodation with open plan bedroom, kitchen and living area which would be perfect for an older child or nanny. This floor also has a utility room. Schubert Road is located in the East Putney grid, with excellent access to both East Putney Underground station as well as Putney and Wandsworth Town mainline stations. The Thamesclipper at Wandsworth Riverside Pier is also close by. Popular Wandsworth Park and Thames riverside walks are a short stroll away. Some excellent schools are nearby, including Brandlehow and Hurlingham Primary School as well as Putney High School for Girls.
Properties You Might Also Like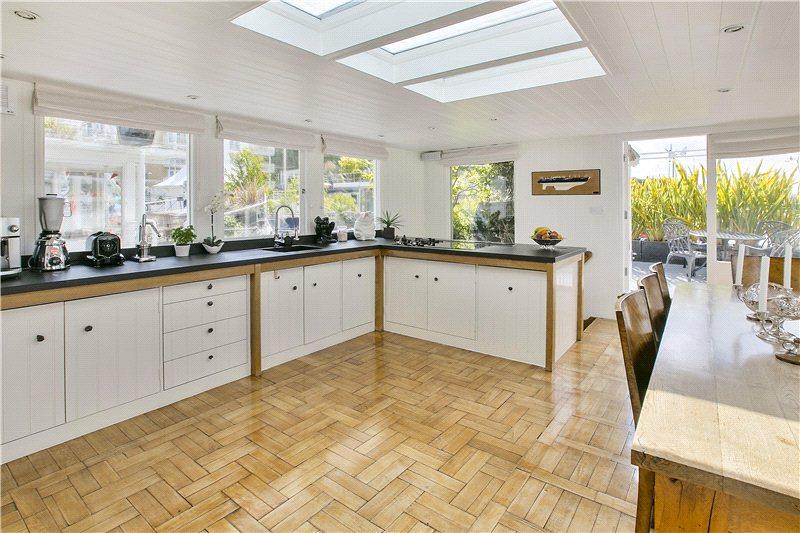 GBP 1,750,000
(US $1,853,297)
Greater London, England, United Kingdom
3 bedroom House in Lightermans Walk
GBP 1,700,000
(US $1,800,346)
Greater London, England, United Kingdom
2 bedroom Flat/Apartment in Wandsworth, SW18
This unique 5 Bedroom home with 2 Bathrooms is a prime example of the luxury real estate available in Greater London, England. You can visit our England search pages for more luxury real estate choices in Greater London.