| | |
| --- | --- |
| ffd_listing_title | 5 bedroom House in Clapham Common |
| ffd_unique_id | |
| ffd_mls_id | |
| ffd_salesforce_id | a0E6g00000A438tEAB |
| ffd_address_pb | Clapham Common North Side, Clapham Common, SW4 |
| address | Clapham Common North Side, Clapham Common, SW4 |
| baths | 4 |
| beds | 5 |
| ffd_city_pb | Greater London |
| ffd_colistingagent_pb | |
| ffd_colistingagentemail_pb | |
| ffd_colistingagentmlsid | |
| ffd_colistingagentname | |
| ffd_colistingofficemlsid | |
| ffd_colistingofficename_pb | |
| ffd_country_pb | United Kingdom |
| ffd_createddate | 2023-03-15T00:30:06.000+0000 |
| about | A large Freehold family house, oozing with character, charm and history. Built originally in 1790-2 this commanding home boasts beautiful views over Clapham Common. Currently comprised of five bedrooms, four bathrooms and vast entertainment space on the ground and first floor. There is potential to reconfigure internally. The buildings present guise is due to the creation of Taybridge Road in the mid 1890s which necessitated the reconfiguration and part re-construction of Bell House. Clapham Common is an incredibly sought after road showcasing some of the largest family homes in Clapham. The home also benefits from being only a short walk away from the many shops and restaurants of Battersea Rise and Northcote Road. The closest transport links are found at Clapham North tube and Clapham Junction main line station giving access to the City as well as both Victoria and Waterloo stations. Further history on the house is available via the agent. |
| ffd_displayaddress | |
| floor | |
| ffd_halfbathrooms_pb | 0 |
| ffd_hide_address_on_site | |
| ffd_key_words | Greater London;United Kingdom;City;Greater London, England;Lambeth England;City Greater London;City Lambeth;Lambeth;Clapham Common Greater London;UK |
| ffd_lastmodifieddate | 2023-03-23T00:15:15.000+0000 |
| lat | 51.46151 |
| ffd_listofficemlsid | |
| ffd_listofficename | |
| ffd_listingagent_pb | 0036g00002ALqngAAD |
| ffd_listing_agent_email | |
| ffd_listing_agent_firstname | |
| ffd_listing_agent_lastname | |
| ffd_listingagentmlsid | |
| ffd_listingagentname | |
| ffd_listing_agent_website | https://www.chestertons.co.uk/en-gb/property-to-buy/gb/clapham+common/hea216972 |
| price | 3706594 |
| ffd_listingtype | Sale |
| location | Greater London, England, United Kingdom |
| lng | -0.151531 |
| sq_feet | 0 |
| ffd_non_member_paid | |
| ffd_other_currency_amount | 3500000 |
| ffd_other_currency_type | GBP |
| ffd_ownerid | 0056g000006m3a6AAA |
| ffd_pool_pb | |
| ffd_price_upon_request | |
| building_type | Townhouse |
| ffd_id | a0E6g00000A438tEAB |
| ffd_totalarea_pb | 3180 |
| ffd_solddate | |
| ffd_soldprice | |
| ffd_state_pb | England |
| ffd_status | Active |
| ffd_threequarterbathrooms | 0 |
| ffd_unit_of_measure | Square Feet |
| ffd_brokerage_id | 0016g00002KskJEAAZ |
| year_built | 0 |
| ffd_postalcode_pb | SW4 9SA |
| pba__WebsiteId__c | 332489 |
| pba__Listing_Website__c | https://www.forbesglobalproperties.com/listings/5-bedroom-house-in-clapham-common |
| Site_Post_Id__c | 332489 |
| ffd_media | a:13:{i:0;s:88:"https://images.chestertons.co.uk/assets/r/chips/che/HEA/21/HEA216972_48-JPG-l-1600-0.jpg";i:1;s:88:"https://images.chestertons.co.uk/assets/r/chips/che/HEA/21/HEA216972_35-JPG-l-1600-0.jpg";i:2;s:88:"https://images.chestertons.co.uk/assets/r/chips/che/HEA/21/HEA216972_14-JPG-l-1600-0.jpg";i:3;s:88:"https://images.chestertons.co.uk/assets/r/chips/che/HEA/21/HEA216972_22-JPG-l-1600-0.jpg";i:4;s:88:"https://images.chestertons.co.uk/assets/r/chips/che/HEA/21/HEA216972_28-JPG-l-1600-0.jpg";i:5;s:88:"https://images.chestertons.co.uk/assets/r/chips/che/HEA/21/HEA216972_21-JPG-l-1600-0.jpg";i:6;s:88:"https://images.chestertons.co.uk/assets/r/chips/che/HEA/21/HEA216972_36-JPG-l-1600-0.jpg";i:7;s:88:"https://images.chestertons.co.uk/assets/r/chips/che/HEA/21/HEA216972_13-JPG-l-1600-0.jpg";i:8;s:88:"https://images.chestertons.co.uk/assets/r/chips/che/HEA/21/HEA216972_15-JPG-l-1600-0.jpg";i:9;s:88:"https://images.chestertons.co.uk/assets/r/chips/che/HEA/21/HEA216972_17-JPG-l-1600-0.jpg";i:10;s:88:"https://images.chestertons.co.uk/assets/r/chips/che/HEA/21/HEA216972_18-JPG-l-1600-0.jpg";i:11;s:88:"https://images.chestertons.co.uk/assets/r/chips/che/HEA/21/HEA216972_40-JPG-l-1600-0.jpg";i:12;s:88:"https://images.chestertons.co.uk/assets/r/chips/che/HEA/21/HEA216972_47-JPG-l-1600-0.jpg";} |
| _thumbnail_id | 334299 |
| ffd_featured_image | https://images.chestertons.co.uk/assets/r/chips/che/HEA/21/HEA216972_48-JPG-l-1600-0.jpg |
| agents | a:1:{i:0;s:6:"313231";} |
| _wp_old_date | 2023-03-16 |
| ffd_record_is_deleted | |
| _wp_old_slug | 5-bedroom-house-in-clapham-common-north-side |
| featured_images | 334299 |
| primary_media_0_image | 334299 |
| _primary_media_0_image | field_5f988067abcc4 |
| primary_media_0_video | |
| _primary_media_0_video | field_5f98807dabcc5 |
| primary_media_1_image | 332491 |
| _primary_media_1_image | field_5f988067abcc4 |
| primary_media_1_video | |
| _primary_media_1_video | field_5f98807dabcc5 |
| primary_media | 2 |
| _primary_media | field_5f98805cabcc3 |
| secondary_media_0_image | 334299 |
| _secondary_media_0_image | field_5f988119a39fd |
| secondary_media_0_video | |
| _secondary_media_0_video | field_5f988119a39fe |
| secondary_media_1_image | 332491 |
| _secondary_media_1_image | field_5f988119a39fd |
| secondary_media_1_video | |
| _secondary_media_1_video | field_5f988119a39fe |
| secondary_media_2_image | 332500 |
| _secondary_media_2_image | field_5f988119a39fd |
| secondary_media_2_video | |
| _secondary_media_2_video | field_5f988119a39fe |
| secondary_media_3_image | 332496 |
| _secondary_media_3_image | field_5f988119a39fd |
| secondary_media_3_video | |
| _secondary_media_3_video | field_5f988119a39fe |
| secondary_media_4_image | 332502 |
| _secondary_media_4_image | field_5f988119a39fd |
| secondary_media_4_video | |
| _secondary_media_4_video | field_5f988119a39fe |
| secondary_media_5_image | 332503 |
| _secondary_media_5_image | field_5f988119a39fd |
| secondary_media_5_video | |
| _secondary_media_5_video | field_5f988119a39fe |
| secondary_media_6_image | 332504 |
| _secondary_media_6_image | field_5f988119a39fd |
| secondary_media_6_video | |
| _secondary_media_6_video | field_5f988119a39fe |
| secondary_media_7_image | 332505 |
| _secondary_media_7_image | field_5f988119a39fd |
| secondary_media_7_video | |
| _secondary_media_7_video | field_5f988119a39fe |
| secondary_media_8_image | 332497 |
| _secondary_media_8_image | field_5f988119a39fd |
| secondary_media_8_video | |
| _secondary_media_8_video | field_5f988119a39fe |
| secondary_media_9_image | 332506 |
| _secondary_media_9_image | field_5f988119a39fd |
| secondary_media_9_video | |
| _secondary_media_9_video | field_5f988119a39fe |
| secondary_media | 10 |
| _secondary_media | field_5f988119a39fc |
5 bedroom House in Clapham Common
GBP 3,500,000
(US $3,706,594)
Clapham Common North Side, Clapham Common, SW4
Greater London, England, United Kingdom
Status: Active
A large Freehold family house, oozing with character, charm and history. Built originally in 1790-2 this commanding home boasts beautiful views over Clapham Common. Currently comprised of five bedrooms, four bathrooms and vast entertainment space on the ground and first floor. There is potential to reconfigure internally. The buildings present guise is due to the creation of Taybridge Road in the mid 1890s which necessitated the reconfiguration and part re-construction of Bell House. Clapham Common is an incredibly sought after road showcasing some of the largest family homes in Clapham. The home also benefits from being only a short walk away from the many shops and restaurants of Battersea Rise and Northcote Road. The closest transport links are found at Clapham North tube and Clapham Junction main line station giving access to the City as well as both Victoria and Waterloo stations. Further history on the house is available via the agent.
Properties You Might Also Like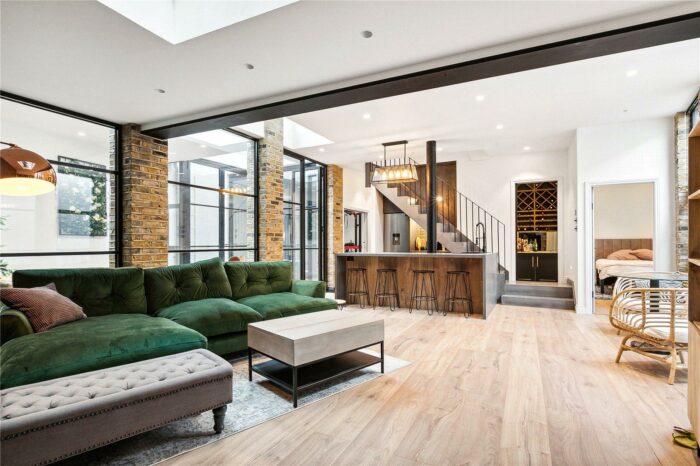 GBP 2,500,000
(US $2,647,567)
Greater London, England, United Kingdom
5 bedroom House in Parma Crescent
GBP 3,000,000
(US $3,177,081)
Greater London, England, United Kingdom
8 bedroom Investment Property in Clapham Junction
This unique 5 Bedroom home with 4 Bathrooms is a prime example of the luxury real estate available in Greater London, England. You can visit our England search pages for more luxury real estate choices in Greater London.