| | |
| --- | --- |
| ffd_listing_title | 5 bedroom House in Bishops Park |
| ffd_unique_id | |
| ffd_mls_id | |
| ffd_salesforce_id | a0E6g00000A3wyGEAR |
| ffd_address_pb | Strode Road, Bishops Park, SW6 |
| address | Strode Road, Bishops Park, SW6 |
| baths | 3 |
| beds | 5 |
| ffd_city_pb | Greater London |
| ffd_colistingagent_pb | |
| ffd_colistingagentemail_pb | |
| ffd_colistingagentmlsid | |
| ffd_colistingagentname | |
| ffd_colistingofficemlsid | |
| ffd_colistingofficename_pb | |
| ffd_country_pb | United Kingdom |
| ffd_createddate | 2023-02-15T08:50:26.000+0000 |
| about | Offered to the market in excellent presentation throughout and having been finished to an exacting standard, a four bedroom, three bathroom family home on a premier street in the Munster Village. The property extends to around 1,750 square feet and offers generous reception space with ample accommodation. The ground floor provides a 'double' reception room to the fore of the house in the classic Victorian style with a light and bright open plan Kitchen/living room. This is a highlight of the home with the space centred around an island and bi fold doors creating outdoor/indoor living to the garden. The Garden is North West facing allowing plenty of afternoon Sun and having a useful brick built shed for storage. The first floor provides two double bedrooms, a box room and a generous family bathroom. The second floor having been created from an extension offers two further bedrooms, the principal of which with an ensuite bathroom of an excellent specification. Strode road is an excellent street overlooking green space to the rear of the house with London skyline views. Barons Court station is approximately 0.6 miles away for access to the District and Piccadilly with green space found at Lillie road and Bishops Park with riverside walks here. |
| ffd_displayaddress | |
| floor | |
| ffd_halfbathrooms_pb | 0 |
| ffd_hide_address_on_site | |
| ffd_key_words | Greater London;United Kingdom;City;Greater London, England;Hammersmith and Fulham England;City Greater London;City Hammersmith and Fulham;Hammersmith and Fulham;Bishops Park Greater London;UK |
| ffd_lastmodifieddate | 2023-04-01T00:22:14.000+0000 |
| lat | 51.482017 |
| ffd_listofficemlsid | |
| ffd_listofficename | |
| ffd_listingagent_pb | 0036g00002AM7WhAAL |
| ffd_listing_agent_email | |
| ffd_listing_agent_firstname | |
| ffd_listing_agent_lastname | |
| ffd_listingagentmlsid | |
| ffd_listingagentname | |
| ffd_listing_agent_website | https://www.chestertons.co.uk/en-gb/property-to-buy/gb/bishops+park/mun220183 |
| price | 1795051 |
| ffd_listingtype | Sale |
| location | Greater London, England, United Kingdom |
| lng | -0.215148 |
| sq_feet | 0 |
| ffd_non_member_paid | |
| ffd_other_currency_amount | 1695000 |
| ffd_other_currency_type | GBP |
| ffd_ownerid | 0056g000006m5uJAAQ |
| ffd_pool_pb | |
| ffd_price_upon_request | |
| building_type | Townhouse |
| ffd_id | a0E6g00000A3wyGEAR |
| ffd_totalarea_pb | 1728 |
| ffd_solddate | |
| ffd_soldprice | |
| ffd_state_pb | England |
| ffd_status | Under Contract |
| ffd_threequarterbathrooms | 0 |
| ffd_unit_of_measure | Square Feet |
| ffd_brokerage_id | 0016g00002KskJEAAZ |
| year_built | 0 |
| ffd_postalcode_pb | SW6 6BN |
| pba__WebsiteId__c | 321136 |
| pba__Listing_Website__c | https://www.forbesglobalproperties.com/listings/5-bedroom-house-in-bishops-park |
| Site_Post_Id__c | 321136 |
| ffd_media | a:25:{i:0;s:88:"https://images.chestertons.co.uk/assets/r/chips/che/MUN/22/MUN220183_08-JPG-l-1600-0.jpg";i:1;s:88:"https://images.chestertons.co.uk/assets/r/chips/che/MUN/22/MUN220183_03-JPG-l-1600-0.jpg";i:2;s:88:"https://images.chestertons.co.uk/assets/r/chips/che/MUN/22/MUN220183_06-JPG-l-1600-0.jpg";i:3;s:88:"https://images.chestertons.co.uk/assets/r/chips/che/MUN/22/MUN220183_14-JPG-l-1600-0.jpg";i:4;s:88:"https://images.chestertons.co.uk/assets/r/chips/che/MUN/22/MUN220183_07-JPG-l-1600-0.jpg";i:5;s:88:"https://images.chestertons.co.uk/assets/r/chips/che/MUN/22/MUN220183_20-JPG-l-1600-0.jpg";i:6;s:88:"https://images.chestertons.co.uk/assets/r/chips/che/MUN/22/MUN220183_16-JPG-l-1600-0.jpg";i:7;s:88:"https://images.chestertons.co.uk/assets/r/chips/che/MUN/22/MUN220183_23-JPG-l-1600-0.jpg";i:8;s:88:"https://images.chestertons.co.uk/assets/r/chips/che/MUN/22/MUN220183_05-JPG-l-1600-0.jpg";i:9;s:88:"https://images.chestertons.co.uk/assets/r/chips/che/MUN/22/MUN220183_04-JPG-l-1600-0.jpg";i:10;s:88:"https://images.chestertons.co.uk/assets/r/chips/che/MUN/22/MUN220183_09-JPG-l-1600-0.jpg";i:11;s:88:"https://images.chestertons.co.uk/assets/r/chips/che/MUN/22/MUN220183_10-JPG-l-1600-0.jpg";i:12;s:88:"https://images.chestertons.co.uk/assets/r/chips/che/MUN/22/MUN220183_11-JPG-l-1600-0.jpg";i:13;s:88:"https://images.chestertons.co.uk/assets/r/chips/che/MUN/22/MUN220183_12-JPG-l-1600-0.jpg";i:14;s:88:"https://images.chestertons.co.uk/assets/r/chips/che/MUN/22/MUN220183_13-JPG-l-1600-0.jpg";i:15;s:88:"https://images.chestertons.co.uk/assets/r/chips/che/MUN/22/MUN220183_15-JPG-l-1600-0.jpg";i:16;s:88:"https://images.chestertons.co.uk/assets/r/chips/che/MUN/22/MUN220183_17-JPG-l-1600-0.jpg";i:17;s:88:"https://images.chestertons.co.uk/assets/r/chips/che/MUN/22/MUN220183_18-JPG-l-1600-0.jpg";i:18;s:88:"https://images.chestertons.co.uk/assets/r/chips/che/MUN/22/MUN220183_19-JPG-l-1600-0.jpg";i:19;s:88:"https://images.chestertons.co.uk/assets/r/chips/che/MUN/22/MUN220183_21-JPG-l-1600-0.jpg";i:20;s:88:"https://images.chestertons.co.uk/assets/r/chips/che/MUN/22/MUN220183_22-JPG-l-1600-0.jpg";i:21;s:88:"https://images.chestertons.co.uk/assets/r/chips/che/MUN/22/MUN220183_24-JPG-l-1600-0.jpg";i:22;s:88:"https://images.chestertons.co.uk/assets/r/chips/che/MUN/22/MUN220183_25-JPG-p-1600-0.jpg";i:23;s:88:"https://images.chestertons.co.uk/assets/r/chips/che/MUN/22/MUN220183_01-PNG-l-1600-0.jpg";i:24;s:88:"https://images.chestertons.co.uk/assets/r/chips/che/MUN/22/MUN220183_02-JPG-l-1600-0.jpg";} |
| _thumbnail_id | 321144 |
| ffd_featured_image | https://images.chestertons.co.uk/assets/r/chips/che/MUN/22/MUN220183_08-JPG-l-1600-0.jpg |
| agents | a:1:{i:0;s:6:"315674";} |
| _wp_old_date | 2023-02-17 |
| ffd_record_is_deleted | |
| _wp_old_slug | 5-bedroom-house-in-strode-road |
| featured_images | 321144 |
| primary_media_0_image | 321144 |
| _primary_media_0_image | field_5f988067abcc4 |
| primary_media_0_video | |
| _primary_media_0_video | field_5f98807dabcc5 |
| primary_media_1_image | 321137 |
| _primary_media_1_image | field_5f988067abcc4 |
| primary_media_1_video | |
| _primary_media_1_video | field_5f98807dabcc5 |
| primary_media_2_image | 321138 |
| _primary_media_2_image | field_5f988067abcc4 |
| primary_media_2_video | |
| _primary_media_2_video | field_5f98807dabcc5 |
| primary_media | 3 |
| _primary_media | field_5f98805cabcc3 |
| secondary_media_0_image | 321153 |
| _secondary_media_0_image | field_5f988119a39fd |
| secondary_media_0_video | |
| _secondary_media_0_video | field_5f988119a39fe |
| secondary_media_1_image | 321146 |
| _secondary_media_1_image | field_5f988119a39fd |
| secondary_media_1_video | |
| _secondary_media_1_video | field_5f988119a39fe |
| secondary_media_2_image | 321145 |
| _secondary_media_2_image | field_5f988119a39fd |
| secondary_media_2_video | |
| _secondary_media_2_video | field_5f988119a39fe |
| secondary_media_3_image | 321151 |
| _secondary_media_3_image | field_5f988119a39fd |
| secondary_media_3_video | |
| _secondary_media_3_video | field_5f988119a39fe |
| secondary_media_4_image | 321158 |
| _secondary_media_4_image | field_5f988119a39fd |
| secondary_media_4_video | |
| _secondary_media_4_video | field_5f988119a39fe |
| secondary_media_5_image | 321157 |
| _secondary_media_5_image | field_5f988119a39fd |
| secondary_media_5_video | |
| _secondary_media_5_video | field_5f988119a39fe |
| secondary_media_6_image | 321159 |
| _secondary_media_6_image | field_5f988119a39fd |
| secondary_media_6_video | |
| _secondary_media_6_video | field_5f988119a39fe |
| secondary_media_7_image | 321160 |
| _secondary_media_7_image | field_5f988119a39fd |
| secondary_media_7_video | |
| _secondary_media_7_video | field_5f988119a39fe |
| secondary_media_8_image | 321161 |
| _secondary_media_8_image | field_5f988119a39fd |
| secondary_media_8_video | |
| _secondary_media_8_video | field_5f988119a39fe |
| secondary_media | 9 |
| _secondary_media | field_5f988119a39fc |
5 bedroom House in Bishops Park
GBP 1,695,000
(US $1,795,051)
Strode Road, Bishops Park, SW6
Greater London, England, United Kingdom
Status: Under Contract
Offered to the market in excellent presentation throughout and having been finished to an exacting standard, a four bedroom, three bathroom family home on a premier street in the Munster Village. The property extends to around 1,750 square feet and offers generous reception space with ample accommodation. The ground floor provides a 'double' reception room to the fore of the house in the classic Victorian style with a light and bright open plan Kitchen/living room. This is a highlight of the home with the space centred around an island and bi fold doors creating outdoor/indoor living to the garden. The Garden is North West facing allowing plenty of afternoon Sun and having a useful brick built shed for storage. The first floor provides two double bedrooms, a box room and a generous family bathroom. The second floor having been created from an extension offers two further bedrooms, the principal of which with an ensuite bathroom of an excellent specification. Strode road is an excellent street overlooking green space to the rear of the house with London skyline views. Barons Court station is approximately 0.6 miles away for access to the District and Piccadilly with green space found at Lillie road and Bishops Park with riverside walks here.
Properties You Might Also Like
GBP 2,150,000
(US $2,276,908)
Greater London, England, United Kingdom
6 bedroom House in Barons Court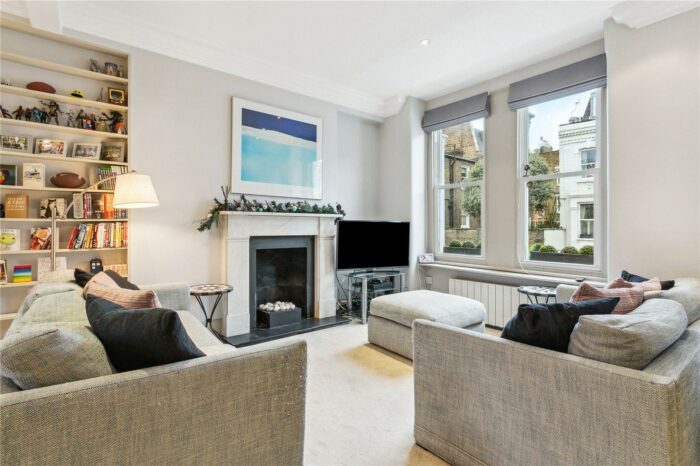 GBP 1,650,000
(US $1,985,882)
Greater London, England, United Kingdom
4 bedroom House in Kilmaine Road
This unique 5 Bedroom home with 3 Bathrooms is a prime example of the luxury real estate available in Greater London, England. You can visit our England search pages for more luxury real estate choices in Greater London.