| | |
| --- | --- |
| ffd_listing_title | 5 bedroom Flat in Damac Tower |
| ffd_unique_id | |
| ffd_mls_id | |
| ffd_salesforce_id | a0E6g00000A3wKWEAZ |
| ffd_address_pb | Damac Tower, 71 Bondway, SW8 |
| address | Damac Tower, 71 Bondway, SW8 |
| baths | 4 |
| beds | 5 |
| ffd_city_pb | Greater London |
| ffd_colistingagent_pb | |
| ffd_colistingagentemail_pb | |
| ffd_colistingagentmlsid | |
| ffd_colistingagentname | |
| ffd_colistingofficemlsid | |
| ffd_colistingofficename_pb | |
| ffd_country_pb | United Kingdom |
| ffd_createddate | 2023-02-11T11:12:55.000+0000 |
| about | Chestertons are proud to present this well-positioned 49th & 50th floor, 5 bedroom Duplex apartment offering views over the Houses of Parliament, City, Westminster and beyond. Contact our new homes team for information on other options within this eagerly awaited development. DAMAC Tower Nine Elms London is nestled between Vauxhall and Battersea and offers the ultimate in branded living experiences with interiors by renowned luxury design house, Versace Home. Artistic director, Donatella Versace, has considered every design detail. Rising 50 storeys, the Tower boasts 360 new private residential apartments, 8010 square feet of communal gardens, an indoor swimming pool and Jacuzzi, a state-of-the-art gymnasium, a children's play area, ample parking and car lifts and secure bicycle spaces and storage facilities. There are impressive views from every aspect of the building and a variety of hospitality services available to residents, including 24-hour concierge services, discreet and thorough housekeeping, at-home dining options and valet parking. There is also a residents' lounge overlooking a south-facing roof garden and a plush private cinema. The Nine Elms area is home to the New Covent Garden Market, Battersea Power Station and two miles of Thames river frontage. As part of planned regeneration, it will soon be lined with cafés, bars, restaurants, cultural attractions and public space. The area is close to the Vauxhall Cross rail and bus stations, as well as the Underground. In addition, the new Northern Line extension and the Elizabeth Line further enhance its strong transport links with the rest of London. |
| ffd_displayaddress | |
| floor | |
| ffd_halfbathrooms_pb | 0 |
| ffd_hide_address_on_site | |
| ffd_key_words | Greater London;United Kingdom;City;Greater London, England;Lambeth England;City Greater London;City Lambeth;Lambeth;Damac Tower Greater London;UK |
| ffd_lastmodifieddate | 2023-03-24T00:35:51.000+0000 |
| lat | 51.483491 |
| ffd_listofficemlsid | |
| ffd_listofficename | |
| ffd_listingagent_pb | 0036g00002HR3z7AAD |
| ffd_listing_agent_email | |
| ffd_listing_agent_firstname | |
| ffd_listing_agent_lastname | |
| ffd_listingagentmlsid | |
| ffd_listingagentname | |
| ffd_listing_agent_website | https://www.chestertons.co.uk/en-gb/new-homes-to-buy/gb/street/damac+tower+sw8/red190311 |
| price | 12563237 |
| ffd_listingtype | Sale |
| location | Greater London, England, United Kingdom |
| lng | -0.125846 |
| sq_feet | 0 |
| ffd_non_member_paid | |
| ffd_other_currency_amount | 11863000 |
| ffd_other_currency_type | GBP |
| ffd_ownerid | 0056g000006mHdeAAE |
| ffd_pool_pb | |
| ffd_price_upon_request | |
| building_type | Apartment |
| ffd_id | a0E6g00000A3wKWEAZ |
| ffd_totalarea_pb | 3538 |
| ffd_solddate | |
| ffd_soldprice | |
| ffd_state_pb | England |
| ffd_status | Active |
| ffd_threequarterbathrooms | 0 |
| ffd_unit_of_measure | Square Feet |
| ffd_brokerage_id | 0016g00002KskJEAAZ |
| year_built | 0 |
| ffd_postalcode_pb | SW8 1SF |
| pba__WebsiteId__c | 315904 |
| pba__Listing_Website__c | https://www.forbesglobalproperties.com/listings/5-bedroom-flat-in-damac-tower |
| Site_Post_Id__c | 315904 |
| ffd_media | a:15:{i:0;s:88:"https://images.chestertons.co.uk/assets/r/chips/che/RED/19/RED190311_68-JPG-l-1600-0.jpg";i:1;s:88:"https://images.chestertons.co.uk/assets/r/chips/che/RED/19/RED190311_60-JPG-l-1600-0.jpg";i:2;s:88:"https://images.chestertons.co.uk/assets/r/chips/che/RED/19/RED190311_50-JPG-l-1600-0.jpg";i:3;s:88:"https://images.chestertons.co.uk/assets/r/chips/che/RED/19/RED190311_67-JPG-l-1600-0.jpg";i:4;s:88:"https://images.chestertons.co.uk/assets/r/chips/che/RED/19/RED190311_58-JPG-l-1600-0.jpg";i:5;s:88:"https://images.chestertons.co.uk/assets/r/chips/che/RED/19/RED190311_51-JPG-l-1600-0.jpg";i:6;s:88:"https://images.chestertons.co.uk/assets/r/chips/che/RED/19/RED190311_64-JPG-l-1600-0.jpg";i:7;s:88:"https://images.chestertons.co.uk/assets/r/chips/che/RED/19/RED190311_53-JPG-l-1600-0.jpg";i:8;s:88:"https://images.chestertons.co.uk/assets/r/chips/che/RED/19/RED190311_66-JPG-l-1600-0.jpg";i:9;s:88:"https://images.chestertons.co.uk/assets/r/chips/che/RED/19/RED190311_43-JPG-l-1600-0.jpg";i:10;s:88:"https://images.chestertons.co.uk/assets/r/chips/che/RED/19/RED190311_59-JPG-l-1600-0.jpg";i:11;s:88:"https://images.chestertons.co.uk/assets/r/chips/che/RED/19/RED190311_57-JPG-l-1600-0.jpg";i:12;s:88:"https://images.chestertons.co.uk/assets/r/chips/che/RED/19/RED190311_65-JPG-l-1600-0.jpg";i:13;s:88:"https://images.chestertons.co.uk/assets/r/chips/che/RED/19/RED190311_30-PNG-l-1600-0.jpg";i:14;s:88:"https://images.chestertons.co.uk/assets/r/chips/che/RED/19/RED190311_69-JPG-l-1600-0.jpg";} |
| _thumbnail_id | 315905 |
| ffd_featured_image | https://images.chestertons.co.uk/assets/r/chips/che/RED/19/RED190311_68-JPG-l-1600-0.jpg |
| agents | a:1:{i:0;s:6:"335417";} |
| _wp_old_date | 2023-02-15 |
| ffd_record_is_deleted | |
| featured_images | 315905 |
| primary_media_0_image | 315905 |
| _primary_media_0_image | field_5f988067abcc4 |
| primary_media_0_video | |
| _primary_media_0_video | field_5f98807dabcc5 |
| primary_media_1_image | 315906 |
| _primary_media_1_image | field_5f988067abcc4 |
| primary_media_1_video | |
| _primary_media_1_video | field_5f98807dabcc5 |
| primary_media_2_image | 315907 |
| _primary_media_2_image | field_5f988067abcc4 |
| primary_media_2_video | |
| _primary_media_2_video | field_5f98807dabcc5 |
| primary_media | 3 |
| _primary_media | field_5f98805cabcc3 |
| secondary_media_0_image | 315905 |
| _secondary_media_0_image | field_5f988119a39fd |
| secondary_media_0_video | |
| _secondary_media_0_video | field_5f988119a39fe |
| secondary_media_1_image | 315906 |
| _secondary_media_1_image | field_5f988119a39fd |
| secondary_media_1_video | |
| _secondary_media_1_video | field_5f988119a39fe |
| secondary_media_2_image | 315907 |
| _secondary_media_2_image | field_5f988119a39fd |
| secondary_media_2_video | |
| _secondary_media_2_video | field_5f988119a39fe |
| secondary_media_3_image | 315908 |
| _secondary_media_3_image | field_5f988119a39fd |
| secondary_media_3_video | |
| _secondary_media_3_video | field_5f988119a39fe |
| secondary_media_4_image | 315909 |
| _secondary_media_4_image | field_5f988119a39fd |
| secondary_media_4_video | |
| _secondary_media_4_video | field_5f988119a39fe |
| secondary_media_5_image | 315910 |
| _secondary_media_5_image | field_5f988119a39fd |
| secondary_media_5_video | |
| _secondary_media_5_video | field_5f988119a39fe |
| secondary_media_6_image | 315911 |
| _secondary_media_6_image | field_5f988119a39fd |
| secondary_media_6_video | |
| _secondary_media_6_video | field_5f988119a39fe |
| secondary_media_7_image | 315912 |
| _secondary_media_7_image | field_5f988119a39fd |
| secondary_media_7_video | |
| _secondary_media_7_video | field_5f988119a39fe |
| secondary_media_8_image | 315913 |
| _secondary_media_8_image | field_5f988119a39fd |
| secondary_media_8_video | |
| _secondary_media_8_video | field_5f988119a39fe |
| secondary_media_9_image | 315914 |
| _secondary_media_9_image | field_5f988119a39fd |
| secondary_media_9_video | |
| _secondary_media_9_video | field_5f988119a39fe |
| secondary_media_10_image | 315915 |
| _secondary_media_10_image | field_5f988119a39fd |
| secondary_media_10_video | |
| _secondary_media_10_video | field_5f988119a39fe |
| secondary_media_11_image | 315916 |
| _secondary_media_11_image | field_5f988119a39fd |
| secondary_media_11_video | |
| _secondary_media_11_video | field_5f988119a39fe |
| secondary_media_12_image | 315917 |
| _secondary_media_12_image | field_5f988119a39fd |
| secondary_media_12_video | |
| _secondary_media_12_video | field_5f988119a39fe |
| secondary_media_13_image | 315918 |
| _secondary_media_13_image | field_5f988119a39fd |
| secondary_media_13_video | |
| _secondary_media_13_video | field_5f988119a39fe |
| secondary_media_14_image | 315919 |
| _secondary_media_14_image | field_5f988119a39fd |
| secondary_media_14_video | |
| _secondary_media_14_video | field_5f988119a39fe |
| secondary_media | 15 |
| _secondary_media | field_5f988119a39fc |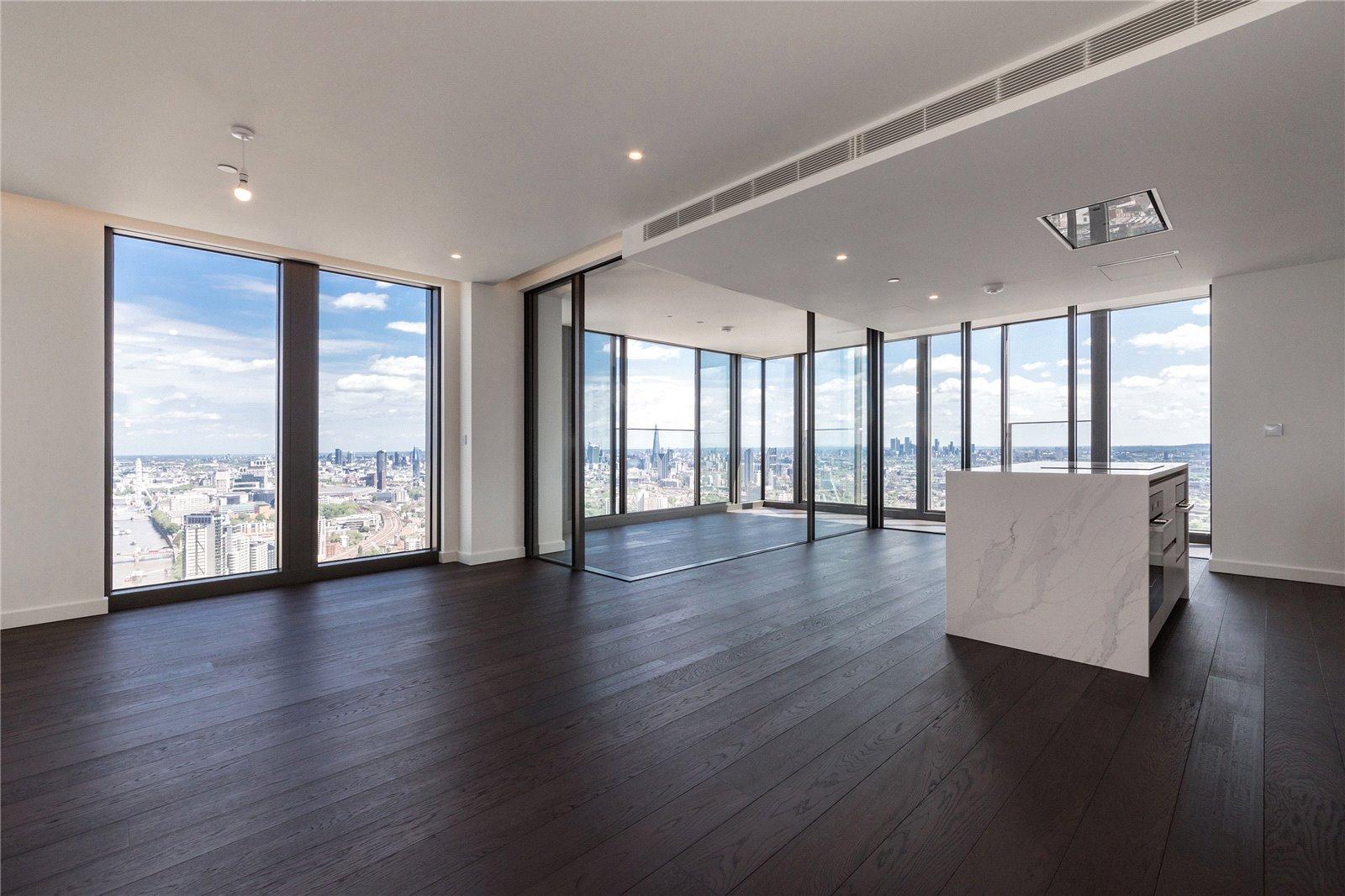 5 bedroom Flat in Damac Tower
GBP 11,863,000
(US $12,563,237)
Damac Tower, 71 Bondway, SW8
Greater London, England, United Kingdom
Status: Active
Chestertons are proud to present this well-positioned 49th & 50th floor, 5 bedroom Duplex apartment offering views over the Houses of Parliament, City, Westminster and beyond. Contact our new homes team for information on other options within this eagerly awaited development. DAMAC Tower Nine Elms London is nestled between Vauxhall and Battersea and offers the ultimate in branded living experiences with interiors by renowned luxury design house, Versace Home. Artistic director, Donatella Versace, has considered every design detail. Rising 50 storeys, the Tower boasts 360 new private residential apartments, 8010 square feet of communal gardens, an indoor swimming pool and Jacuzzi, a state-of-the-art gymnasium, a children's play area, ample parking and car lifts and secure bicycle spaces and storage facilities. There are impressive views from every aspect of the building and a variety of hospitality services available to residents, including 24-hour concierge services, discreet and thorough housekeeping, at-home dining options and valet parking. There is also a residents' lounge overlooking a south-facing roof garden and a plush private cinema. The Nine Elms area is home to the New Covent Garden Market, Battersea Power Station and two miles of Thames river frontage. As part of planned regeneration, it will soon be lined with cafés, bars, restaurants, cultural attractions and public space. The area is close to the Vauxhall Cross rail and bus stations, as well as the Underground. In addition, the new Northern Line extension and the Elizabeth Line further enhance its strong transport links with the rest of London.
Properties You Might Also Like
GBP 2,497,000
(US $2,644,390)
Greater London, England, United Kingdom
3 bedroom Flat in Damac Tower
GBP 2,748,000
(US $2,910,206)
Greater London, England, United Kingdom
3 bedroom Flat in Damac Tower
This unique 5 Bedroom home with 4 Bathrooms is a prime example of the luxury real estate available in Greater London, England. You can visit our England search pages for more luxury real estate choices in Greater London.